Thanksgiving is a time of plenty and nothing says "feast" quite like an array of sides. These easy Thanksgiving side dishes make quick work of this mega-feast.
In fact, some of these quick Thanksgiving side dishes are so simple to make, you can even prep them a day or two in advance. Who doesn't want to spend less time cooking on Thanksgiving?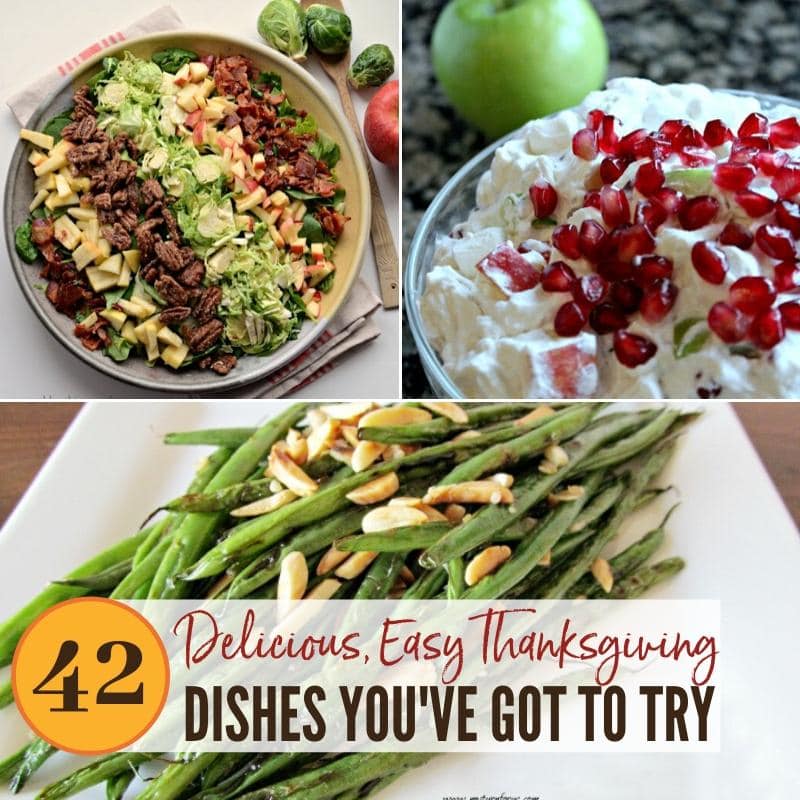 Each year my family feasts on our tried-and-true easy Thanksgiving sides like Orange Salad and Katie's Cornbread Casserole.
But I also use Thanksgiving as a chance to try a few new ideas too. This year Bacon Wrapped Green Beans and Maple Walnut Twice Baked Sweet Potatoes are on my short list.
Related: need an easy, no fuss dessert? Check out Nantucket Cranberry Pie
Easy Recipes for Thanksgiving
These 42 easy Thanksgiving dishes not only allow you to quickly whip up some tasty dishes this Thanksgiving but also give back precious time to spend with your family. That's what the holiday is all about after all!
As I plan for the big meal, I'll identify a few make-ahead side dishes. These will get prepped and made the week of, while the other easy recipes for Thanksgiving will get scheduled in.
Related: How To Host Thanksgiving on a Budget + a FREE Thanksgiving Dinner Menu Planner
The key to a stress-free Thanksgiving is to make simple sides that don't take up too much oven time. Think about what will need the oven and how to share space with the big bird.
Over the years, I've amassed a collection of over 40 easy Thanksgiving side dishes that are not only delicious but are real-time savers too.
Related: wondering how much food to make for the big meal? Remove the guesswork with Thanksgiving Dinner Serving Sizes
If you like to get your kids involved with cooking, many of these easy Thanksgiving sides are the perfect dishes to have your kids help with. The result is a delicious, stress-free meal that brings the family together.
What are you making this year for Thanksgiving? Got anything new you're trying? I would love to hear about it.
Happy Thanksgiving from my family to yours!
Need more Thanksgiving inspiration? My Thanksgiving Feast Pinterest board is packed with recipes, tips and decorating ideas.
Originally posted 11/19/17, updated 11/8/18 and 11/15/19.
Follow A Reinvented Mom on Pinterest and Instagram.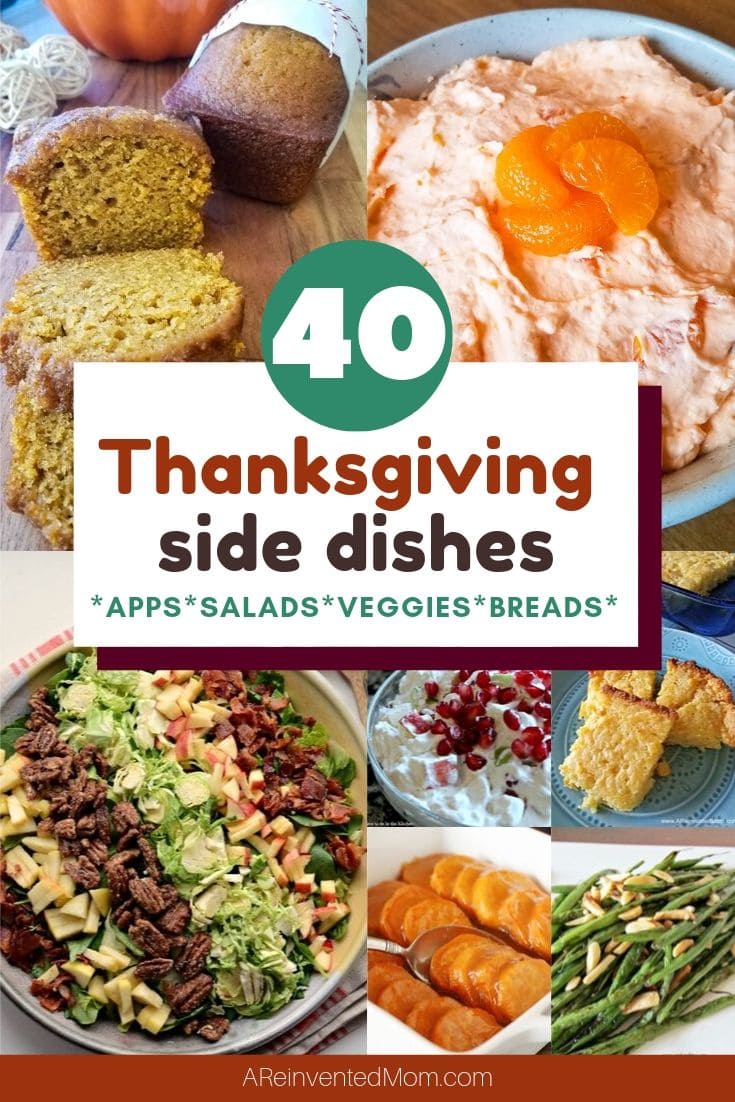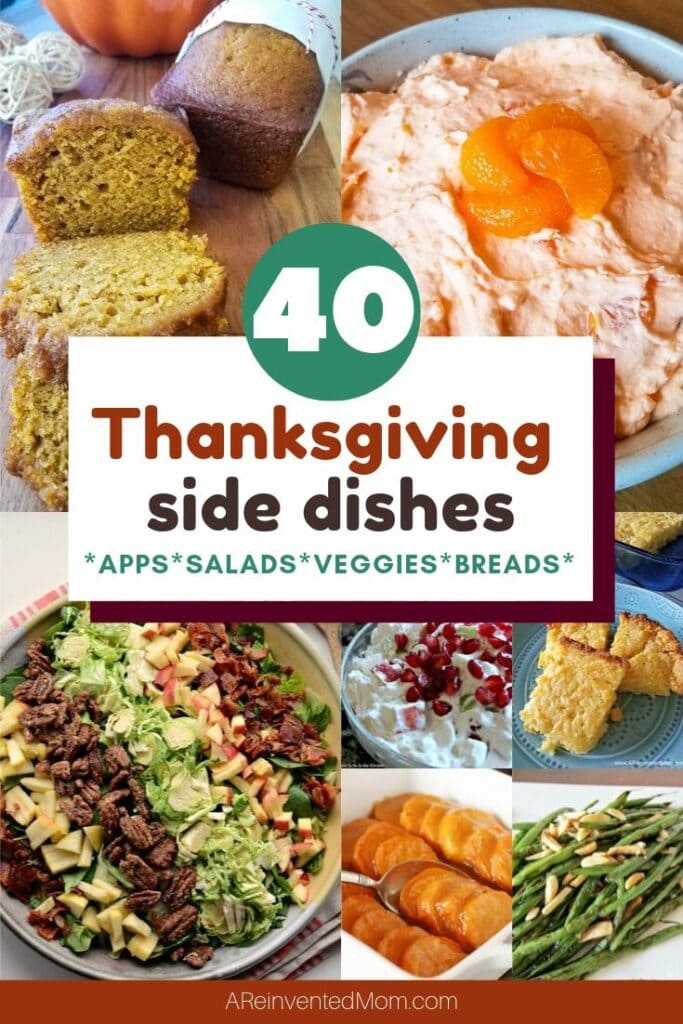 42 Easy Thanksgiving Side Dishes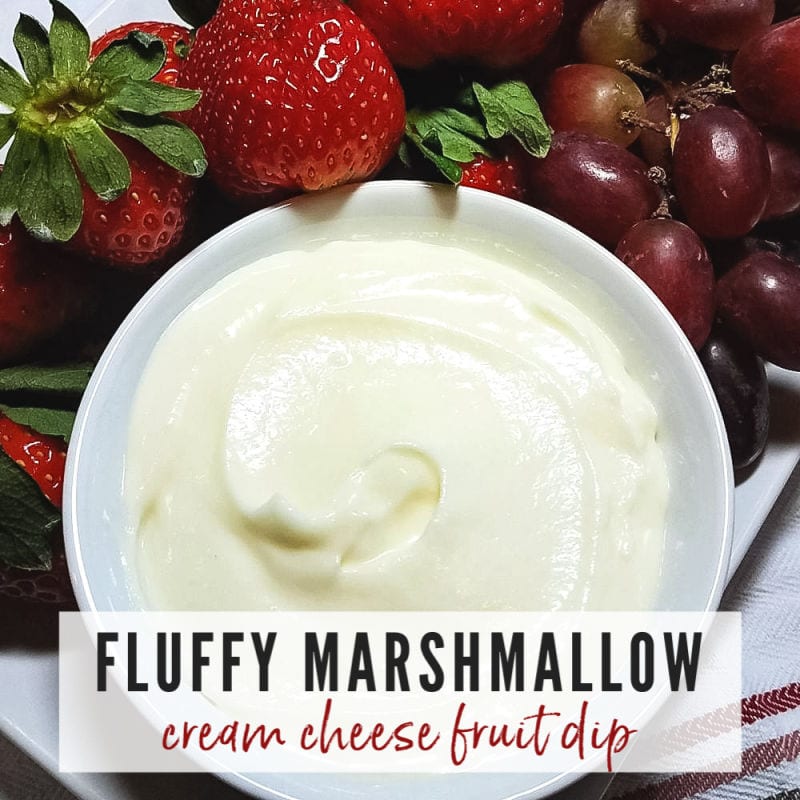 Appetizers & Starters
Sweet Potato and Candied Pecan Bruschetta
Fluffy Marshmallow Cream Cheese Fruit Dip with Fresh Fruit – an ARM family favorite
Roasted Balsamic Cranberry & Brie Crostini
Spicy & Sweet Cranberry Jalapeno Dip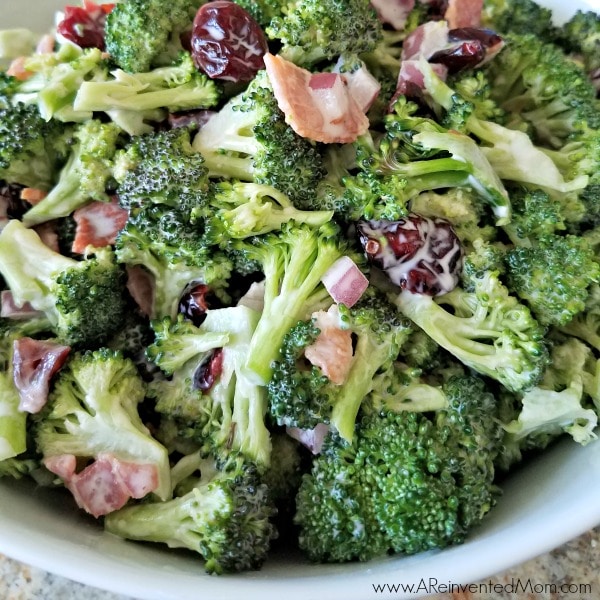 Savory Salads
Brussels Sprouts, Squash & Pomegranate Salad
Broccoli Salad with Bacon and Craisins – an ARM family favorite
Fall Salad with Candied Pecans, Bacon, Apples & Shaved Brussels Sprouts
Thanksgiving Salad (aka Pomegranate, Pear, Pecan & Brie Salad)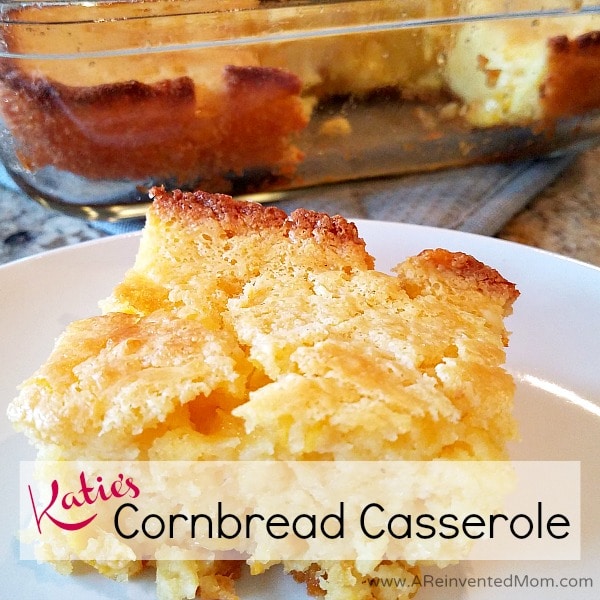 Savory Side Dishes
Sweet & Spicy Cornbread Casserole
How To Cook Whole Butternut Squash in the Slow Cooker (no cutting, no peeling)
Roasted Lemon Balsamic Asparagus
Scalloped Potatoes with Gruyere
Fresh Green Beans with Garlic & Toasted Almonds
Katie's Cornbread Casserole – an ARM family favorite
Roasted Brussels Sprouts, Cinnamon Butternut Squash, Pecans & Cranberries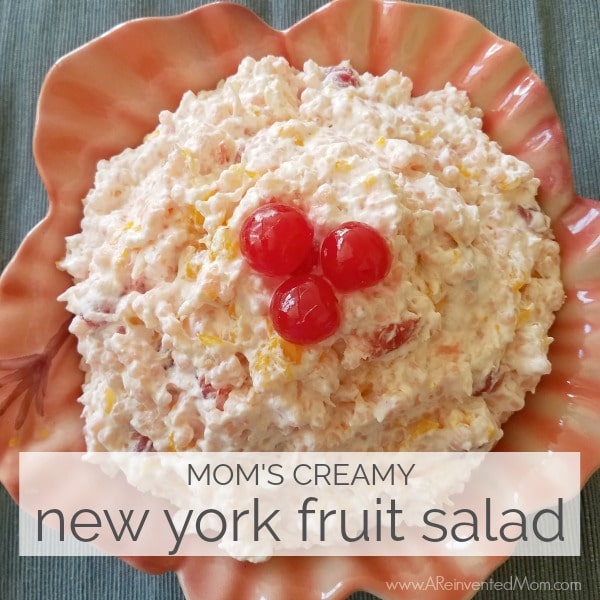 Sweet Side Dishes
Tastes Like A Dreamsicle Orange Salad – an ARM family favorite
Mom's Creamy New York Salad – an ARM family favorite
Easy Homemade Cranberry Sauce – an ARM family favorite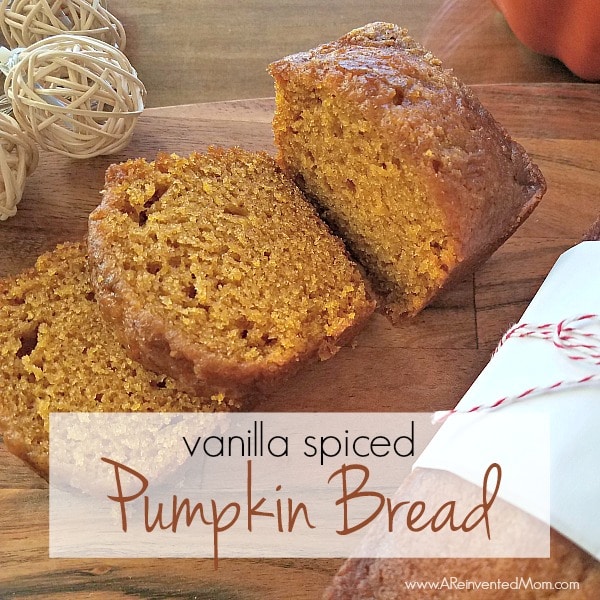 Breads/Quick Rolls
Vanilla Spiced Pumpkin Bread – an ARM family favorite
Pumpkin Spiced Buttermilk Biscuits
Beverages:
The Perfect Thanksgiving Drink