It's a new sales week and that means new deals at the grocery store .  City Market (Kroger) is offering a 10 for $10 Sale (or $1 each item). You can also find quite a few sales to match up with digital coupons.  Simply log-in in to your account and add the digital coupons to your value card to take advantage of the digital coupons. Remember, digital coupons cannot be combined with other coupons and they don't double.
The full weekly ad can be viewed online here:  7/9 City Market circular.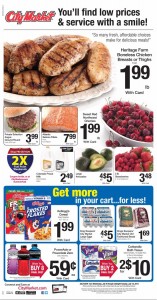 These are some of the best City Market (Kroger) deals and coupon matchups I found this week.  Final prices reflect the fact that my store offers double coupons. Remember, you must use your loyalty card to receive the sale prices.  Prices may vary by area & store. Happy shopping!
ALL PRINTABLE COUPONS ARE ALSO LINKED AT THE BOTTOM.
Sweet Red Northwest Cherries – $1.99 pound
Heritage Farm Boneless Chicken Breasts or Thighs – $1.99/lb.
Strawberries, 2 lbs. – $3.48
King Soopers/City Market Large Eggs 12 ct. = $1.25
Red Bird All Natural Ground Chicken – BOGO
Chicken of the Sea Light tuna – $.79
Vitamin Water – $.69 each when you buy 6
Powerade – $.59 when you buy 8
Horizon Mac & Cheese – $1 – $.55/1 printable = FREE!!
Fiber One Bars – $2.39 – $.75/1 printable = $1.39  (I have linked 3 additional Fiber One coupons below)
Nature Valley Bars – $2.39 – $.50/1 printable = $1.39.  Printable coupon is for Breakfast Biscuits – use only if this variety is on sale.
DiGiorno Pizza – $3.00 each when you buy 2  – $1.50 printable = $1.50 each when you buy 2.  Printable coupon is for the Build a Pizza – use only if this variety is on sale.  Print 2 coupons for this deal.
Yoplait yogurt – 10/$5 (or $.50 each) – $.40/6 printable = $.37 each when you buy 6.  I've posted additional yogurt coupons below.
Tabasco sauce – $1.59 – $.50/1 printable = $.59 each
Iams Grain-Free dog food – $9.99 – $2.00/1 printable = $7.99
All Laundry Detergent – $3.49 – $2/2 printable = $2.49 when you buy 2
Bayer aspirin – $5.99 – $1/1 printable = $4.99
One A Day Multivitamin – $6.99 – $1/1 printable = $5.99
Crest Complete toothpaste – $2.99 – $.50/1 printable = $1.99
My City Market sales cycle runs from Wed. through Tues.  The current coupon policy for my store allows for 4 like coupons per day.  Coupons are doubled up to $1.00 value (i.e. a .25 coupon doubles to .50, a .50 coupon doubles to $1.00, a .75 coupon rounds to $1.00, $1.00 coupon = face value).  City Market is a Kroger affiliate store so these sales are likely available at other Kroger stores.  Please note that pricing and sales vary by location.
A note about the coupons you can print from my blog:  simply click on the image or link to be taken to that particular coupon. Clicking a coupon also allows you to access my entire coupon database, so feel free to browse & see if there are other coupons that interest you.  While you do not need to set up an account to print coupons, you will need to download the coupon printer (it's a pretty quick process).  Coupons can be printed 2 times per computer – simply hit your back button, refresh & print again, or click on the link a 2nd time to complete the second print.  Have 2 or more computers? You can print 2 times from each computer to receive additional coupons. Coupons will print up to 3 per page.  Be sure to set your printer to "Black & White/Greyscale" printing – no need to waste your color ink.  Some coupons state "Available at "insert store name" – if the coupon clearly states "Manufacturer Coupon" at the top you can use this coupon at any store that accepts coupons.  Several of the coupons I've linked to today may fall into this category.  Coupon availability is subject to change, so it's best to print as soon as you can to avoid print limits being reached.
This post contains affiliate links.  If you choose to click on the link and/or make a purchase, I am paid a small amount which helps to support this website.  All opinions are my own.