Bok Choy Salad with Ginger Sesame Soy Dressing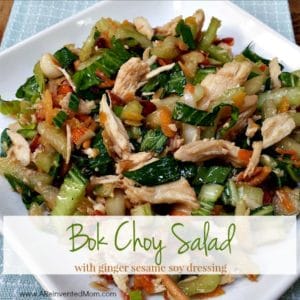 Author:
Lori @ www.AReinventedMom.com
5 cups bok choy leaves & stems, cleaned & sliced thin
½ cup carrots, shredded
2 green onions (whites & green stems), chopped
1 cup cooked chicken, shredded, optional
¼ cup almonds, chopped roughly, optional
½ cup chow mein noodles, optional
GINGER SESAME SOY DRESSING INGREDIENTS:
2 Tbsp. rice wine vinegar
2 Tbsp. reduced sodium soy sauce
1 tsp. ginger, minced
1½ tsp. sugar (more to taste)
½ tsp. sesame oil
½ cup oil (I use sunflower oil)
To make the dressing, combine everything except the ½ cup oil in a jar or bowl, and give it a quick stir to mix.  While whisking or blending, slowly add the oil to the vinegar mixture and mix until blended.  I like to use my immersion blender when making salad dressings.
Combine first 3 salad ingredients in a large bowl and toss to combine.
I like to serve this salad as a "Make Your Own" family dinner, allowing each person to add chicken, almonds and chow mein noodles if desired.
Omit the chicken if you prefer to serve as a side dish.
Recipe by
A Reinvented Mom
at https://www.areinventedmom.com/bok-choy-salad-with-ginger-sesame-soy-dressing/