Monday Menu is my weekly meal planning feature.  I like to plan a variety of easy, family friendly meals for the week.
Welcome to Monday Menu…..on a Tuesday.  Nothing beats a holiday weekend to throw a person off schedule.  With a busy basketball weekend (JV Boys got their first win of the season and Varsity Boys continued their winning streak), I appreciated having the extra day off to relax a little.
I'm still sticking with quick-to-prepare meals for this week as I don't have a lot of time to spend in the kitchen.  The easy, peasy plan from last week worked well, and I heard very few complaints from The Teens (bonus!).
Here's a recap of what happened on the blog last week:
Monday Menu 1-11-16 – my meal plan from last week.
It's Monday, and that means it's time for the weekly menu.  Monday Menu is a weekly feature on A Reinvented Mom. I like to plan a variety of meals, using a combination of family favorites and new recipes. While I do assign meals to days, many times I end up swapping them around as the week unfolds – life happens.  I also like most of our weeknight meals to be of the quick and easy variety. No one wants to spend an hour in the kitchen cooking dinner during the week. It's a challenge to come up with meals the entire family likes, but it doesn't stop me from trying.
MONDAY —  Breakfast for Dinner.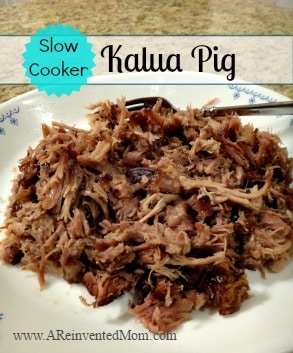 TUESDAY — Hawaiian Nachos – using leftover meat from the Slow Cooker Kalua Pig I prepared last week.
WEDNESDAY —  Grilled Chicken – will use Trader Joe's Island Soyaki (love!).  If it's too cold I'll cook these on the indoor grill.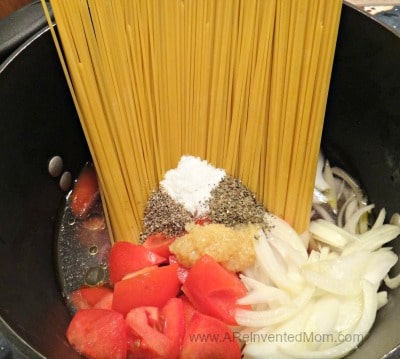 THURSDAY —  One Pot Pasta.
FRIDAY —  Home Basketball Game (we'll eat homemade soup or pasta from the concession stand).
SATURDAY —  Leftovers.
SUNDAY —  Lemon Pepper Tilapia packets.
SIDE DISHES —  Spring Mix salad, roasted Acorn squash, tomato & cucumber salad.
SWEET TREATS —  Rice Krispie Treats.
I'd love to know what's on your menu this week – please share in the comments.
For more recipe ideas, see all of my previous Monday Menus posts.
Follow A Reinvented Mom on Pinterest, Instagram, Yummly and Twitter.
I've linked my menu at the following blogs: Menu Plan Monday at I'm an Organizing Junkie.
This post may contain affiliate links.  If you choose to click on the link and/or make a purchase, I will be paid a small amount which helps to support this website. Your price is the same, whether or not you use the link.  This does not influence or change my opinion(s).