Monday Menu is my weekly meal planning feature.  
Busy week ahead.  I am trying not to panic but Christmas is just 11 SHORT days away. I have about 50% of my shopping done – aack!  I'm hoping to do a road trip to Grand Junction tomorrow (if we aren't buried by a snowstorm) to finish my shopping and then get presents wrapped by the end of this week.  The Teens are on Winter Break starting next week so I need to kick it in gear.  We also have a couple basketball games this week.  Meal plans are a necessity when our schedule is packed.  Who wants to stress over the what to feed the family?
Bountiful Baskets A-Week participants: final Distribution of 2015 is this week – stock up for the holidays.  The next A-Week Distribution is Jan. 16.  Am I the only one hoping for cases of Junami apples this week?!
Here's what happened on the blog last week: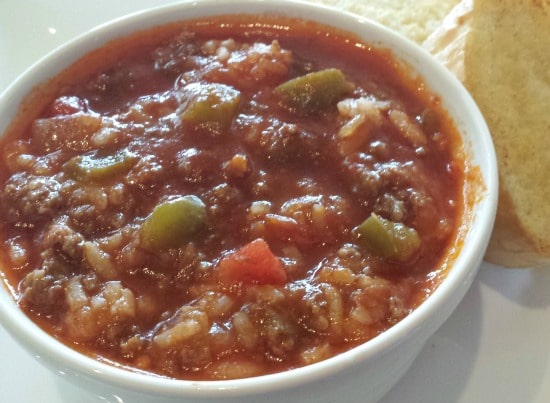 Stuffed Pepper Soup – all the tasty flavors of stuffed peppers in soup form.
Monday Menu 12-7-15 – my menu from last week.
It's Monday, and that means it's time for the weekly menu.  Monday Menu is a weekly feature on A Reinvented Mom. I like to plan a variety of meals, using a combination of family favorites and new recipes. While I do assign meals to days, many times I end up swapping them around as the week unfolds – life happens.  I also like most of our weeknight meals to be of the quick and easy variety. No one wants to spend an hour in the kitchen cooking dinner during the week. It's a challenge to come up with meals the entire family likes, but it doesn't stop me from trying.
MONDAY —  BBQ Panko Chicken Sandwiches (using frozen panko chicken from Costco).
TUESDAY — Make Your Own Super Nachos with Guacamole.
WEDNESDAY —  Spaghetti & Meatballs with Garlic Bread.
THURSDAY — Concession stand (we have a home basketball game).
FRIDAY —  Leftover buffet.
SATURDAY —  Eat Out (we have an away basketball game).
SUNDAY —  Grilled Chicken.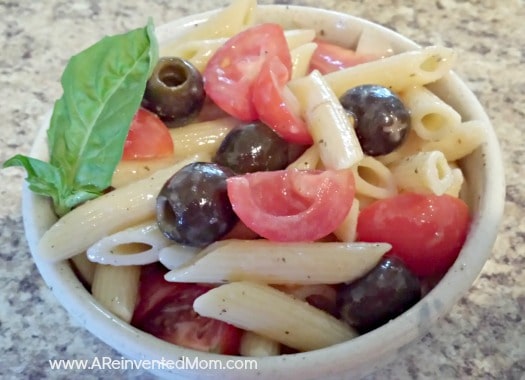 SIDE DISHES —  Buttered Olathe Corn (frozen earlier this Fall), romaine salad, Favorite Pasta Salad.
SWEET TREATS —  Blackberry Crisp and Peanut Butter Cookies (I'm trying one of those 3-ingredient recipes).
I'd love to know what's on your menu this week – please share in the comments.
For more recipe ideas, see all of my previous Monday Menus posts.
Follow A Reinvented Mom on Pinterest, Instagram, Yummly and Twitter.
I've linked my menu at the following blogs: Menu Plan Monday at I'm an Organizing Junkie.
This post may contain affiliate links.  If you choose to click on the link and/or make a purchase, I will be paid a small amount which helps to support this website. Your price is the same, whether or not you use the link.  This does not influence or change my opinion(s).