I hope you had a wonderful, relaxing weekend.  We put the Christmas tree up, but still need to decorate it.  Sometimes it's a struggle getting both kids home at the same time.  Hopefully we'll get this done in the next few days.  Decorating is my favorite, as most of our ornaments are of the sentimental variety – treasures the kiddos made when they were younger, souvenirs from vacations and others received as gifts.  So much fun remembering all the good times.
Here's what happened on the blog last week:
Bountiful Baskets Recipes 12-5-15 – recipes & tips using my co-op basket & in-season produce ($15 for all the produce pictured!).
Monday Menu 11-30-15 – my menu from last week.
It's Monday, and that means it's time for the weekly menu.  Monday Menu is a weekly feature on A Reinvented Mom. I like to plan a variety of meals, using a combination of family favorites and new recipes. While I do assign meals to days, many times I end up swapping them around as the week unfolds – life happens.  I also like most of our weeknight meals to be of the quick and easy variety. No one wants to spend an hour in the kitchen cooking dinner during the week. It's a challenge to come up with meals the entire family likes, but it doesn't stop me from trying.
MONDAY —  Chicken Sausages with Garlic Parmesan Roasted Fingerling Potatoes.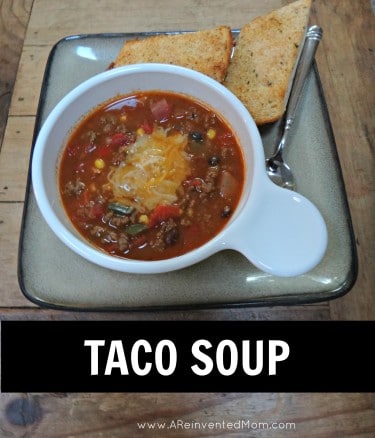 TUESDAY — Taco Soup.
WEDNESDAY —  Leftovers .
THURSDAY — Honey Garlic Salmon.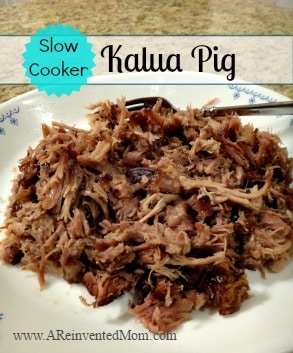 FRIDAY —  Slow Cooker Kalua Pig – my local City Market (Kroger) has pork shoulder on sale for $1.99/lb through Tues.  I like to purchase a large one & ask the butcher to cut the roast in half so I can freeze 1 for later.
SATURDAY —  First basketball game of the season – we'll eat dinner at the concession stand (our school has the BEST eats).
SUNDAY —  Meatballs with mashed potatoes and gravy.
SIDE DISHES —  Winter Salad, dishes using my co-op basket ingredients.
SWEET TREATS —  Chocolate Chip Cookies.
I'd love to know what's on your menu this week – please share in the comments.
For more recipe ideas, see all of my previous Monday Menus posts.
Follow A Reinvented Mom on Pinterest, Instagram, Yummly and Twitter.
I've linked my menu at the following blogs: Menu Plan Monday at I'm an Organizing Junkie.
This post may contain affiliate links.  If you choose to click on the link and/or make a purchase, I will be paid a small amount which helps to support this website. Your price is the same, whether or not you use the link.  This does not influence or change my opinion(s).