Monday Menu is my weekly meal planning feature.  I plan a variety of easy, family friendly meals for the week.
Happy New Year, Friends!  I hope you enjoyed a wonderful holiday filled with family, friends and good food.  Christmas break in my neck of the woods included LOTS of snow (yea for a White Christmas!) and fairly cold temps.  I wasn't nearly as excited about the low temps.  The snow is so much more enjoyable when you can hunker down at home and be lazy.  Raise your hand if you were still in jammies at lunch time – me, me!  We stayed close to home as The Boy had basketball practice over the break, although we did manage to squeeze in a trip to Grand Junction.  It was nice to get out of town for the day and enjoy a little post-Christmas shopping and lunch.
I took a break from meal planning the past 2 weeks and just winged it.  The results were mixed.  On the plus side, our days were less stressful than usual, so I had more time and patience to deal with figuring out what to eat on a daily basis.  On the negative side (and it's a BIG negative), my grocery budget suffered the most from my lack of planning.  Too many trips to the store and many impulse buys resulted in major overspending.  With the start of the New Year, it's time to get back on the meal planning train.
It's Monday, and that means it's time for the weekly menu.  Monday Menu is a weekly feature on A Reinvented Mom. I like to plan a variety of meals, using a combination of family favorites and new recipes. While I do assign meals to days, many times I end up swapping them around as the week unfolds – life happens.  I also like most of our weeknight meals to be of the quick and easy variety. No one wants to spend an hour in the kitchen cooking dinner during the week. It's a challenge to come up with meals the entire family likes, but it doesn't stop me from trying.
MONDAY —  Grilled Cheese & Copycat Panera Creamy Tomato Basil Soup.
TUESDAY — Away Basketball Game/Eat Out.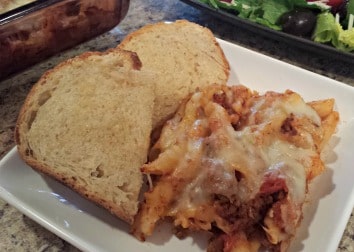 WEDNESDAY —  Cheesy Penne Pasta Bake with garlic bread.
THURSDAY — Chicken Artichoke Sausages (from Costco) with roasted potatoes.
FRIDAY —  Leftover buffet.
SATURDAY —  Away Basketball Game/Eat Out.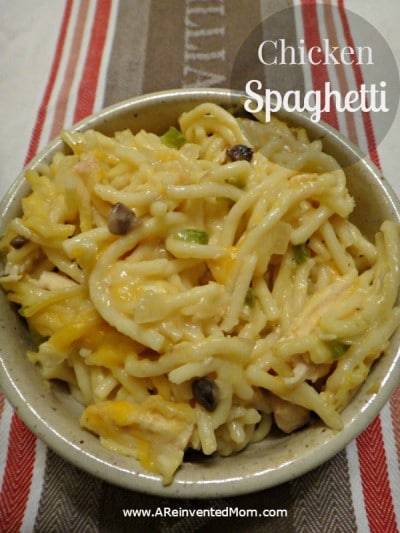 SUNDAY —  Chicken Spaghetti.
SIDE DISHES —  Fresh Spinach Salad, Oven Roasted Green Beans, Romaine Salad.
SWEET TREATS —  The Best Blueberry Muffins Ever.
I'd love to know what's on your menu this week – please share in the comments.
For more recipe ideas, see all of my previous Monday Menus posts.
Follow A Reinvented Mom on Pinterest, Instagram, Yummly and Twitter.
I've linked my menu at the following blogs: Menu Plan Monday at I'm an Organizing Junkie.
This post may contain affiliate links.  If you choose to click on the link and/or make a purchase, I will be paid a small amount which helps to support this website. Your price is the same, whether or not you use the link.  This does not influence or change my opinion(s).