Good Cheap Eats
. I do this to use what we have on hand, reduce waste and hopefully save a little money. Contrary to what my Teens will think at the end of the Challenge, I am NOT doing this to torture my family.
You can view all of my Pantry Challenge posts HERE.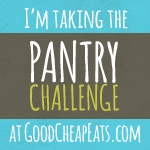 Well, the mystery has been solved and I have finally figured out what the Teens have been eating for lunch (all day??) for the past couple of days – sandwiches, lots & lots of sandwiches. We had 1 1/2 loafs of bread on Sunday and are now almost out of the "good" bread (Orowheat Oatnut & Potato), and almost out of deli meat. I think I will have to break down and buy bread, maybe deli meat. Depends on how bad the whining gets. I do have canned tuna and chicken, and crackers, on hand (not enough to last through the Challenge, though), and peanut butter and jelly is always an option – we shall see.
Day Three went down better than Day Two. Here's what we ate:
Breakfast – cereal for The Boy, eggs & toast for The Girl, toast for me
Lunch – turkey and cheese sandwiches
Dinner – ham steaks from the freezer and stovetop mac & cheese
Snacks – mango smoothies, cherries
So, are you ready to join the Summer 2014 Pantry Challenge? If you are, I would love to hear about your progress. Post your progress or any questions you have in the Comments. I'll do my best to answer. Happy Eating!!!

Bonus: Horizon Mac & Cheese is on sale for $1/box this week at City Market (or most Kroger affiliated stores). Print the Horizon Mac & Cheese coupon below to get a FREE box at City Market. If your store doesn't double, final cost is 45 cents per box – sweet, huh?! Remember, you can print 2 times per computer to maximize your savings. Print it now before the prints max out for this one.

This post contains affiliate links. If you choose to click on the link and/or make a purchase, I will be paid a small amount which helps to support this website. Your price is the same, whether or not you use the link. This does not influence or change my opinion.

I'm participating in a two week Pantry Challenge with