Good Cheap Eats
. I do this to use what we have on hand, reduce waste and hopefully save a little money. Contrary to what my Teens will think at the end of the Challenge, I am NOT doing this to torture my family.
You can view all of my Pantry Challenge posts HERE.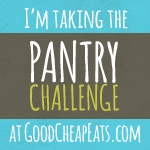 Day 4 was rather ordinary – nothing too exciting. My weekend starts today, and I hope to do some prepping of extra snacks and meals. I'd love to have some extra goodies for The Teens to eat while I am at work next week. Of course, I am running the risk of them scarfing down everything over the weekend. I need to come up with some treat recipes that don't use the oven – please share if you have any good ones in your recipe box!
Breakfast – cereal and toast
Lunch – leftover macaroni & cheese and ham
Dinner – Tortilla pizzas with hamburger, onion & black olives (used up pizza sauce & cooked hamburger from the freezer); The Girl made hers with fresh spinach & onion; fruit, salad
Snacks – mango smoothies (we've used almost an entire Costco bag of mangos in the last few days!), popcorn
So, are you ready to join the Summer 2014 Pantry Challenge? If you are, I would love to hear about your progress. Post your progress or any questions you have in the Comments. I'll do my best to answer. Happy Eating!!!

Bonus: Horizon Mac & Cheese is on sale for $1/box this week at City Market this (a Kroger affiliated store). Print the Horizon Mac & Cheese coupon below to get a FREE box at City Market/Krogers. If your store doesn't double, final cost is 45 cents per box – sweet, huh?! Remember, you can print 2 times per computer to maximize your savings. Print it now before the prints max out for this one.

This post contains affiliate links. If you choose to click on the link and/or make a purchase, I will be paid a small amount which helps to support this website. Your price is the same, whether or not you use the link. This does not influence or change my opinion.

I'm participating in a two week Pantry Challenge with