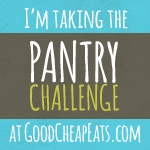 Earlier this month, I participated in a 2-week Summer Pantry Challenge with Good Cheap Eats. My goal was to use the food we had on hand, reduce waste and hopefully save a little money. This is the first time I participated in the Summer Challenge, and my results were mixed. I've written about the good, the bad and the ugly below. You can view all of my Pantry Challenge posts HERE.
PROS: I like the idea of "cleaning out the cupboards" once or twice a year and this gives me an opportunity to focus on that goal for a couple weeks.
I have 2 refrigerator/freezers (1 inside the house and 1 in the garage). I was able to free up a considerable amount of freezer space – about 1/2 of the inside freezer and 1/3 of the garage freezer. I will have plenty of room to freeze and store late summer produce (corn, peaches, tomatoes, etc.) that I plan to stock up on.
At the beginning of the Challenge, I counted 33 condiment/pickle /dressing jars lurking in my refrigerator. We've been working on polishing off the multitude of jars and now have a more respectable 22 bottles. Obviously I still need to whittle this number down, and keep an eye on it so the jars don't start multiplying again. I think I will have my work cut out for me as my Teens haven't grasped the concept of finishing a jar before opening a new one.
We saved some money (always a good thing!). I spent a total of $378.38 on groceries/cleaning/personal products for the month of July. I typically spend $600-700 per month. For the month, I have saved $221.62 on the low end (or $321.62) on the high end. The savings will come in handy for back-to-school shopping.
CONS: The timing. While I've participated in the Winter Pantry Challenge for three years, this was my first attempt at the Summer version. I have to admit I really struggled this time around. And I think it all boils down to timing for me:
The Teens are out of school and that means they (and their friends) are eating more at home.
It's HOT in July and I didn't want to turn the oven on. I realized it's easier for me to use up the little bits & pieces when I am using the stove and oven (think soups, casseroles, baked goods, etc.).
I was out of town for the final 5 days of the Challenge. My plan to cook meals in advance for Hubby and The Girl to eat didn't go over too well. One of the meals was polished off before I even left town (see #1) and I ended up having to toss the other leftovers when I returned. So much for planning (sigh!).
CONCLUSION: While not as successful as I had hoped, I am still chalking this one up in the "Win" category. We made good use of the food we had on hand and saved a little bit of money while we were at it. Would I do the Summer Pantry Challenge again? Probably, but I will start the Challenge knowing I will need to be a bit more flexible, and that's OK. I am already looking forward to the Winter 2015 Pantry Challenge.
Did you participate in the Summer 2014 Pantry Challenge? If you did, I'd love to hear about your results! Post your progress or any questions you have in the Comments. I'll do my best to answer. Happy Eating!!!
This post may contain affiliate links. If you choose to click on the link and/or make a purchase, I will be paid a small amount which helps to support this website. Your price is the same, whether or not you use the link. This does not influence or change my opinion.