Old Fashioned Bread Pudding with Vanilla Sauce
Disclosure: This post may contain affiliate links. When you click on a link and/or make a purchase, I may be paid a small commission at no additional cost to you. Additionally, as an Amazon Associate I earn from qualifying purchases. Please read my Disclosure page for more information.
Nothing says comfort food like a slice of warm, freshly-baked bread pudding with vanilla sauce. Our recipe is made with simple ingredients and brings together soft, buttery bread with warm flavorful spices and finishes with a decadent vanilla cream sauce.
This dessert is the perfect indulgence anytime you're craving old fashioned comfort food. And the best part is it's easy to serve up this home-baked goodness with our easy-to-follow recipe.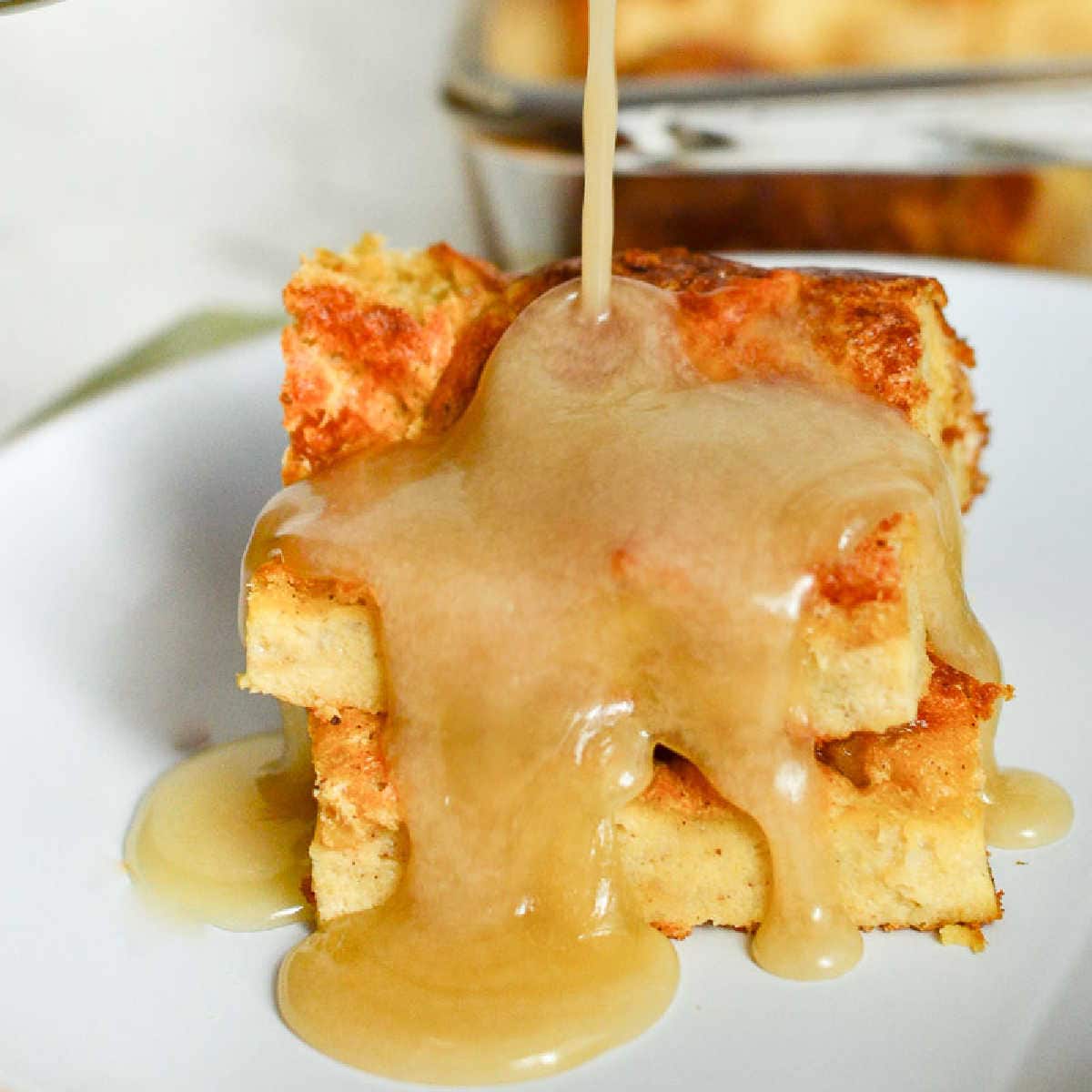 We're sharing tips to help you get the best results with this recipe. If you don't need the tips, scroll to the bottom for the full recipe and a printable recipe card.
While I love a slice of warm bread pudding because it's so delicious, this recipe also helps to use up leftover bread. I love it when I can make a decadent dessert and reduce food waste at the same time.
How many times do you find your pantry stacked with stale bread or hot dog buns that you've forgotten about? Instead of tossing it, use it for this classic bread pudding with vanilla sauce recipe.
Love retro and old fashioned recipes?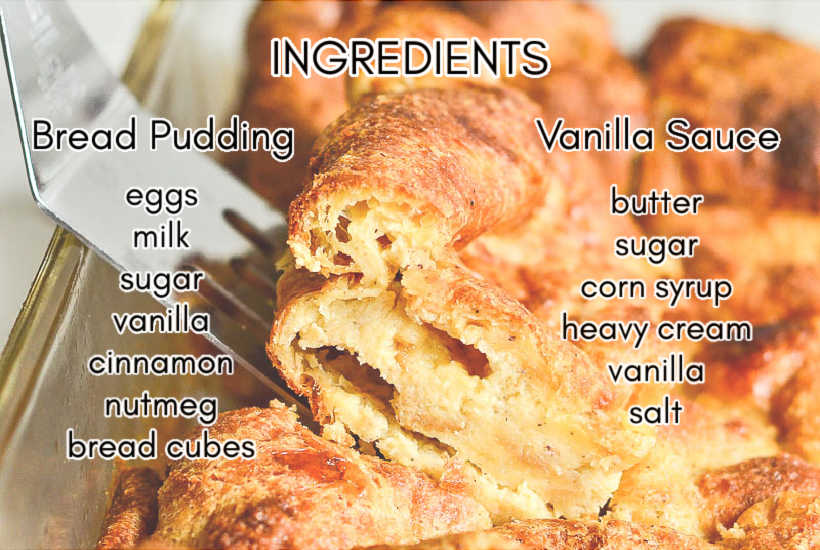 Ingredients Needed
Bread pudding ingredients:
eggs
whole milk
granulated sugar
vanilla extract
ground cinnamon
ground nutmeg
bread cubes
Vanilla sauce ingredients:
unsalted butter
granulated sugar
corn syrup (such as Karo brand)
heavy cream
vanilla extract
salt
Get the complete ingredients & directions in the recipe card below.
How to Make Old Fashioned Bread Pudding
Preheat the oven to 350 degrees F. Grease a 9×9 baking dish and set aside.
Whisk together the eggs, sugar, milk, vanilla, and spices in a large bowl to make the custard mixture.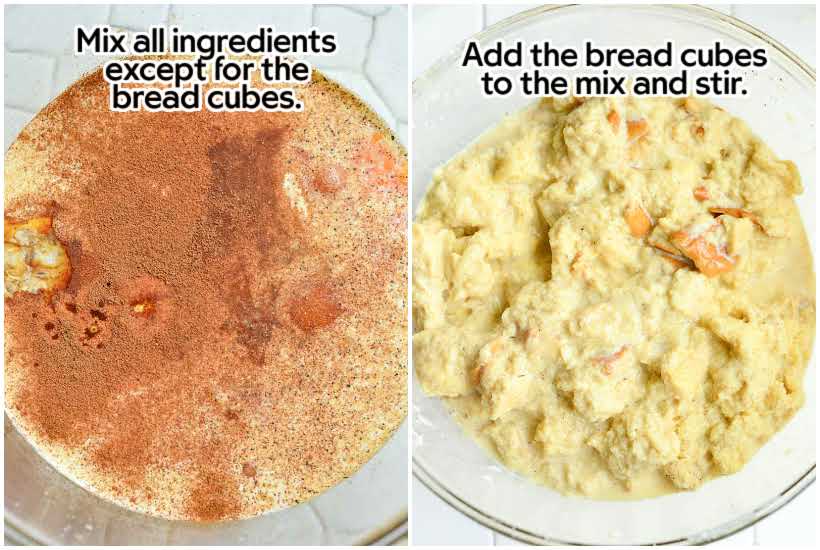 Combine bread pieces with the egg mixture and stir to combine.
Spoon the bread mixture into the prepared baking dish, then pour the remaining egg mixture over the top.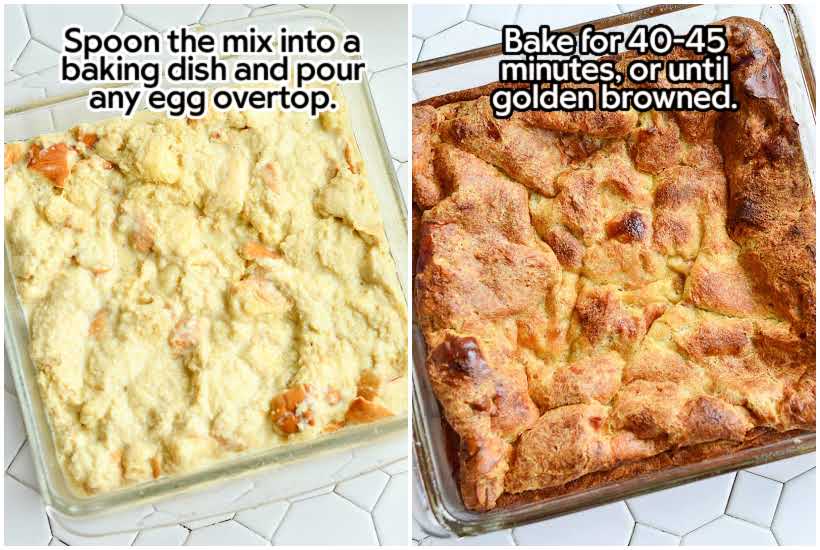 Bake until the top is golden brown and set in the middle, about 40 minutes. The edges should be browned with a slightly jiggly center. If you have an instant read thermometer, you want to cook it to 160 degrees F.
How to Make the Vanilla Sauce Recipe
Melt the butter in a small saucepan over Medium heat. Whisk in the Karo syrup and sugar.
Pour in the cream, vanilla, and salt. Stir and bring the sauce to a boil.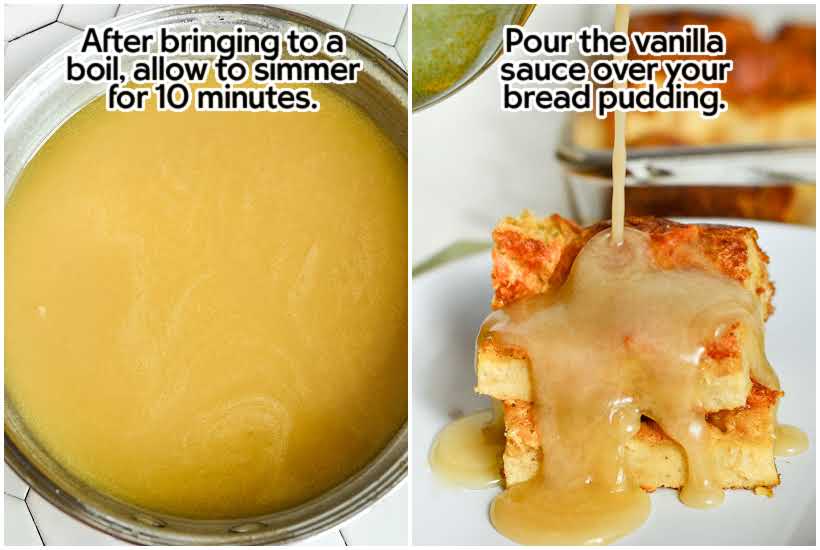 Reduce to medium-low heat and allow it to simmer for 10 minutes, stirring occasionally.
Remove from the heat and pour the dessert sauce over the cooked bread pudding.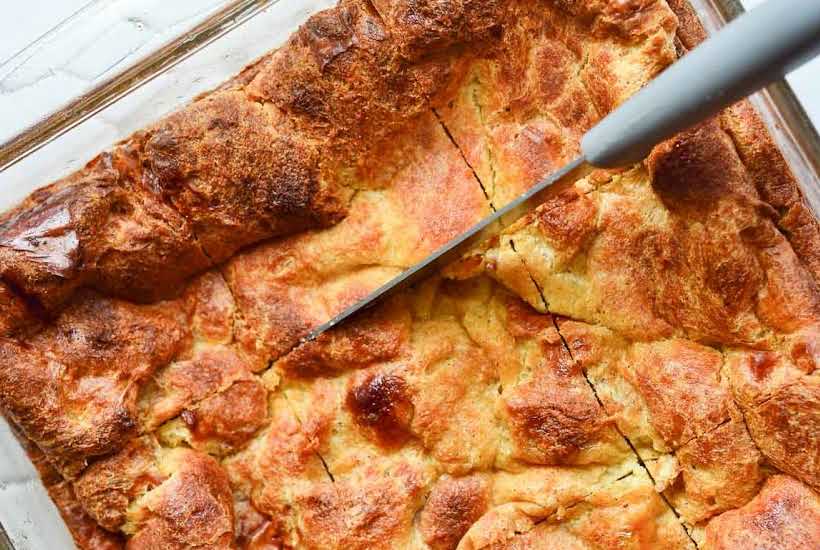 Tips for Making
This recipe works best when you use slightly stale or day old bread because it holds its shape when soaked in the custard mixture. Fresh bread may break down or might not soak up the liquid.
You can use almost any kind of bread like hot dog and hamburger buns or sliced bread.
It may look like a pile of mush after you mix the bread with the milk mixture – that's OK. The bread will soak up the egg mixture.
The bread pudding will puff up while it's cooking and shrinks as it cools.
Make sure you cook the sauce over low heat to avoid scorching or burning.
The simple vanilla sauce will thicken as it cooks and continue to thicken as it cools.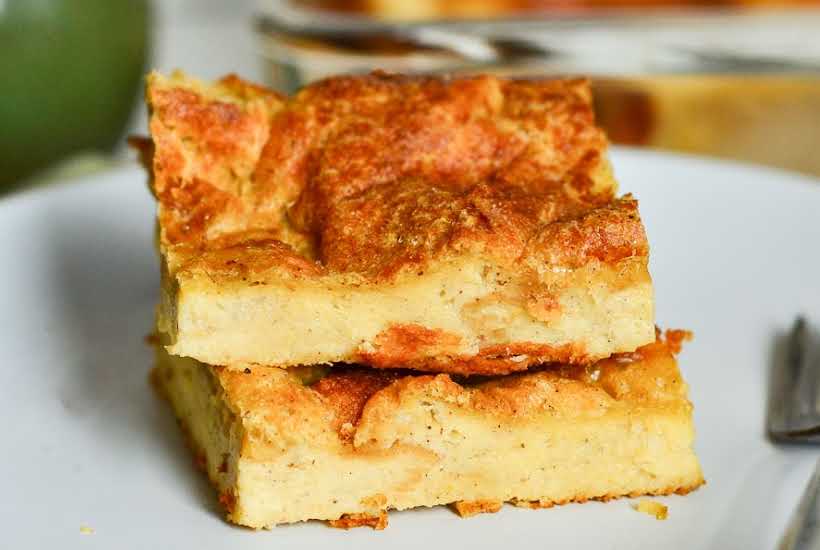 Best Bread for Bread Pudding
The most important thing to remember is the bread needs to be stale. And sturdy breads hold up better to the custard mixture – try to avoid thinly sliced breads or squishy white bread.
Our favorites are sweet and buttery like brioche and challah breads. Chewy French bread is also a good choice. If using French bread allow it to soak for 5-10 minutes before baking as it takes a bit longer for this bread to soak up the custard.
For a denser bread pudding, use half and half in place of the milk.
Add chopped walnuts or pecans if desired. Nuts can be sprinkled over the top before baking or mixed into the bread mixture. While not required, toasting the nuts adds more texture to the dish.
Plump raisins are a delicious addition to this recipe. I like to stir in a half cup of raisins to the bread mixture before baking but you can also sprinkle them on top.
Change the flavor of the sauce by substituting lemon, orange, or almond extract in place of the vanilla.
What If I Don't Have Stale Bread?
No problem! If you don't have stale bread, cut fresh bread into cubes and place them on a baking sheet. Toast them for 5-10 minutes at 350 degrees F.
You can also let cubed bread sit out uncovered for several hours but we like the toasting method best.
Ways to Serve
We think the best way to serve this classic old fashioned bread pudding is sliced with a drizzle of the easy vanilla sauce.
If you're looking to change things up a bit, you can serve it with a scoop of your favorite brand of vanilla ice cream. Or add fresh blueberries, raspberries or sliced strawberries for a seasonal twist.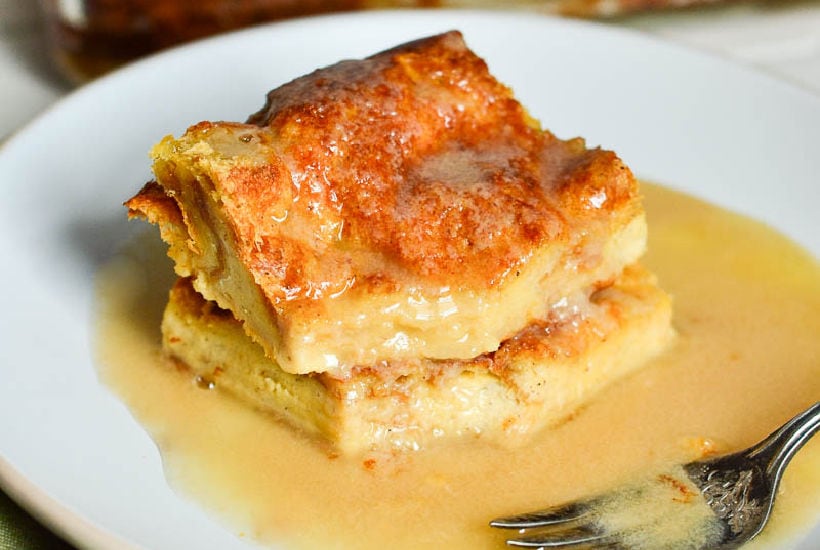 Is Bread Pudding Better Hot or Cold?
Traditionally this recipe is served warm but it can also be eaten chilled or at room temperature. I've eaten it all ways and frankly I think it's good at any temperature.
How to Store
Keep cooled leftover sauced bread pudding in the refrigerator, covered in plastic wrap or in an airtight container, for up to 2-3 days. It will keep for an extra day or two if the sauce and pudding are stored separately. To reheat, warm in the microwave at 50% power until heated through.
To freeze, wait for the bread pudding to cool. Wrap in a couple layers of plastic wrap and transfer to a ziptop freezer bag. Thaw in the fridge overnight. Heat oven to 350 degrees F and bake until it's warm, adding the sauce before serving.
MORE FAMILY Favorite
Easy Bread Recipes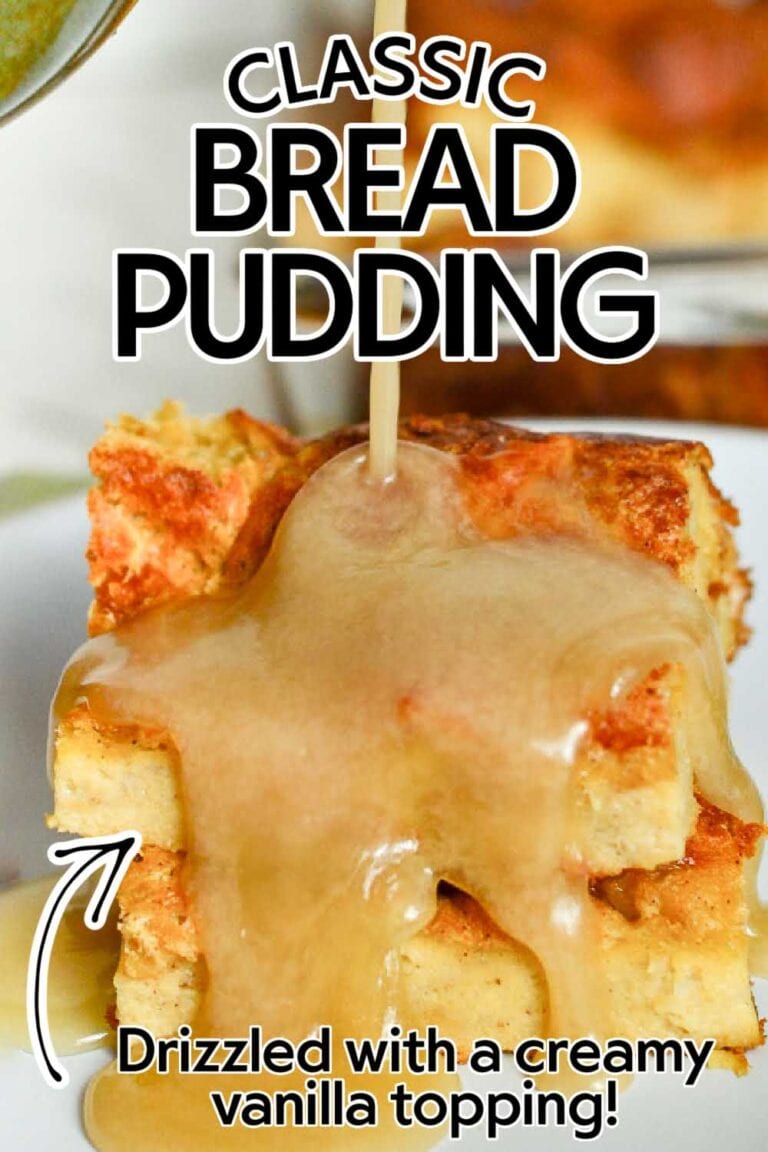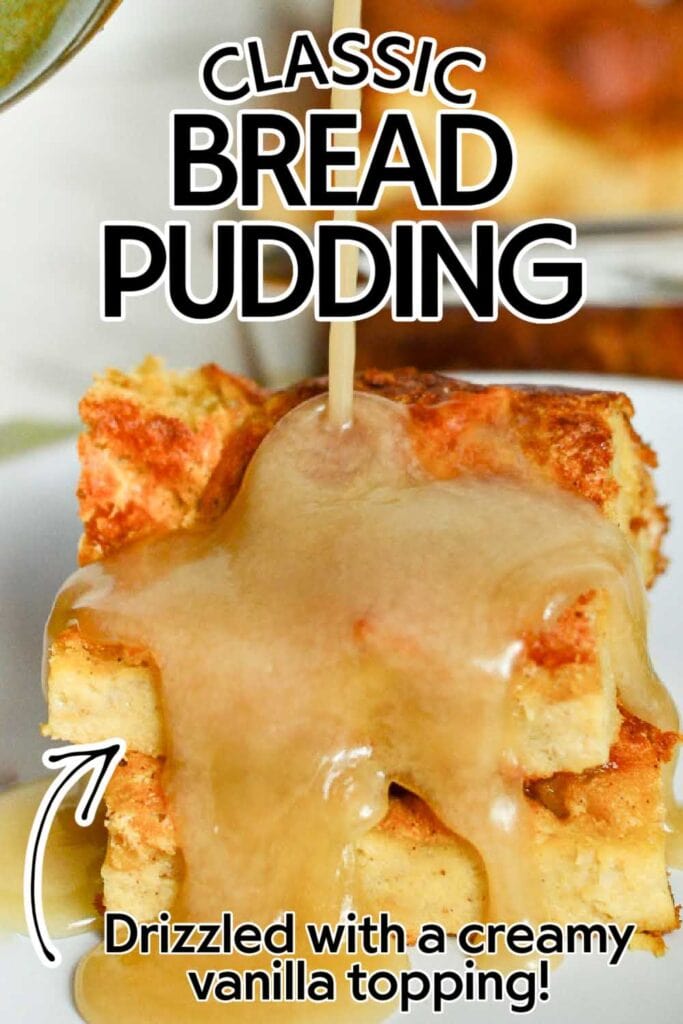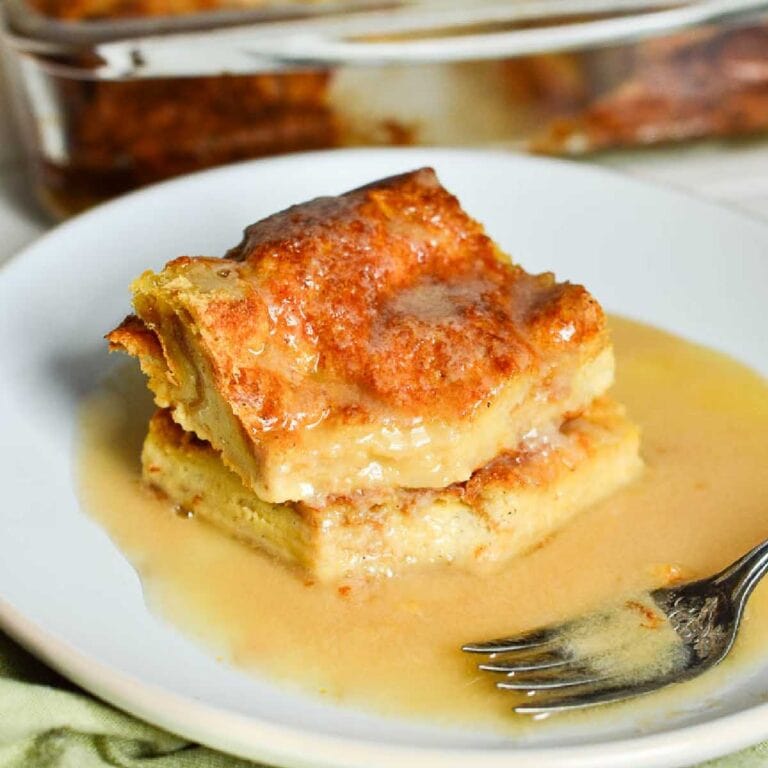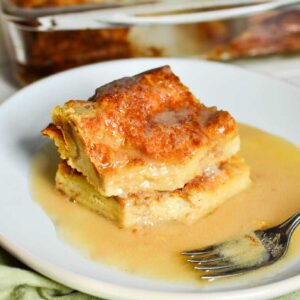 Old Fashioned Bread Pudding with Vanilla Sauce
Our homemade bread pudding recipe with creamy vanilla sauce always satisfies when you're craving a classic comfort food dessert. Perfect for family dinners or cozy weekends.
Print
Pin
Rate
Ingredients
For the sauce:
1/2

cup

unsalted butter

,

(1 stick)

⅔

cup

granulated sugar

2

tablespoons

corn syrup

,

such as Karo brand

1

cup

heavy cream

1

tablespoon

vanilla extract

¼

teaspoon

salt
Instructions
For the bread pudding:
Preheat your oven to 350 degrees F. Grease a 9×9 baking dish with nonstick spray or butter and set aside.

In a large mixing bowl, whisk together the eggs, milk, sugar, vanilla extract, cinnamon, and nutmeg.

Add the bread cubes to the bowl and toss to combine.

Spoon the bread cubes into your prepared baking dish in a single layer, and pour any excess egg mixture over top.

Bake for 40-45 minutes, or until golden browned on top and set in the middle.
For the sauce:
Melt the butter in a saucepan over Medium heat.

Add the sugar and Karo syrup, and whisk until combined.

Add the heavy cream, vanilla, and salt, and whisk to combine.

Turn the heat to High and quickly bring the mixture to a boil.

Reduce the heat back down to Medium-low and allow the mixture to simmer for 10 minutes, stirring occasionally.

Remove from heat and pour over the baked bread pudding.
Notes
For best results, use day-old or slightly stale bread.
We like using a slightly sweet bread made with eggs, such as brioche or challah for this recipe. You can also use a baguette, French or Italian bread, or any leftover bread you need to use up.
You can use half and half in place of the milk in the bread pudding mixture for a denser pudding.
The sauce will thicken as it simmers, and thicken even more as it cools.
Store leftover bread pudding tightly covered in the refrigerator for 2-3 days.
See the blog post for additional tips and variations.
Nutrition
Serving:
1
slice
|
Calories:
442
kcal
|
Carbohydrates:
46
g
|
Protein:
9
g
|
Fat:
25
g
|
Saturated Fat:
14
g
|
Polyunsaturated Fat:
2
g
|
Monounsaturated Fat:
6
g
|
Trans Fat:
0.4
g
|
Cholesterol:
136
mg
|
Sodium:
302
mg
|
Potassium:
194
mg
|
Fiber:
2
g
|
Sugar:
30
g
|
Vitamin A:
899
IU
|
Vitamin C:
0.2
mg
|
Calcium:
148
mg
|
Iron:
2
mg
Nutritional information is provided as a reference, using an online calculator. We recommend verifying the information independently for accuracy.