Teriyaki Meatball Bowls
Disclosure: This post may contain affiliate links. When you click on a link and/or make a purchase, I may be paid a small commission at no additional cost to you. Additionally, as an Amazon Associate I earn from qualifying purchases. Please read my Disclosure page for more information.
EASY WEEKNIGHT TERIYAKI MEATBALL BOWLS – meatballs paired with a quick sauce for a wholesome weeknight meal.
30-Minute Teriyaki Meatball Bowls
A few weeks ago, one of my readers (Hi Elaine!) posted her weekly menu and it included Asian Bowls (a riff on the oh-so-popular Burrito Bowls).  Her comment got my wheels spinning and I decided to create my own Asian-style bowl – Teriyaki Meatball Bowls.
The trick was coming up with a meatball the entire family would love.  I knew The Girl would be my toughest critic as she isn't a huge meat fan.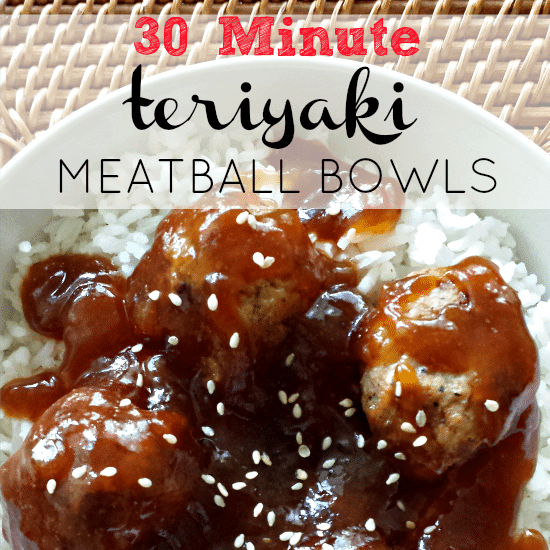 I also had to factor in that while I like to EAT meatballs, I'm really not into "making" meatballs from scratch. And, I get a little skeeved out having to touch all that raw meat. Please don't judge.
Enter Aidell's Teriyaki & Pineapple Chicken Meatballs.  I found these at Costco (I've also seen them at my grocery store) and thought they would fit the bill for this dish.
And, I was right. The premade Teriyaki & Pineapple Chicken Meatballs are a perfect way to turn Teriyaki Meatball Bowls into a 30-minute dinner.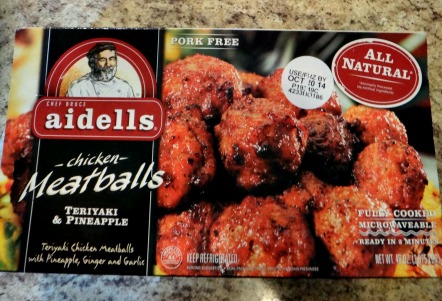 For the sauce, I started with a Teriyaki Sauce recipe from Jamie Cooks It Up!  I've made this sauce several times, modifying it to fit our tastes.
You can add the sesame seeds directly to the sauce if you prefer (I sprinkle them on when serving because I have a few haters in my house).  I also highly recommend using reduced sodium soy sauce.
To serve, simply scoop some rice in a bowl.  Add meatballs and top with the Teriyaki Sauce.  You could also add steamed vegetables – whatever your heart desires.
I realize I called these "Bowls" and my photo shows a serving on a plate. There wasn't a clean bowl to be had when I dished this up, so it's on a plate (surely you can relate, right?!).
This is an easy weeknight meal, assuming you are using pre-made meatballs.  Dinner can be on the table in about 30 minutes – easy meal after a busy day! Just like this Instant Pot Korean Ground Beef recipe.
My toughest critic (The Girl in this case) loved the dish AND the meatballs!  She finished off the few leftover, lonely meatballs the next day (and actually wanted to open the other pack – seriously!).
To top it all off, The Girl declared Teriyaki Meatball Bowls …… BOMB! Yes – she bestowed the highest of praise on this humble little dish! Believe me when I tell you she is stingy about calling a dinner Bomb, so this made my day.
Work Smarter:  

Sometimes the right tools can make or break your cooking experience. These are the tools I used to make quick work of this recipe:
Rice Cooker – set & forget with perfect rice every time.  This size is just right for my family of 4.
Whisk – dishwasher safe with a sealed barrel.  Ideal for making sauces & salad dressings.
I've linked this recipe at: Meal Plan Monday and Weekend Potluck.
You May Also Like: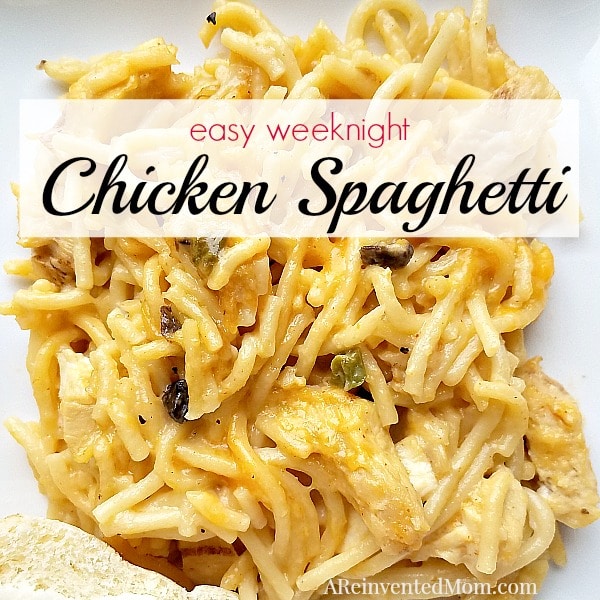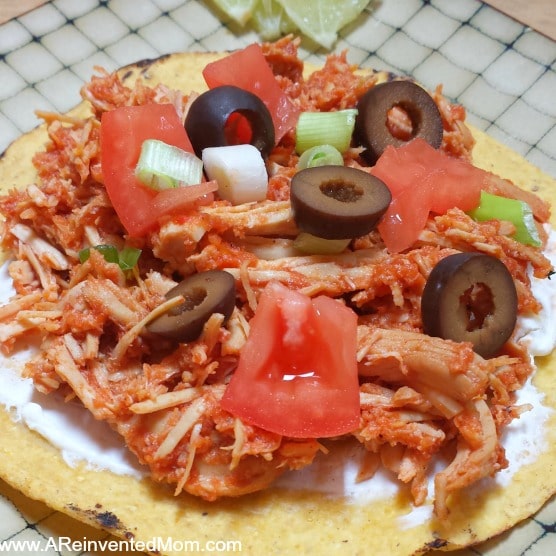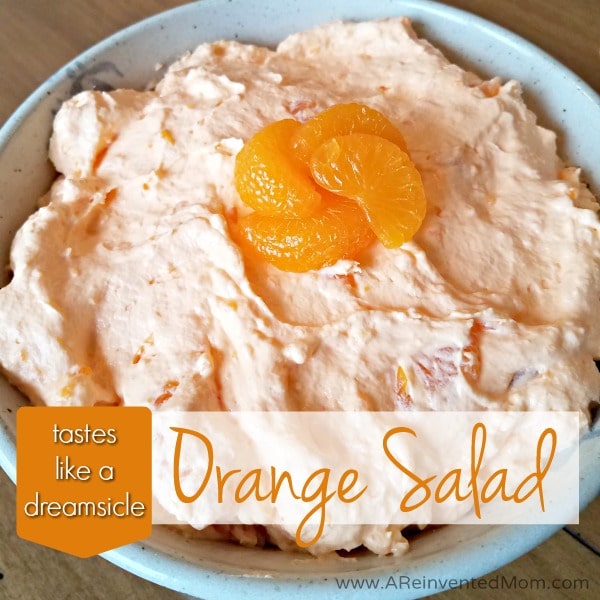 A Reinvented Mom is a participant in the Amazon Services LLC Associates Program, an affiliate advertising program designed to provide a means for sites to earn advertising fees by advertising and linking to Amazon.com.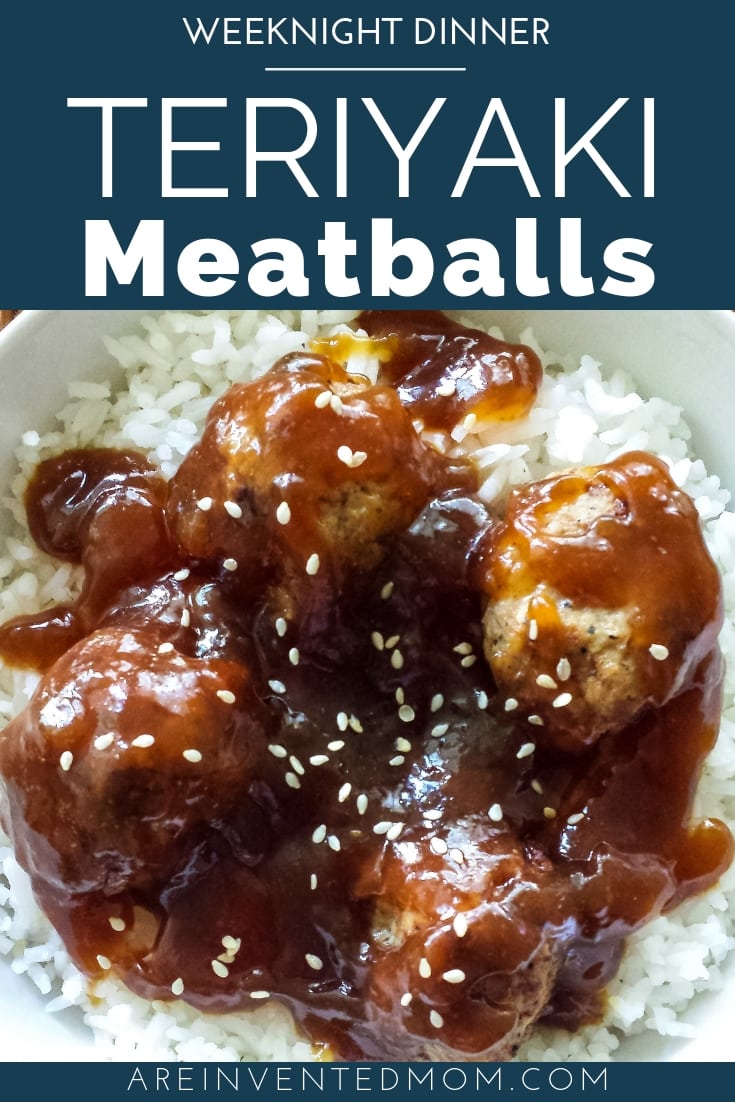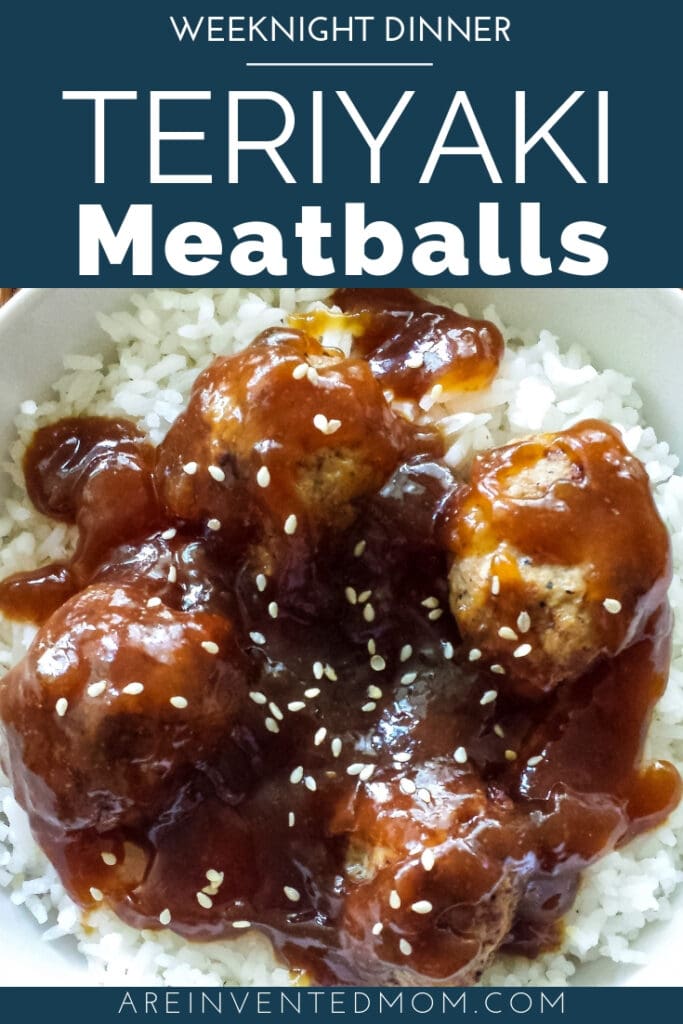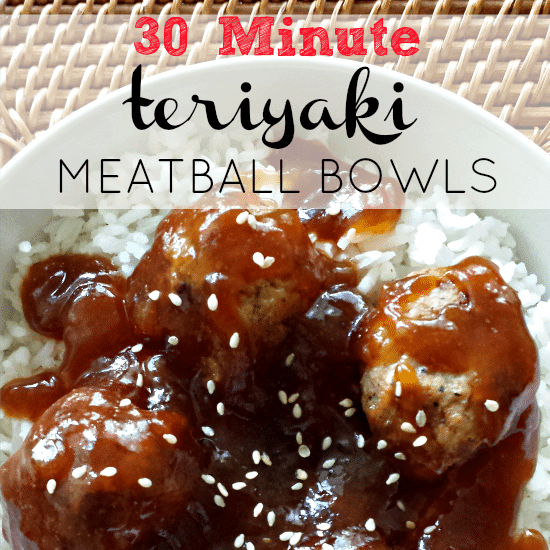 Easy Weeknight Teriyaki Meatball Bowls
EASY WEEKNIGHT TERIYAKI MEATBALL BOWLS - meatballs paired with a quick sauce for a wholesome weeknight meal.
Print
Pin
Rate
Instructions
Cook rice according to package directions. I use a rice cooker for perfect rice every time.

Heat meatballs according to package directions or make from your favorite recipe. Keep warm.

Combine first 5 ingredients in a bowl and stir.

Add the corn starch and whisk until mixture is smooth.

Add the sesame oil and stir.

Pour the sauce mixture into a large skillet. Whisk continually over medium high heat until sauce has thickened.

To serve: top rice with meatballs and top with Teriyaki Sauce.
Nutrition
Calories:
642
kcal
|
Carbohydrates:
76
g
|
Protein:
24
g
|
Fat:
25
g
|
Saturated Fat:
9
g
|
Cholesterol:
81
mg
|
Sodium:
784
mg
|
Potassium:
468
mg
|
Fiber:
1
g
|
Sugar:
18
g
|
Vitamin C:
0.8
mg
|
Calcium:
54
mg
|
Iron:
2.1
mg
Nutritional information is provided as a reference, using an online calculator. We recommend verifying the information independently for accuracy.