42 Mouth-Watering Thanksgiving Leftovers Recipes the Whole Family Will Love
Disclosure: This post may contain affiliate links. When you click on a link and/or make a purchase, I may be paid a small commission at no additional cost to you. Additionally, as an Amazon Associate I earn from qualifying purchases. Please read my Disclosure page for more information.
Don't waste all that time, effort, and food with these incredibly tasty Thanksgiving leftovers recipes. Revamp your leftover stuffing, turkey, and side dishes into fresh meal ideas the whole family will love.
Thanksgiving has come and gone and you've had enough of simply eating leftovers. Don't waste your food! Instead, utilize some simple recipes to make the most of your Thanksgiving leftovers.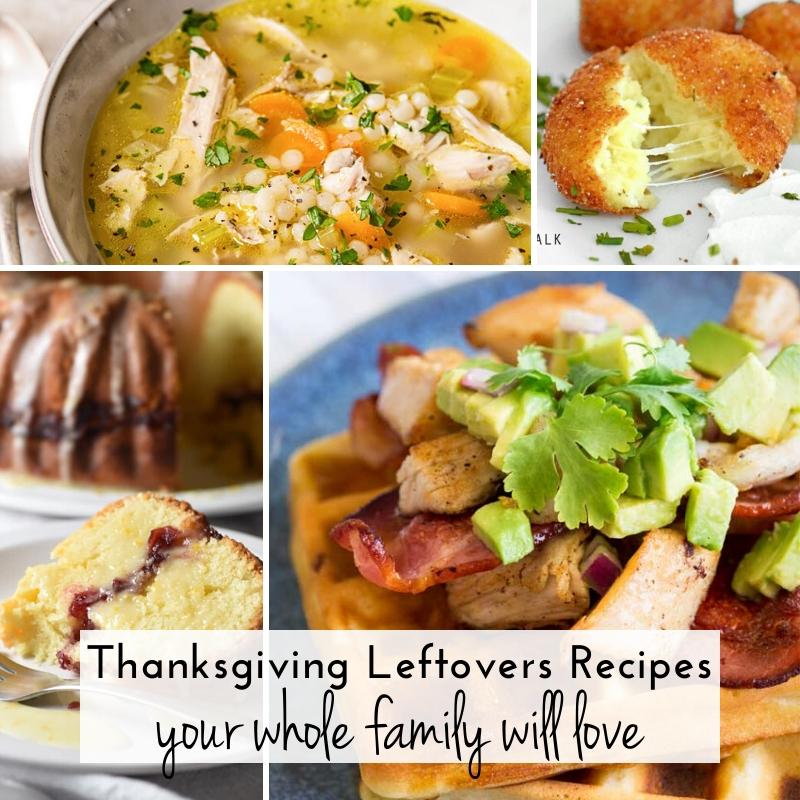 Re-purposing your side dishes to make delicious, any-time meals not only saves you money, but it makes the most of your cooking efforts too.
This year, create new and exciting meals for your family with your Thanksgiving leftovers by putting a fresh spin on traditional Thanksgiving dishes.
The 42 Best Thanksgiving Leftover Recipes
Each year I look forward to creating recipes with Thanksgiving leftovers, and I'm always excited to share a few of my favorites with you.
These leftover recipe ideas take traditional side dishes and create new and exciting meals the whole family will love. Each meal caters to a different set of tastes, and there are a few instances where it's easy to substitute whatever you may have on hand.
Related: need to freeze some of your leftover turkey? Check out the meal prep chicken post for helpful tips.
The key to creating successful turkey leftover ideas is to think about quick-and-easy ways to re-use leftovers and change the flavor of the original dish. It keeps things fresh and inspires new ideas.
Think of your leftovers as base ingredients for new and different meal ideas. A few of my favorite recipes with Thanksgiving leftovers utilize Thanksgiving side dishes or Thanksgiving appetizers in innovative ways to create new flavors.
Also, Thanksgiving leftovers are a once-a-year kind of thing, so have fun with creating something new and different in the kitchen.
Keep things exciting by having your family vote on their favorite Thanksgiving leftover recipes.
Do you have any unique turkey leftover ideas? Let me know by sharing in the comments below.
Happy eating!
Follow A Reinvented Mom on Pinterest,and Instagram.
This post was originally published on 11/23/18 and updated on 11/26/19.
42 Mouth-Watering Thanksgiving Leftovers Recipes the Whole Family Will Love
Do you have more leftovers than you know what to do with? Getting bored after having the same meal 3 times? Or just hate leftovers? Transform your Thankgiving leftovers into new dishes with these easy recipes.