How To Make Easy Meal Prep Chicken
Disclosure: This post may contain affiliate links. When you click on a link and/or make a purchase, I may be paid a small commission at no additional cost to you. Additionally, as an Amazon Associate I earn from qualifying purchases. Please read my Disclosure page for more information.
Batch cooking is your ticket to creating hot meals in 15-30 minutes. Today I'm showing you how to make Easy Meal Prep Chicken. Let's get to it!
Batch Cooking: How To Make Easy Meal Prep Chicken
Sometimes I question whether or not I should share an idea or recipe. Not because I think you won't like it. But because it seems so basic. As in, I'm certain EVERYONE must already know about this awesome idea.
But then I question if there is a busy Mom or Dad who NEEDS this information. What if this information could make life easier for someone?
Today's post is one of those basic recipes. A recipe that kept getting pushed to the bottom of the calendar because it is sooo easy.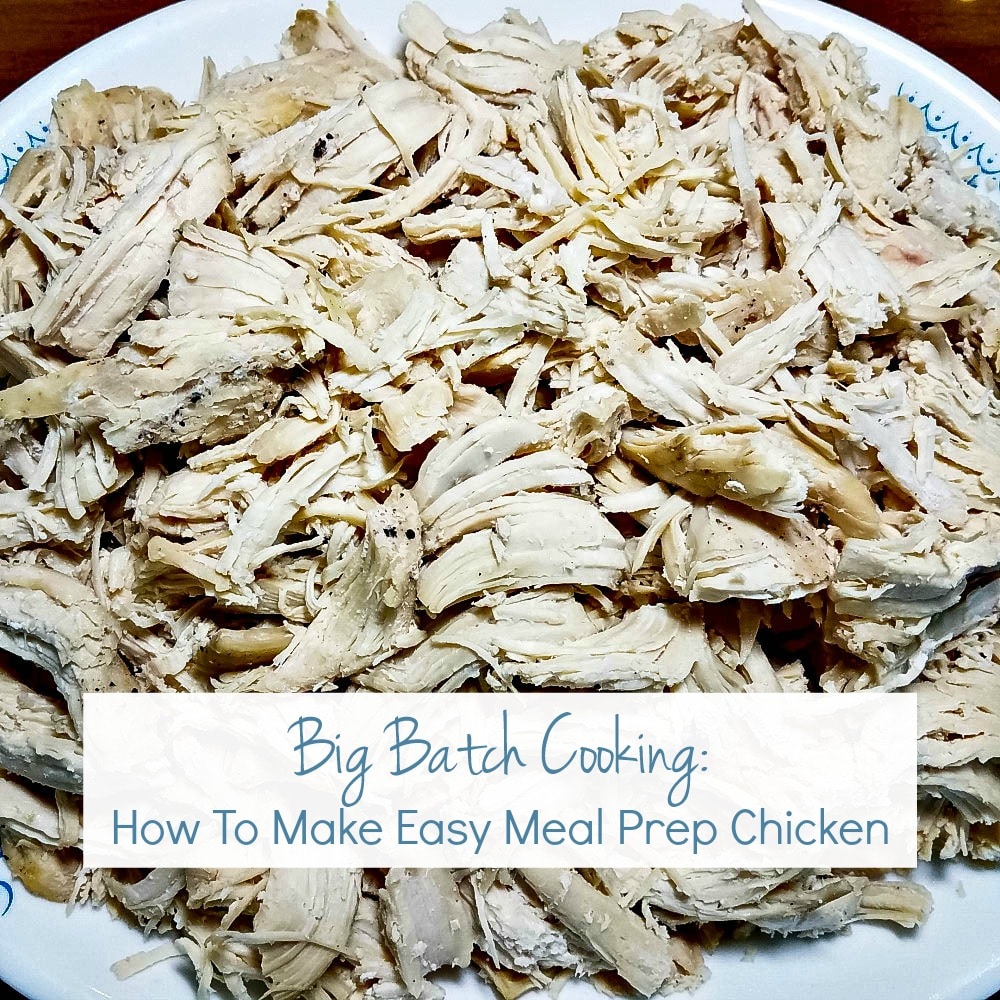 I moved it to the top of list after recent conversations with friends about easy meal prep ideas. These friends didn't know about the magic of cooking a large quantity of protein in a single session. They didn't know how easy it could be to put dinner on the table after a hectic day.
Most of us are busy with work, family, school and extracurricular activities. There just aren't enough hours in the day to accomplish everything. I get it!!
But your people still need to eat. You're tired of hitting up the drive-thru several nights a week. You want to feed your family a nutritious meal. And you want to save a little money.
Don't worry – I've got you covered! This post is for all the busy Moms & Dads who want to feed their families with minimal effort.
What Is Batch Cooking & Why You Should Try It
The premise is simple – cook once, eat multiple times. Batch Cooking has many shapes. It can be as simple as doubling a casserole recipe and freezing one for later. Or making slow cooker meal kits to freeze for future use. We are tackling Meal Prep Chicken today.
Meal Prep Chicken is a basic recipe that will yield cooked chicken that you can use to jumpstart a multitude of recipes. In addition to the substantial time savings, you'll also reap these benefits:
Having pre-cooked chicken on hand will allow you to create 15 and 30-minute meals for your family.
You'll save money by purchasing chicken in bulk. The large family packs of meat offer the best pricing. You can save even more if you stock up when chicken goes on sale.
Pre-cooked chicken will keep you out of the drive thru. Having a meal on the table in 15-30 minutes is equivalent to the amount of time you'd likely spend making a run to a fast food joint.
Better nutrition – home cooked meals are generally healthier than most fast food meals.
Staying out of the drive thru saves you MONEY!! And who doesn't want to save a little coin?! Most of the meals I prepare for my family of 4 come in at the $10 range. A fast food meal can run $30-35. That's a substantial savings!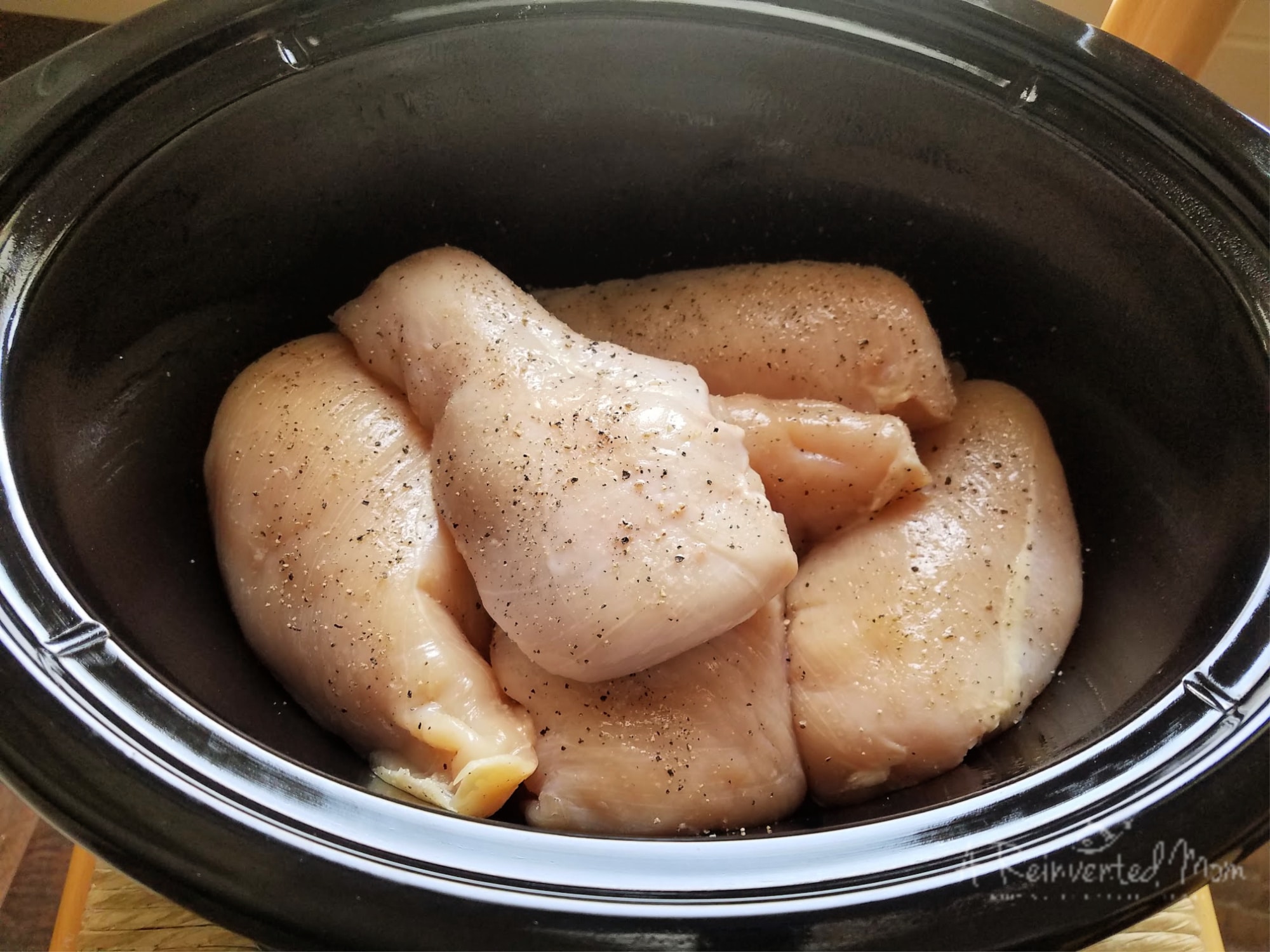 How To Make Easy Meal Prep Chicken
This is one of the easiest recipes you will ever prepare. Gather a few simple ingredients: chicken breasts, chicken broth, salt and pepper. That's it.
I prefer to keep the seasoning basic so I'm not limited in the recipes I can use. Mexican-seasoned meat doesn't taste great in Italian dishes. If your family eats mostly Italian chicken, then by all means season the chicken with Italian seasonings. Or whatever seasoning blend works best for your family.
Rinse the chicken and pat dry. Next, trim the fat and cartilage prior to cooking. A pair of kitchen shears works well but you can also use a sharp knife.
NOTE: 1 pound of boneless, skinless chicken will yield approximately 3 cups of cooked chicken.
The crockpot (this is the one I use) is my preferred method to prepare Easy Meal Prep Chicken. I like it because it's a foolproof way to make juicy chicken with minimal effort. Toss everything in the slow cooker, turn it on and forget about it for a few hours. It doesn't get any easier.
Alternatively, you can cook the chicken breasts in the oven. Using similar sized pieces of chicken will give you best results. Place the chicken breasts on a large sheet pan (or two, depending on how much chicken you are preparing) and season. Bake at 400 degrees until the temperature registers 165 degrees (about 20-25 minutes-ish). Keep a close eye on the chicken so you don't overcook it.
Overcooked chicken = dry chicken (yuck!). If you don't have a meat thermometer yet, I recommend purchasing one. The investment is minimal and takes the guesswork out of cooking. I have this ThermoPro model.
When the chicken is done, remove to a plate or platter and shred with 2 forks. I like to keep the shreds on the medium to larger size.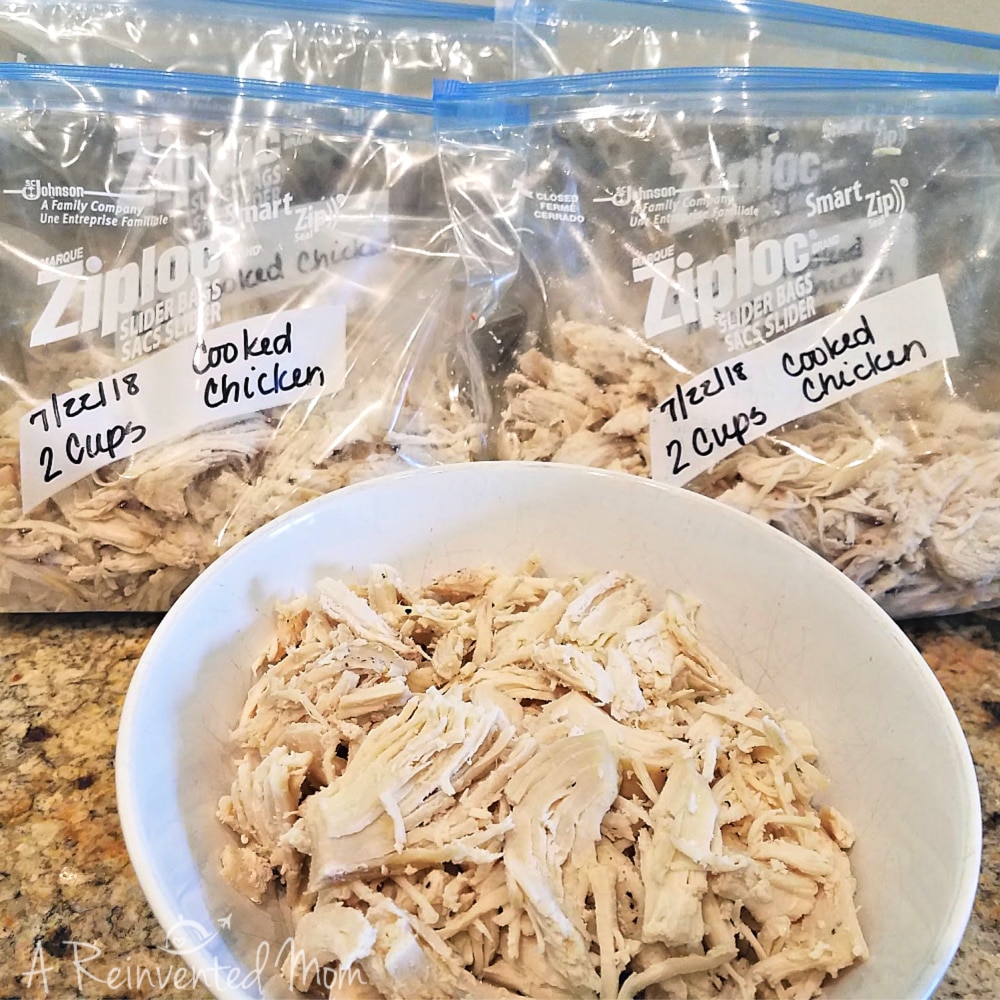 How To Store Easy Meal Prep Chicken
You have several storage options. Select the one that works best for your family.
If you plan to use the chicken within the week, store it in the refrigerator. I like these containers for refrigerator storage. Just remove what you need and stash the rest back in the refrigerator.
For longer storage, you'll want to use the freezer. Gather a couple simple items to package Meal Prep Chicken for freezer storage: freezer bags and a permanent marker. That's it!
Label your freezer storage bags with the contents, date and quantity BEFORE you fill the bags. I've heard it is more difficult to label the bags after they are filled. Not that I have any first hand knowledge of this. Nope, not me.
Two cups of cooked chicken is a sweet spot for most of the recipes I use. If I need a larger quantity, I can use 2 bags. Feel free to adjust the measurement to what works best for you.
After labeling the bags, fill with the designated amount of chicken. Squeeze out as much air as you can before sealing the bag.
If you plan to do regular big batch cooking or purchase bulk foods (berries, veggies, fruits, meats, cheese, etc.), you should consider investing in a FoodSaver vacuum sealer. So easy to use and it keeps the dreaded freezer burn at bay. I purchased one several years ago and have never regretted the investment. The FoodSaver will pay for itself by keeping your food fresh longer.
Store the filled packages in the refrigerator until chilled, then transfer to the freezer for long term storage.
I try to use the pre-cooked chicken within 2-3 months. The texture can get a little funky after a couple months in the freezer but the taste is still good, which makes it fine for soups and casseroles. Plan to use it by the 6-month mark.
How To Use Easy Meal Prep Chicken
To defrost: place a frozen package in the refrigerator to defrost overnight. Unless you are forgetful (or unorganized) like me. In which case you will move it to the refrigerator in the morning.
The smaller packages defrost more quickly than larger pieces of meat. I don't recommend using the microwave to defrost the frozen packages because I've had mixed results. Mostly uneven thawing and some of the chicken cooking. Just don't do it. Trust me on this one, OK?
Now it's time to create delicious meals using the tasty chicken you prepared, like this Leftover Chicken Flatbread Pizza. Many recipes are easier to prepare when you start with pre-cooked chicken. These are just a few of the ways I use meal prep chicken.
Pasta – family (and reader!) favorite Easy Weeknight Chicken Spaghetti
Casseroles
Soups
Salads – Bok Choy Salad with Ginger Sesame Soy Dressing, add cooked chicken to California Slaw to make it a main dish salad, simple Chicken Salad (add a little mayo and sweet pickle relish), pasta salad.
More easy dishes – quesadillas, stir fry, burritos, tacos (try with my Homemade Taco Seasoning), BBQ chicken sandwiches (mix with your favorite BBQ sauce & serve on buns), pizza toppings, sandwiches, wraps and fried rice.
Swap out meal prep chicken in any of these recipes with canned chicken breast.
Batch cooking proteins is a game changer for me. I appreciate the time savings I realize by cooking a large quantity of protein in one session. Using pre-cooked meat can easily knock off 15-20 minutes from the recipe preparation time. And that can be the difference between a home-cooked meal and a trip through the drive-thru.
Have you done any batch cooking? What are your favorite tips? Leave a comment below – I'd love to know how you meal prep.
Follow me on Pinterest | Facebook | Instagram
A Reinvented Mom is a participant in the Amazon Services LLC Associates Program, an affiliate advertising program designed to provide a means for sites to earn advertising fees by advertising and linking to Amazon.com.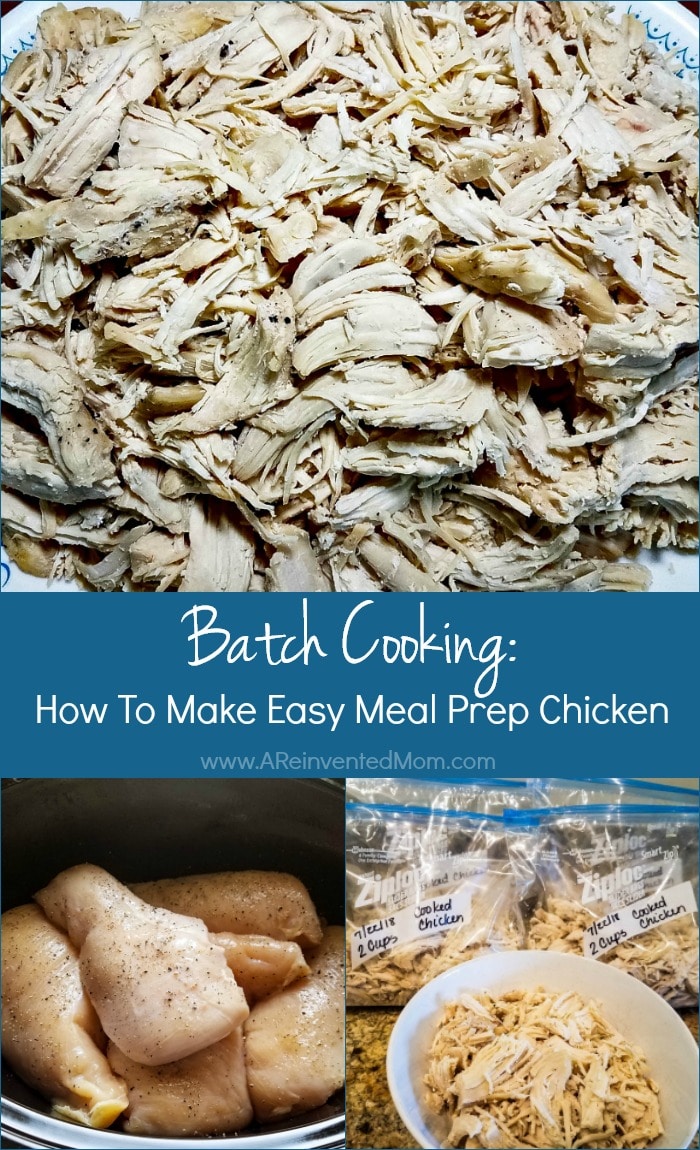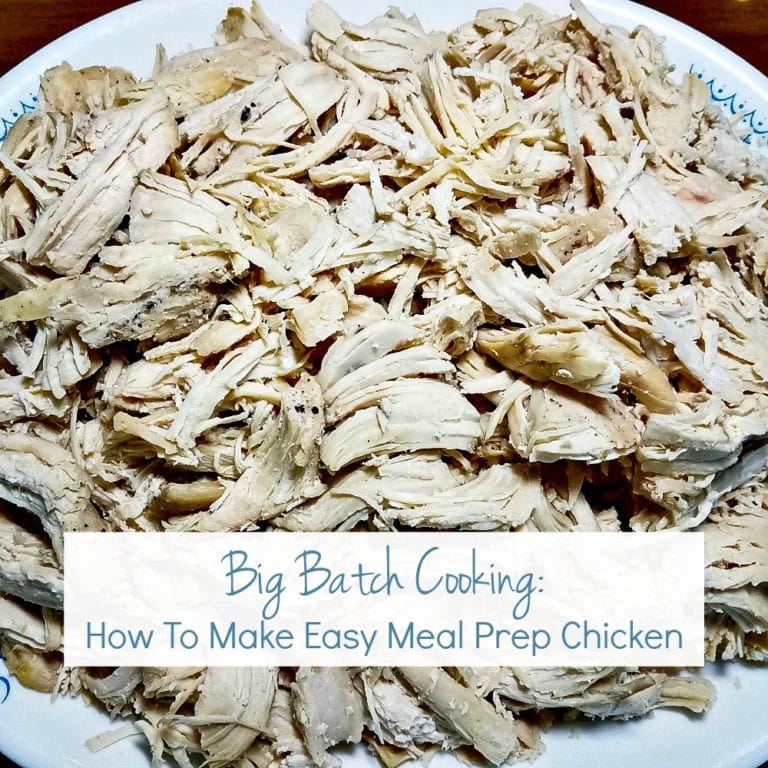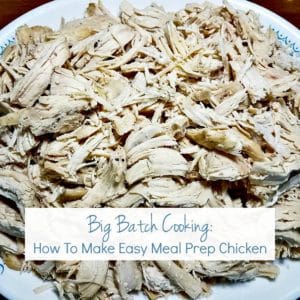 Big Batch Cooking: How To Make Easy Meal Prep Chicken
Batch cooking is your ticket to creating hot meals in 15-30 minutes. Today I'm showing you how to make Easy Meal Prep Chicken. Let's get to it!
Print
Pin
Rate
Servings:
15
cups, approximately
Ingredients
INGREDIENTS:
5

pounds

boneless, skinless chicken breasts,

,

trimmed

1

cup

chicken broth,

,

low sodium

1

tsp.

black pepper

¾

tsp.

Kosher salt
Instructions
Prepare slow cooker: spray with cooking spray or use a crockpot liner for easy clean-up.

Pour chicken broth over chicken.

Season with salt & pepper.

Cook on low for 7-8 hours or high for 3-4 hours.

Remove chicken to platter and shred with 2 forks. Add a little of the broth to the shredded meat, to keep from drying out.
Notes
Use a crockpot liner for easy clean-up.
One pound of chicken will yield about 3 cups of cooked meat.
Cooking times may vary, based on your appliance. 
REFRIGERATOR STORAGE (use within 1 week): use this option if you will use the chicken within a week. Store shredded chicken in an airtight container.
FREEZER STORAGE: Using a permanent marker, label freezer bags with the date, quantity and item (i.e. 2 cups shredded chicken, 10-7-18) before filling. Measure 2 cups of shredded chicken & place in a freezer bag.  Remove as much air as possible and seal bag. Allow to cool in the refrigerator for a few hours before moving to the freezer. A FoodSaver works well for freezer storage. For best results use in 2-3 months, although the pre-cooked chicken can be frozen for 6 months.
Nutritional information is provided as a reference only.
Nutrition
Serving:
1
cup
|
Calories:
175
kcal
|
Protein:
32
g
|
Fat:
4
g
|
Cholesterol:
96
mg
|
Sodium:
275
mg
|
Potassium:
577
mg
|
Vitamin A:
45
IU
|
Vitamin C:
1.8
mg
|
Calcium:
9
mg
|
Iron:
0.6
mg
Nutritional information is provided as a reference, using an online calculator. We recommend verifying the information independently for accuracy.