8 Last Minute Ways to Earn Money for Christmas
Disclosure: This post may contain affiliate links. When you click on a link and/or make a purchase, I may be paid a small commission at no additional cost to you. Additionally, as an Amazon Associate I earn from qualifying purchases. Please read my Disclosure page for more information.
It seems like every year the earth turns a little faster and you find yourself with less and less time to make that extra cash for Christmas. Fear not, there are quite a few real, actionable ways to earn quick money for Christmas this year.
Put a little holiday jingle in your pocket with these 8 ways to earn quick cash for the holidays. This guide is unlike any other in that I'm giving you actual, real ways to make a modest chunk of cash for Christmas this year.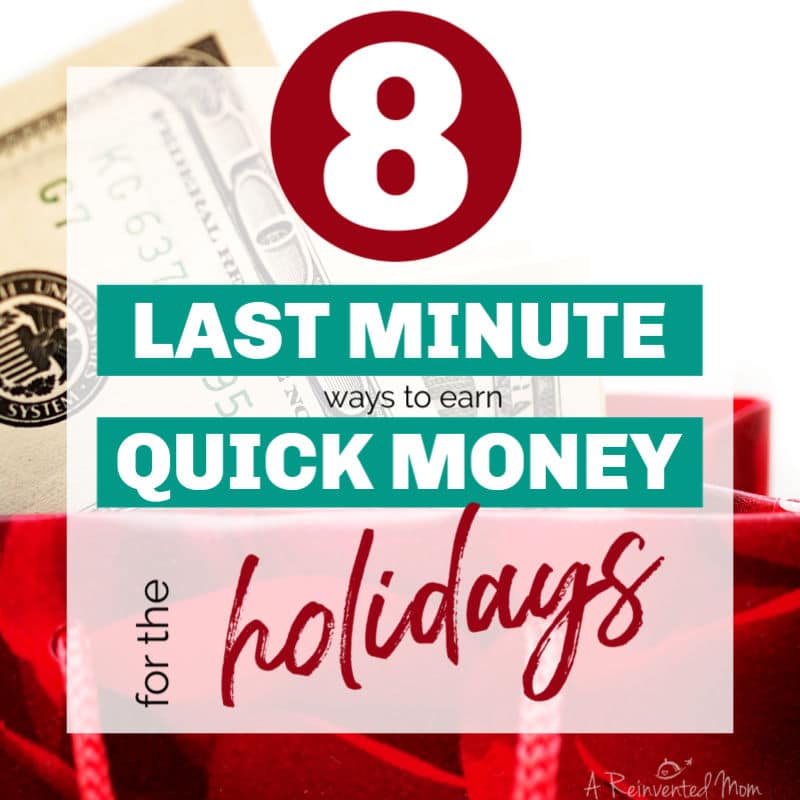 8 Last-Minute Ways to Earn Quick Money for Christmas
It's November and perhaps you feel a little stressed now that the holidays are around the corner. You may be asking yourself, how can I make quick money for the holidays? Perhaps you feel like a deer in the headlights and feeling a bit panicked.
First, stop and take a deep breath. Let it out slowly. Relax.
I've got your back this holiday season with this guide about how to make extra money fast. You're already stressed out between various social obligations, shorter days, and the kiddos taking their final exams for the semester.
Take Christmas money off of your stress list this season with these actionable steps towards fattening your holiday piggy bank.
Other articles might suggest starting a blog or taking online surveys as a way to make extra money fast. Although you can make money with these tactics, it takes months (sometimes years!) to get small payouts into your bank account.
To earn quick money for the holiday season, you're going to have to think bigger and smarter. Here's a look at 8 ways you can save money for Christmas starting today.
Try these ways to earn extra cash for the holidays:
Become a Driver for Lyft, Uber or UberEATS:
Earn extra cash by driving and/or making deliveries. These jobs are very flexible and allow you to set your own hours. The more time you put in, the more cash in your pocket.
Payments are made in a timely manner, making it an ideal option when you need cash quickly. Be sure to review the requirements and fine print to verify this opportunity is a good fit for you.
To supplement your full-time job or a part-time gig, drive with Lyft to get the extra cash you need. For a limited time, you'll get a $1000 after your first 125 rides. Terms apply.
Rent a Room in Your Home:
Become an Airbnb Host to make a little cash by renting your home. You choose to rent your entire house or a single room. A couple of short stays could earn you a tidy sum for the holidays.
The application process is straightforward. Payments are made 24 hours after your guest checks-in. Check out the requirements and fine print to make sure this is a good choice for you.
Get a Seasonal Job:
Many retailers hire seasonal, part-time help this time of year. While the commitment is short-term, the payoff could be significant.
Beside extra cash in your pocket, you may also receive an employee discount. This additional savings could be beneficial if it's a store you shop regularly.
Catering companies also look for seasonal help during the holidays. If Food & Beverage is in your wheelhouse, catering jobs can be very lucrative.
Sell Old Gift Cards:
According to Marketwatch.com, it's estimated that almost $1 billion (yes, that's BILLION!) in gift cards go unused every year. Mind blowing, isn't it?
I am guilty of "collecting" gift cards as well. While cleaning out a closet recently I found a bundle of cards with a value of over $200! My stash included a few Target and Amazon cards that I can use for holiday shopping or basic needs.
If you have unused cards lurking in your home, decide if you want to redeem the cards yourself or sell them. I will be selling my unwanted cards through Raise. Payment, less a small fee, will process soon after the card sells.
Up to 30% off already discounted gift cards! Plus, save $10 off your first order of $50+ with code 10RAISEAF
Take on Odd Jobs:
The opportunities are limitless. Many people are willing to pay someone to rake leaves, shovel snow, walk the dog, hang holiday decorations and run errands. At $20-30 per rake or shovel session, the cash can add up quickly.
Get creative. Advertise your services on local Facebook groups or Craigslist. Post a card detailing your services and contact information on your local grocery store bulletin board.
Rent Your Vehicle:
Consider earning a little cash for Christmas by renting your vehicle through Turo. Secure a few rentals and you could cover the cost of your Christmas presents. Don't forget to review the agreement & check with your insurance company to ensure this is a good option for you.
Become a Grocery Shopper:
The demand for grocery pick-up & delivery is growing. Consider becoming a shopper for your local grocery or discount store. This is typically part time work with flexible hours.
Related: How to Save $500 in 30 Days
Review Your Budget:
Take a quick look at your budget to see where you can trim expenses. If your budget includes funding for dining out or a daily coffee, now is the time to put those purchases on hold. Not forever, but for a few weeks.
Pack a lunch for work. Brew a cup of coffee or tea at home instead of hitting up the coffee shop. Practicing a little restraint for a short time could result in a sizable amount of savings.
Pantry Challenge:
One of my go-to ways to save quick cash is a Pantry Challenge. Pledge to stay out of the grocery store for 1-2 weeks. Plan your meals using food you have in the pantry, frig and freezer.
A Pantry Challenge can easily yield a couple hundred dollars in savings. The amount you save will vary based on your grocery budget.
Want to give it a try? Print a FREE Shop The Pantry Printable to take a quick inventory of food on hand. You can also read about my Pantry Challenge results for inspiration.
Meal Planning:
If a Pantry Challenge seems too drastic, make a commitment to plan your meals for the next 2 weeks. Take a quick inventory of food on hand, and plan meals using the groceries you have on hand first.
Take it a step further and plan your meals based on your grocery store's sales flyer. I find that I can cut my grocery bill in half by simply making a meal plan and sticking to my shopping list.
Do you have any tried and true methods to raise cash quickly? Please share your ways to earn quick money in the comments. I'd love to hear how you earn extra cash!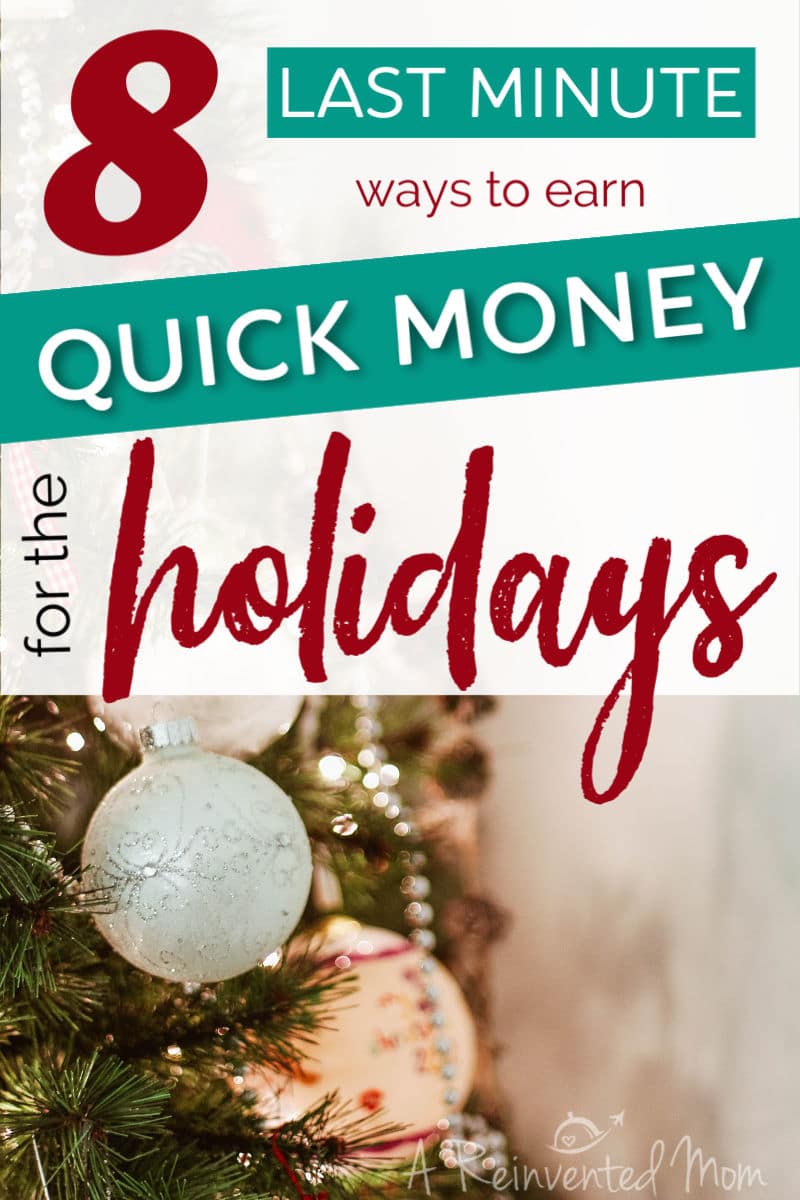 Originally posted on 11/2/17 and updated on 11/19/18 & 11/12/19.
Follow A Reinvented Mom on Pinterest and Instagram.