Round out your holiday menu with these easy Thanksgiving side dishes – appetizers, sweet & savory sides, salads and breads.
The countdown to Thanksgiving is on. I've been working on my holiday dinner menu this weekend, narrowing it down to a manageable plan.
While the turkey takes center stage on the table, the Thanksgiving sides dishes are where it's at for me. Potatoes – sweet, mashed or both? Stuffing – or do you call it dressing? Savory dishes. Sweet dishes. And don't even get me started on the bread. What a struggle – so many amazing dishes, so little time.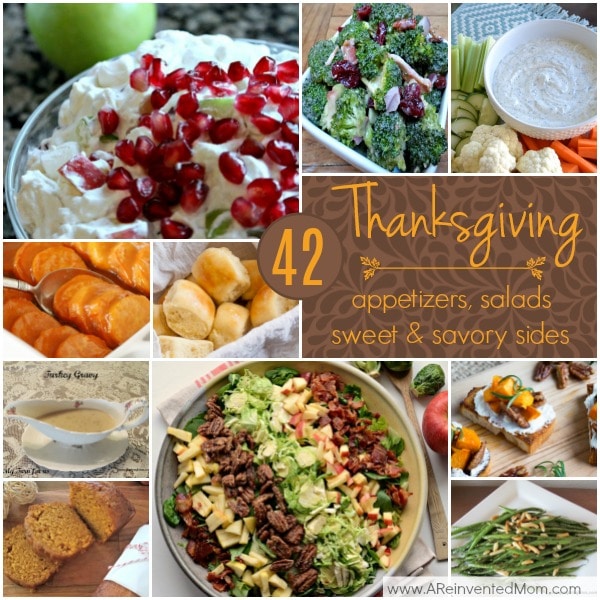 My holiday menu consists of a couple "must have" dishes (Orange Salad and Cranberry Orange Sauce). I also try to include a couple "new to us" dishes. It's good to change things up a bit. And maybe discover a new family favorite.
On my search for new recipes, it occurred to me that you might need some inspiration to round out your holiday menu. I've gathered a collection of easy Thanksgiving side dishes. Appetizers, salads, savory sides, sweet sides and bread. And the best part? Most of these dishes require very little time to make. And some can be made a day or two in advance.

Find even more Thanksgiving recipes and tips on my Thanksgiving Feast Pinterest board.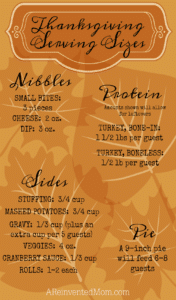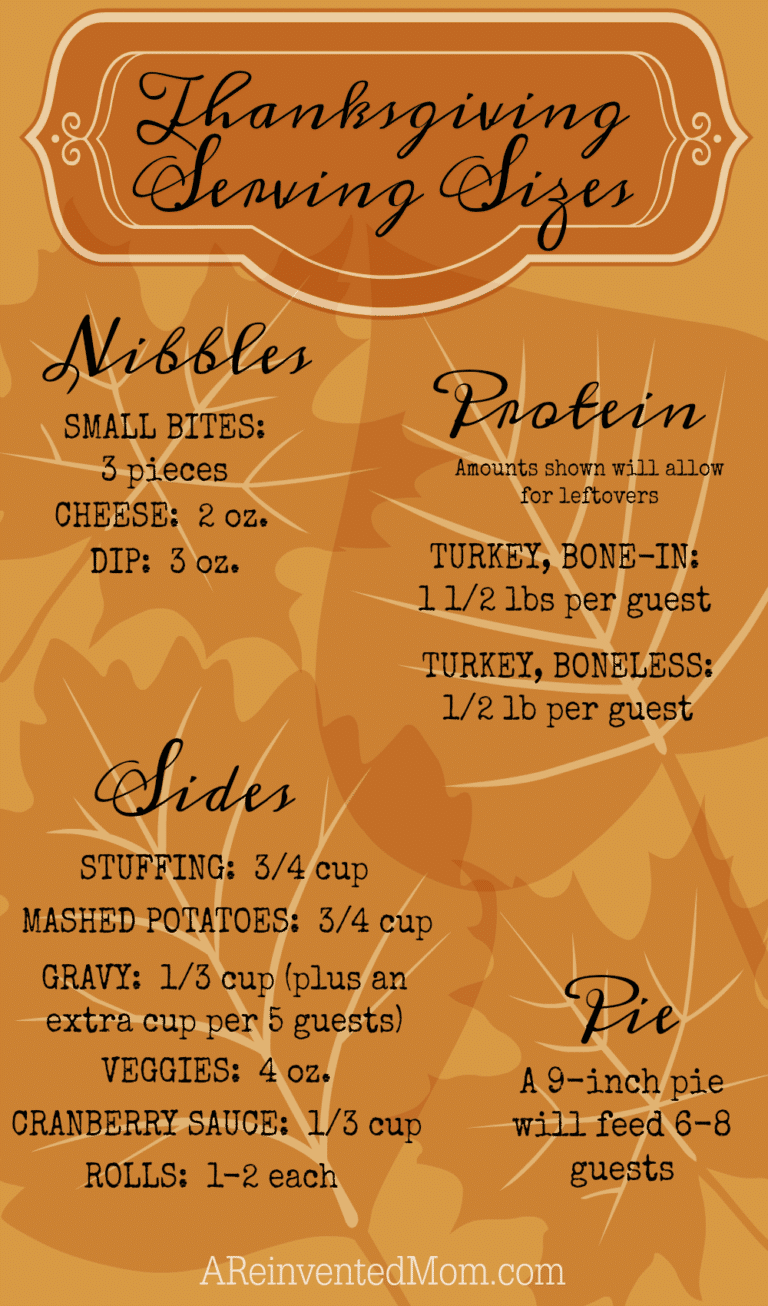 Have you finalized your Thanksgiving dinner plans yet? What "must have dishes" are on your menu?
Happy Thanksgiving from my home to yours!
42 Easy Thanksgiving Side Dishes
Appetizers & Starters
Sweet Potato and Candied Pecan Bruschetta
Fluffy Marshmallow Cream Cheese Fruit Dip with Fresh Fruit – family favorite
Roasted Balsamic Cranberry & Brie Crostini
Spicy & Sweet Cranberry Jalapeno Dip
Salads
Brussels Sprouts, Squash & Pomegranate Salad
Broccoli Salad with Bacon and Craisins – family favorite
Fall Salad with Candied Pecans, Bacon, Apples & Shaved Brussels Sprouts
Thanksgiving Salad (aka Pomegranate, Pear, Pecan & Brie Salad)
Savory Side Dishes 
Sweet & Spicy Cornbread Casserole
Roasted Lemon Balsamic Asparagus
Scalloped Potatoes with Gruyere
Fresh Green Beans with Garlic & Toasted Almonds
Katie's Cornbread Casserole – family favorite
Roasted Brussels Sprouts, Cinnamon Butternut Squash, Pecans & Cranberries
Sweet Side Dishes 
Tastes Like A Dreamsicle Orange Salad – family favorite
Perfect Baked Pineapple Casserole
Easy Homemade Cranberry Sauce – family favorite
Breads/Quick Rolls
Vanilla Spiced Pumpkin Bread – family favorite
Pumpkin Spiced Buttermilk Biscuits
Beverages:
The Perfect Thanksgiving Drink
You may also like these: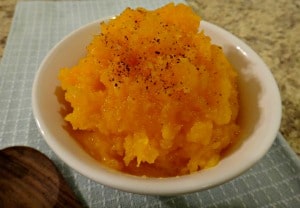 Slow Cooker Butternut Squash – No Cutting, No Peeling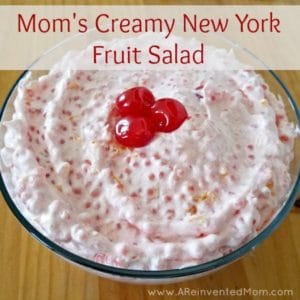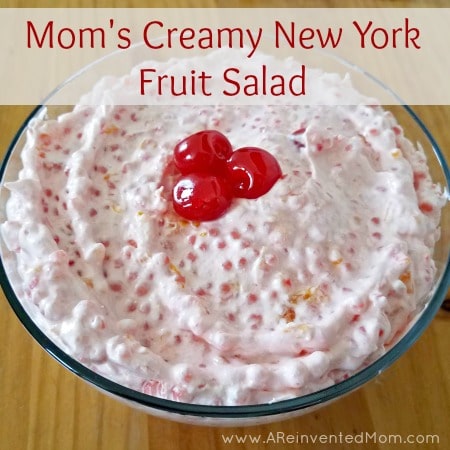 Mom's Creamy New York Fruit Salad
Follow A Reinvented Mom on Pinterest, Instagram, Yummly and Twitter.
A Reinvented Mom is a participant in the Amazon Services LLC Associates Program, an affiliate advertising program designed to provide a means for sites to earn advertising fees by advertising and linking to Amazon.com.  This post may contain an affiliate link(s).  If you choose to click on the link and/or make a purchase, I may be paid a small amount which helps to support this website.  All opinions are my own.