7 Steps to Stick to Your Christmas Budget
Disclosure: This post may contain affiliate links. When you click on a link and/or make a purchase, I may be paid a small commission at no additional cost to you. Additionally, as an Amazon Associate I earn from qualifying purchases. Please read my Disclosure page for more information.
Setting a Christmas budget, and sticking to it, doesn't need to be rocket science. In fact, Christmas on a budget is easier to achieve than you think!
With these handy budget Christmas hacks, you'll not only have a wonderful holiday season, but you'll save some extra cash too.
7 Steps to Stick to Your Christmas Budget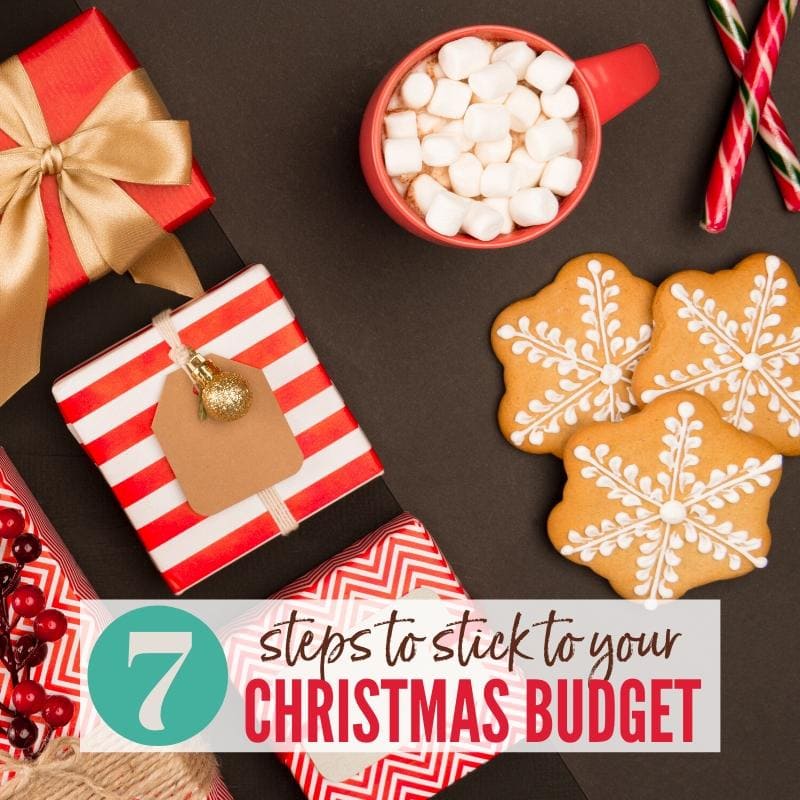 How to Shop for Christmas on a Budget
The key to Christmas shopping on a budget is to always keep your end goal in mind. Don't get side-tracked by gimmicky marketing. And remember to reward yourself when you do well. Having a goal, and sticking to it, helps to keep extraneous spending at bay.
According to the National Retail Federation, consumers are expected to spend an average of $1,047.83 during the 2019 holiday season. That's a significant number, isn't it?! This amount covers gifts, food, decorations & other holiday expenses. Of course your budget will vary based on your household size and finances.
Don't forget, just because you aren't spending a lot doesn't mean that you can't have a fulfilling Christmas. In fact, you may find your holiday season is even more special the less you spend. Think how amazing you'll feel when you aren't facing a bunch of bills from spending beyond your means.
Set Your Christmas Budget
Before you hit up the Black Friday deals, sit down and set a budget. Take an honest look at how much money you will be able to save for the holidays and how much you're willing to spend. Also, consider that the weather is getting colder and your household bills may increase for the season.
Don't forget to think about things besides gifts. Holiday meals and entertainment take up a large chunk of Christmas money, too. Be sure to include all the social obligations that you can't say no to, and think about the ones that may or may not be worth your time.
Sit back and look at that budget. Does that number align with what you are easily able to save? Is there anything you can remove? Or do you need to earn some quick cash?
Look at your budget with a critical eye to make sure you're not only being realistic, but that you aren't going overboard.
Create a Holiday Expenses List
Now that you have a budget, put together an itemized holiday expenses list. This should include food costs for holiday meals, entertainment, and gifts (don't forget the cost of batteries).
Take a look at your expense list and see if there's anything that could be done in a more cost-effective manner. Can you take advantage of sales for electronics? Is there anything where you could pool money together with family? How about something you could make instead?
Again, the goal is to keep a critical eye on your Christmas budget so you're set up for success.
Take Advantage of Cash or Prepaid Gift Cards
Cash is king when you're doing Christmas on a budget. Often times, credit cards tempt you into running a balance and spending more than you originally would. Not to mention the risk of not being able to pay the balance in full and getting hit hard with interest charges.
Instead, utilize cash so there's no risk of running a balance. You'll be able to easily track your spending by using cold, hard cash for your Christmas money. Keep the cash separate from the rest of your spending, so you aren't tempted to dip into it for other things.
Before you hit the stores, see if you have any prepaid gift cards lying around. Use these first, as it's cash you've already spent.
If you're the kind of person who is extremely diligent at paying your credit card balance in full every month (and be honest with yourself), then utilizing a rewards-based credit card might actually be useful to you during the holidays. You can sign up for a card that offers a cash bonus if you spend a certain amount if:
You have successfully paid your balance off in full, every month, for the past 5 years and are confident you won't run a credit card balance.
The sign-up bonus is within your holiday budget.
If either one of these two answers is a no, do yourself a favor and stick with cash.
Can You Make It?
One of the best Christmas's is a home-made Christmas. You can achieve Christmas on a budget easier if you bake your holiday goodies instead of buying. Or you opt to make a few homemade gifts from supplies found around the house.
Use paper shopping bags or old newspapers to wrap gifts instead of buying expensive wrapping paper (bonus for being Earth friendly).
Keep in mind, that making items for the holidays does take time. You'll certainly save some money, but you'll need to carve out some extra hours to make it happen.
However, this can be an excellent bonding activity with your kiddos. Bake holiday cookies together or even throw a cookie decorating party with your family and friends.
Just Say No to Impulse Buys
The toughest part of Christmas shopping on a budget is sticking to your original list. It can be easy to get swept up in the marketing campaigns surrounding the holidays, but you'll never be able to stick to your Christmas budget if you don't stick to your original list.
Keep that in mind when you're out and about shopping too. Skip the coffee shop and pack some snacks and coffee from home before you head out to the mall.
Write your goal at the top of your list if you need a gentle reminder for your Christmas shopping.
Track Expenditures
One of the best Christmas shopping tips is to track your expenditures as you go. This not only helps you with your budgeting for the holidays, but it also makes you accountable for your spending.
Keep your expenditures tucked away so you can reference them next year. Perhaps you under-budgeted a certain area, like food for your holiday meal, and overdid it somewhere else.
Treat Yourself for Good Behavior
Say you found a killer deal on your kid's top toy this year. That's super-awesome! Instead of rewarding yourself with an impulse buy, put that money aside and save it. Instead of succumbing to instant gratification, track your under-budget savings as a reward.
At the end of the holiday season, you can utilize your savings in a rewarding way, such as putting it towards a family outing or vacation. The point is to reward your extra-thrifty finds by saving instead of spending on an impulse buy.
Christmas shopping on a budget requires a bit of forward planning and discipline. However, setting a Christmas budget doesn't need to be complicated.
Stick to these simple Christmas shopping tips and you'll find yourself having the budget holiday season of your dreams.