So you've completed your first pantry challenge. Phew! First, hats off to you! It's not easy getting the family on board to eating strictly out of the freezer and pantry for several weeks.
Now it's time to figure out how to restock your pantry post-challenge.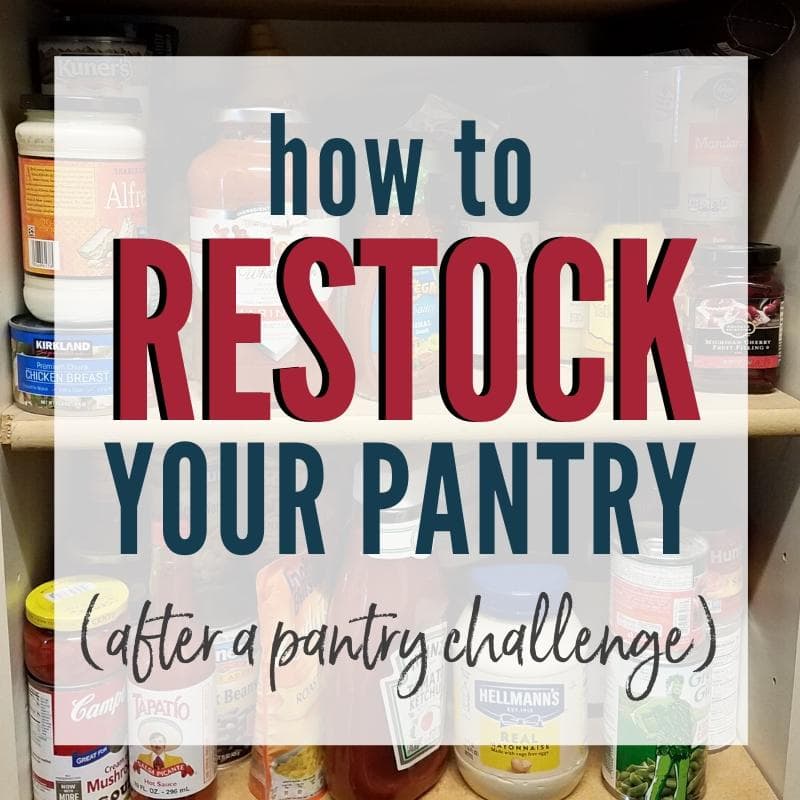 You may notice the abundance of room in your freezer and pantry. It can be tempting to immediately fill those voids with tons of food. But hold on!
Before you restock your pantry, you want to keep in mind why you chose to do a challenge to begin with – to use the items you have.
So before you completely stock the pantry, keep these tips in mind.
How to Restock Your Pantry
When it's time to grocery shop after a pantry challenge it's important to have a quick-and-easy process in place to avoid overspending. You want to continue to reap the rewards of a pantry challenge and not immediately spend all of that hard-earned money you saved by eating what you had on hand.
Don't fret – it's really easy to set yourself up for success after a pantry challenge. Here's a look at how to successfully grocery shop after you've completed eating down your pantry.
Take a Freezer and Pantry Inventory
Before you hit the store, take a freezer and pantry inventory. Take note of any basic items (sugar, pepper, flour, condiments) that you've run out of. These items should take priority when you restock.
Be critical when going through your pantry. Do you really need to replenish that obscure jar of sauce or can of soup that sat in your pantry for years? Or did you find that you had an excess of frozen veggies?
Perhaps you should hold off on immediately restocking things that were difficult to get rid of or you had an excess amount of.
You can use my downloadable pantry inventory printable to help you take stock of what you have on hand.
Set a Budget
Now that you know what you need, set a budget. Savvy shoppers can use their existing grocery budget or you can opt to pad the budget just a bit to pick up the basics you need.
If you're missing a lot of basics, then you may want to add a few dollars to stock up on these supplies. But if you don't feel like you're actually missing much, try to stick to your regular budget.
Another option to stock the pantry is to take it slow. You don't want to undo all the hard work you just did eating down the pantry.
Remember to keep a critical eye on your budget. Balance practicality (no one should be out of garlic – for reals!) with discipline (you also don't need 6 bags of frozen french fries).
Create a Meal Plan
After eating lean for a few days, it's tempting to want to eat everything and anything. Instead, create a simple meal plan with a few family favorites to celebrate the end of the challenge.
Think about creating a quick meal plan so you aren't shopping aimlessly at the store. Aimless shopping always encourages over-spending!
Make a List, Check it Twice
Now it's time to make a grocery list. I never shop without a list because I find I'll spend way too much money if I'm left to my own devices.
With a list, I'm focused on my shopping and stick to my budget. Include a couple of key staple items on your list, but don't try to restock the entire pantry in one step.
Tips for How to Restock Your Pantry
The number one tip for how to restock the pantry is to take things slow. It's tempting to want to purchase a cart full of food after cutting back for a while, but resist! If you simply fill up the cart and head home, you'll undo all of that hard work you put into your pantry challenge.
Instead, set priorities. We love to have a celebratory "treat" meal to serve up the week following the challenge. This helps keep the morale high and gives you something to look forward to when you complete the challenge.
Another handy tip when restocking the pantry is to pace yourself. Instead of purchasing all of your staples at once, try to choose things that are on sale.
If you're savvy with your list, you can keep a separate list of things you need to replace, and buy items that are on sale only, slowly crossing them off over time.
Select 3 key staple items that are on sale. Most grocery stores run on a 6-week cycle with sales, so stock up on sale items, and wait until next week to select a few other staple items.
Unless it's a screaming deal, only purchase enough items to last 6 to 8 weeks. When the sale runs through again, you can replenish your food supplies.
Overall, restocking your pantry is easy, but showing restraint and not going overboard takes a little pre-planning. These tips for how to restock your pantry will keep you on track towards saving more and wasting less.
Follow A Reinvented Mom on Pinterest, Instagram and Yummly.