Country Style Potato Salad
Disclosure: This post may contain affiliate links. When you click on a link and/or make a purchase, I may be paid a small commission at no additional cost to you. Additionally, as an Amazon Associate I earn from qualifying purchases. Please read my Disclosure page for more information.
Making your own potato salad may seem like a hassle, but with this easy Country Style Potato Salad recipe you can customize the flavors to your liking. In addition to the boiled potatoes, all you need are a few hard-boiled eggs, a couple of chopped veggies, seasonings, dressing, and you're done!
Cookouts and potlucks are a wonderful way to eat a variety of food, without having to cook it all yourself. Along with the customary hamburgers and sausages you'll find a bowls of yummy side dishes.
One staple food item that always seems to appear on the table is potato salad, right?! But store-bought potato salad often leaves something to be desired.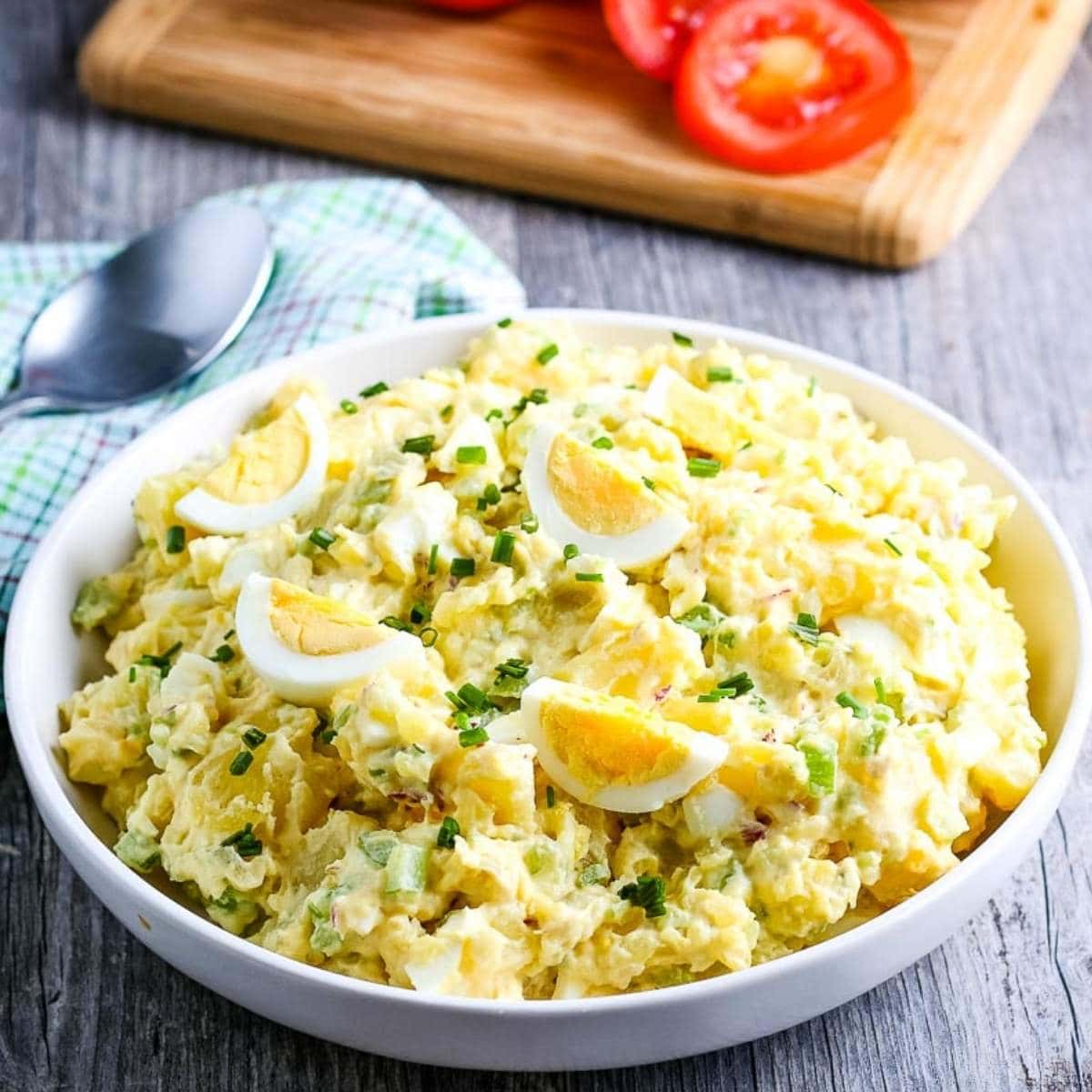 We're sharing tips to help you get the best results with this recipe. If you don't need the tips, scroll to the bottom for the full recipe and a printable recipe card.
Well, you're in luck. This Southern-style potato salad recipe is just the solution. Making your own potato salad lets you control the ingredients and the spices so you can make it exactly how you love it.
And potato salad
The Best Potato Salad
While I often think I don't have time to whip up something homemade (let's face it, buying potato salad at the store is much faster), this version can be made ahead of time and refrigerated until ready for serving.
The best part is you likely have most of these ingredients in your pantry! If you don't, none of them are out of the ordinary or even expensive. And that means you won't be wondering what to do with any leftover single-use ingredients.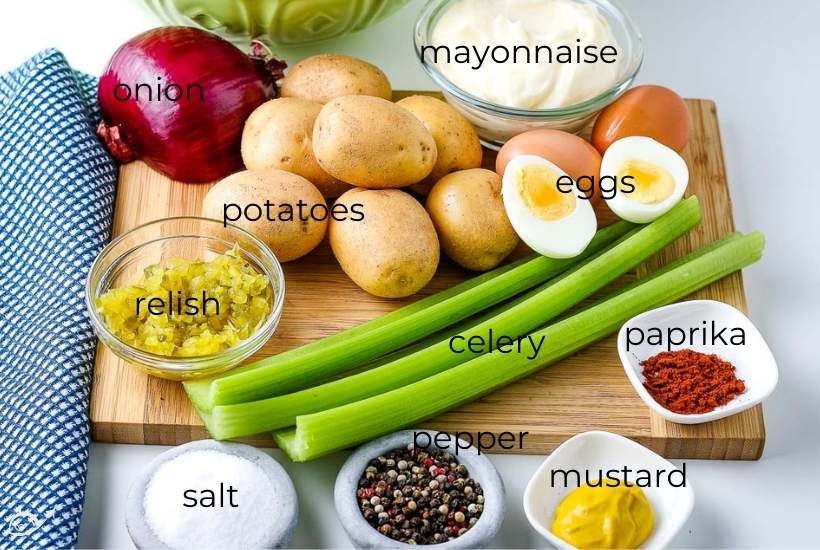 Ingredients for Country Style Potato Salad
Potatoes: You'll want to make sure they are a similar size for even cooking. No need to dice or peel the potatoes before boiling – easy peasy!
Red Onion: Why red onion? They add beautiful color along with that distinct onion flavor. They are a bit milder than other onions, but you won't be cooking them, so they will still have that zing you love.
Celery: Whenever a little crunch is needed, celery comes to the rescue! I love that celery is cheap, but adds just the right amount of flavor and bite to the softer ingredients.
Hard-Boiled Eggs: These will need to be ready to go when the potatoes are cooked. I prefer to make mine in the Instant Pot since it takes all the guesswork out of it.
Spices: You don't need much in this department, just salt, black pepper, and paprika.
Sweet Relish: It adds just enough of that sweet pickle taste without overwhelming the entire dish. Use whatever brand you have on hand.
Mayonnaise: I know better than to try to cajole you into using my favorite brand. Mayo seems to be one of those condiments that people have intense personal opinions about. So just go ahead and use your favorite brand, anything works.
Yellow Mustard: While mustard has a distinct flavor, yellow mustard can add that flavor, without it being over the top. Plus, it isn't spicy, so it won't overpower your potato salad.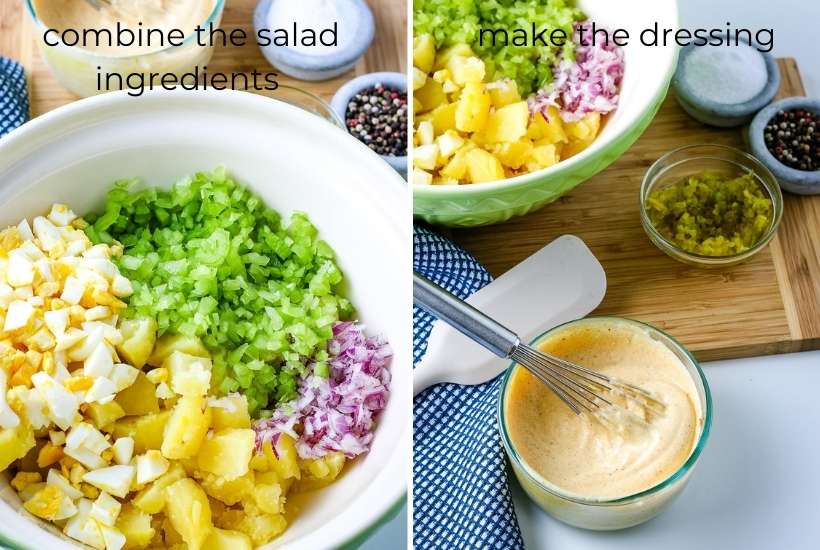 Recipe for Country Style Potato Salad
First, add your potatoes to a large saucepan.
Cover with water and cook until fork-tender.
After the potatoes are cooked, add them to an ice bath to stop the cooking process. This also makes them easier to peel.
Remove the skins and cube the potatoes, then add the potatoes to a large bowl with the chopped onion, chopped celery, and chopped hard-boiled eggs.
In a smaller bowl, whisk the spices, mayo, relish, and mustard then add to the potatoes and stir to combine.
Cover and refrigerate until ready to serve.

Well, that was an easy Southern potato salad recipe, wasn't it?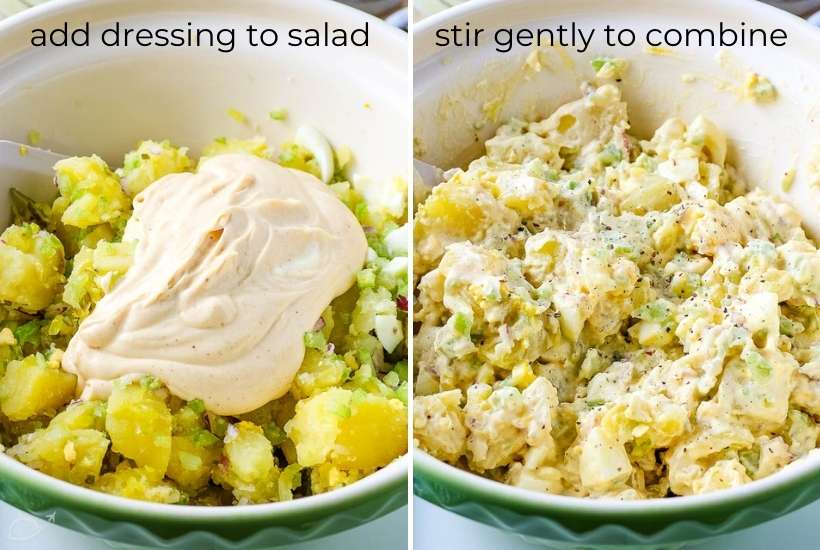 What Kind of Potatoes Should I Use?
Waxy potatoes will hold their shape better after cooking. We like to use Yukon Gold for potato salad. We've also used Red potatoes with good results and even Russets in a pinch.
How Long to Boil Potatoes for Potato Salad?
If you're wondering about how long it takes to cook potatoes until "fork-tender," start at about 15 minutes of boiling. Then (here's the fun part), stab one of your cooking potatoes with a fork.
Yes, "fork tender" is literal. If the fork breaks the skin and pierces the potato easily, the potatoes are done. If not, continue cooking and testing it every 5 minutes or so.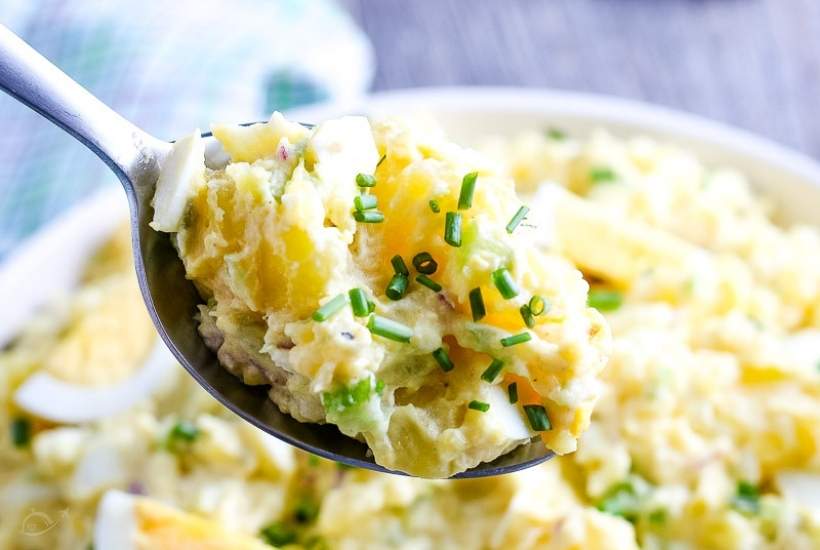 Tips for an Easier Prep
What to serve with potato salad
More Easy Salad Recipes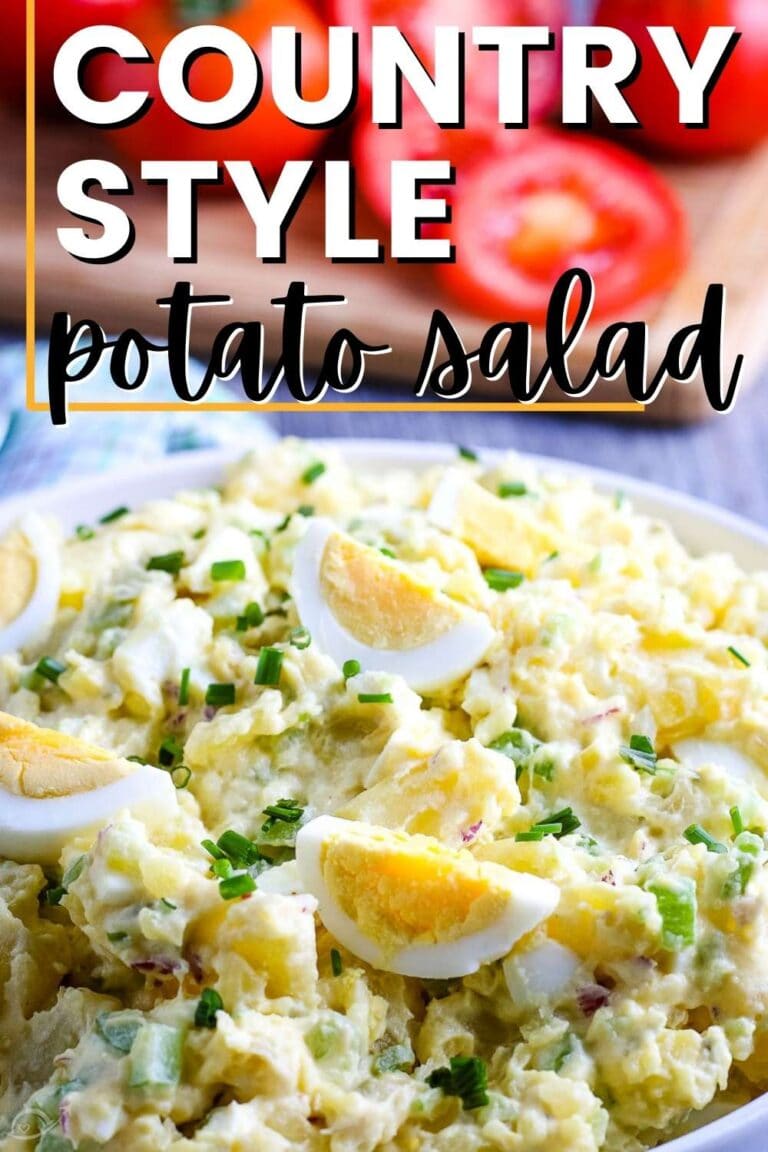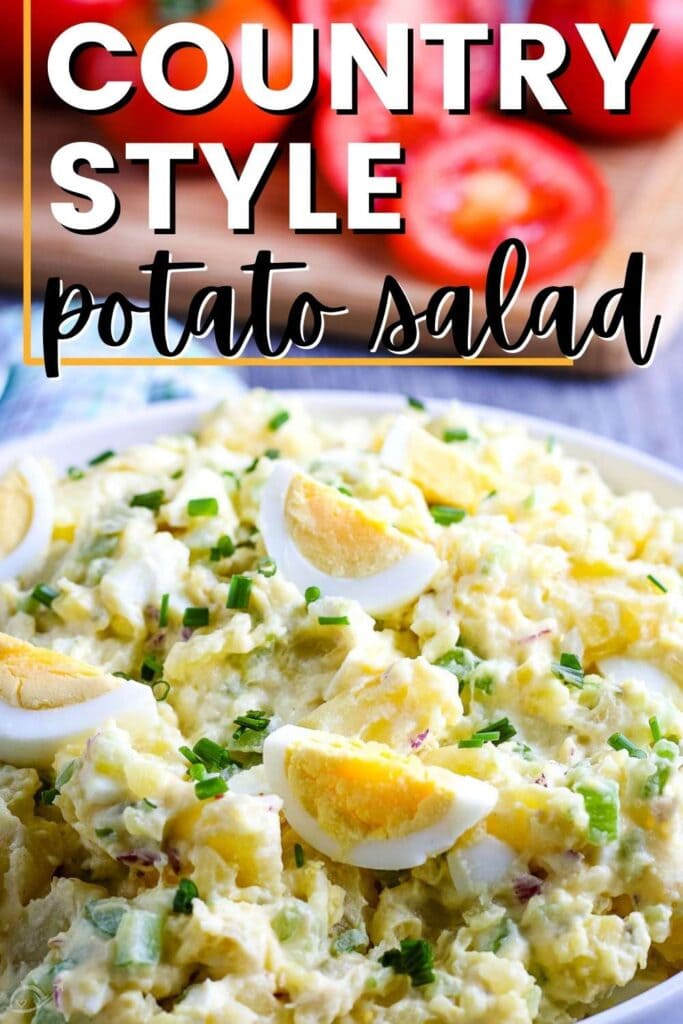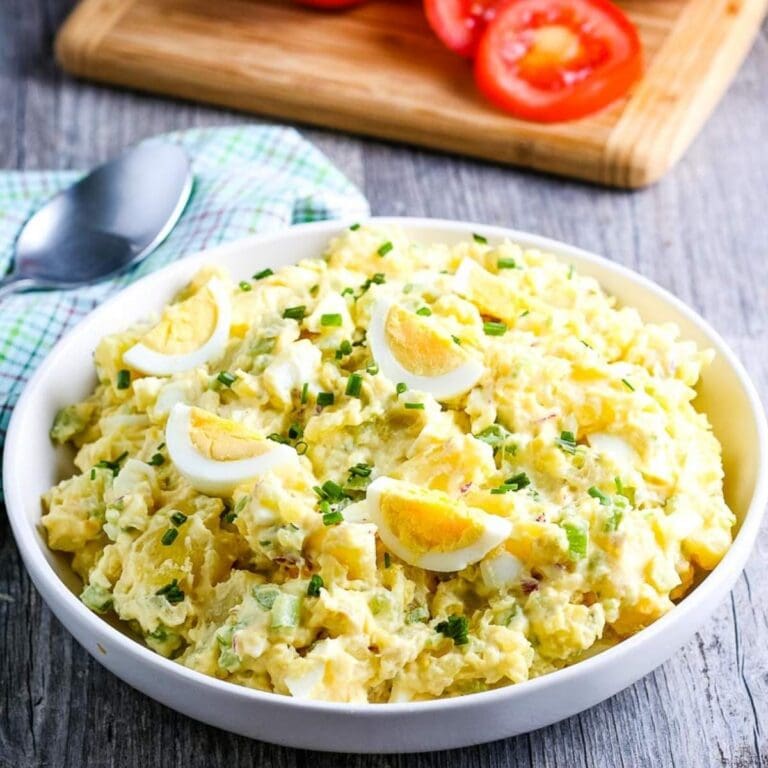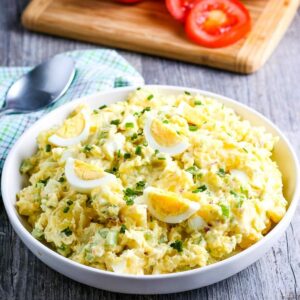 Country Style Potato Salad
Serve this easy Country Style Potato Salad at your next cookout, BBQ, potluck or family dinner. Easy to customize to your tastes.
Print
Pin
Rate
Ingredients
SALAD INGREDIENTS
6-8

medium potatoes

,

Yukon Golds, about 2 pounds

¼

cup

red onion

,

chopped finely

3

stalks

celery

,

chopped finely

3

eggs

,

hard boiled, chopped
DRESSING INGREDIENTS
1

cup

mayonnaise

2

teaspoons

yellow mustard

¼

cup

sweet relish

1

teaspoon

salt

½

teaspoon

black pepper

½

teaspoon

paprika

,

plus more for garnish if desired
Instructions
Add potatoes to a large saucepan, cover with water, going 1-2 inches above the potatoes and cook until fork tender.

Remove cooked potatoes from pan and add to a large bowl filled with water and ice (this stops the cooking process and makes peeling easier). Leave in the ice water bath about 5 minutes.

Remove skins from potatoes, rinse and cut into small cubes.

In a large bowl add the chopped potatoes, celery, onions, relish and eggs.

In a small bowl, combine the Dressing ingredients and whisk until well combined.

Add dressing to potatoes and stir gently to combine.

Cover and store in refrigerator until ready to serve.
Notes
Adjust the ingredients to tailor to your taste preferences.
Substitute with red or russet potatoes.
Nutrition
Calories:
437
kcal
|
Carbohydrates:
35
g
|
Protein:
7
g
|
Fat:
30
g
|
Saturated Fat:
5
g
|
Polyunsaturated Fat:
17
g
|
Monounsaturated Fat:
7
g
|
Trans Fat:
1
g
|
Cholesterol:
98
mg
|
Sodium:
784
mg
|
Potassium:
826
mg
|
Fiber:
4
g
|
Sugar:
6
g
|
Vitamin A:
445
IU
|
Vitamin C:
35
mg
|
Calcium:
48
mg
|
Iron:
2
mg
Nutritional information is provided as a reference, using an online calculator. We recommend verifying the information independently for accuracy.