How to Make Instant Pot Hard Boiled Eggs
Disclosure: This post may contain affiliate links. When you click on a link and/or make a purchase, I may be paid a small commission at no additional cost to you. Additionally, as an Amazon Associate I earn from qualifying purchases. Please read my Disclosure page for more information.
Instant Pot Hard Boiled Eggs are life changing. Seriously! If you include hard boiled eggs in your menu on a regular basis, this will revolutionize your meal prep routine. A simple process produces the perfect egg with little work on your part.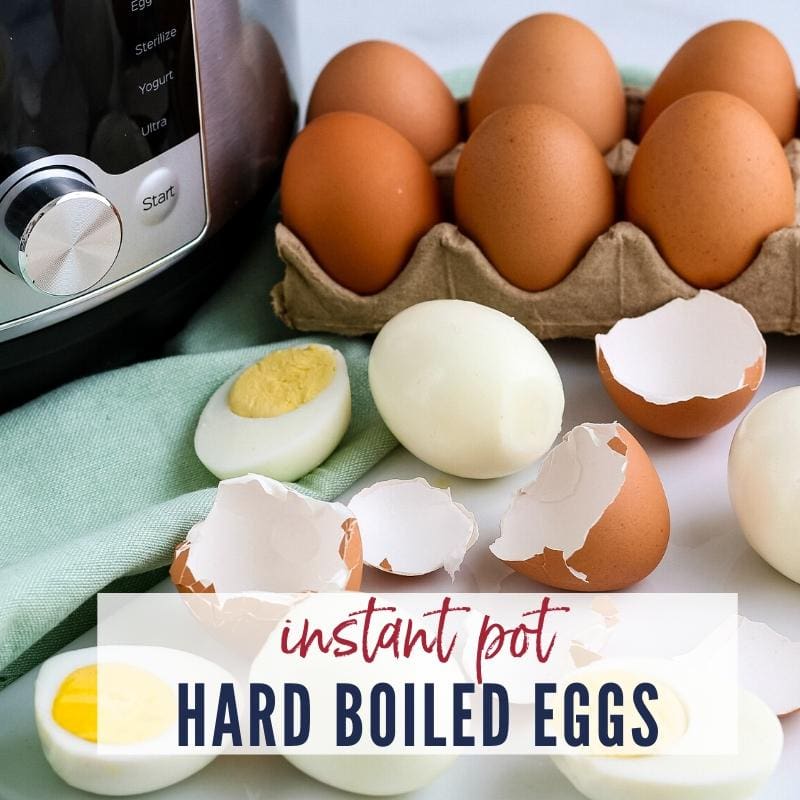 Instant Pot Hard Boiled Eggs
Many people ask why you would make a hard boiled egg in a pressure cooker. Isn't it already pretty easy to make them? While it is a simple recipe typically, many find that hard boiled eggs are just hard to get "perfect".
If you've tried boiling eggs but found they came out underdone, overdone, or grey, then this will easily streamline the process. For many, it's the convenience of being able to peel your eggs easier. Trust me, it saves tons of time and frustration. I no longer worry about losing half the egg in the peeling process!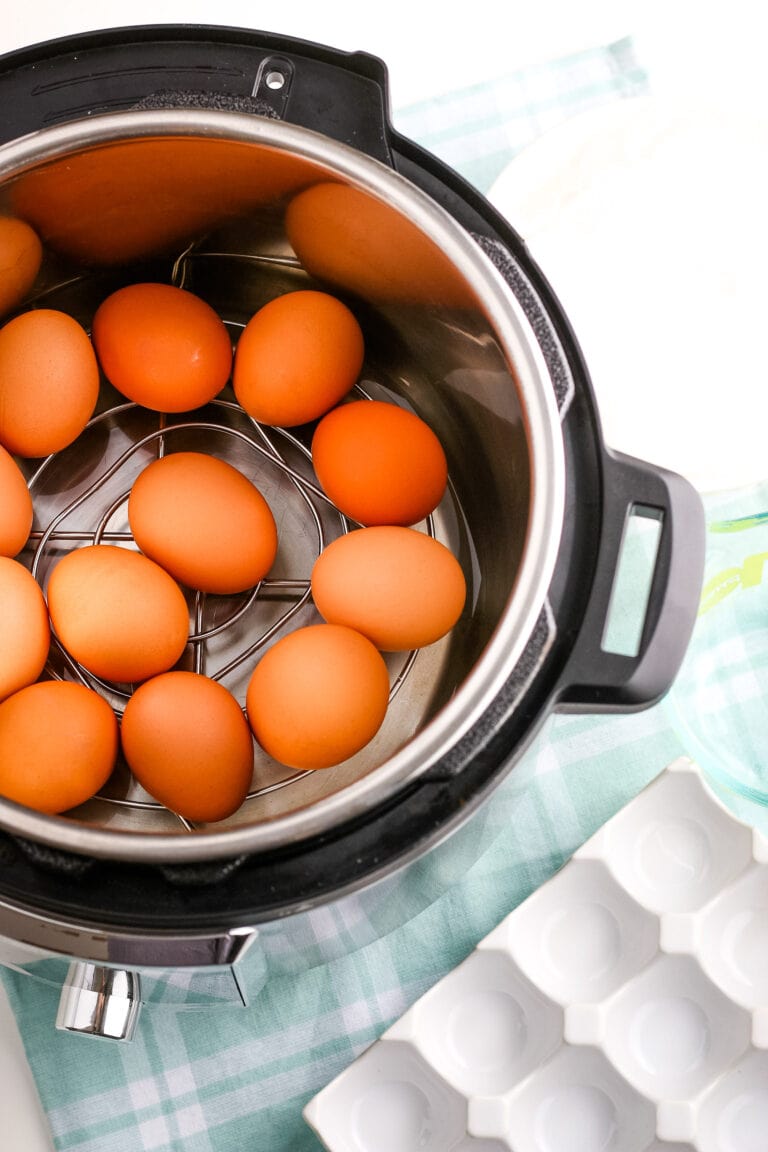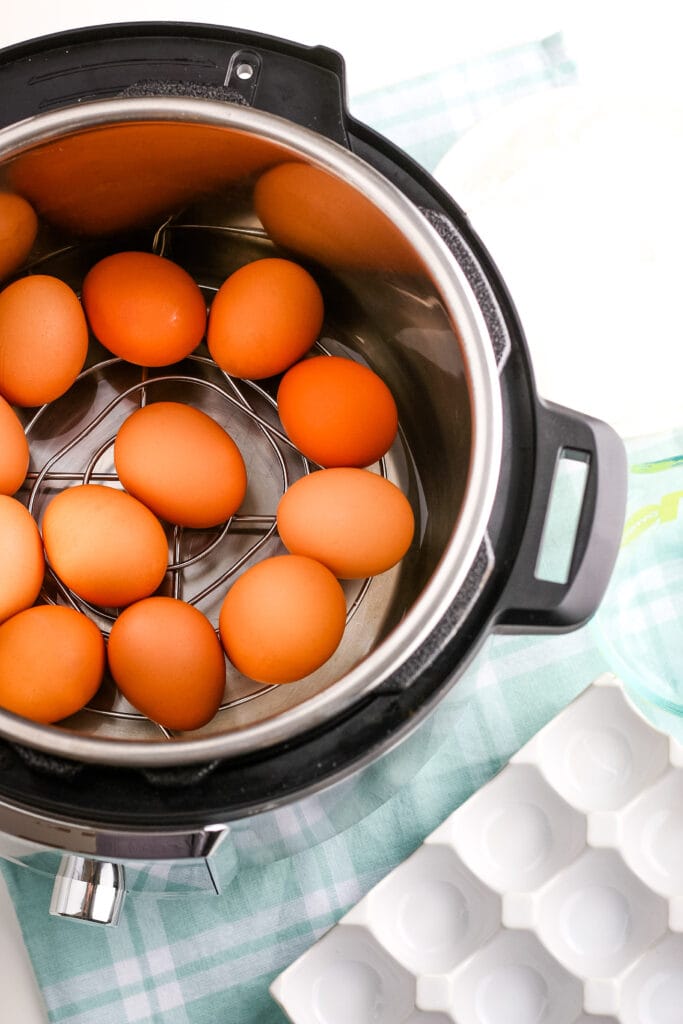 How do I Make the Perfect Instant Pot Eggs?
The perfect hard boiled egg is different for every person. While I prefer mine perfectly cooked with that light yellow yolk cooked throughout, others may prefer theirs with a softer yolk that is still a bit wet. So, the answer to the question will vary depending upon your preferences.
Typically, the following cook times work in the Instant Pot for excellent results. If you are using a different brand of pressure cooker, you may need to adjust these times slightly for the best results.
Medium Hard Boiled Eggs – Cook for 3 minutes
Hard Boiled Eggs – Cook 4-5 minutes
Well Done Hard Boiled Eggs – Cook 6-7 minutes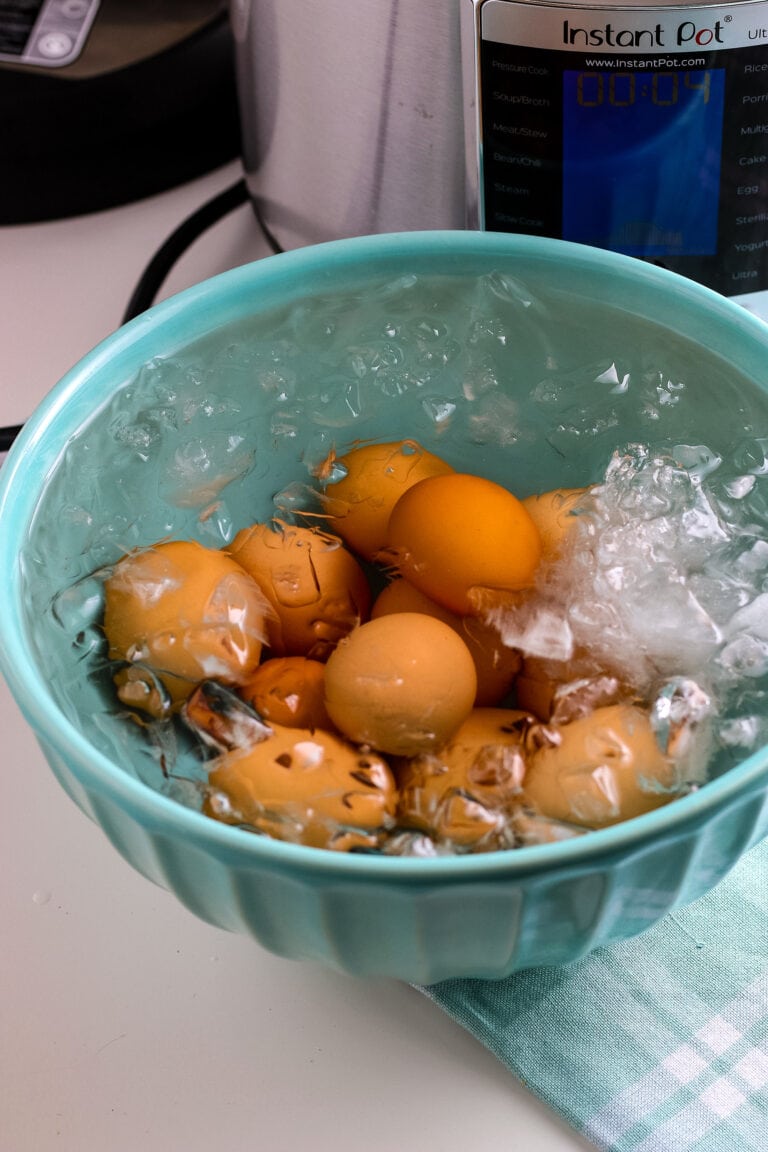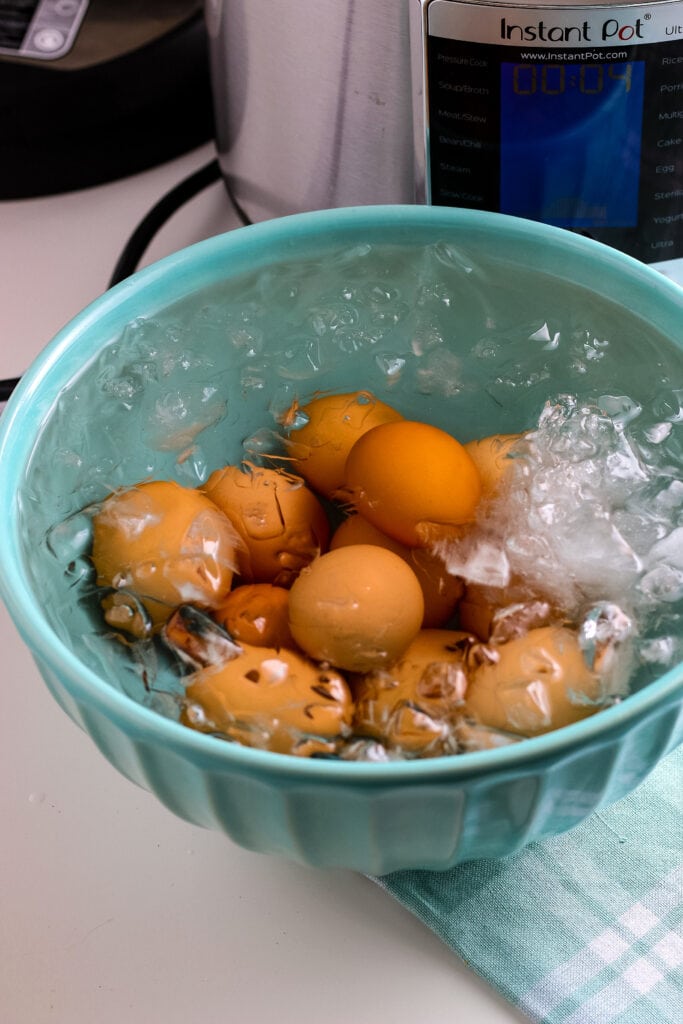 What Does an Ice Bath Do for Eggs?
To create the perfect egg for your preferences, you need to stop the cooking process at a specific time. An ice bath will cool the egg down immediately, making sure your hard boiled egg is not overdone.
Additionally, the ice water will make the egg pull away from the shell, which helps you to peel them much easier. It also allows you to have a clean egg with no bits of the egg coming off when you remove the shell (no one wants an "ugly" deviled egg, am I right?!)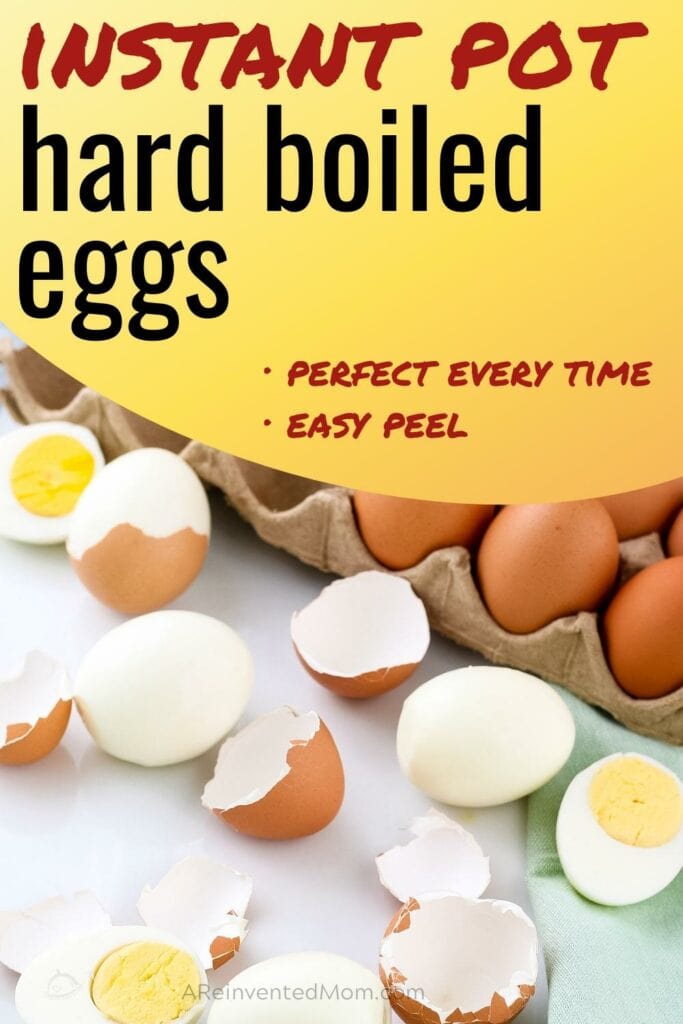 How Can I Add Pressure Cooker Hard Boiled Eggs Into My Menu?
Now that you've mastered making hard boiled eggs in your electric pressure cooker, you may be wondering how to add them to your menu. Sure, a basic hard boiled egg at breakfast or as a snack is great, but that can get a bit boring. Below are some awesome ideas for using this high protein food.
Dice and use alongside avocado for a delicious creamy avocado egg salad. Check out these tips for how to cut an avocado to make that process easier.
Turn into spicy deviled eggs with a drop of hot sauce and a sprinkle of bleu cheese.
Chop and add to a large salad. You could even add to this broccoli salad recipe for more protein.
Add to a tuna salad, chicken salad, potato salad, pea salad, or macaroni salad recipes.
Sprinkle with "everything but the bagel" seasoning (this is a personal fave!)
Pickle them with red wine vinegar.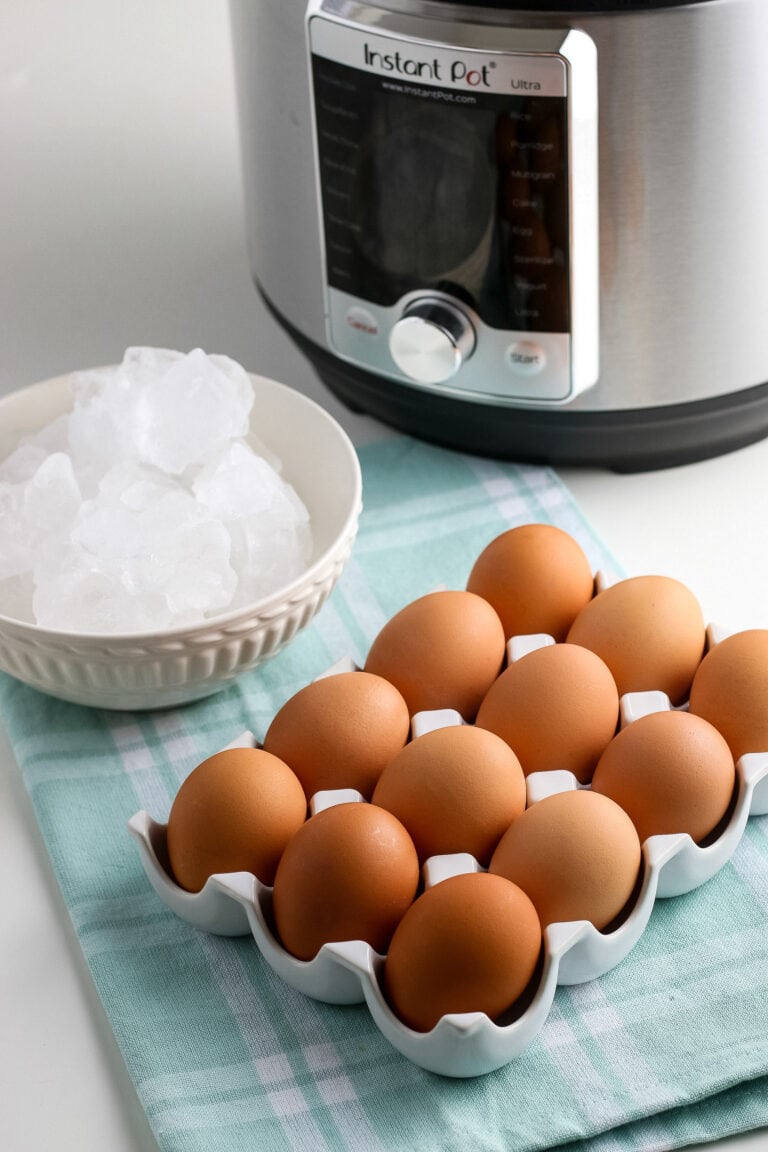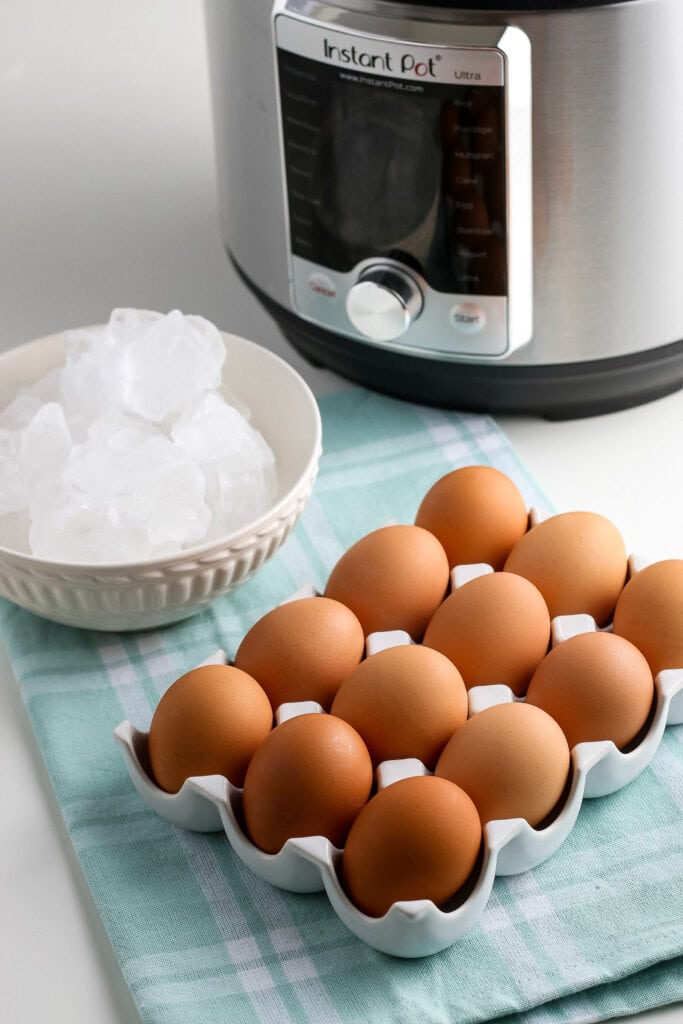 How to Make Instant Pot Hard Boiled Eggs
As with any Instant Pot recipe, you will start by adding liquid to the pot. For this recipe, you will add 1 cup of water, then place the rack or trivet in the bottom of the Instant Pot.
Now, place your eggs in a single layer on the trivet or steamer basket, secure the lid and then set to sealing. Set the timer for 5 minutes (or preferred cook time as shared above), and cook at the manual setting.
When the cooking time has completed, wait 5 minutes, then manually release any additional steam according to the manufacturer's directions. I like to cover the vent with a kitchen towel to prevent the steam from splattering everywhere.
Using tongs, remove the eggs from the Instant Pot, and add to an ice bath to cool. Then you can peel and use as you desire!
Tools Needed to Make Instant Pot Boiled Eggs
Electric Pressure Cooker – this is the model I have.
Steamer basket.
Large bowl.
Tongs.
How to Make Instant Pot Hard Boiled Eggs
Use your Instant Pot electric pressure cooker for perfectly cooked, easy to peel eggs every time.
Equipment
Rack insert or steamer basket
Instructions
Place steamer basket or trivet in bottom of Instant Pot inner pot.

Add 1 cup of cold water to the inner pot.

Check that the valve is set to "sealing" and set to cook on Manual High Pressure for 5 minutes (**see notes for cooking time options).

Allow IP to come to pressure (takes about 7 minutes) & cook for 3-7 minutes (see Notes).

Allow pressure to release manually for 5 minutes, then quick release the steam following the manufacturer's directions.

While eggs are cooking, prepare ice bath by adding ice to a large bowl and filling with cold water.

Immediately remove eggs with tongs and add to the ice bath. This step is important to stop the cooking process.

Peel the eggs & place in a sealed container and store in the refrigerator.
Notes
Cover the vent with a towel before quick releasing pressure.
I prefer to peel the eggs before refrigerating.
Unpeeled eggs will keep in refrigerator for 4 days.
Cooking times may vary depending on your Instant Pot model.
Cooking time Recommendations:
Medium Hard Boiled Eggs – cook for 3 minutes.
Hard Boiled Eggs – cook for 4-5 minutes.
Well Done Hard Boiled Eggs – cook for 6-7 minutes.
Nutritional information is provided as a courtesy. We recommend independently verifying the information.
Nutrition
Serving:
1
egg
|
Calories:
63
kcal
|
Carbohydrates:
1
g
|
Protein:
6
g
|
Fat:
4
g
|
Saturated Fat:
1
g
|
Cholesterol:
164
mg
|
Sodium:
62
mg
|
Potassium:
61
mg
|
Sugar:
1
g
|
Vitamin A:
238
IU
|
Calcium:
25
mg
|
Iron:
1
mg