Pantry Challenge 2017 – Week 2 Recap
Disclosure: This post may contain affiliate links. When you click on a link and/or make a purchase, I may be paid a small commission at no additional cost to you. Additionally, as an Amazon Associate I earn from qualifying purchases. Please read my Disclosure page for more information.
Looking to save a little cash this month? The Pantry Challenge 2017 may be just what you need to kickstart your savings by eating from the refrigerator and pantry.
Soooo, my Pantry Challenge 2017 updates are posting a little late. All you bookkeepers and accountants out there know what fun (not!) January is, right?! I continued to participate in the Pantry Challenge 2017, but unfortunately lacked the time to compose blog posts.
The second week was fairly uneventful as we ate very well (thanks to the well-stocked freezers and pantry). Not too much in the way of whining about "nothing to eat". I'm sure that will change as we head into Week Three as most of the convenience foods are gone. How did you fare the second week? Is your family on-board wit the Pantry Challenge? Any tips for handling unhappy kiddos you'd like to share?
Here's a recap of how the second week went down in the ARM house.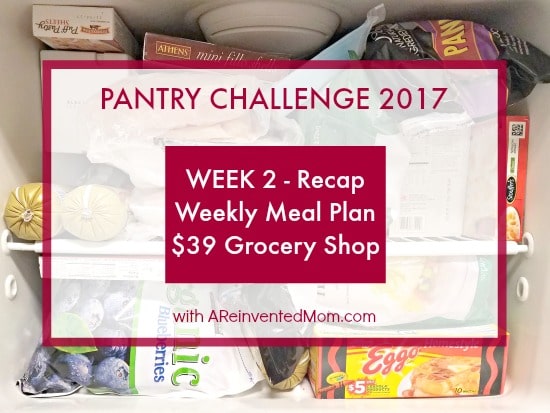 MENU PLANNING:
Eating very well during Week Two thanks to ample meal options available.
Monday – Tacos, Sauteed Green Beans and fresh fruit salad.
Tuesday – concessions at the home Basketball game (I had spicy green chili with chicken – yum!).
Wednesday – Zuppa Toscana, garlic bread.
Thursday – eat out after the away basketball game.
Friday – Leftovers.
Saturday – Chicken & Cheese Quesadillas, guacamole & chips
Sunday – Chicken Wild Rice Soup, fruit salad, fresh green beans.
Breakfasts – Breakfast burritos (egg, bacon sausage and cheese on fresh tortillas).
Lunches – Baguette sandwiches, leftovers, homemade Lunchables, fresh fruit.
Snacks – Super Nachos (using leftover taco meat), Cuties, apples.
What did your menu look like last week? Any challenges you had to deal with?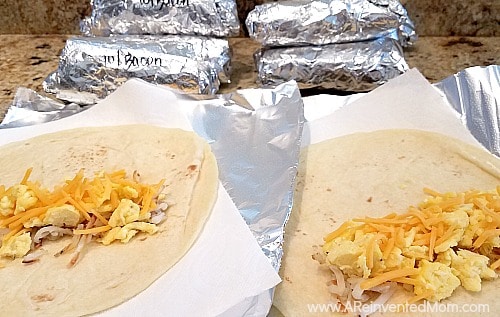 GROCERY SHOPPING:
I spent $39 at the grocery store this week, going over my $30 budget….again. Although I do find it frustrating that I can't seem to hit the $30 sweet spot, I've decided I'm not going to stress over it too much. The usual fruits, veggies, milk and a couple special requests from the Teens were on my list this week. Produce is so expensive, even purchasing only in-season items. It's times like these I miss my produce co-op.
THOUGHTS AFTER WEEK 2 OF PANTRY CHALLENGE 2017:
Game days tend to throw off meals, so now I simply plan to eat out on these nights. It may sound like a cop out, but I've made my peace with this option.
Let the whining begin, although it's been at an acceptable level. The key to reducing whining for my crew is to have easy-to-eat snacks on hand. Of course, that translates into a bit more work for Mom but it's time well spent.
Two weeks in and I'm starting to notice some "empty space" in the freezers – finally! Those suckers were packed full. It feels good to see a little visual progress as it helps to keep me on track.
I'm still struggling with the daily photos – maybe it's time to give it up?
I'd love to hear how you are doing with the Pantry Challenge 2017. Feel free to share your wins and challenges in the Comments or post to my Facebook page.
Previous Pantry Challenge posts can be found here:
Pantry Challenge 2017 – Getting Started & Free Inventory Printable
Pantry Challenge 2017 – Week 1 Recap
Have a beautiful day!
Follow A Reinvented Mom on Pinterest, Instagram, Yummly and Twitter.
A Reinvented Mom is a participant in the Amazon Services LLC Associates Program, an affiliate advertising program designed to provide a means for sites to earn advertising fees by advertising and linking to Amazon.com. This post may contain an affiliate link(s). If you choose to click on the link and/or make a purchase, I may be paid a small amount. All opinions are my own.