7 Best Productivity Tips To Create More Time In Your Day
Disclosure: This post may contain affiliate links. When you click on a link and/or make a purchase, I may be paid a small commission at no additional cost to you. Additionally, as an Amazon Associate I earn from qualifying purchases. Please read my Disclosure page for more information.
Would you believe me if I told you it's possible to create more time in your day? Today I'm sharing my best productivity tips to help you find the free time in your day.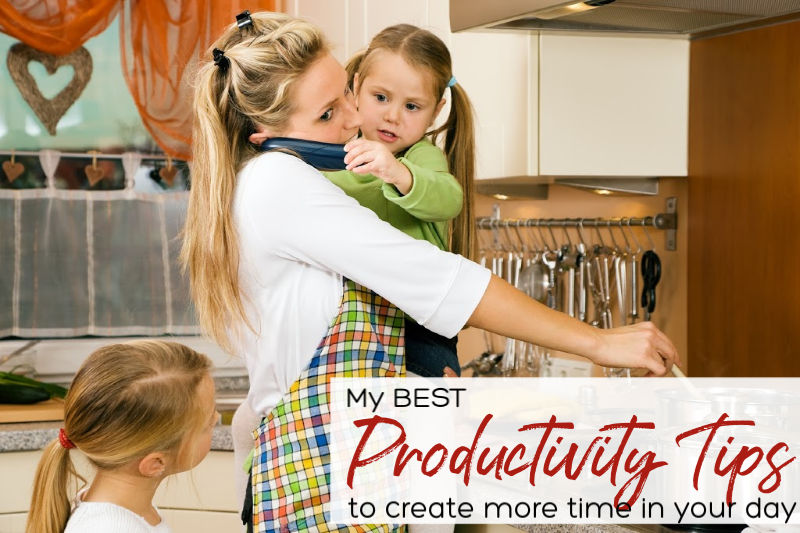 I'm guessing you are busy with a capital "B". Busy as in "I never have enough time to do all the things". Stressed to the limits busy. Every single day.
What would you say if I told you that you could create pockets of free time in the middle of your busy days? Does it sound like crazy talk?!
Well, it's not! It IS possible to create more time in your day. You just have to know where and how to look for the possibilities.
My Best Productivity Tips To Create More Time In Your Day
Today I'm sharing some of my favorite time-saving productivity tips. These are tried and true tips that I use to create margins in my day.
What is "Working in the Margins"?
Have you heard of "working in the margins"? The premise is simple: identify small pockets of time throughout the day that you can earmark for other pursuits.
These small blocks of free time are your "margins". The openings can be as little as 10-15 minutes.
Identify a couple of these blocks each day and the free time adds up over the course of a week.
Once you have identified your free time blocks (aka margins), you will tailor your tasks to match your available time.
You don't want to dive into a 2 hour DIY project if your free time allotment is just 30 minutes. But what if you break down that project into smaller tasks?
Suddenly that 2 hour task becomes a reality because you can fit those smaller tasks into your margins.
How Do I Create Margins?
You need to take a look at your daily schedule with a critical eye. Do you find yourself mindfully scrolling social media several times a day (no judgement from me)? Do you watch television? How much time do you waste because you are unorganized?
If you answered "yes" to any of these questions, you CAN create margins in your day.
The key is to be more aware of your time. I'm not saying you can't check social media, because that's just crazy talk, right?!
But I want you to be mindful of how you spend your time.
Disorganization is another big time waster. A 5-minute task can suddenly morph into a 30-minute hunt if you are unorganized and can't find the items you need to complete the task.
It truly pays to organize the areas of your life you spend the most time on. If you can streamline laundry, cooking, etc. you will most likely find yourself with free time on your hands.
And that's a beautiful thing!
My Best Productivity Tips
The folks at Ultimate Bundles asked top bloggers to share their best productivity tips.
I didn't contribute to the eBook (maybe next year……goals), I wanted to share my answers. I hope my tried and true productivity tips will help you find free time.
What is one time-saving tip that you use personally to free up more margin for the activities and people you love?
OK, you knew I was going to give you more than just one tip, right?
Ordering household supplies online. No need to leave the house because the supplies are delivered right to my door. I use Amazon Subscribe & Save because it's convenient and they frequently offer coupons for items I use. If I order 5 items in a shipment they offer an additional discount. Before using Subscribe & Save I shopped for these items once a month at Walmart. I'm saving about 2 hours (and a LOT of aggravation) a month using this service.
I'm loving the new curbside pickup my grocery store offers. It is so freaking awesome to roll up to the pickup spot, sign the receipt, load the groceries and GO. I save about an hour a week using this resource. It's also easier to stick to my budget because I'm not tempted to toss all the bright & shiny things into my cart.
I am a huge proponent of meal planning because it will help you save time and money. It's also a sanity saver when dinner time rolls around. Take 15 minutes to plan your meals for the week. Create your shopping list based on your meal plan. Done and done.
What are your favorite productivity tools or services and how do you use them?
Time blocking is a great tactic to tackle larger projects or jobs you don't enjoy doing. I will procrastinate to the end of time if I think about a large project or task as a whole. But if I break the task down to smaller time increments, it's easier for me to motivate and complete the project. Set a timer for 30 minutes and focus on the task at hand. A few sessions over the course of a week and and the task is done.
I've been using Trello for over a year. And I LOVE it! It's a responsive system, online and FREE! The sky is the limit for what you can use it for: meal planning, parties, vacations, reunions, remodels, shopping trips, and on and on. I also use it for my blogging business. I'm able to chart my goals for the quarter and set up the tasks and timline to accomplish the goals. If you are a planning or organizing geek you need to check out Trello.
I am currently using the "Out of Milk" shopping list app on my phone. The app allows me to keep several store lists and I'm able to retain my lists. This is particularly handy as I purchase the same items on a regular basis. As an example, I purchase certain stock-up items every 6-8 weeks at Costco. I save time by not having to create my list from scratch and I only need to add the one-off items for that particular trip.
What are some refreshing hobbies or self-care habits that you've found can be incorporated into a busy schedule?
I like to take a 15 minute "coffee break" in the afternoon. No phone allowed. I'll make a cup of hot chai or a glass of iced tea and simply enjoy the beverage. The short break gives me a little downtime and allows me to refocus. It's truly amazing what a quick 15 minute break can do for your mindset.
If I can identify 15-30 minutes I enjoy reading on my Kindle device. I enjoy being able to tuck the small device in my purse. I bust that baby out if I find myself stuck waiting for appointments, waiting in the car to pickup kids. Heck I even take it to the hair salon and read while I'm under the dryer. A girl's gotta take the time when she can!
How do you use the small pockets of free time that appear throughout the day?
It depends on whether or not I'm trying to get work done or squeeze in something enjoyable.
Identify smaller tasks that can be accomplished within the smaller pockets of free time. Creating shopping lists, folding laundry and prepping for dinner are tasks that can be completed in about 15 minutes.
If I need a break, I'll spend time on social media or read. Setting a timer will help you avoid the time suck that happens when you are mindlessly scrolling social media.
What would you say to someone who feels guilty taking time for themselves, especially when there's so much to do?
First, you DESERVE time to pursue your interests and take part in activities that bring you joy. Don't let anyone tell you differently.
You won't be helpful to anyone if you run yourself into the ground. Taking time for yourself allows you to rest and recharge. You will have more to give your family and friends if your own cup is full.
JUST DO IT!!!
Looking for more ways to make the most of your limited time? Check out the Ultimate Productivity Bundle by Ultimate Bundles. It's packed with over 46 resources to make your life more joyful and less stressful. And who doesn't need that?!
Are you ready to take control and create more time in your day? How will you spend your newly found free time?
Leave a comment below and share your best time-saving tips.
Take care,
More Time-Saving Tips:
Big Batch Cooking: Meal Prep Chicken
***** Pin The Productivity Tips For Later *****
A Reinvented Mom is a participant in the Amazon Services LLC Associates Program, an affiliate advertising program designed to provide a means for sites to earn advertising fees by advertising and linking to Amazon.com.