BOUNTIFUL BASKETS CO-OP (PART ONE) – SAVING ON PRODUCE
Disclosure: This post may contain affiliate links. When you click on a link and/or make a purchase, I may be paid a small commission at no additional cost to you. Additionally, as an Amazon Associate I earn from qualifying purchases. Please read my Disclosure page for more information.
When I first started using coupons, I was disappointed at how difficult it was to find good deals on fresh produce. With the exception of an occasional coupon, the best way for me to maximize my grocery dollars was to purchase produce on sale.
Purchasing sale produce is generally a good idea, as it tends to be in season and tastes the best, in addition to being less expensive. Anybody who has purchased strawberries in the winter knows what I am talking about, right??
Enter Bountiful Baskets.
Save on Produce Costs with Bountiful Baskets
A few years ago, I happened to read an article about a food co-op called Bountiful Baskets. I was thrilled to discover a site about 10 minutes from my home in Colorado.
After reviewing the participation information on the Bountiful Basket website, I decided to give it a try. I am so glad I took a chance – it was the best $15 I had spent in a long time.
Related: More Ways to Save Money
In general, I have found my baskets have a value of $40-60 when compared with local supermarket prices. To say I was hooked after the first basket would be an understatement. Two plus years later and I am still hooked (or addicted some might say!).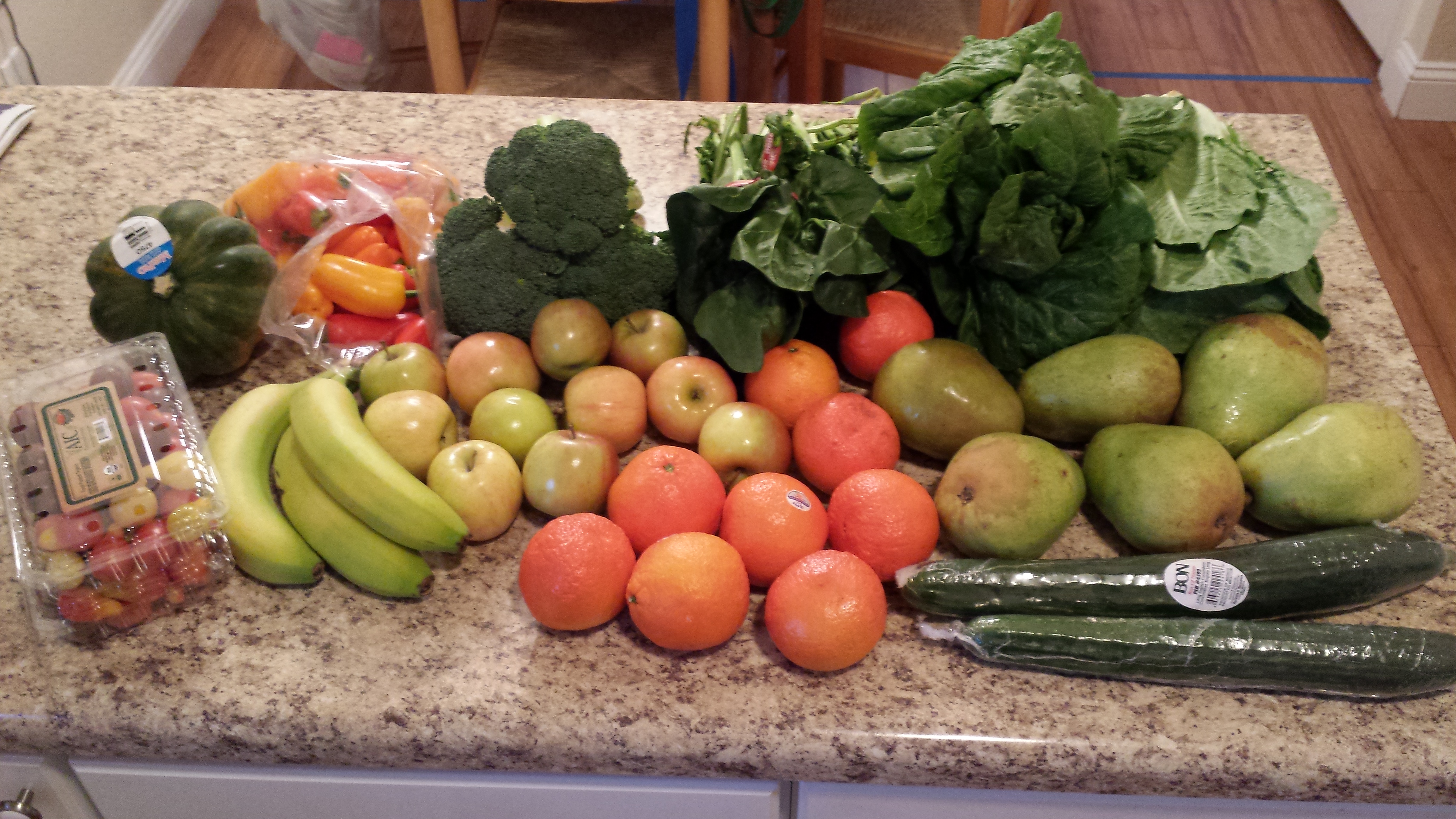 Here's a rundown of the Bountiful Basket offerings & model:
Conventional baskets are $15. A Conventional basket typically contains 10-12 items, roughly 50% fruit & 50% vegetables. You will receive 1 basket of fruit & 1 basket of veggies. Quantities & items will vary by site, based on availability & participation levels. Depending on the season, the baskets may be either fruit or veggie heavy. Produce is sorted on site by volunteers. Basket contents are not known until pick-up day (Saturday in most cases). Be sure to take your own bags/containers to transport your produce home.
Organic baskets are $25. Generally 10-12 items. Contents typically are different than the Conventional basket. This offering comes pre-boxed (you won't need to bring your own bags). Like the Conventional basket, the contents are a surprise until you pick-up.
Add-on items: this is where it gets really fun! Offerings include cases of various fruits & veggies, bread, tortillas, wraps, granola and theme packs. Add-ons vary from week to week and are in limited quantity co-op wide. If the quantities are too large for your family, consider splitting a case with a friend.
Chicken breasts (yes, I said chicken!!!). The chicken offering is fairly new, and available in limited areas. Contribution & pick-up times are different than basket times. Email notifications are typically sent out if a site is available in your area. I have ordered the chicken – it is fabulous quality. The breasts are a nice, single serving size and are individually frozen. Be sure to take advantage of this opportunity if it's available in your area.
Related: How to Meal Prep Chicken
How Does Bountiful Baskets Work?
The Bountiful Basket model operates differently than your local grocery store. Please be sure to thoroughly read the New Participant Instructions so you are informed about the co-op & policies.
While I love Bountiful Baskets, the co-op model doesn't work for everyone – it's up to you to decide if it's right for you. Here are a few more important things to note about Bountiful Baskets:
Bountiful Baskets is 100% volunteer run – from the founders all the way down to the site coordinators & people who help on pick-up day. It's amazing what a motivated group of like-minded people can accomplish!
The co-op runs weekly, on an A & B week schedule. Scroll to the bottom of the BB homepage for a complete schedule.
The pick-up window is 20 minutes – make sure the day & time work for you before committing to a basket.
Because this is a co-op, you "Participate" rather than "Order".
Contributions open at Noon (local time) on Mondays (some states open earlier) and close at 10:00 p.m. Tues. (Pacific time).
In addition to the cost of your produce, additional fees are added: $1.50 for processing fees plus a fuel surcharge (varies by state – Colorado sites = $2.00).
First-timers pay a $3.00 basket fee. Additional fees will be assessed if you increase the number of baskets you order, up to 3 maximum (i.e. if you usually order 1 basket, but decide to get a 2nd basket, you should pay the $3.00 New Basket Fee for your second basket).
You can find a list of locations HERE.
Come back tomorrow, and I'll share more information about recent baskets I've received, in addition to how I process/handle add-ons.
Looking for more information and photos, basket photos & ways to use add-ons? Check out Part Two of the Bountiful Baskets series.
Have questions about Bountiful Baskets? Post in the comment section & I will do my best to help.
I'd love to hear how you save on fresh produce!