How to Host Thanksgiving on a Budget
Disclosure: This post may contain affiliate links. When you click on a link and/or make a purchase, I may be paid a small commission at no additional cost to you. Additionally, as an Amazon Associate I earn from qualifying purchases. Please read my Disclosure page for more information.
Want to host Thanksgiving on a budget? Check out these tips to help stay on budget and still enjoy the holiday with your family!
How to Host Thanksgiving on a Budget
Thanksgiving is just around the corner and if you are hosting dinner this year, panic is starting to set in right about now.
What recipes should I make? How much food should I prepare? Who should I invite?
I am forever trying to do all the things but I don't want to spend a fortune.
And because I don't have unlimited funds, I decided to look into how to host Thanksgiving on a budget. Want to join me in the challenge?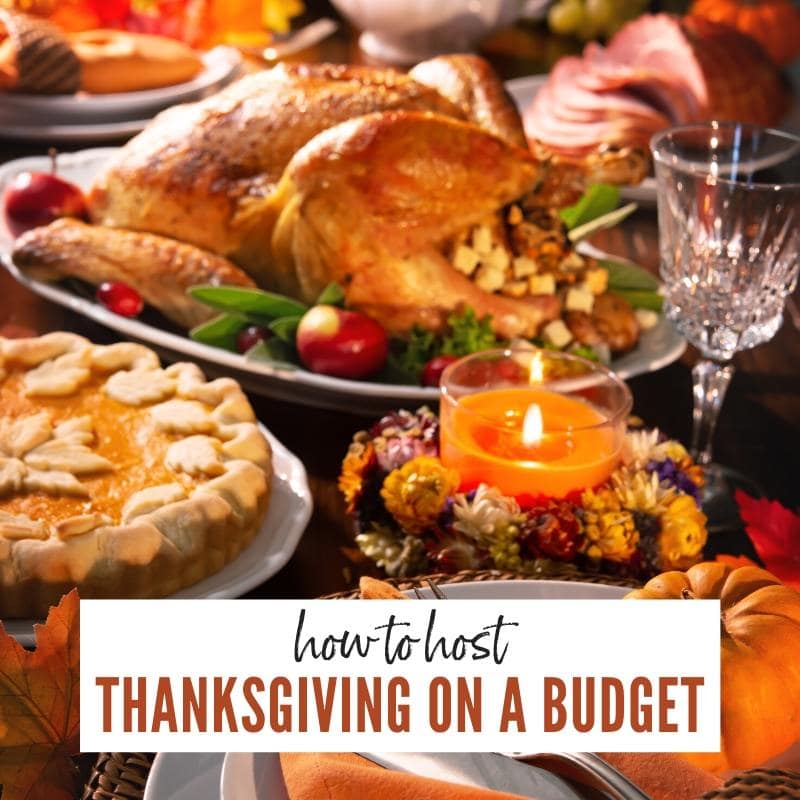 According to the American Farm Bureau Federation's annual study, last year the average cost of Thanksgiving dinner was $48.90. This cost was based on a meal for 10 people including turkey, the usual sides, pumpkin pie and coffee.
But what is the average cost of a turkey? Protein is usually the single biggest expense and last year the average cost was $21.71 for a 16-pound bird.
Personally, I think that number is on the low side. Maybe it's because groceries are expensive where I live. Or perhaps it's because I tend to make a LOT of food. Too much if I'm being honest.
Whatever the reason, I typically spend closer to $100 by the time it's over. That's a lot of money!
This year I want to do better.
How to Plan Thanksgiving When You're on a Budget
One of the first steps to hosting an amazing Thanksgiving dinner is to do some advance planning. It may not be the most exciting job but it can save you a lot of money.
Before you do anything else, determine how much you want to spend on Thanksgiving dinner. Your budget is key to deciding everything – from what to cook to how to decorate. You know your finances and what you can afford.
Be realistic and resist the urge to overspend. Once you set your budget stick to it!
After setting your budget, you can determine how many people to invite. Finalize your guest list by determining who is coming. The guest list is important to help decide what dishes you will make and how much food you need to prepare.
Set the menu (limit the number of dishes)
So, now you have set your budget and know who's coming. Next step is to decide on the menu. One of the keys to hosting a budget Thanksgiving is to limit the number of dishes you offer. Pick your must-have dishes and work from there.
Limiting the menu means you will also have time to make more dishes from scratch. Making recipes from scratch will save money. And let's be honest, the food will taste better.
Related Content: Easy Thanksgiving Side Dishes
Consider a potluck style meal
Another option to hosting Thanksgiving on a tight budget is to do a potluck style meal. Having each guest bring a dish (or two!) will lighten your work load as well as the strain on your wallet.
Unless you are the adventurous type, I recommend setting a few guidelines if you go the potluck route. Assigning recipe categories or specific dishes will ensure you have a good variety of foods to serve (and that you don't end up with 5 pans of dinner rolls – lol!).
If you are hosting a larger group of guests, consider an online sign-up sheet or an app to help organize the menu. Share the link with your guests and they can sign up for the dish they are bringing. This is a great way for you to oversee the menu and gives you an opportunity to spot any gaps in the menu.
Click the image below to grab the FREE printable Thanksgiving Menu Planner.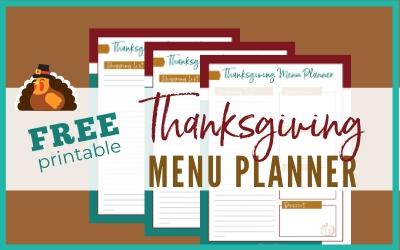 Organizing the Food
After you have completed the planning stage, it's time to move on to shopping. This is where your budget can go off the rails if you're not careful. But don't worry, I've got some great tips to help you stay within your budget.
Create a shopping list for what you need
Heading out to the grocery store without a shopping list is a recipe for an over-spend! Using your menu, create a list of everything you need for the recipes you are making. When you are shopping, don't be tempted to add extras – stick to your list!
Look at what you have in stock first
After you've made your shopping list, check the pantry & freezer to see if you have any of the items on hand. Taking a few minutes to check stock will ensure you aren't purchasing more than what you need.
Be a smart shopper and check for coupons
Around the holidays you can always find coupons to lower the cost of groceries. Be sure to check coupon websites and local newspapers, as well as your local grocery store website for deals.
When you've wrapped up shopping, don't forget to upload your grocery receipts to Ibotta for additional savings.
What about store brand items?
Many of us fall into the trap of picking a well-known brand for products. Most store brand items are often just as good as name brand products and can offer substantial savings. Using a few store brand items can transform a spendy recipe into a budget friendly version without having to compromise on taste.
Shop early to get the best deals and selection
While some food items need to be purchased at the last minute, you can often get the best deals by shopping early. Not only will you save a little coin, you'll get first choice before the rush starts.
If you need to spread the costs out, shop over a few weeks. Another benefit to spacing out your shopping trips is that you may be able to take advantage of extra sale prices.
Related Content: Thanksgiving Leftovers Recipes
Homemade vs. Convenience
While I'm not averse to using convenience food items, I prefer to cook from scratch when it comes to holiday meals. Homemade dishes usually taste better than the prepared versions you'll find at the grocery store.
And I've also found pre-made dishes can be expensive. It is nearly always cheaper to make a recipe from scratch. And you'll know exactly what's in the dish when you prepare it yourself.
What About Drinks & Cocktails?
One of the most expensive parts of any meal is the drinks. Especially if you want to serve wine or other types of alcohol.
So what options does a thrifty girl have for inexpensive drinks for a holiday dinner? Here are a few simple suggestions:
BYOB – aka bring your own bottle. Ask your guests to bring their favorite drinks. You'll end up with a nice variety of beverages everyone gets to enjoy. And you aren't saddled with the cost of providing alcoholic drinks.
Offer a smaller variety of drinks – 2-3 options is sufficient for most holiday dinner parties. Keep it simple by serving wine and beer. If you want to kick it up a notch and have room in your budget, include a signature cocktail for your dinner.
Make punch-style drinks – punch is a great way to mix ups a pretty bowl of make a couple of bowls of punch, one with alcohol and one without. Split the ingredients into two bowls and guests can serve themselves. Be sure to clearly mark the bowls, especially if children will be in attendance.
Sometimes the problem isn't the drinks but having enough glasses to serve them. Consider these budget friendly ways to solve that potential problem.
Check the dollar store or other bargain shops for inexpensive glassware. Your local thrift store can be a gold mine of options for serving ware.
Don't worry if the glasses don't match – it's fun to mix and match, plus it makes it easier for guests to keep track of their drinks.
Decorating for Thanksgiving
Decorating for Thanksgiving (or any holiday) can be a slippery slope that kills your budget! But you don't need to spend a fortune on decorations.
Repeat after me – you don't need to spend a fortune on decorations. Got it?
For starters, use what you already have. We reuse decorations at Christmas – why not at Thanksgiving?
If you have decorations from previous years, drag them out. Don't worry about reusing them – no one is going to remember you used the same pieces the previous year. You can always spruce them up or change the arrangement for a fresh look.
Keep decorations simple and use seasonal items. Fill a wooden bowl or wicker basket with decorative gourds and mini pumpkins, add a couple candles and you've got a nice table decoration that doesn't break the budget.
Kick back & enjoy your budget Thanksgiving Dinner
Armed with these tips, you can host a great Thanksgiving dinner for friends and family. And without having to go into debt!
Happy Thanksgiving from my home to yours!