How Long Can You Freeze Ham?
Disclosure: This post may contain affiliate links. When you click on a link and/or make a purchase, I may be paid a small commission at no additional cost to you. Additionally, as an Amazon Associate I earn from qualifying purchases. Please read my Disclosure page for more information.
Saving leftover ham is a must in our home. Ham is such a versatile protein that is wonderful for mixing in casseroles, soups, reheating, and more. So the true question is how long can you freeze a ham?
Today I'm sharing how to freeze ham, the time frame it is going to last, and even ways to use up the ham in recipes once you thaw out the meat.
Freezing leftover ham is a great way to make the most out of the money you spent. After a large holiday feast, you might be left with a good amount of meat left over. But don't throw it away – freeze and preserve it for future meals!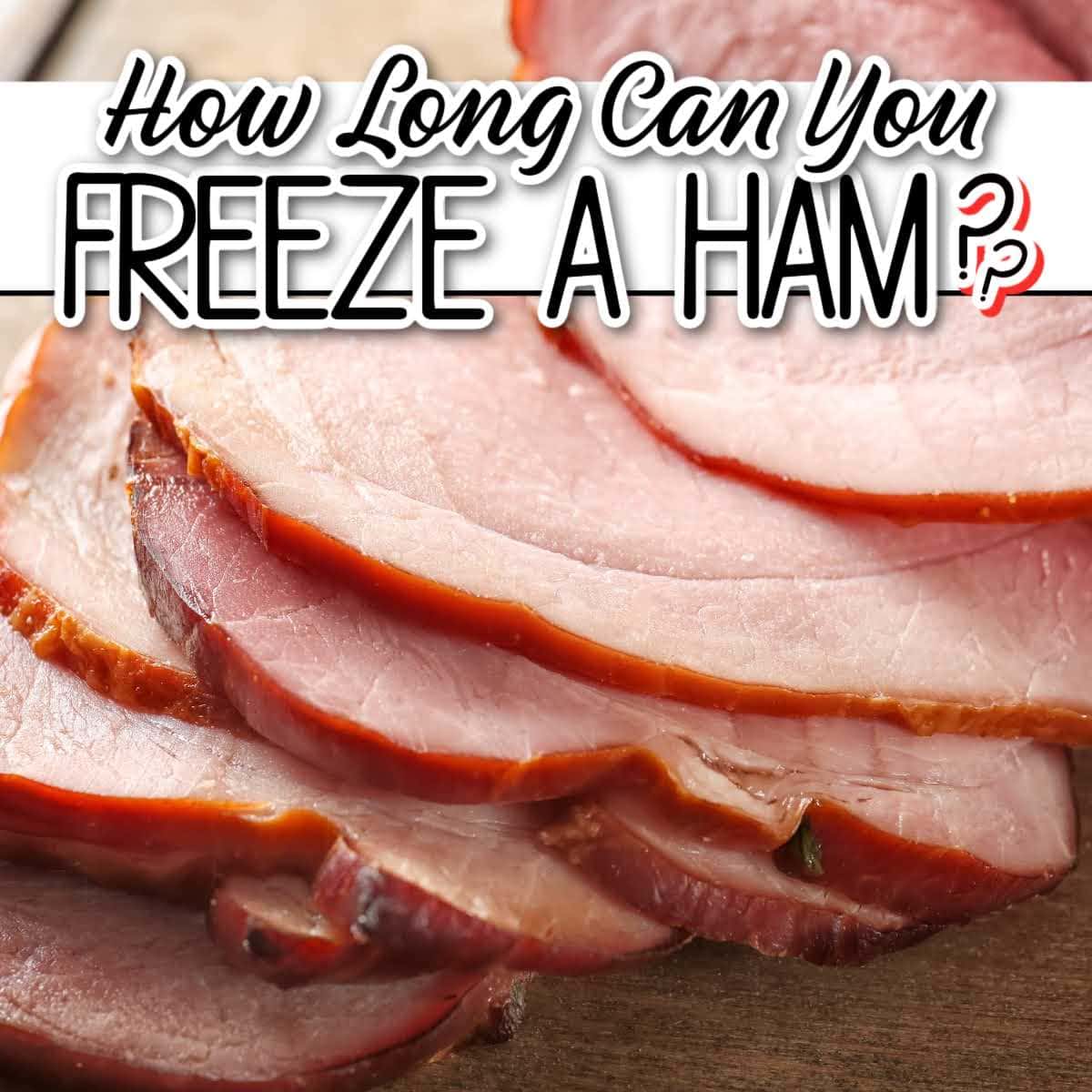 Does Ham Freeze Well?
Yes, ham is a protein that freezes very well. You'll find that you can freeze the ham and when it's thawed the meat still has the same delicious flavor as when you first served it.
Add leftover ham to these recipes…
Best Way to Freeze Ham?
You can freeze ham before or after you cook it. And I've shared the freezer shelf life for a variety of hams below. These steps cover how to freeze cooked ham.
Step One: Let the Ham Cool
Make sure that your ham has fully cooled. If you freeze ham straight from the oven, while it's still hot, it can cause crystals to form and you run the risk of freezer burnt ham.
So allow the ham to cool for a bit, then pat the ham dry with a paper towel or clean cloth before moving to the next step.
Step Two: Slice, Dice, or Freeze Whole
Prep the ham as you would like. Leave it in large slices, dice into cubes, or prep anyway you like.
I find that if you are planning to use the meat for casseroles or soups, having it prepped into bite size pieces helps save time later when you go to thaw it for the recipe.
Step Three: How to Freeze Leftover Ham
Now it's time to wrap the ham in plastic wrap or foil before placing it in a freezer bag or freezer friendly container. Wrapping the meat first helps to protect it from freezer burning.
Or if you own a food saver system you can vacuum pack the ham and extend the life by up to 5-10 times longer than traditional freezing methods.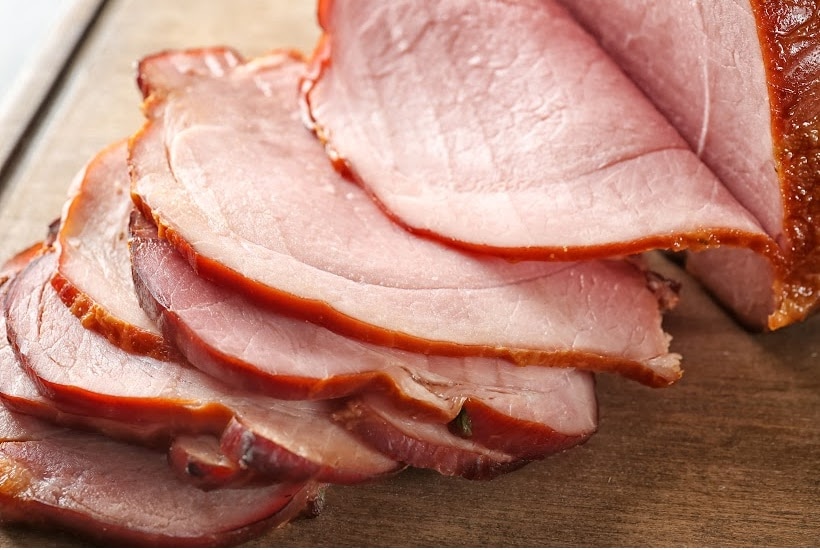 Refrigerating Ham
Cooked ham can be refrigerated for up to three days. I recommend storing it in an airtight container, or place in a sealed Ziploc bag.
If the package of ham has not been opened, you should follow the expiration date that is on the ham packaging.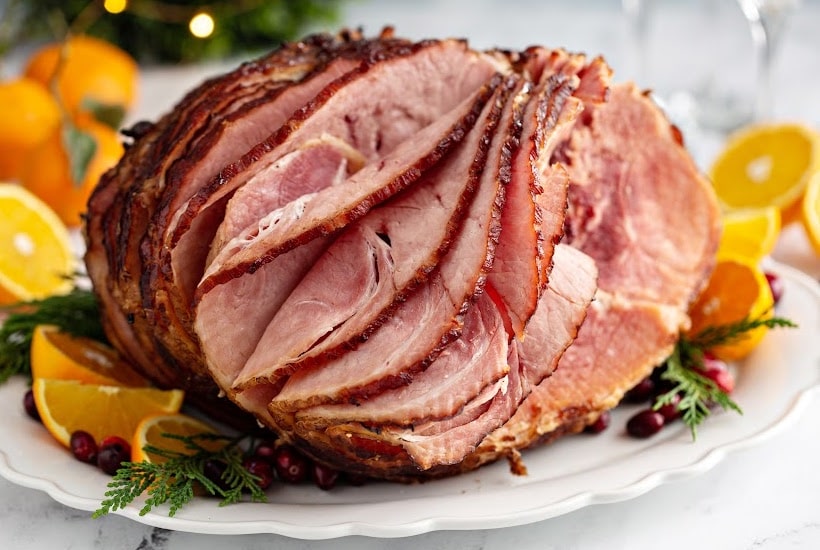 How Long Can You Freeze Ham?
Depending on the type of ham the freezer life will vary. I'll share some of the time frames for you in terms of how long you can freeze your ham.
Uncooked Uncured Ham – freeze up to 6 months
Cooked, Uncured Ham – freeze up to 3-4 months
Cured, Fully Cooked Ham – freeze up to 3-4 months
Cooked, Spiral Ham – freeze up to 1-2 months
Cured, Uncooked Ham – freeze up to 6 months
Country Ham, Cooked – freeze up to 1-2 months
Canned, Shelf Stable Ham – freeze up to 1-2 months
Prosciutto– freeze up to 1 month
Dry Italian Ham – freeze up to 1 month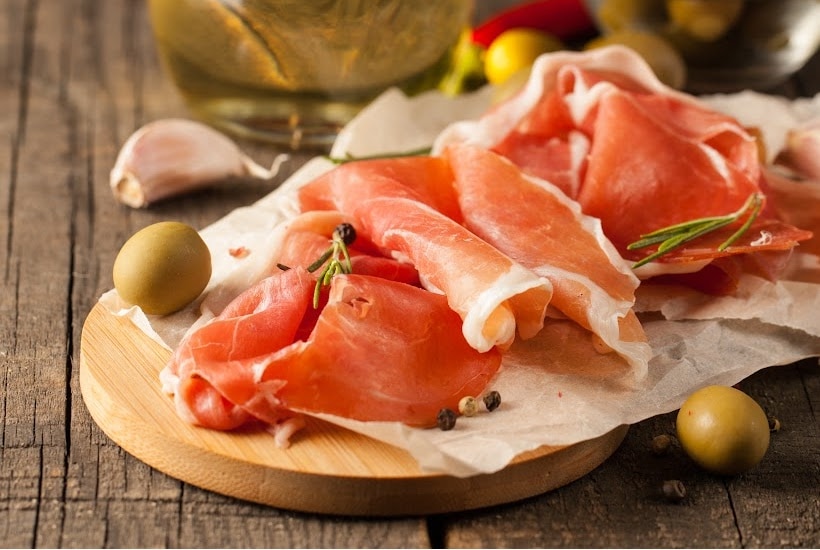 What is the Difference Between Cured and Uncured Ham?
The biggest difference is how the meat is prepared and preserved. You will find that cured ham uses additives and chemicals to preserve the ham.
Uncured ham uses salt and seasonings to flavor the meat. Another difference is uncured ham does not have nitrates, where cured ham does.
What Is The Best Way to Thaw Ham?
Refrigerate Ham
Depending on the size of the ham, the thaw time will vary. For example a full-size ham will take around 3-4 days to thaw in the refrigerator.
If it is sliced or diced ham, you can thaw in the fridge for 1-2 days. Generally it takes around 24 hours to thaw, unless it is a larger, thick portion of the protein.
Cold Water Thaw
Smaller packages can be thawed in a large bowl of cold ice water by adding the ham in the container you froze it in. Change out the water every 30 minutes to 1 hour until the meat has completely thawed.
This method thaws your ham quicker than sitting in the fridge overnight but you do need to make sure the water remains very cold. Once the ham thaws, use as you would like.
It is a must to change the water. If the ham sits at room temperature for too long, the ham may spoil.
Microwave
You can also microwave your ham for a quick thaw. Place ham on a microwave safe platter or bowl. Then use the defrost feature, defrosting per the amount of pounds of ham you have.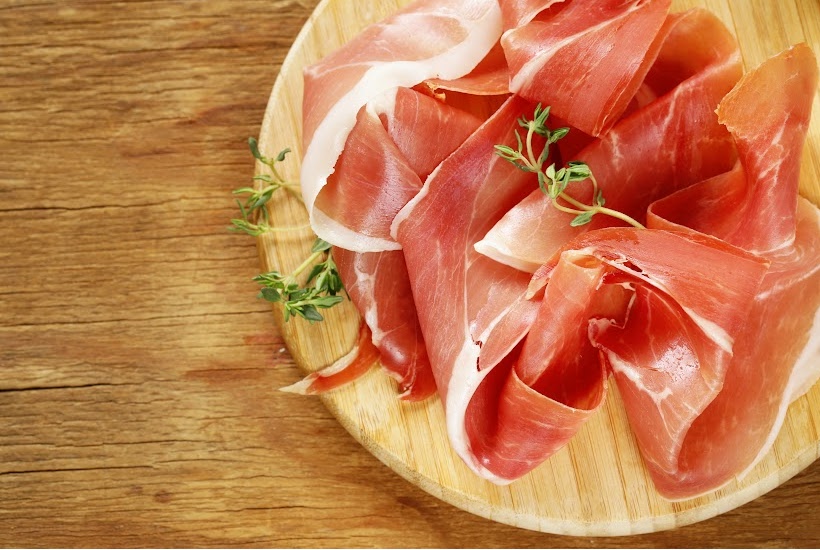 Best Way to Reheat Ham
Microwave or Skillet
You can reheat ham in the microwave or tossing it in a skillet on the stovetop. Both methods will warm up the ham and speed up the reheating process.
Oven or Slow Cooker
You can cover your ham in foil and then warm it up in the oven. Or mix it in with a casserole and cook as directed in the recipe. You can also use ham in slow cooker recipes, for another easy way to reheat the meat.
MORE EASY
Meal Prep Recipes