One Year Blogiversary and Giveaway
Disclosure: This post may contain affiliate links. When you click on a link and/or make a purchase, I may be paid a small commission at no additional cost to you. Additionally, as an Amazon Associate I earn from qualifying purchases. Please read my Disclosure page for more information.
June marks the one year blogiversary (anniversary) of starting A Reinvented Mom. After dreaming of having a blog for a couple of years, I finally took the plunge and jumped in with both feet.  Me, who knew absolutely NOTHING about website design and coding.  It's been a (mostly) fun, wild ride – designing the blog, making changes, breaking things, learning how to publish posts, breaking things, making more changes, breaking more things.  You get the picture.  Some days I'm still shocked I managed to start and maintain a blog for an entire year.  The takeaway here is it's never too late to learn something new.
I want to thank each of YOU for taking time from your busy day to stop by my little corner of the web.  I also appreciate every comment, share and like.  I've made some wonderful friends this past year – readers and fellow bloggers.   I likely never would have had the opportunity to "meet" these new friends had I not started my blog.
A Reinvented Mom will continue to be a work in progress, as I hope to always be improving.   If there is anything you would like to see on my blog, please let me know by commenting or send me an email (click on the little envelope icon at the top of the sidebar, under Connect with A Reinvented Mom).  I am always happy to receive your suggestions.  Thanks again for joining me on this amazing journey!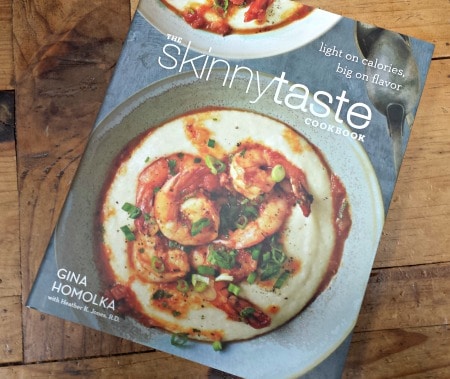 I thought it would be fun to have a little giveaway to celebrate my blogiversary. The Skinnytaste Cookbook is one of my all-time favorite cookbooks and I would like to gift one of my readers with a hard copy of this awesome cookbook.  Gina Homolka of Skinnytaste blog proves that healthy food can be amazingly tasty, and anything but boring.  I'm sure you'll love her cookbook as much as I do!  Here are a few of my favorite recipes from The Skinnytaste Cookbook:
My House Salad, Made with Love (Pg. 267)
Mahi Mahi Fish Tacos with Spicy Avocado Cream (Pg. 222)
Slow-Cooker Picadillo (Pg. 193)
You can enter this giveaway via the Rafflecopter widget below.  There are several entry options – use one or use them all to increase your chances of winning.  Good luck!
This giveaway is not sponsored, nor does Gina Homolka/Skinnytaste know who I am.  I am personally providing the prize for this giveaway.  The contest ends on Saturday, June 27, 2015, at 11:59PM EST.  A winner will be selected randomly and contacted via email after the winning entry has been verified.  Winner will have 48 hours  to claim the prize.  If I don't receive a response within 48 hours a new winner will be selected and verified.  Contest is open to US residents only, age 18 years or older.  Although I am supplying and shipping the prize, I will not be held responsible for unclaimed or undelivered prizes.
a Rafflecopter giveaway – this giveaway has ended.

Follow A Reinvented Mom on Pinterest, Instagram, Yummly and Twitter.
This post may contain an affiliate link(s).  If you choose to click on the link and/or make a purchase, I may be paid a small amount.  All opinions are my own.