Christmas Crunch Mix (Christmas Trash)
Disclosure: This post may contain affiliate links. When you click on a link and/or make a purchase, I may be paid a small commission at no additional cost to you. Additionally, as an Amazon Associate I earn from qualifying purchases. Please read my Disclosure page for more information.
Our Christmas crunch recipe is packed with sweet and savory flavors, crunchy textures and is a festive party snack for the holidays. Ready in about an hour, you'll need just a handful of ingredients to make this addicting salty sweet snack mix.
This tasty treat hits all the best snack notes. The pretzels, popcorn and Chex mix bring the crunch to the party with the chocolate and candies offering the perfect sweet complement to this slightly salty mix. And you can easily customize the recipe to include your trail mix favorites.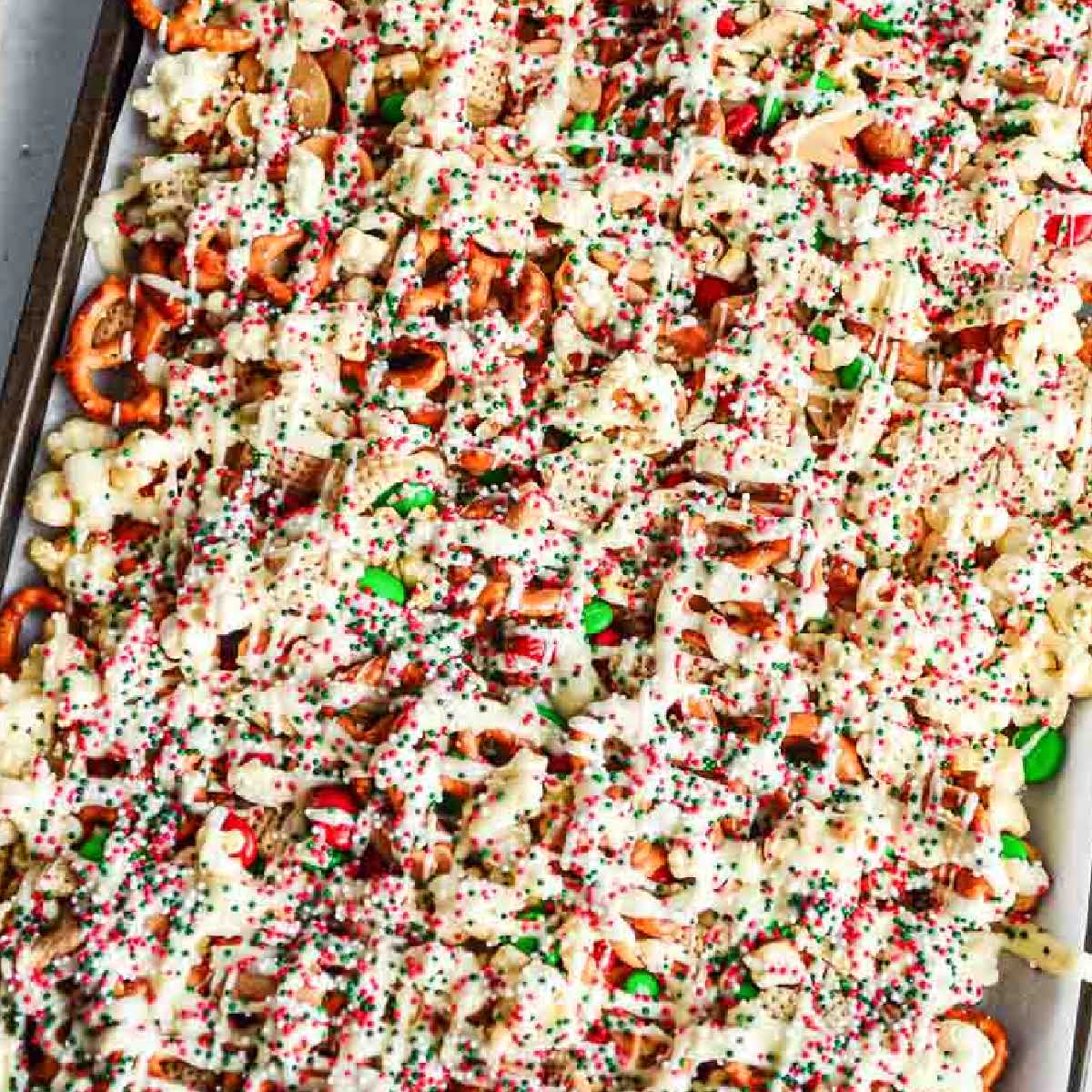 It's only fair that I give you a warning. This Christmas party mix is one that you can't just eat one bite of! Similar to my Christmas crack crockpot candy, it's always a favorite. 
This versatile mix goes by many names: Christmas Trash, Christmas Crack, and Christmas Crack Chex Mix are a few I've seen. Whatever you call this it, this tasty treat is perfect for holiday parties and a great addition to your holiday movie night lineup.
And while I know the holiday season brings out the baker in us, it's nice to have a few no-bake recipes at the ready to save some time (and stress!). These easy treats also free up oven space for main course dishes and hot appetizers.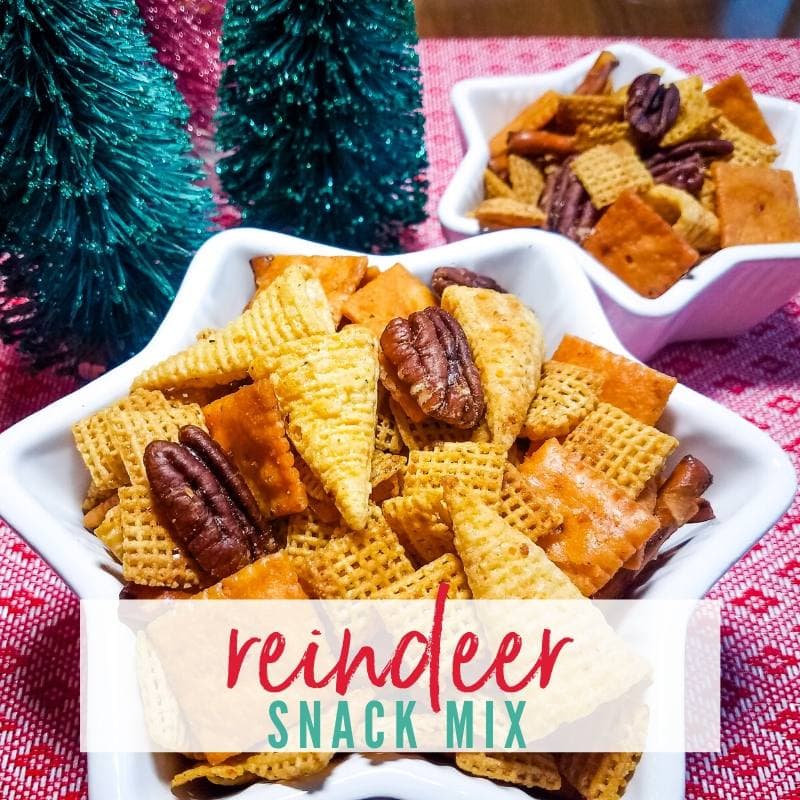 …easy holiday snack mix recipes? Check these out:
Ingredients Needed
popped popcorn – plain or lightly buttered works well 
Chex cereal – rice or corn
mini twist pretzels
M&Ms candy – look for the red and green holiday edition 
cashews – get the whole ones
nonpareils – tiny ball-shaped sprinkles
white chocolate chips
coconut oil
How to Make Christmas Crunch Snack Mix
Line a sheet pan with parchment paper. 
Mix together the popcorn, cereal, pretzels, M&Ms, and cashews in a large bowl.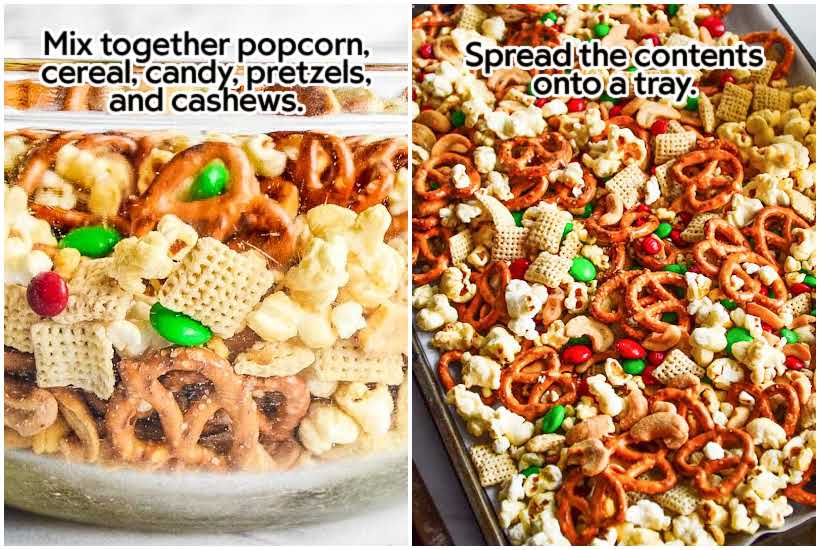 Then spread the mixture on the prepared baking sheet. 
Place white chocolate in a microwave safe small bowl. Microwave the white chocolate in 10 to 20 second intervals until melted, stirring between each cycle until it's smooth. Stir in the coconut oil.
Drizzle the melted white chocolate over the Chex popcorn mixture and top with the red and green sprinkles.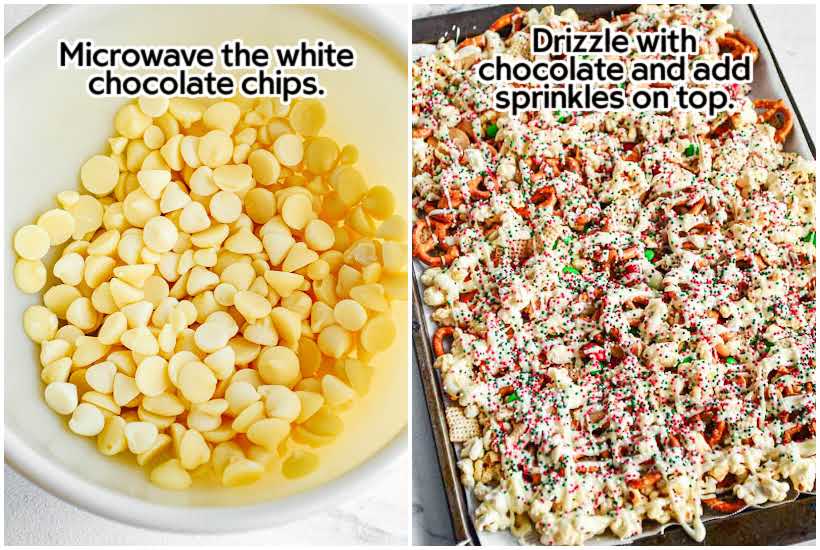 Gently mix using a spatula so that the snack mix is mostly covered in chocolate. 
Allow the mixture to set up before spooning into a serving bowl or individual packages.
Variations and Substitutions
You can mix and match just about anything in this festive treat. Check out these popular options:
Popcorn: swap for kettle corn or caramel corn
Cereal: Cheerios, Golden Grahams, Cinnamon Toast Crunch, Honeycombs
Crackers: Teddy Grahams or Annie's Bunny graham crackers
Candy: Peanut M&Ms, crushed candy canes, peppermints, Reese's pieces
Nuts: almonds, macadamia nuts, peanuts, pistachios, honey roasted peanuts
Other: mini marshmallows, Bugles, and different flavors of Chex mix are a few tasty options 
Nonpareils: use other sprinkles such as jimmies, coarse sugar sprinkles, or a festive holiday mix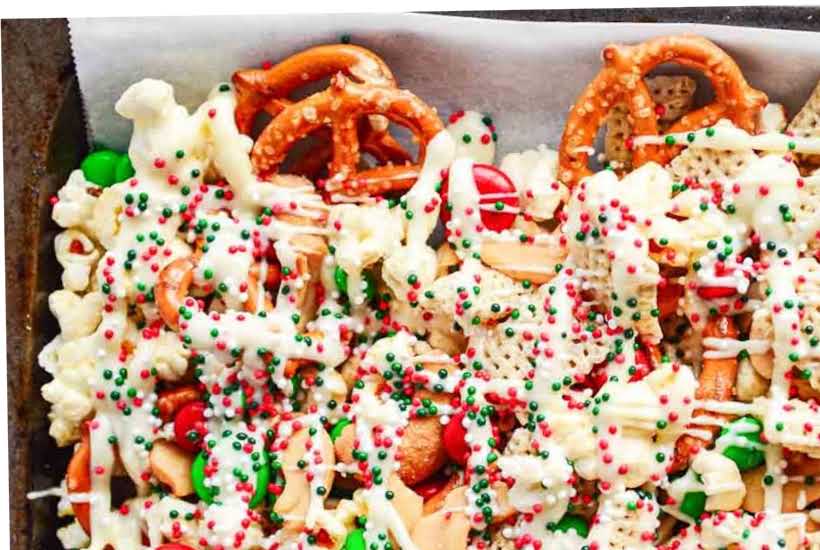 Oil: I prefer using coconut oil but you can swap it for a neutral oil like vegetable 
Chocolate: use dark or milk chocolate
Can I Use Candy Melts in Place of Chocolate Chips?
We prefer to use chocolate chips because they give a creamier texture and richer chocolate flavor. But you can substitute candy melts (or chocolate melting wafers) if that's what you have on hand. Note that you will NOT need the oil if you are using the candy melts.
Can I Use Different Shapes of Pretzels?
Yes you can. Pretzel sticks and pretzel squares are a good substitution for the mini twists. If you are using larger pretzels I recommend breaking them into smaller, bite size pieces for easier eating.
Christmas Treats for Gift Giving
I love to make and give tasty treats for the holidays and this sweet and salty snack makes a delicious gift for friends, neighbors, teachers and hostesses. I've even used it for classroom treats and bake sales.
To turn this into an easy edible gift, simply place the Christmas crunch mix in cellophane bags, add a tag and tie it off with a pretty ribbon. Easy peasy!
Can I Make this for Other Holidays?
It's easy to make this Christmas trash party mix year round. Simply swap out the colors of the candies and sprinkles to coordinate with any holiday or celebration.
How to Store
Keep the cooled Christmas crack Chex mix at room temperature in an airtight container for up to 10 days. 
This holiday Chex mix can also be frozen if you want to make it ahead of time. Store the cooled mix in an airtight freezer bag in the freezer for up to 2 months.
MORE EASY FAMILY Favorite
Holiday Treat Recipes
**Save Christmas Crunch Chex Mix for Later**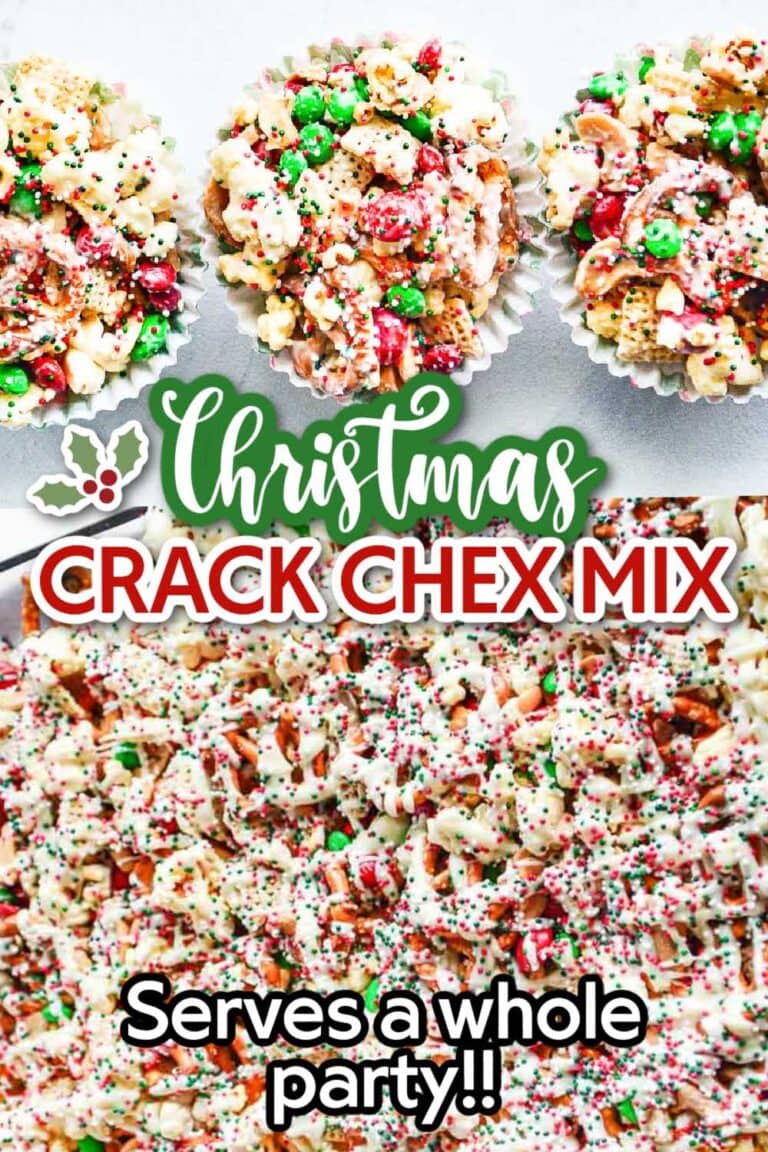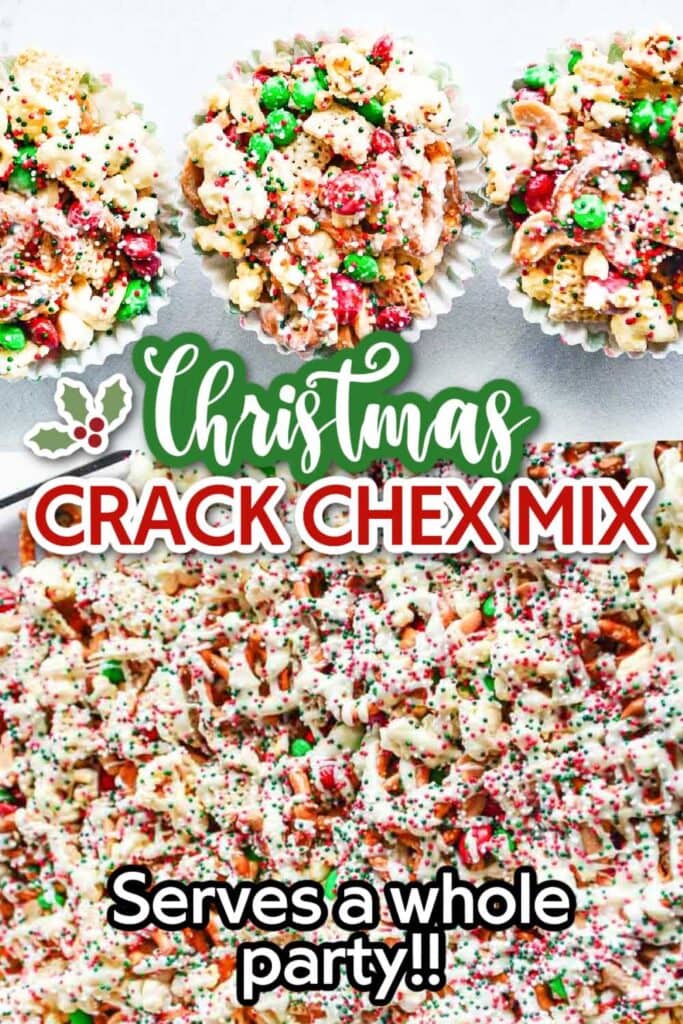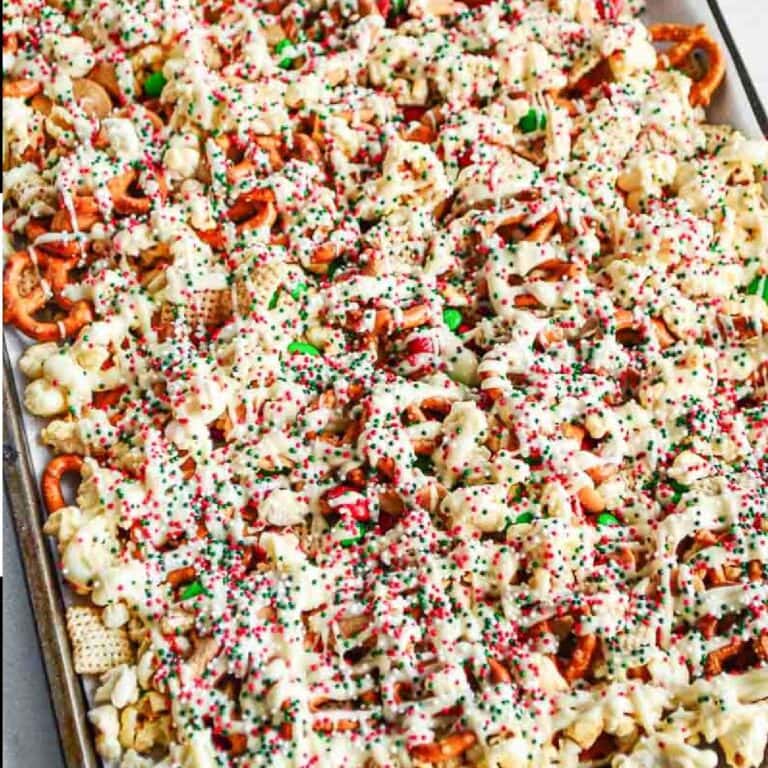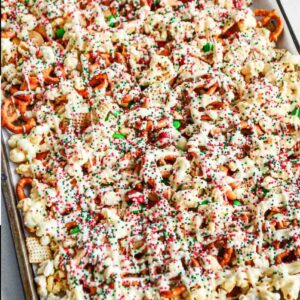 Christmas Crunch Chex Mix
Our Christmas crunch recipe is packed with sweet and savory flavors, crunchy textures and is a festive party snack for the holidays.
Print
Pin
Rate
Instructions
Line a baking sheet with parchment paper and set aside.

In a large mixing bowl, mix together the popcorn, cereal, pretzels, chocolate candy, and cashews.

Spread the mixture onto the baking sheet in an even layer.

Microwave the white chocolate in 10 to 20 second increments, stirring between cycles, until completely melted and smooth. Mix the coconut oil into the white chocolate.

Drizzle the melted white chocolate over the snack mix.

Generously sprinkle the nonpareils over the snack mix.

Use a spoon or spatula to gently mix the white chocolate and sprinkles into the snack mix, making sure to coat the snack mix as thoroughly as possible. Spread into an even layer.

Allow the mixture to sit uncovered until the chocolate has set and dried.

Spoon the snack mix into a large serving bowl or package in individual servings.
Notes
This snack mix is customizable and you can mix and match many different ingredients into it. Sub in or add any of these: caramel corn, kettle corn, Cheerios cereal, Golden Grahams cereal, Cinnamon Toast Crunch cereal, Honeycomb cereal, Teddy Grahams or Annie's Bunny Grahams crackers, peanut M&Ms, almonds, macadamia nuts, pistachios, peanuts, honey roasted peanuts, crushed candy canes or peppermints, mini marshmallows.
Store in an airtight container on the counter for 7-10 days.
Nutrition
Calories:
388
kcal
|
Carbohydrates:
52
g
|
Protein:
6
g
|
Fat:
18
g
|
Saturated Fat:
9
g
|
Polyunsaturated Fat:
1
g
|
Monounsaturated Fat:
4
g
|
Trans Fat:
0.05
g
|
Cholesterol:
9
mg
|
Sodium:
225
mg
|
Potassium:
163
mg
|
Fiber:
2
g
|
Sugar:
33
g
|
Vitamin A:
195
IU
|
Vitamin C:
2
mg
|
Calcium:
106
mg
|
Iron:
4
mg
Nutritional information is provided as a reference, using an online calculator. We recommend verifying the information independently for accuracy.