How To Host The Ultimate Christmas Movie Night
Disclosure: This post may contain affiliate links. When you click on a link and/or make a purchase, I may be paid a small commission at no additional cost to you. Additionally, as an Amazon Associate I earn from qualifying purchases. Please read my Disclosure page for more information.
If you want to host a movie night with your friends or family during Christmas but aren't sure where to start this post is for you. I'm sharing my best tips to throw the ultimate Christmas movie party your friends and family won't forget.
Are you planning a Christmas party too? Check out my 10 Fun Party Ideas for Families!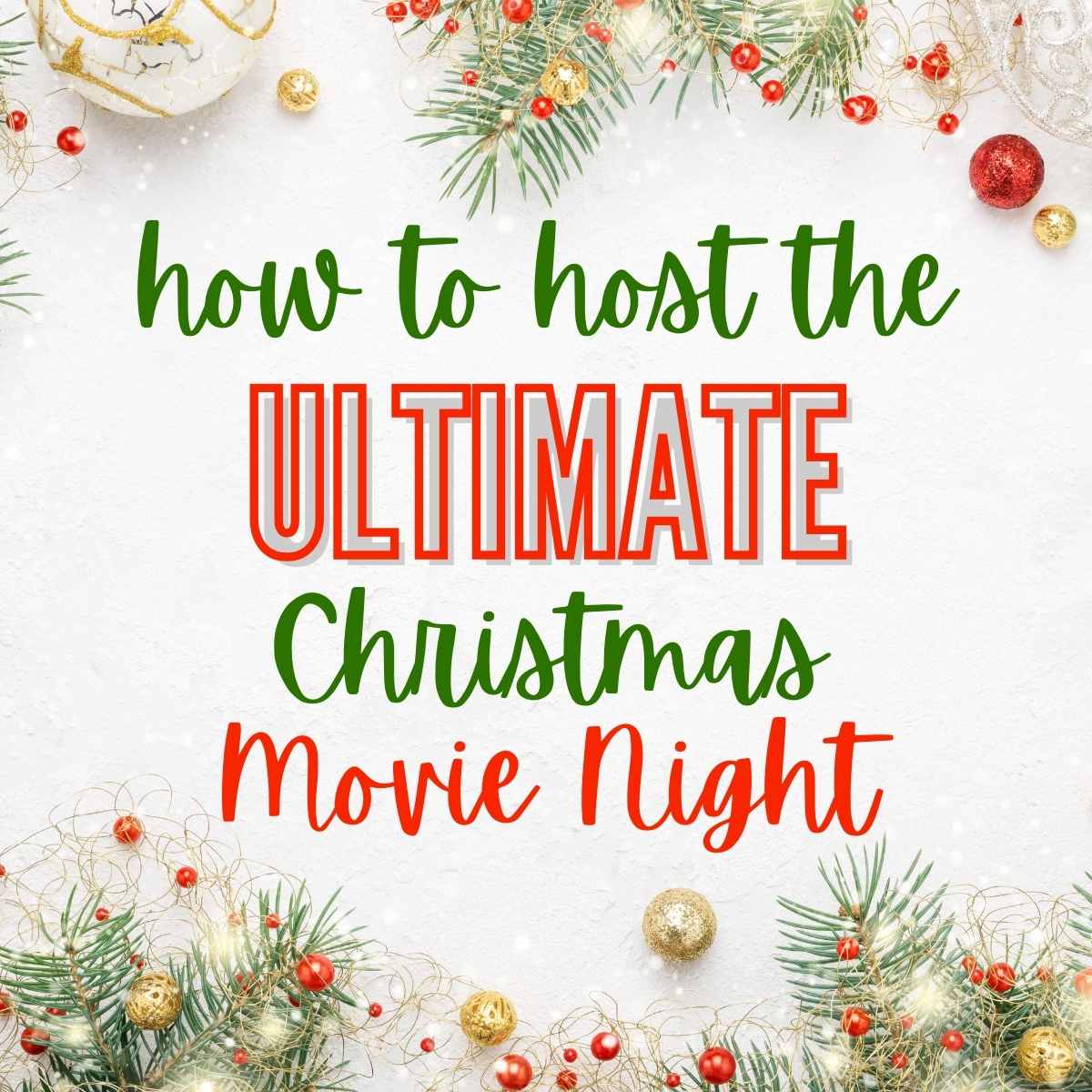 Christmas Movie Night Party Theme Ideas
Winter Wonderland
If you want a classic Christmas party theme for your movie night then a Winter Wonderland is the perfect solution. Decorate with sparkly snowflake streamers, blue and white tablecloths, and balloons, and serve snowman-themed treats.
Take it to the next level by adding fake spray snow to your windows, Christmas tree, and holiday decorations. Be sure to read the directions and take care not to get it on any furniture. Add intricate details by using stencils to create snow flakes and other designs with the spray.
Christmas Sleepover
A party theme that all ages can enjoy is a pajama party. Plan a Christmas movie sleepover and tell all of your guests to wear their Christmas pajamas. It's a fun way to get into the spirit of staying up and waiting for Santa, even if you're an adult.
This is a good party theme because you can use any holiday decorations you have on hand. Create a classic holiday setup with trees, stockings, and Christmas lights to make it feel like the Night Before Christmas.
The Grinch
Since this is a Christmas movie party what better theme than the Grinch! Decorate your house to look like Whoville by using green, red, and white décor to bring out the color palette from the movie.
Grinch decorations like plates, cups, balloons, and even banners are easy to find so, you shouldn't have any trouble turning your party into a Grinchmas miracle.
Elf
A movie that has become a classic in recent years is Elf, which is why it's a fun and festive theme to use for your Christmas party! Family and friends of all ages love this classic movie.
And it's easy to build off of your traditional holiday decorations rather than needing to purchase themed items. You may want to buy elf hats for your guests to wear and make elf hat cupcakes with cute toppers.
If you aren't ready to go all out serving spaghetti with candy and maple syrup, consider these easy treat ideas. Bake a cake or cupcakes and pipe the icing to look like spaghetti strands.
Add maple syrup to the cake batter if you want to replicate the flavor and add candies shown in the movie as toppings.
How to Set Up Your Christmas Movie Night
Make Your Own Theater
To really get into the mood of a movie theater it helps to have a big screen. You'll need a projector and a screen but can use a white bedsheet as a cheaper alternative.
If the room you're hosting has windows, be sure to tack up some light-blocking sheets or curtains so that you can enjoy the fully dark theater experience.
If you want to go the extra mile you could set up a popcorn maker for your guests and serve them like they do at the theater. You can also offer a selection of candy to your guests (so much cheaper than the theater!).
Once your guests have their snacks they can sit back and enjoy the experience.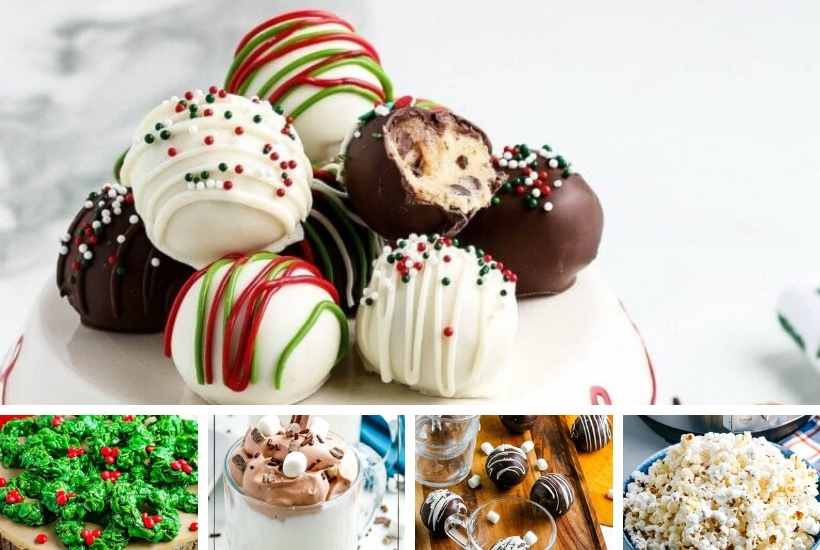 Bring Out the Snack Table
One way to set the mood is to create a popcorn station. Fill large bowls with popped corn and offer different popcorn seasonings like sweet, savory, and spicy options.
You can also offer your guests a candy and treat station with themed treats and classic candy options. Provide individually boxed candies or set up a candy bar so guests can pick out their favorite snacks. These cute popcorn holders can do double duty at the candy bar.
A hot cocoa station is another fun addition to the party. And it's a fun way to enjoy a warm holiday beverage. Include bowls of marshmallows, cinnamon, whipped cream, chocolate syrup, crushed peppermints, so guests can add their own toppings.
Our Favorite Christmas Movie Night Snacks:
Play Games & Have Contests
No party is complete without games, and a movie night party is no different. You can play holiday movie trivia and have your friends and family compete in teams. Or Christmas movie charades where you try to guess the movie or characters.
These games can be competitive but are sure to hold everyone's attention and keep them laughing through the night.
Inviting Guests to Your Christmas Movie Night
Though you may be hosting a Christmas movie night, it most likely won't won't take place on Christmas. Or maybe you have out-of-town relatives or friends you want to include. Below we'll discuss when to invite your guests, and how to make sure everyone is included.
When to Send out Invitations
Since it's likely your guests will have prior engagements on Christmas Eve and Christmas Day, you will want to keep this in mind when setting a date. The best time to send out the party invitations is 3-6 weeks before the party date.
This gives your guests ample time to RSVP or shift other plans to come to your event. You don't want to plan your event too close to the actual holiday, so aiming for early to mid-December is a good option.
How to Include Long Distance Friends & Family
It's also possible to include friends and family who are far away from you. Thanks to digital options, you can stream movies together using movie streaming options such as Netflix Party, Watch2Gether, and Scener.
Most of these options will need to be used in tandem with Google extensions or a streaming service. These extensions are a great way to connect each other and watch movies together, no matter how far apart you are.
Share a link with your long-distance guests so you can watch the movie in sync and chat about it throughout if you wish to.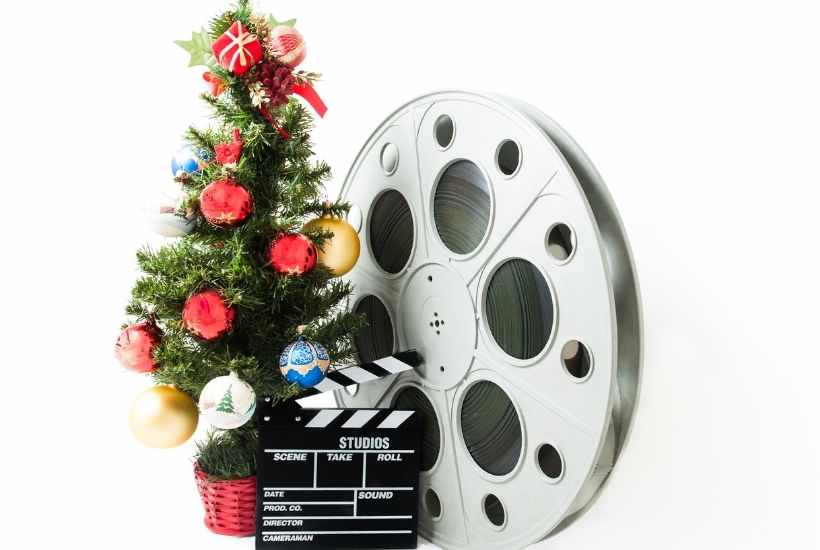 The Best Christmas Movies to Watch on Your Movie Night
Elf
A fast-paced modern comedy for the list is Elf. It's the story of a human raised by elves who leaves to find his father in New York.
He deals with everyday problems in absolutely ridiculous ways. Full of older Christmas movie references it's sure to elicit laughs from guests of all ages.
Rudolph
A cute classic stop-motion movie about the red-nosed reindeer and his friends, this is a must-watch during the holiday season. We all root for our favorite underdog of the holiday, Rudolph.
The Polar Express
A thought-provoking animated film is the Polar Express. You may be familiar with the classic childhood book.
With an intriguing and sometimes spooky aspect, it that will grip your guests even if they've seen it before. It's a timeless tale of the importance of believing in the Christmas spirit.
The Grinch
There are several iterations of this movie from the original animation, live-action, and the recent animated remake. You can't go wrong with the story of the Grinch. This movie has a beautiful message and has a lot of rewatch value.
Take a trip to Whoville with your guests and learn what makes the Grinch gain his holiday spirit back. Even if they've seen it before I'm sure your guests would love to revisit it.
Home Alone
A comedy about a boy named Kevin who is mistakenly left at home while his family leaves for Christmas vacation. While this is considered a Christmas movie it's story and comedy veer from traditional holiday movies.
It does contain a wonderful overall story that connects to the Christmas spirit. Follow Kevin on his adventures keeping out intruders, learning secrets about neighbors, and going wild while he's Home Alone for the holidays.
This is an adult-only movie night option, as it is not appropriate for children. I put it on the list because it's a hilarious movie that diverts from the classical Christmas whimsy.
Follow a conman Santa as he befriends a child during the holidays. It's a good choice for those who may be burnt out on the Christmas miracle storylines.
A Christmas Story
This classic 80s Christmas movie is a tried-and-true favorite for multiple generations of Christmas movie fans. Centered around a young boy's quest to convince everyone that he needs a Red Ryder BB gun, this is a must-watch during the season.
Set in the 1940s, A Christmas Story is told through the eyes of a boy named Ralphie as he and his family prepare for Christmas. Join Ralphie in his quest to attain the coveted BB gun.
National Lampoon's Christmas Vacation
Another classic 80's Christmas movie is National Lampoon's Christmas Vacation. This story centers around the Griswold family as they try to prepare for the holiday. They keep running into obstacles such as overbearing family, power outages, and other crazy occurrences.
A Christmas Movie Night Is a Great Way to Spend Time with Friends & Family
If you love Christmas movies, then throwing a movie night party for the season is the best way to spend time with friends and family while enjoying some of your favorites!