Thanksgiving Dinner Serving Sizes + Printable
Disclosure: This post may contain affiliate links. When you click on a link and/or make a purchase, I may be paid a small commission at no additional cost to you. Additionally, as an Amazon Associate I earn from qualifying purchases. Please read my Disclosure page for more information.
Use our helpful Thanksgiving Dinner Serving Sizes guide to successfully plan your holiday feast. We're covering it all – appetizers, side dishes, proteins, desserts and drinks.
After deciding which dishes to prepare you'll want to figure out quantities for your shopping list. Knowing how much food to make for Thanksgiving is an important part of planning your holiday feast.
If it's your turn to host Thanksgiving this year, be sure to check out these Tips for a Stress-Free Thanksgiving. If your short on funds, How to Host Thanksgiving on a Budget is a must-read for hosting a memorable holiday dinner.
Make sure to grab the free portion size printable for easy reference. It's located at the bottom of this post.
Like many of you, I've been working on my menu and shopping for the upcoming Thanksgiving feast. As important as it is to create the perfect dishes, it's equally important to ensure you have enough food to feed your guests.
What could be worse than not having enough gravy, turkey or (gasp!) pumpkin pie?
We're sharing our guide for Thanksgiving Dinner serving sizes in the hopes of taking the guesswork out of the age old question – how much food should I prepare?
Thanksgiving Dinner Serving Sizes per Guest
Appetizers & Starters
Appetizers/Small Bites – 3-4 pieces
Cheese and crackers – 4 ounces/6 pieces
Dips and spreads – 1/4 – 1/3 cup
Soup – 1/2 cup
Side Dishes
Stuffing (aka Dressing) – 3/4 cup per guest
Mashed Potatoes – 3/4 cup (about 1 potato) per guest
Gravy – 1/3 cup (I always make a little more)
Veggies – about 1/3 cup
Salad – 1 cup
Cranberry Sauce – 1/3 cup
Bread – 1-2 rolls
Proteins
Turkey amounts will allow for leftovers – you gotta have enough for a turkey sandwich, right?!
Bone-in Turkey – 1 1/2 pounds
Boneless Turkey – 1/2 pound
Ham – 1/2 pound
Roast Pork – 1/2 pound
Desserts
A 9-inch pie will typically feed 6-8 guests. Unless one of those guests is a 16 year old, pumpkin-pie-loving-boy. Then you should plan on preparing 1 pie (yes, an entire pie!) solely for the aforementioned 16 year old boy. Doing so will allow your remaining guests to also enjoy a slice of pie.
Pie – 1 slice
Cake – 1 slice
Cookies – 2 pieces
Brownies – 1 piece
Beverages
Water – 1 liter
Wine – 1/2 bottle
Beer – 3 bottles or cans
Champagne – 1/6 bottle
Tea, Coffee and Hot Chocolate – 1 cup
More helpful Thanksgiving articles
I hope you have a wonderful Thanksgiving, filled with family, good friends and good food.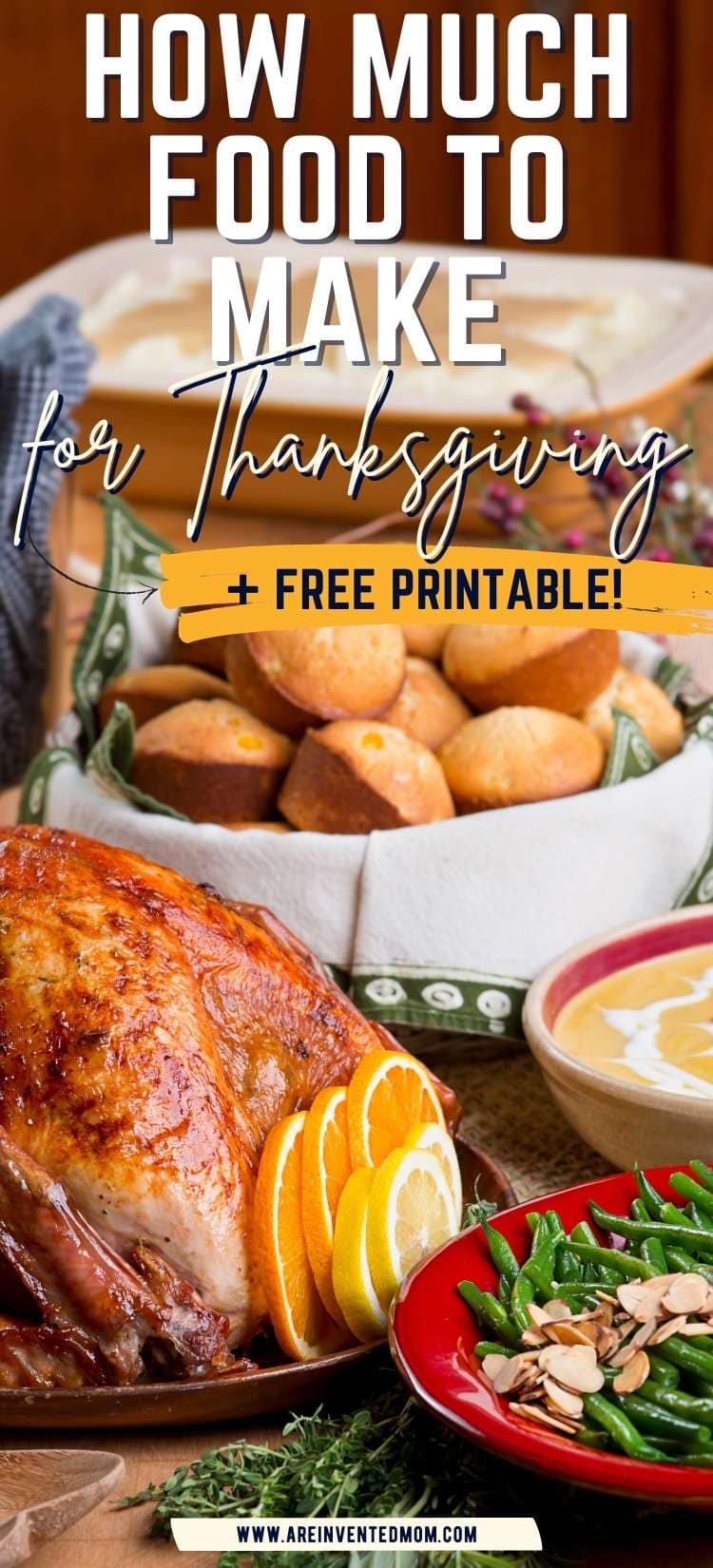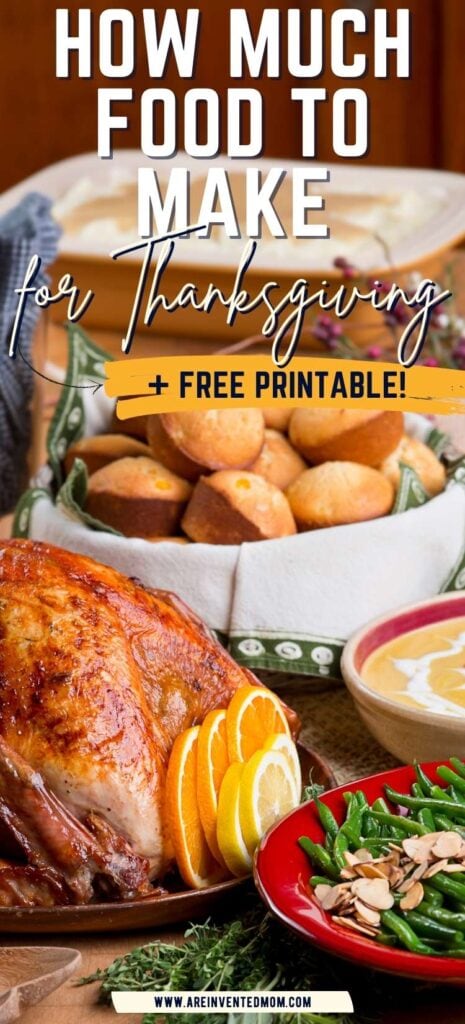 Follow A Reinvented Mom on Pinterest, Instagram, Yummly.