14 Tips for a Stress-Free Thanksgiving Dinner
Disclosure: This post may contain affiliate links. When you click on a link and/or make a purchase, I may be paid a small commission at no additional cost to you. Additionally, as an Amazon Associate I earn from qualifying purchases. Please read my Disclosure page for more information.
Thanksgiving may be one of my family's favorite meals, but it doesn't mean the holiday can't get stressful. Over the years I've come up with several easy Thanksgiving tips to lower the stress of holiday meal planning and entertaining.
The days leading up to Thanksgiving are hectic, but they don't need be overwhelming. By following these helpful tips you'll have more time and energy left over for your loved ones.
Thanksgiving dinner can be stressful no matter how many times we do it. Or how many people we are feeding. Cooking for a family of four can be as stressful as hosting a group of ten.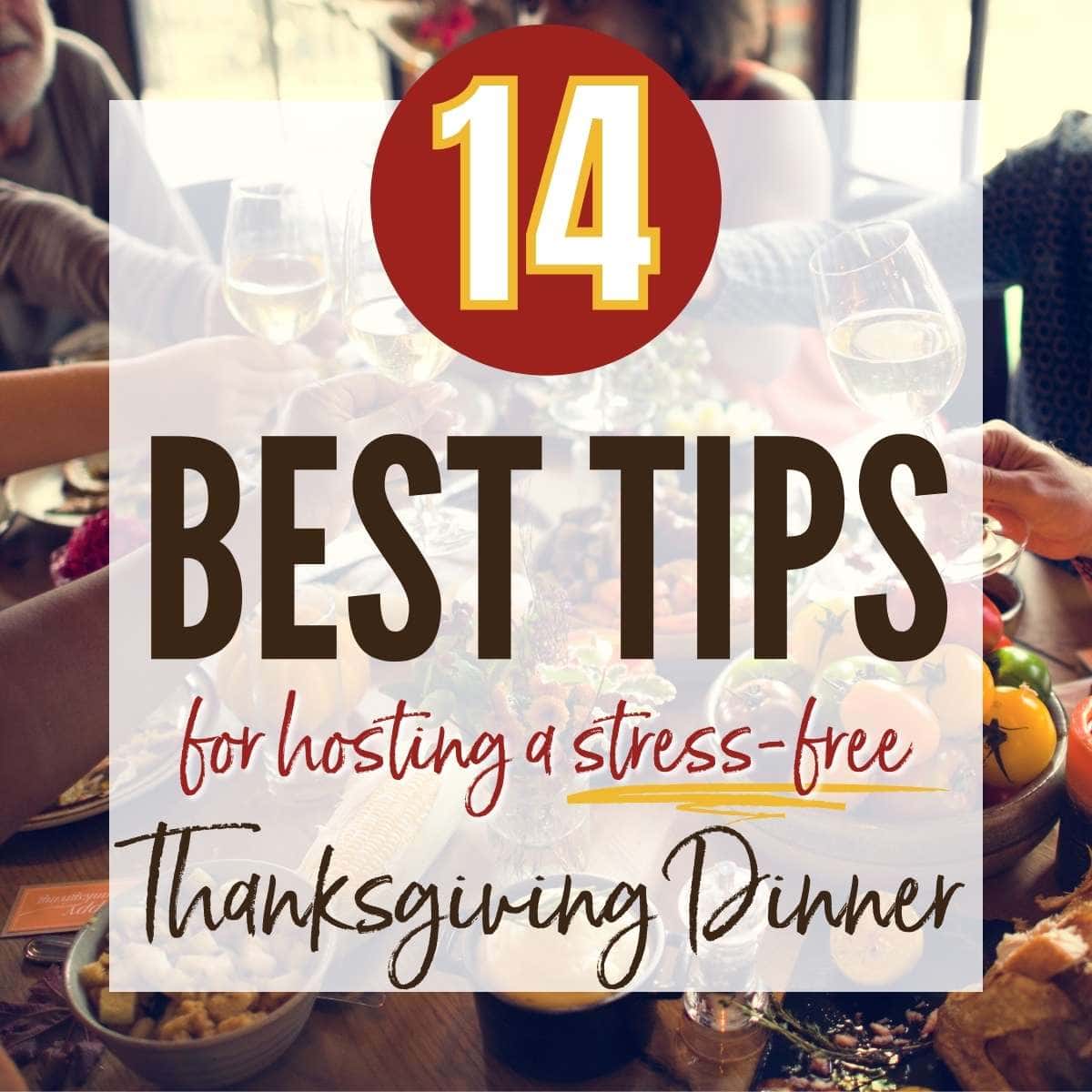 I found my solution in a few easy hacks to keep things running smoothly at home this year! With these tips you'll have an amazing Thanksgiving experience while lessening the stress of hosting a holiday meal.
When it comes to planning the perfect meal, there are several important Thanksgiving hacks to keep you calm and collected. From using a Thanksgiving meal planner to carving out some you-time, there are several ways to beat the stress this holiday season.
I'm sharing a list of my best Thanksgiving tips to help you stay sane this holiday season.
The Secret to Planning Thanksgiving Dinner
Like any big event, planning Thanksgiving dinner takes a lot of work. Here's the tricky thing about plans – they never (and I mean NEVER!) work out quite as you'd expect. And that's okay!
The big secret to a hassle-free Thanksgiving is allowing the day or night to be imperfect. You don't need to dot every "I" and cross every "T" when it comes to Thanksgiving event prep. Of course you want your basics covered, but give yourself some breathing room by letting the event unfold organically.
Sometimes, this simple aspect of planning a big event gets overlooked. It can be easy to get bogged down by all the little details.
If you find yourself getting stressed out, use this number one Thanksgiving tip – just breathe. Stop what you are doing and take three deep breaths. In the mouth, out the nose.
Remember, that no matter what happens, the dinner will be alright. I remember one Thanksgiving when the neighbor's dog stole our turkey from the garage. Doesn't get much worse than that, right?!
But you know what? It was one of my favorite Thanksgivings (even without a turkey) and now it's a fun "remember when" memory.
The Best Thanksgiving Tips
Below is a mega-list of useful tips to create a hassle-free evening. These easy-to-implement ideas are scaleable for gatherings of all sizes.
As a host, you'll have plenty on your plate (pun intended) so here's a look at some of my best Thanksgiving hacks to keep in mind for your next gathering.
1. Use a Thanksgiving Dinner Planner
The best way to plan a holiday meal or big event is to stay organized. With a printable Thanksgiving dinner planner, you'll have everything you need to know about your big meal right at your fingertips. Featuring a meal planner, grocery list, budget tracker, to-do list and more, this is your one-stop-shop for organizing your Thanksgiving dinner.
2. Set Your Budget (and Guest List) Early
Before you set your menu and hit the supermarket, you'll want to make a list of all of your guests. Starting here helps you to come up with realistic budget.
Once you've determined how many people you are feeding, set a dollar amount of what you can afford to spend on the festivities. Take the amount you can spend and divide by the number of guests, and this is your budget per guest.
I know setting a budget for a Thanksgiving meal sounds tough, but it's the best way to avoid overspending. And don't despair if you have a smaller budget. You may need to trim your guest list or find other ways to host Thanksgiving on a budget.
There are several ways to save money, including taking advantage of sales, buying in bulk and shopping for essential non-perishables early.
3. Plan Easy Side Dishes
This one gets me in trouble every time! A holiday meal is not the time to bust out a bunch of new recipes. Or to attempt to make a super-involved, multi-step dish.
Do yourself a favor and go for the tried and true easy Thanksgiving side dishes for the win.
4. Enlist Helpers
Cooking a massive meal is a multi-person job. Don't be afraid to ask for help! One of the easiest Thanksgiving tips is to enlist a few kitchen helpers. Even your kids can help out with age appropriate meal prep or even preparing simple dishes.
Ask a visiting family member or friend to make one of their favorite recipes. Or host a potluck Thanksgiving instead of a traditional meal.
Be creative in finding ways to get everyone to help out with cooking and event prep.
5. Shop Before the Rush
There is nothing more stressful than a packed grocery store in the days leading up to Thanksgiving. It gives me nightmares just thinking about it!
While planning your Thanksgiving dinner, take time to plan your shopping trips too. If you're wondering how much food to buy, check out my Thanksgiving dinner serving sizes guide.
Consider buying items like non-perishables, alcohol, and snacks well in advance to avoid a mega shopping trip right before the holiday. Reserve your turkey (or other main meat) early to avoid disappointment.
And don't forget to pick up extra products like toilet paper, paper towels, and cleaning supplies to avoid a last minute grocery run before your guests arrive.
6. Prep Ahead
Once you have your meal planned, prep as much as possible in advance. Prepare broths, gravies and similar items and store them in the freezer. Think about other items you can prep in advance.
For example, is there a sauce or dessert you can prepare a few days ahead of time? How about chopping up all veggies the day before? This alone can be a huge time saver when preparing your holiday dinner.
7. Maximize Your Cooking Space
Stove-top and oven space can be at a premium when you're making a holiday meal. Be aware of time and resource-consuming dishes like turkeys, pies, and roasts. Plan out your oven time with some wiggle room to avoid any over-crowding.
This is the time to bust out your crockpot, instant pot, microwave and air fryer. Choosing recipes you can cook in these kitchen appliances makes it easier to get the meal on the table.
8. Assign Dish Duty
One of my favorite Thanksgiving tips is assigning dish duty. If you cooked all day, you shouldn't be expected to clean everything up. This is an easy task for the kids or non-chefs of the house.
9. Plan for Leftovers
If you're hosting your family or friends for multiple days, there's no need to cook yourself into a frenzy. Instead, plan for leftovers.
There are many amazing Thanksgiving leftover ideas that make cooking the days after the meal a breeze.
10. Give Yourself a Break
You can't play super-host all the time. Be sure to take a few short breaks in the busy days leading up to Thanksgiving. You'll be in a better mindset to enjoy the holiday rather than a stressed out mess (I'm speaking from experience here, Friend).
For multiple day gatherings, be sure to carve out a few hours of solo time each day. Continue to do things like exercise, meditate, or read. Give yourself a break and allow other members of your household to entertain your houseguests.
11. Plan Group and Solo Activities
Along the same lines as the previous Thanksgiving tip, don't forget to allow time for a few group and solo activities. For example, plan a few all-inclusive ideas for larger gatherings and have several "break out" activities that guests can take part in.
This gives people a chance to socialize in different ways to avoid over-burdening anyone. Ideas include:
Lawn games
Scavenger hunt
A hike or morning walk
Watch a sunset
Go on a group bike ride
Cook together
Visit a park
Watch or participate in a parade or fun-run
Arts and crafts
12. Limit Your Drinking
It's easy to get a little carried away during the holidays, especially when the stress is high. We've all been there, but do your best to limit drinking.
Set a drink limit each day or for every alcoholic beverage you have, choose a glass of water in between. Staying properly hydrated is not only healthy, but it boosts your mood too!
13. Thank Your Partner
If you're hosting with a partner or even a co-host friend, don't forget to give kudos where they are due. Hosting Thanksgiving will have its stressful moments, and reminding your co-hosts that you appreciate them keeps the morale high.
Even just a quick pat on the back and thanking them for handling the extra dishes or making that one last run to the grocery store goes a long way.
14. Keep Other Meals Quick & Easy
If the in-laws are in town and (gulp) staying at your house, remember, you don't need to cook a five-course meal every night. Instead, opt for quick and easy weeknight meals that everyone will enjoy.
Many hassle-free meal ideas can be made in advance, so all you need to do is heat up the prepared dish. The result is a mouth-watering selection of foods that will appease even the pickiest eaters.
These Thanksgiving tips are designed to keep the stress away from your big feast. Planning Thanksgiving dinner can be hassle-free with a few handy hacks and giving yourself some space to breathe.
Do you have a stress-busting tip? Leave a comment and let me know how you stay cool during holiday dinners.
Some of our Favorite Thanksgiving Dishes
Cornflake Hashbrown Casserole
The BEST Classic Cheese Ball Recipe
Apple Celery Walnut Salad
Classic Green Bean Casserole