The Top 15 Free Apps for Long Car Rides
Disclosure: This post may contain affiliate links. When you click on a link and/or make a purchase, I may be paid a small commission at no additional cost to you. Additionally, as an Amazon Associate I earn from qualifying purchases. Please read my Disclosure page for more information.
Let technology help you on your next family road trip with these incredible free apps for long car rides. Keep the family entertained and have all the local insights right at your fingertips with these fun apps.
This guide to the best free road trip apps gives you the tools you need to make the most of your road adventure. Be sure to download these fun apps before you hit the road.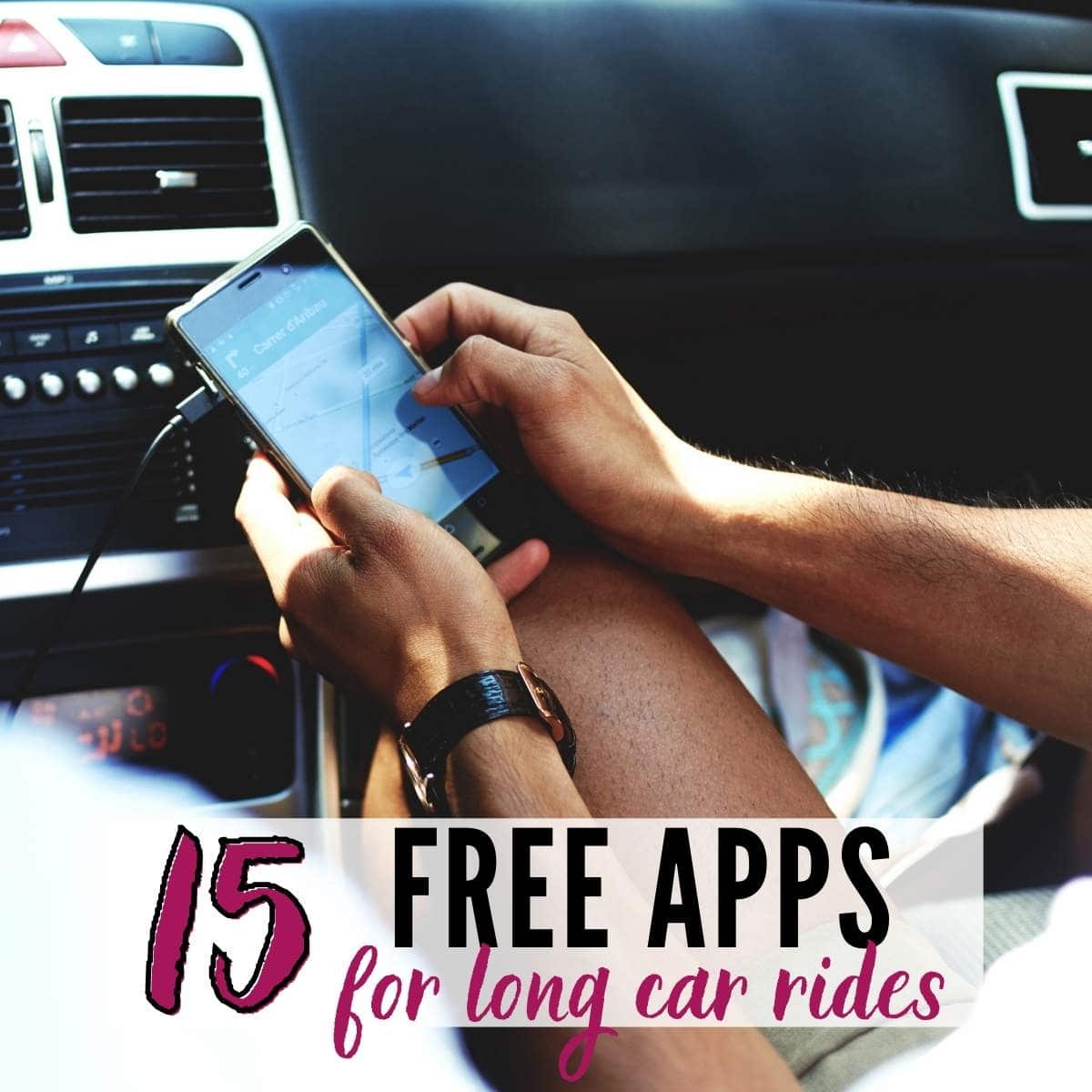 About this Guide to Free Apps for Long Car Rides
In this guide to fun apps for road trips, I'm bringing you an awesome lineup of apps to enhance your vacay. This guide covers the best apps for everything from navigation to fun-filled road trip games for teens.
These apps are all available for free, although some may offer paid subscriptions or ad-free options. Each one of these apps is designed to help families make the most of their epic, all-American road trip.
1. Stay Found with Google Maps
Although Waze is a great option for avoiding traffic, Google Maps is one of the best free travel apps for navigation. This is largely due to the ability to download regions and maps, so you can navigate even if you don't have any cell phone service.
2. Get Inspired with Roadtrippers
Plan your family road trip with the Roadtrippers App. You can upload your itinerary and the app will alert you to cool stops nearby.
It's run by fellow travelers, relying on reviews and input from other people passing through. Feel free to contribute to the platform if you find the perfect roadside stop.
3. Stay Clean with Flush Toilet Finder
One of the best apps for long car rides helps you find clean toilets in a jiffy. Flush Toilet Finder is a free app that rates roadside restrooms.
The app shows you over 200,000 paid and free public toilets worldwide and lets you know how clean they are and if they require your own toilet paper. It even integrates with Google Maps for pin-point directions.
4. Get the Heads Up with iExit
Need to re-supply on road trip snacks for your teens? Then use iExit to get information on what services and amenities are on the horizon. You can plan breaks as well as find interesting stops with this road trip app.
5. Jam Your Favorite Spotify Playlist
Spotify is one of the must-bring essentials for any road trip. Let your family alternate their favorite playlists and take turns playing car DJ.
Although there is a free version of this app, the paid subscription allows you to download playlists in advance so you don't drain data.
6. Have an Adventure with Findery
Findery is a user-based free app that shows you interesting stops along the road. As one of the most fun apps for road trips, you can participate by adding your photos and reviews if you find any fun and funky stops along the road.
7. Listen to Your Favorite Reads with Audible
One of the best free apps for long car rides is Audible. Download family-friendly audiobooks before hitting the road for hours of entertainment. You can take advantage of a free trial of up to 2 free books before your next road trip.
8. Get Parking with SpotAngels
If you plan on heading to a large city on your road trip, then download SpotAngels. This app helps you find the best parking spots (paid and free) in virtually any city.
9. Play Along with Trivia Crack 2
Get the whole family involved with fun trivia game suitable for all ages. Trivia Crack 2 is a great way to enjoy a long road trip with teens and tweens. Play as a family to pass the time along big stretches of the open road.
10. Save Money with GasBuddy
GasBuddy is a classic free app for long car rides that helps you find the best deal on roadside fill-ups. Use the app to find the cheapest prices at the pump and save a few bucks on fuel.
11. Get Good Eats with Yelp!
You likely use the Yelp! app to find new places to eat at home, so take the app on the road. Discover local hot spots in a new location by searching for virtually any type of food on Yelp.
12. Catch the Constellations with GoSky Watch
Planning to drive at night? Then you've got to download GoSkyWatch. This free app shows you the secrets of the night sky. You'll learn all about the planets and stars in the skies on your journey with this night sky app.
13. Binge on Podcasts with Stitcher
Podcasts offer up a great way to break up the monotony of a long car ride. Download all of your favorite podcasts for hours of entertainment with Stitcher.
14. Plan Toll Routes with TollGuru
TollGuru is the free app that shows you the cheapest way to manage the tolls. Great for road trips that require going through tolled areas.
15. Curl Up with Your Favorite Book on Kindle
Everyone needs downtime on the road, and that's where Kindle comes in. Get some you-time with your favorite book. The app is free, but you may need to pay for books.
These must-have apps for long car rides will not only help you and your family stay entertained, but they also enable you to find the best secret spots and save a little money on the road.
More Road Trip Posts You May Enjoy