Avoid sugar overload this Easter with 35+ non-candy Easter basket ideas your Tweens, Teens & College Students actually want to receive.
Non-Candy Easter Basket Ideas for Tweens, Teens & College Students
I don't know how you do the Easter Bunny in your home, but our Bunny likes to load those Easter baskets up!
The vessel needs to be bursting at the seams. Like the stockings at Christmas.
Go big or go home, right?!
If you're like me, you try to keep the candy at a minimum. Face it, you may as well give your kid a gift certificate to the dentist if you pack the basket full of candy.
FUN FACT: According to the National Retail Federation, over 2.6 BILLION dollars will be spent on Easter candy! Mind blowing, isn't it?!
Filling Easter baskets can be challenging as your kids get older. The cheap little trinkets they enjoyed when they were younger elicit a big snooze fest now that they are teenagers. And who wants a bunch of unused junk cluttering the house?
Don't despair! There are sooo many great Easter basket stuffer ideas for filling your teenager gift baskets.
And these are gifts your kids genuinely want and use.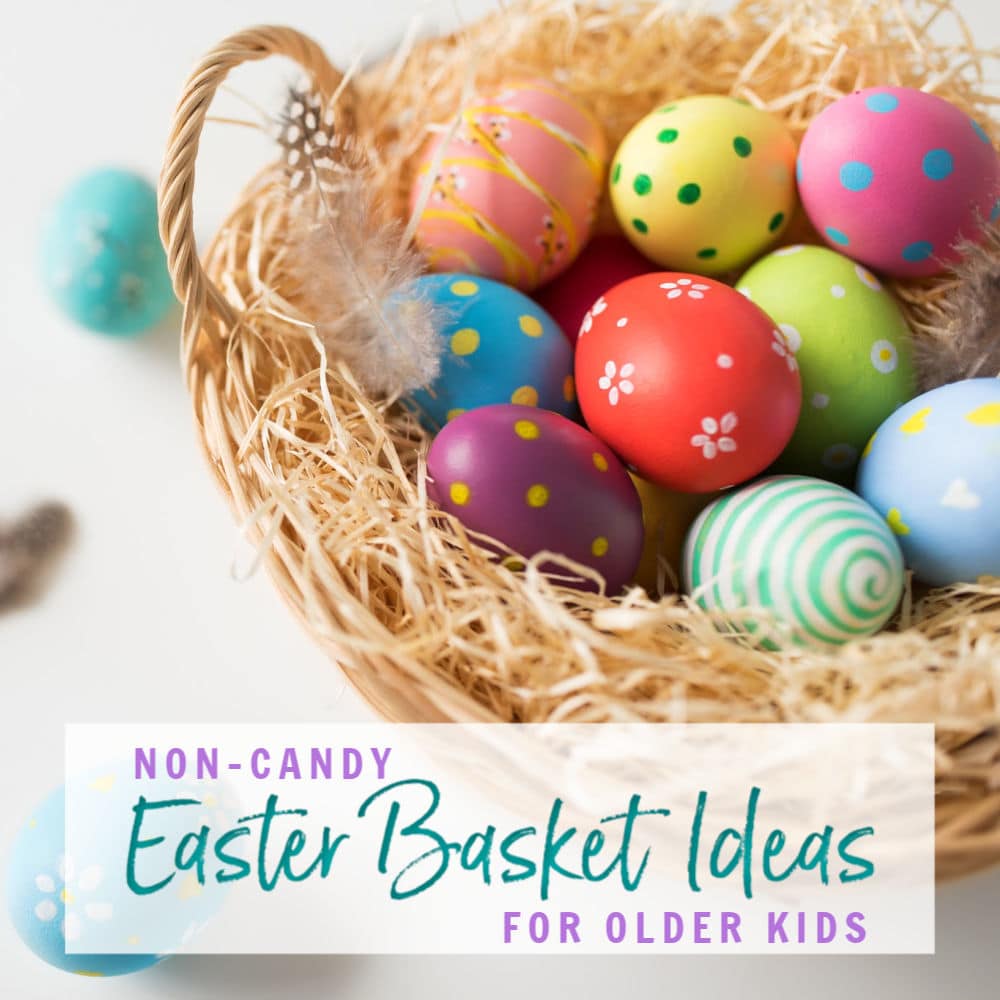 Who Would Enjoy These Easter Basket Ideas?
You'll find a little something for everyone:
girls
boys
tweens
teens
college students
big & small budgets
Tips for Creating an Awesome Easter Basket for Older Kids
Do yourself a favor – set a budget. Like all fun things in life, it's easy to overspend if you don't set a budget. You can put together an impressive basket for your Tween or Teen without spending a fortune.
Decide if you want to purchase 1-2 larger/expensive items or a bunch of smaller gifts. I've found that older kids appreciate quality over quantity, so don't rule out the high value items if your budget allows.
If you don't have Easter baskets, get creative – use a pretty basket or bucket. I've also seen some colorful plastic storage bins at Target that would work well.
If you are creating an Easter basket for a college student, skip the basket. Fill a shipping box with Easter grass and all the goodies. USPS Flat-rate Priority boxes can be an affordable way to send the package, and it usually arrives in 2-3 days.
Non-Candy Easter Basket Ideas for Tweens, Teens & College Students
These Easter basket stuffers are for most older children. You know your kid best – select items that are appropriate to their age.
body spray
movie theater gift card
beach towel
lip balm
notecards
make-up bag
sugar-free gum
fuzzy socks
bath scrubbie
microwave popcorn
hair ties
manicure/pedicure
breath mints
nail polish
beef jerky
Redbox gift cards
card games – UNO, Would You Rather
books
markers or colored pencils
toothbrush – an ARM family tradition
Easter Baskets for College Students & Driving Teens
These Easter basket stuffers are geared towards older teens. Don't forget to make an Easter basket for your college student. I guarantee he or she will appreciate receiving a package of goodies from home.
gas station gift cards
flash drive
travel coffee mug
scented candle
coffee shop gift cards
car air freshener
restaurant gift cards
money
What are your go-to Easter basket stuffers? Do you pack them full of candy or do you lean towards non-candy Easter basket ideas?
More Holiday Posts You May Enjoy:
8 Last Minute Ways to Earn Quick Money For the Holidays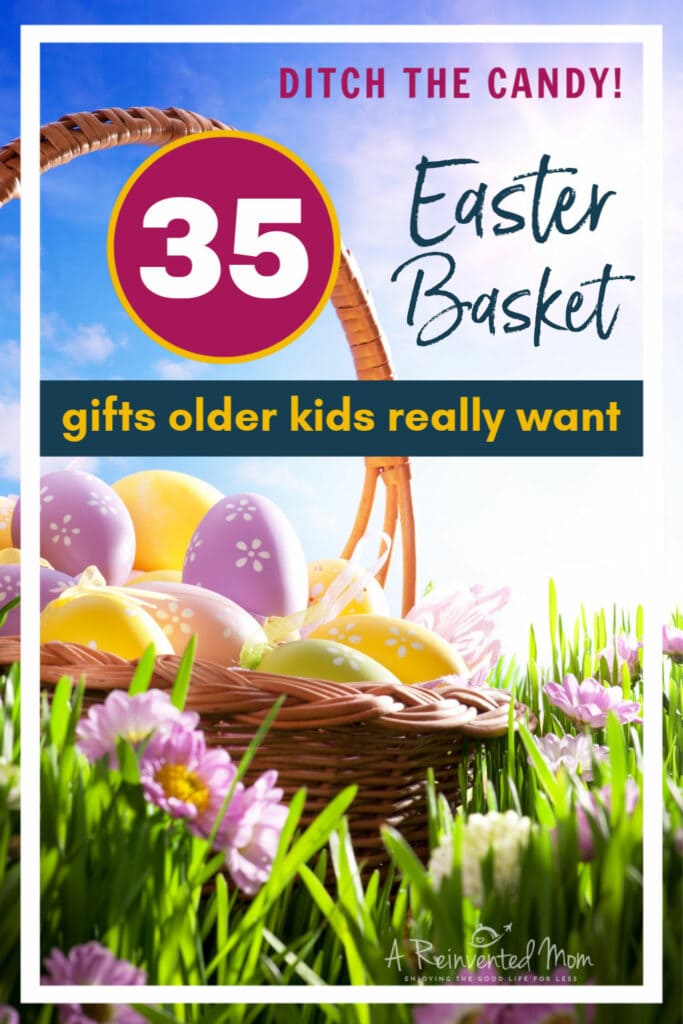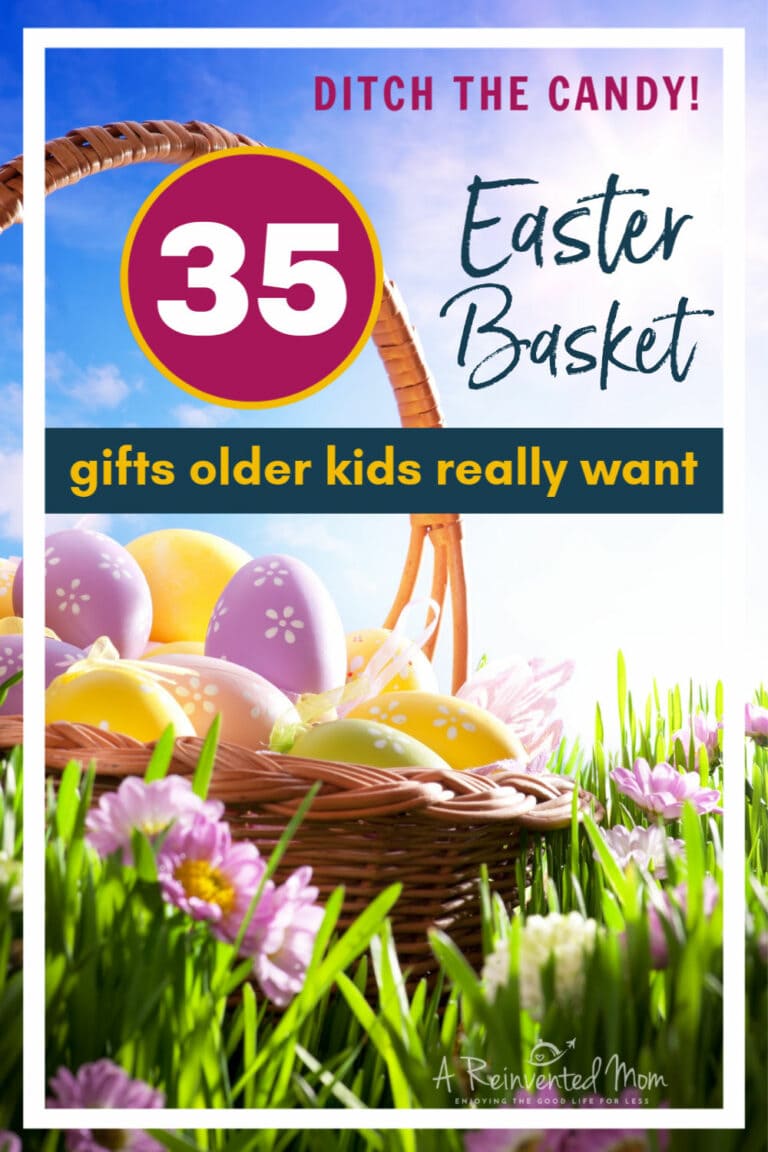 I've shared this post at the following parties:
Follow A Reinvented Mom on Pinterest, Instagram, Yummly and Twitter.
A Reinvented Mom is a participant in the Amazon Services LLC Associates Program, an affiliate advertising program designed to provide a means for us to earn fees by linking to Amazon.com and affiliated sites.