Boredom Busting Road Trip Games for Teens & Tweens
Disclosure: This post may contain affiliate links. When you click on a link and/or make a purchase, I may be paid a small commission at no additional cost to you. Additionally, as an Amazon Associate I earn from qualifying purchases. Please read my Disclosure page for more information.
Stay entertained and banish boredom on the open road with the BEST road trip games for teens and tweens.
In today's world, you've got to balance family time with tech time. And on a long car journey, it's okay to use technology to your advantage.
This list of things to do on a long car ride utilizes classic forms of entertainment with smartphone game apps. Put some fun back into the open road and download these road trip games for teens and tweens before you leave home.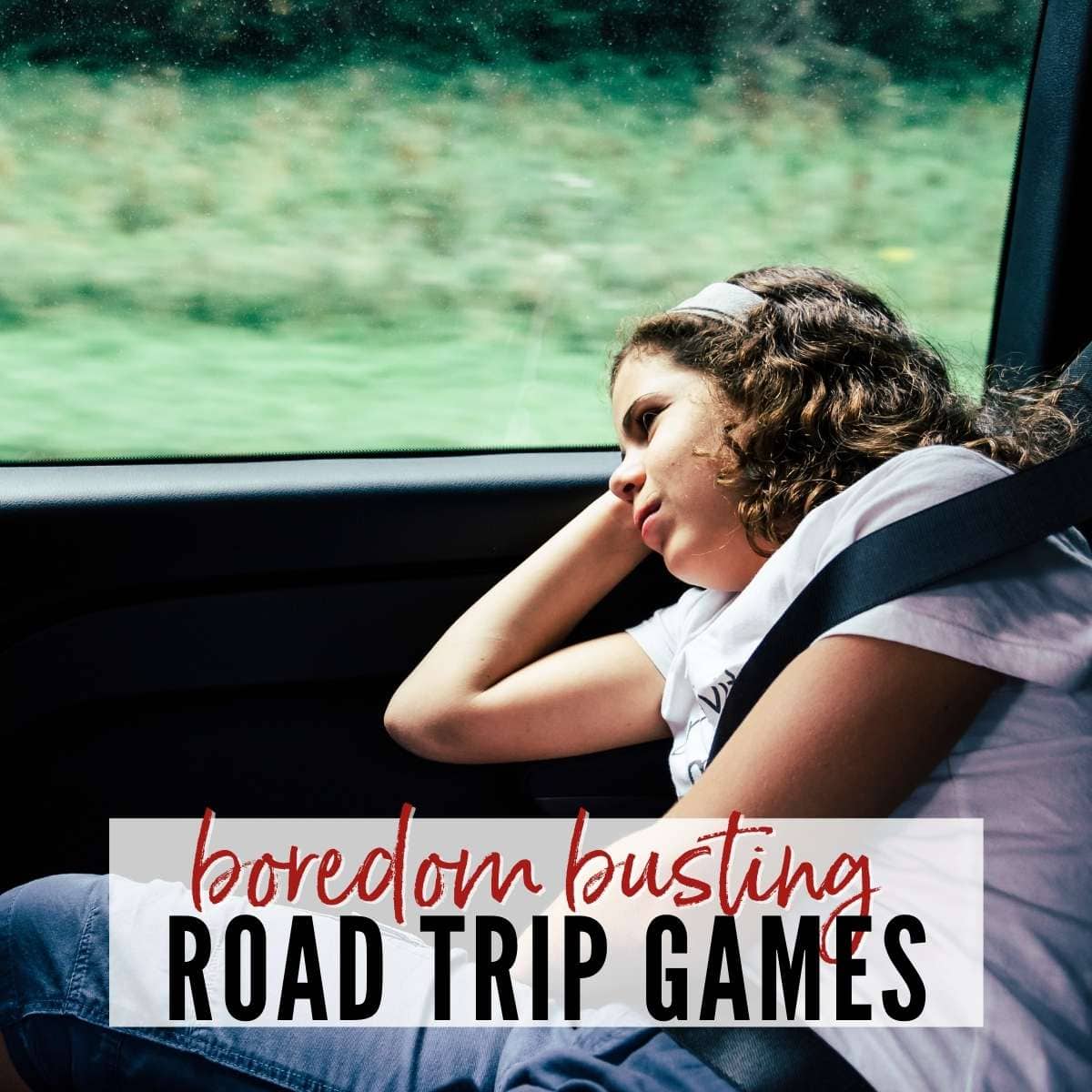 About this Guide to Road Trip Games for Teens and Tweens
When it comes to road-tripping with teens, there's a lot to think about. You want to spend time together as a family, but you also need to respect your kids' need for independence.
This delicate balance can get complicated when you're logging long days in the car.
In this guide to the best road trip games for teens I'll dive into:
The best classic games for road trips
A look at the best road trip game apps
Tips for taking a break from family time
Classic Games for Road Trips
Spend quality time with your family on the road with these road trip games for teens and tweens. Each of these games is designed to help pass the time on the road and make a few memories along the way.
The License Plate Game
A super-classic game for all ages. The rules are simple: write down every license plate you see from a new state or province. Put a fun twist on this classic license plate game with these variations:
Have everyone in the car guess how many different license plates they will see along the way.
Pick the furthest plate they will encounter (bonus points for Hawaii!)
Play license plate bingo.
Sew it Up
Get a small, printed road map, some thicker thread, and a needle. Have your teen sew the route as you go. In the end, you'll have a fun, personalized souvenir from the trip.
Bring Rest Stop Entertainment
Physical activity can be limited on road trips. We like to pack a few balls or a frisbee for pit stops. Take 15 minutes to stretch and toss a frisbee. Or have your teen lead a small yoga session with the family. The point is to move, so whatever helps facilitate physical activity is fair game.
Go Geocaching
Geocaching, or finding cool hidden objects using a GPS, is a great way to explore a new area with a teen. Tick off various found objects as you go along and start your own map. You can download the geocaching app to get started.
Let Them Drive
Alright, so this isn't a game, but it's definitely one of the more exciting things for teens to do on a long car ride. Let them drive part of the route. If you're using the stitch map, you can change thread colors for different drivers.
Grab the free Road Trip Packing Checklist & hit the road without a hitch.
The Best Road Trip Game Apps
Technology can be a lifesaver on long car rides. This list of the best road trip game apps offers up a variety of entertainment for teens and tweens. Don't forget the most important road trip essentials with the ultimate road trip packing list. And do yourself a favor – make sure you have headphones or earbuds for all to cut down on bickering.
Trivia with World Atlas
One of the best free apps for road trips is a world atlas app. Many of them have a fun quiz mode that lets you learn about the destinations you are traveling to and provides plenty of entertainment to pass the time.
Guess with Heads Up
This classic party game translates well to the car. Use your phone to guess who is who. Each player puts their smartphone on their head and a name appears. Give the person clues to guess the correct name.
RELATED: Boredom Busting Road Trip Games for Teens and Tweens
Hear the Story with Audible
Audible is hands-down the best app for books on tape. Download a book to go or rent one from your local library (some libraries have subscriptions). Listen to a story as a family or use this app as an opportunity for quiet alone time. Grab up to 2 free audiobooks when you register for a free trial.
Car DJ with Spotify
Use the paid version of Spotify to create and download road-worthy tunes. Give each kiddo a time slot to play their favorite music. If you know the words, sing along as you rumble down the highway!
Quiet Time with Kindle
Having a few Kindle books is a great way to relax and unwind with some solo time. Teens crave time away from their parents, so having electronic books on hand helps create personal space in a cramped car.
These road trip games for teens bring some fun to a long day on the road. Keep kids entertained and happy with simple, fun-filled options for things to do on a long car ride.