Your Complete Family Road Trip Packing List
Disclosure: This post may contain affiliate links. When you click on a link and/or make a purchase, I may be paid a small commission at no additional cost to you. Additionally, as an Amazon Associate I earn from qualifying purchases. Please read my Disclosure page for more information.
When it comes to planning a family road trip, having an organized and complete road trip packing list is essential. Trust me, you don't want to be stuck with cranky tweens and teens in the back seat for days on end.
With this list of essentials for a road trip, you'll be prepared for the open road. This comprehensive list covers everything you'll need, both as a group and individuals.
Packing for a road trip doesn't need to be stressful. It can feel like you're dismantling the entire house, but with a little organization, you'll be prepared to hit the road in no time.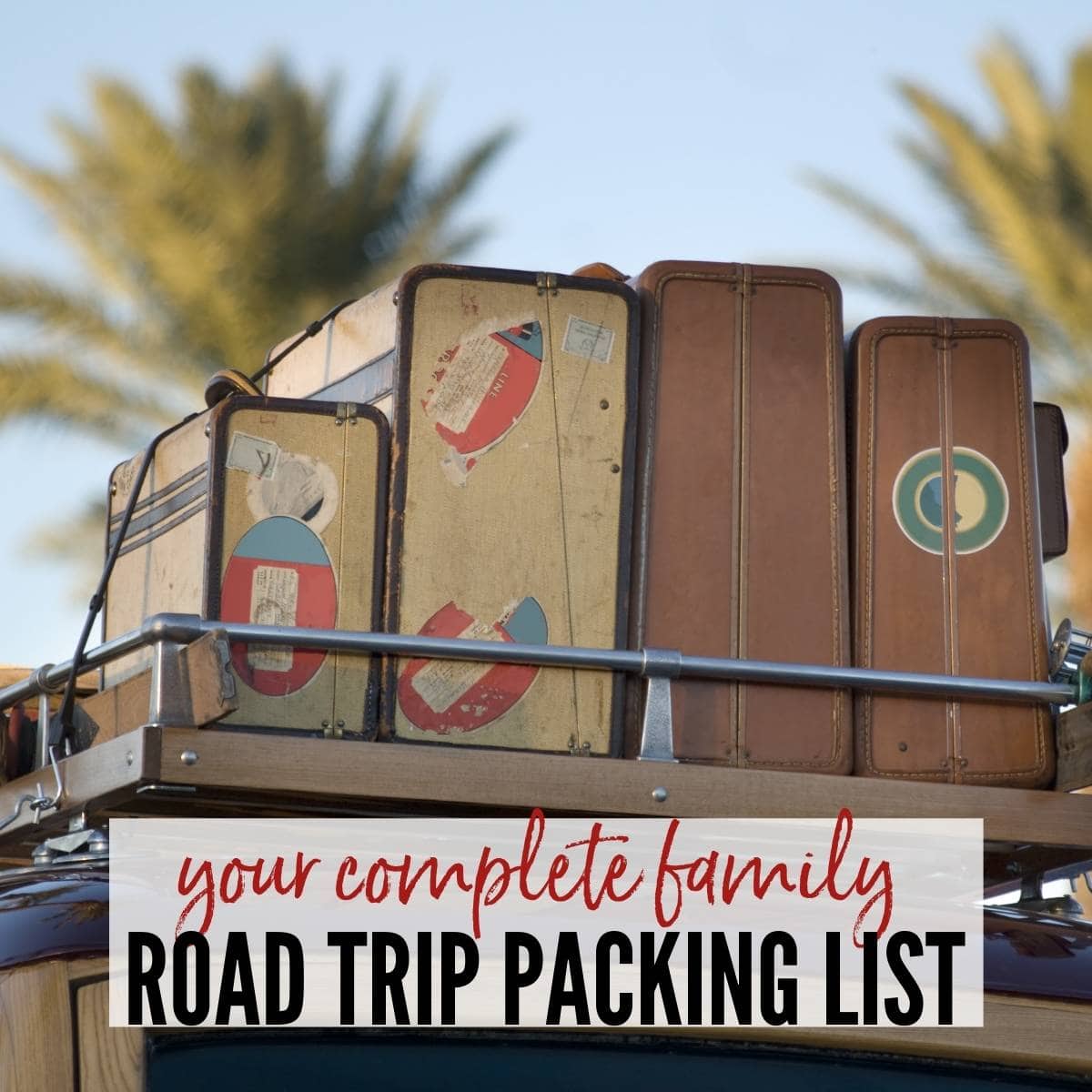 About this Road Trip Packing List
So you've planned your route and now you're ready to go on a roadworthy adventure. How do you organize all of your personal packing, family packing, and let your kiddos know what they need to pack?
This road trip packing list is designed to keep you organized. I broke things down into group essentials for a road trip and what each individual should remember to bring. In this post I'll dive into:
Tips for what to bring on a road trip
A complete road trip packing list, including a downloadable packing list
Tips for packing the car
Quick tips for having a fun-filled road trip
Tips for What to Bring on a Road Trip
It's easy to feel like you're packing the kitchen sink while packing for a road trip. Who doesn't want all the comforts of home? Plus, there's lots of room in your vehicle right?
Although you should bring plenty of things to keep the family cozy and occupied, you don't need to bring everything. Instead, think critically about what you really need. Cover the main areas:
RELATED: Boredom Busting Road Trip Games for Teens and Tweens
The Ultimate Road Trip Packing List
Below you'll find essentials for your next road trip. I've broken down the items into group packing, or things that everyone will use collectively, and individual road trip must-haves that each family member should have.
Group Essentials for a Road Trip
The most important part of any road trip packing list are the group essentials. These items are for the entire family, but you'll only need one for people to share (with the exception of the food of course!).
Road Trip Must-Haves for Individuals
RELATED: Top 15 FREE Apps for Long Car Rides
Car Packing Tips
Now that you've got everything staged and ready to go, it's time to pack for your family road trip. Sometimes packing feels like a Tetris game, so take the stress out of the equation with these tips.
Pack all items you'll need while on the road close at hand. If you have access to your trunk (ie an SUV or minivan) put items like the cooler, snacks, and a first aid kit in an easily accessible place, like the back seat or row. You want to keep them uncovered so you can quickly reach for a treat or drink when there's a need.
Next, pack all the items you won't need til later. Stash packed suitcases in the back or on the bottom. Perhaps you're heading towards a National Park for some hiking, but it will be two days before you arrive. Put the family hiking gear in the middle, so it's out of the way.
Lastly, pack your grab-and-go hotel bags towards the front or top of your trunk. That way it'll be right there when you open the back. You can quickly grab your bags and check-in hassle-free without lugging heavy suitcases to a cramped hotel room.
Don't forget to think about what you'll need each day. Taking a few minutes to re-arrange the vehicle each morning will set you up for success during the day. This forward planning avoids pesky pull-overs and arguments while on the road.
Additional Tips for Keeping the Peace on a Family Road Trip
Road trips with teens are a great experience, but it does take a little bit of compromise to keep the peace in the vehicle. Here are a few handy quick tips for road tripping with teens and tweens that will help the whole family get along.
Now you're ready to rock the road with this family road trip packing list. Don't forget to download the packing list so you can stay organized on your family getaway.
Happy travels!