How to Plan an Amazing Road Trip with Teens & Tweens
Disclosure: This post may contain affiliate links. When you click on a link and/or make a purchase, I may be paid a small commission at no additional cost to you. Additionally, as an Amazon Associate I earn from qualifying purchases. Please read my Disclosure page for more information.
The summer season is upon us and it's time to start thinking about the family vacation. Planning a road trip with teens and tweens is a great way to see the country (or its neighbors) and spend quality time as a family.
Road trips are an American tradition but they can riddled with plenty of drama when you have teenagers on board. Take the stress out of your getaway with these long road trip tips geared towards families with older kids.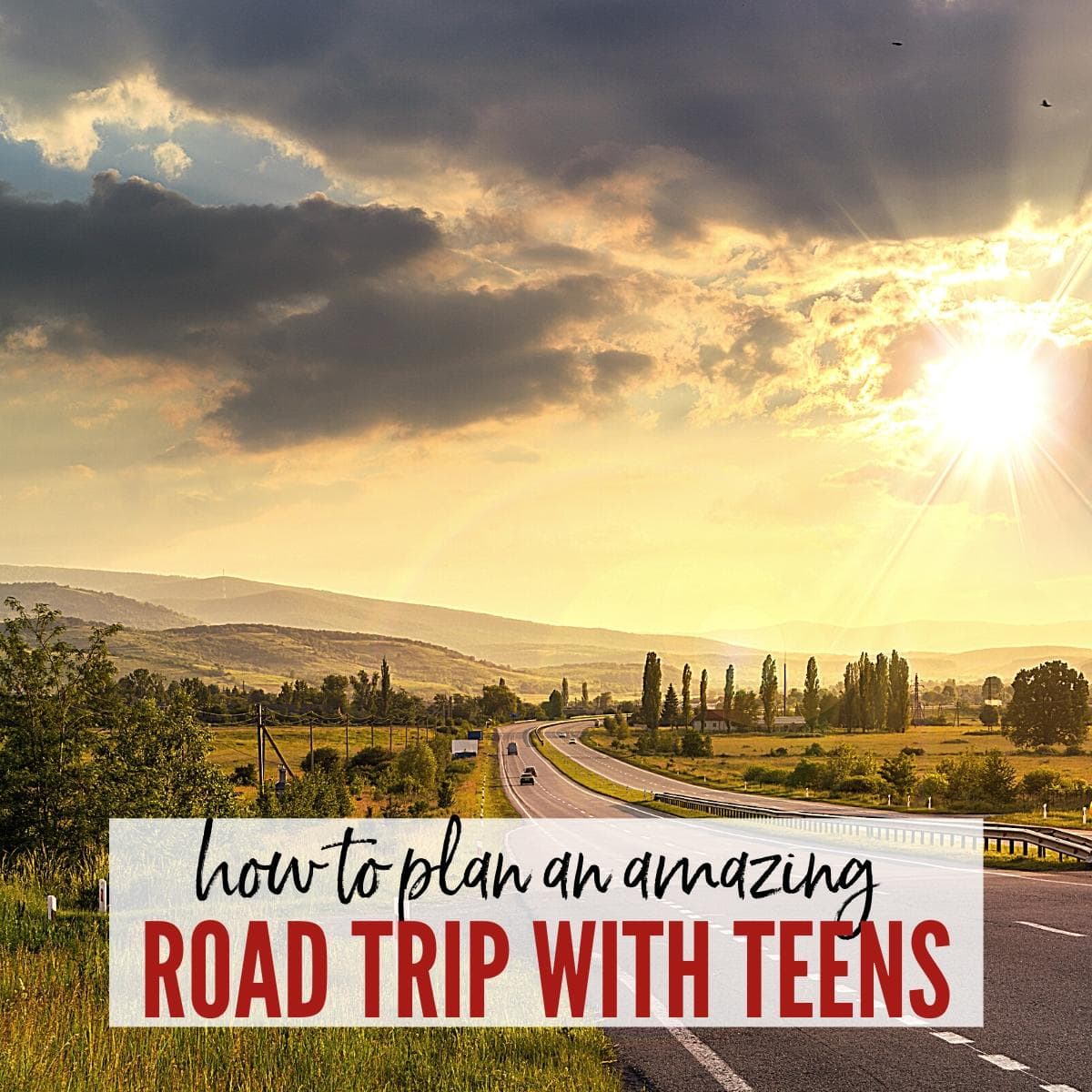 These tips are based on my experiences taking countless road trips with my 2 teenagers. From 2-day drives to visit out-of-state family to longer trips exploring different areas, I've mastered travelling with teens and tweens.
And now I'm sharing my best tips with you because I want you to have an amazing road trip with your older kids.
With these ways to make a road trip fun, you'll enjoy the time spent with your family, see some amazing sites and make some amazing memories your family will treasure.
So let's dive into planning the ultimate road trip for teens and tweens.
Get Your Teens Involved with Trip Planning
Teens and tweens have different needs than younger children. They seek more independence and are trying to discover their personal identity.
On the surface, these things do not go hand in hand with spending hours on end in a crowded car with the family.
However, with a little advance planning, you can provide an awesome family getaway. We'll take a look at how to make a family road trip fun with these handy tips:
How to survive a long road trip with teens
Staying cozy on the road

What snacks and drinks to pack on a road trip

Road trip essentials

How to let your teens feel more independent on a road trip
Tips for keeping your sanity on the road
Long Road Trip Tips for Teens
Today I'm focusing primarily on longer road trips, ones that typically last longer than a day. As a family, you'll be traveling, living and sleeping in close quarters, which can wear on everyone.
First, it's okay to need personal space. We all need some time to decompress, so it's important to keep this in mind while you're on a family road trip. There's nothing wrong with needing some alone time, but that can look a little different when your travelling in a car.
And don't forget your kids crave alone time too. The key to a successful road trip with teenagers is to give your kiddos the space they crave and allow them to help in the decision making process.
Don't be afraid to break the regular "house rules" a little bit and let your kids explore on their own (within reason, of course!), drive and even give them their own road trip budget.
These small gestures will help your kids feel more independent, and that translates to happier kids. And happy kids means the time you spend together as a family is treasured instead of resented.
1. Plan for Comfort
Nothing kills a fun road trip vibe faster than an uncomfortable teenager. Encourage your older kids to dress comfortably for the journey. For a long day of driving, my teens prefer to wear comfy pajama pants & t-shirts.
Combat potential discomfort (and whining!), by packing a few cozy items from home. Think blankets, pillows, a sweater or hoodie and slip-on shoes.
I also like to plan for plenty of stretch time. Road trips take a toll on the body, which can lead to cranky kids (and adults!). Plan to stop every 3 hours to get out of the car and stretch.
You can plan to stop at roadside rest areas or places of interest. This is also a great time to swap drivers.
2. Don't Forget About the Food!
If you have teenagers you know they like to EAT! And being trapped in the car for an extended period of time may lead to boredom snacking.
Road trip food can make or break your experience. Be prepared to stock up on snacks and drinks for the whole family.
And pack a little extra, just to be on the safe side. No one wants to spend time with hangry teens (or parents).
The snacks you pack are just as important as the quantity. Include a variety of healthy-ish snacks with a few favorite junk food items. Buy snacks in bulk and package in reusable snack bags for easy munching.
This is the time to let your teenagers have treats they don't get on a daily basis. After all, it's a vacation, right?!
Waste less by packing your own reusable water bottles and refill them from gallon sized jugs of water you brought from home or purchased. Use Nuun electrolyte drink tabs or water flavoring drops to cut down on plastic bottles.
RELATED POST: Road Trip Food List (& Must-Have Snacks)
3. Give Them a Budget
If you've ever stopped for gas and made the mistake of dropping $25 on snacks in the convenience store this tip is for you.
Give your teens some independence, and teach them about budgets on your next road trip. Allowing your teens to do their own purchasing eliminates arguments over purchases and teaches them valuable money lessons.
RELATED: Short on cash? Save $500 in 30 Days with these tips.
Set aside a certain amount of money for each child (the amount is up to you). Be up front and tell them they are responsible for personal spending throughout the trip.
You can allot an amount per day or a bulk amount for the trip. Let them be in charge of snacks they grab on the go and any souvenirs they wish to purchase. You could also extend this to meal purchases, but I've found that can get tricky.
This lesson in money management not only teaches them valuable budgeting skills, but it also lets them feel more independent.
4. Fun Things to Do on a Long Car Ride
Entertainment on the road is essential because boredom in the car is guaranteed to yield cranky teenagers. Keep the family occupied with these tried and true methods.
First, don't forget headphones or ear buds for each family member. Having dedicated headphones per passenger allows kids and parents to listen to whatever makes them happy.
No more fighting over what kind of music plays on the radio. It also gives a sense of quiet time.
Here are a few entertainment must-haves for any road trip.
The Red Box App. This app not only lets you locate physical DVDs (that you can rent in one place and return in another) but it also now features on-demand movies.
Netflix or other streaming apps. Use whatever you subscription you have and avoid paying extra money for entertainment.
Invest in Spotify Premium for the whole family. You can download your favorite playlists before you hit the road so you aren't gulping down data.

Fun games.

I-Spy, license plate game, Bluetooth DJ, travel bingo, alphabet game, singalongs and others are all on the table. If your kids are too cool to play with you, you can always play with your significant other.
E-readers, books, and audiobooks. All of these offer individual entertainment for that coveted personal time.
Video games. You may be trying to cut down on screen time, but let them binge a bit while travelling in the car. Video games are a great way to give your teens some solo time.
5. Stop Regularly for Breaks
Plan to stop every 3-4 hours for the best road trip experience. This gives everyone a chance to get out and stretch, and it breaks the monotony. If possible, select stops based on things that are interesting to both you and your kids.
If this is a road trip you make regularly, plan a few family favorite stops so you've all got something to look forward to. For example, when making the 2-day drive to visit family in Illinois, we stop in North Platte for doughnuts and cheese at the Amana Colonies exit.
Rest stops are another option for meal and snack breaks. Most offer tables and a relaxing respite from driving.
We also plan on one sit-down meal a day on road trips. It doesn't have to be fancy, but we make a point to select a restaurant with wait service. It's a nice break from spending time in the car and the food is a healthier option to fast food joints. Let your kids choose where to go.
6. Don't Over-Do the Driving
The biggest mistake families make while road tripping with teens is driving too much. Pace your trip out so everyone can enjoy regular breaks from the car and enjoy the journey.
Make a point to explore interesting landmarks along the way if you have extra time. Use the Roadtripper app to locate interesting stops on your route.
Plan extra time at hotels and campsites so the family can enjoy the amenities together. A swimming pool is a great way for your teens and adults to burn off some pent up energy.
You can start early and stop halfway for an activity or start later and drive straight to your next destination, but I try to keep the driving to around 8-10 hours a day.
RELATED: Top 15 FREE Apps for Long Car Rides
7. Let Your Kids Drive
If you have licensed drivers, consider giving your teens the feel of the open road by letting them drive. This not only can keep you from getting road trip fatigue, but it also gives your teen valuable driving experience.
8. Make it Enjoyable
As parents, raising teens is tough enough. Don't forget to take care of yourself too! In order to keep your sanity on a road trip with teens, it's important to build in time for yourself and time with your significant other. Book something special for you while your kids explore on their own (age appropriate, of course!).
Also, relax a little. Every vacation has its ups and downs, so try not to sweat the small stuff.
This lets you enjoy the experience a little more, and your kids will appreciate you being the "cool parent." Obviously don't compromise their safety, but be willing to grant your teens and tweens a little more freedom if possible.
RELATED: Ultimate Road Trip Packing List
9. What to Pack on a Road Trip
When it comes to packing for a road trip, you want to make sure you've got a road trip packing list and you're checking it twice!
Be sure to pack group gear and personal items separately. Think about the flow of the trip and keep car items accessible during the day so you don't have to pull over and dig through luggage every 15 miles.
When we are doing a multi-day drive I pack smaller "hotel bags" for each person. You can use tote bags or whatever small bags you have on hand. Each family member packs his or her own bag, filling it with essentials for a single night stay.
Grabbing the smaller bags makes the transition from car to lodging a breeze. And it's much easier than lugging big suitcases into the hotel.
Don't forget the practical items like a first aid kit, registration, insurance, and other logistical items.
Lastly, always get your car serviced and inspected before hitting the road. I also like to get the car washed and clean the car windows before we leave.
This summer, have the ultimate road trip with teens and create lasting family memories. These long road trip tips are designed to keep the family happy and entertained while exploring the open road.
So pack your bags and hit the road for the ultimate family vacay. Happy travels!