The Best Air Fryer Tips For Beginners
Disclosure: This post may contain affiliate links. When you click on a link and/or make a purchase, I may be paid a small commission at no additional cost to you. Additionally, as an Amazon Associate I earn from qualifying purchases. Please read my Disclosure page for more information.
Wondering what to do with your new air fryer? We're sharing our best air fryer tips and tricks for beginners to ensure you get the best results possible.
So, you bought an air fryer or received one as a gift. You've taken it out of the box and now you're wondering how to use this amazing appliance.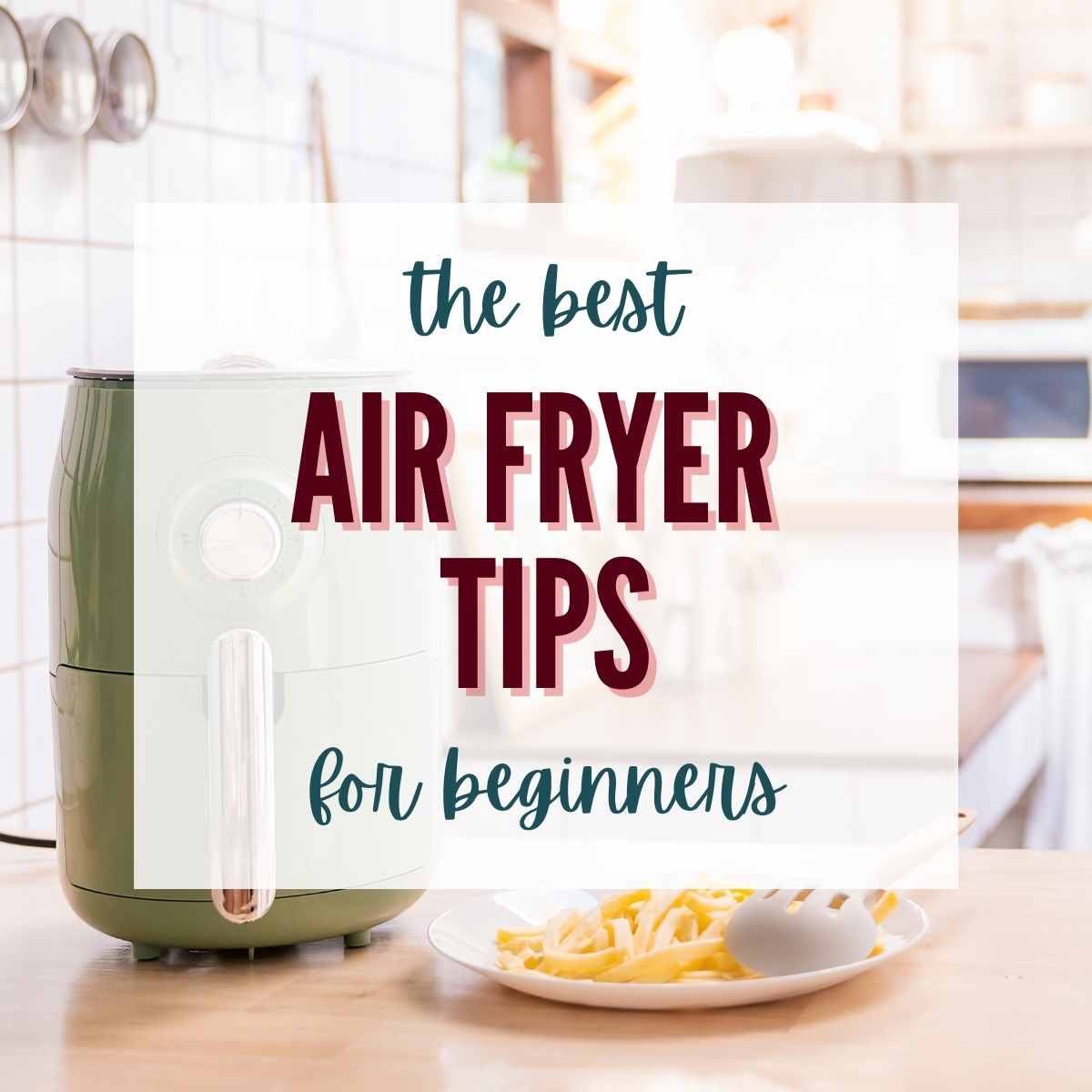 It's normal to have a lot of questions when you get your first air fryer, like can you put parchment paper in an air fryer? Or maybe you're wondering how to start using it.
These beginner air fryer tips will help you start using your new appliance and ensure you're maximizing it's usefulness.
Get to Know Your Air Fryer
Every model is different, which can make it a bit of a challenge when you first start cooking in your air fryer. Refer to your owner's manual for general cooking times and temperatures.
When making new recipes, consider the cooking temperatures and times provided as a guide. You may need to adjust them based on your air fryer. I found it helpful to make notes of times and temps when I first started using my air fryer, until I got a feel for it's performance.
Check at the Halfway Point
To avoid overcooked food, check the food halfway through the cooking process. This gives you a chance to make adjustments to the cooking time if needed.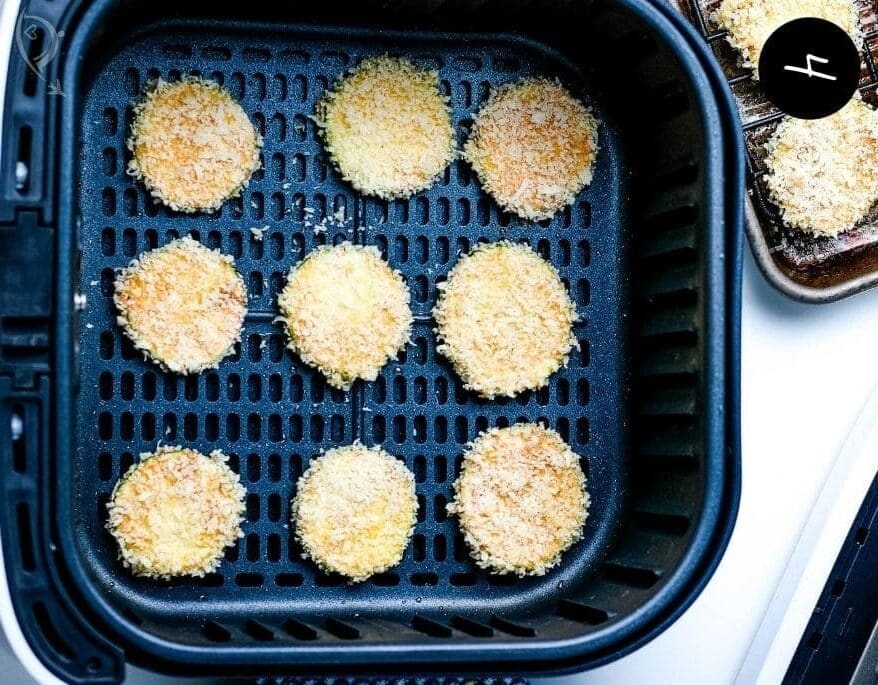 Don't Overcrowd the Basket
For crispy foods, you'll want to leave a little room between the individual pieces. Doing so allows air to circulate between the pieces which will help the food crisp up.
Overcrowding the basket tends to result in more of a "steamed" finish, which is fine if that's the result you're going for.
Always Preheat Your Air Fryer
One of the most important things you can do is to preheat your air fryer, just like you would your oven or a deep fryer. A cold air fryer can leave your food soggy rather than crispy.
The best way to preheat is to start the air fryer and allow it to heat it up while you prep the food. Then you can transfer the food to the basket, set the timer and let the air fryer do it's thing.
Use A Spray Oil
Despite what the name implies you need to use a bit of oil if you want a crispy final result. But don't worry – you'll use a lot less oil than you would for pan or deep frying.
Using an oil mister makes it easier to get a thin, even coverage of oil on your food. Sprayers are available filled or refillable. We prefer refillable spray bottles so we can use our favorite oils. Easy peasy!
You can also apply oil with a silicone brush but it's a little more difficult to apply a light coat. We don't recommend using a commercial cooking non-stick spray like Pam because it can damage the finish on your basket.
Avoid Non-Stick Sprays
Many air fryer owner's manuals recommend against using non-stick sprays. They can contain ingredients that can harm the finish on your fryer basket.
We prefer to use various cooking oils when air frying. The can be applied easily and evenly with an oil mister.
Try Baking In Your Air Fryer
While the air fryer is best known for being a great alternative to deep frying, it can also be used for baking. You'll want to use smaller pans that fit into your air fryer basket.
These can be found at big box discount stores or online. Most brands of air fryer cookware will work or you can buy mini bakeware such as bundt pans and 8-inch or smaller springform pans.
Baking times will need to be adjusted – start by reducing the time by 20% and checking your recipe at the halfway mark. Adjust accordingly until you get a feel for the best times for your air fryer model.

Be Mindful When Washing Your Air Fryer
We recommend cleaning after each use because it's easier to remove any gunky buildup before it's had a chance to set up. If you don't, you may notice a build-up of baked-on grease, food residue or lingering odors.
And it's important to clean between sweet and savory dishes or if you've made a recipe with a sticky sauce. You don't want strong flavors, scents or residue to transfer to other foods you are cooking.
Depending on the model, cleaning the air fryer is fairly easy to do. Refer to your owners manual for specific directions.
After the unit has cooled down, you'll separate the basket from the base and give both a good scrub with a soft cloth, dish soap and warm water. Don't use an abrasive brush or you could damage the non-stick coating on the basket.
Some baskets are dishwasher safe – be sure to read the owners manual to see if this is an option for your air fryer model.
For easier cleaning, line the basket with a parchment paper liner. The liner works as a non-stick layer and can keep the basket from getting too gunky.
Turn Your Air Fryer On To Dry It
After washing the basket you'll want to make sure it's completely dried before storing. Not drying it properly before storing can cause rust to occur. You can allow it to air dry if you have time.
There is a way to speed up the process if you're in a hurry or need to make a second dish. Reassemble the air fryer, set to 400 degrees F and run it for about 5 minutes. The airflow will dry the air fryer pieces.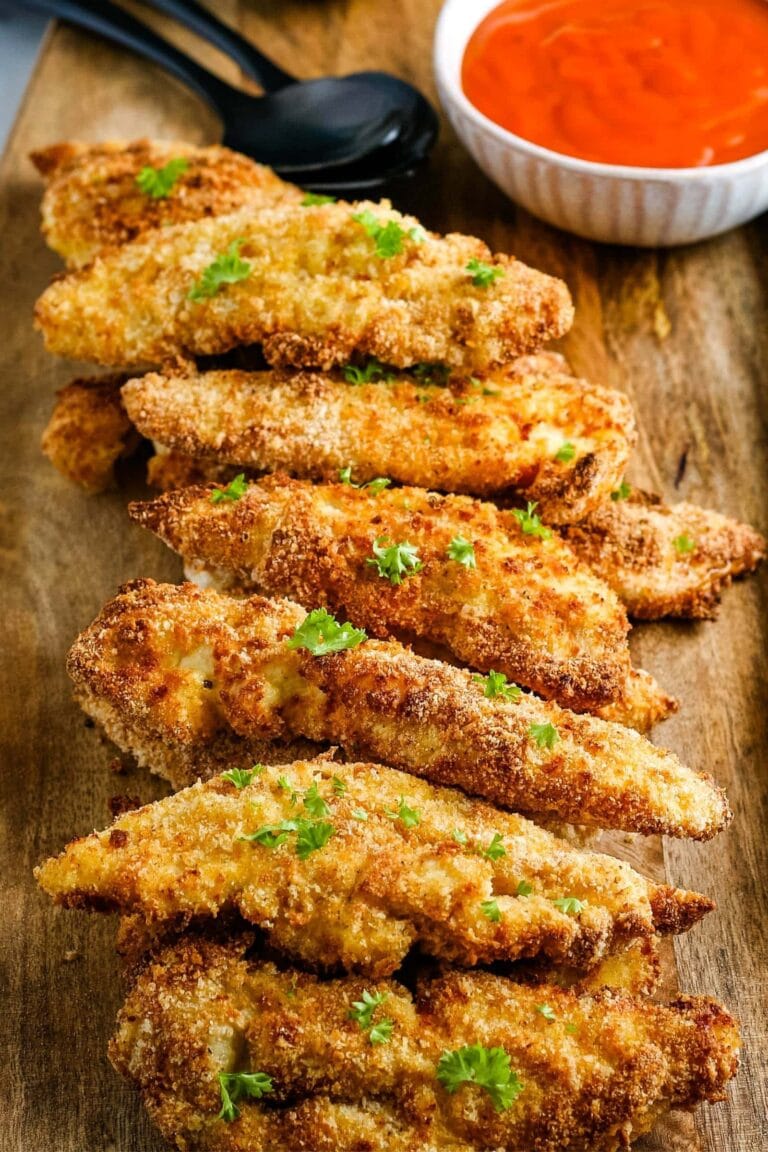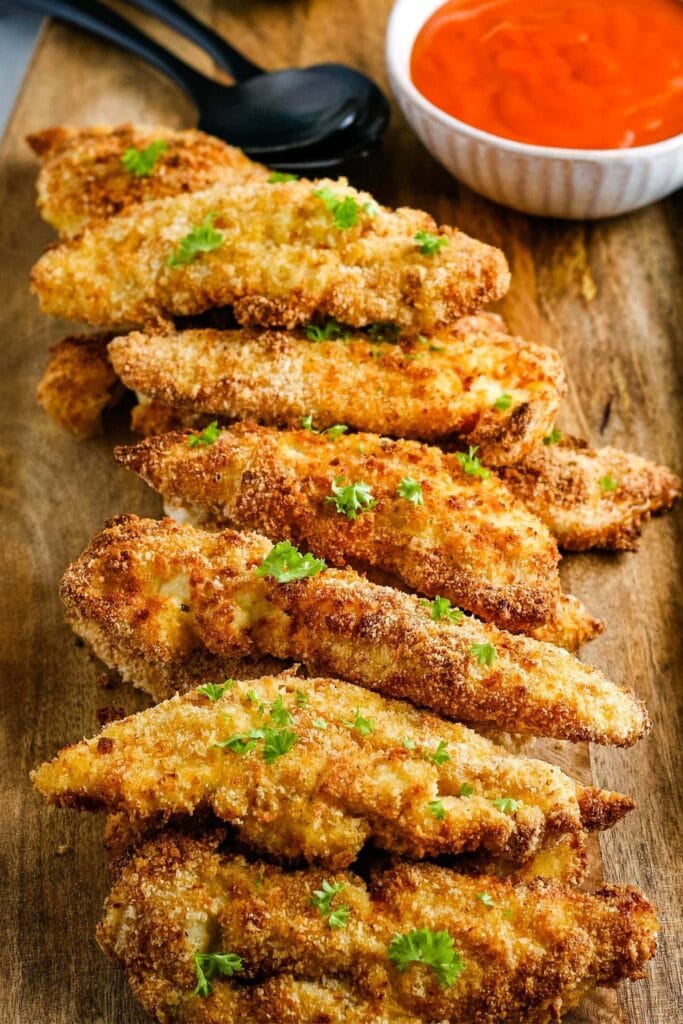 Avoid Making Overly Wet Foods In Your Air Fryer
When making breaded foods always choose a dry batter rather than a wet dipped batter. The air fryer doesn't cook the same way as a deep fryer does and can leave your batter dripping off and soggy when your dish comes out.
Stick with a multi-step dry batter that involves dipping your foods in a liquid batter and then in a panko or flour mixture that gives a dry outer layer.
These easy battered recipes are great for beginners: air fryer battered cod, air fried chicken tenders and air fryer monte cristo sandwiches.
Remove Odors From Your Air Fryer
Some foods produce strong odors during the cooking process. Or maybe you haven't cleaned your air fryer in a few sessions and it's starting to get stinky. You can get rid of lingering odors with a little vinegar.
Place a cup of vinegar in a shallow oven-safe bowl and set it in the air fryer basket. Set air fryer to 325 degrees F and run for 5 minutes. After the unit has cooled, clean and dry the air fryer pieces as directed in your manual.
This should remove odors from the fan and internal parts which can affect the smell and flavor of your foods.
Reduce Your Cooking Times
Because air fryers cook with circulating hot air they tend to cook much faster than traditional ovens and other forms of cooking. We recommend checking your food at the halfway point and adjusting cooking times if necessary.
Once you get the hang of your particular air fryer model, you can use it to get meals on the table in a flash. It can also reduce your grocery spending by helping you avoid expensive premade meals and fast food.
Our Favorite
Easy Air Fryer Recipes for Beginners
**Save the Air Fryer Tips for Beginners for Later**