20 Fun Christmas Morning Traditions for Families to Start this Year
Disclosure: This post may contain affiliate links. When you click on a link and/or make a purchase, I may be paid a small commission at no additional cost to you. Additionally, as an Amazon Associate I earn from qualifying purchases. Please read my Disclosure page for more information.
Christmas morning is an exciting time for kids and adults alike. And what better way to make the season memorable than creating a tradition to share with your family.
From making a special breakfast meal, present opening rituals or other unique ideas you're sure to find a way to create a new holiday tradition with your family.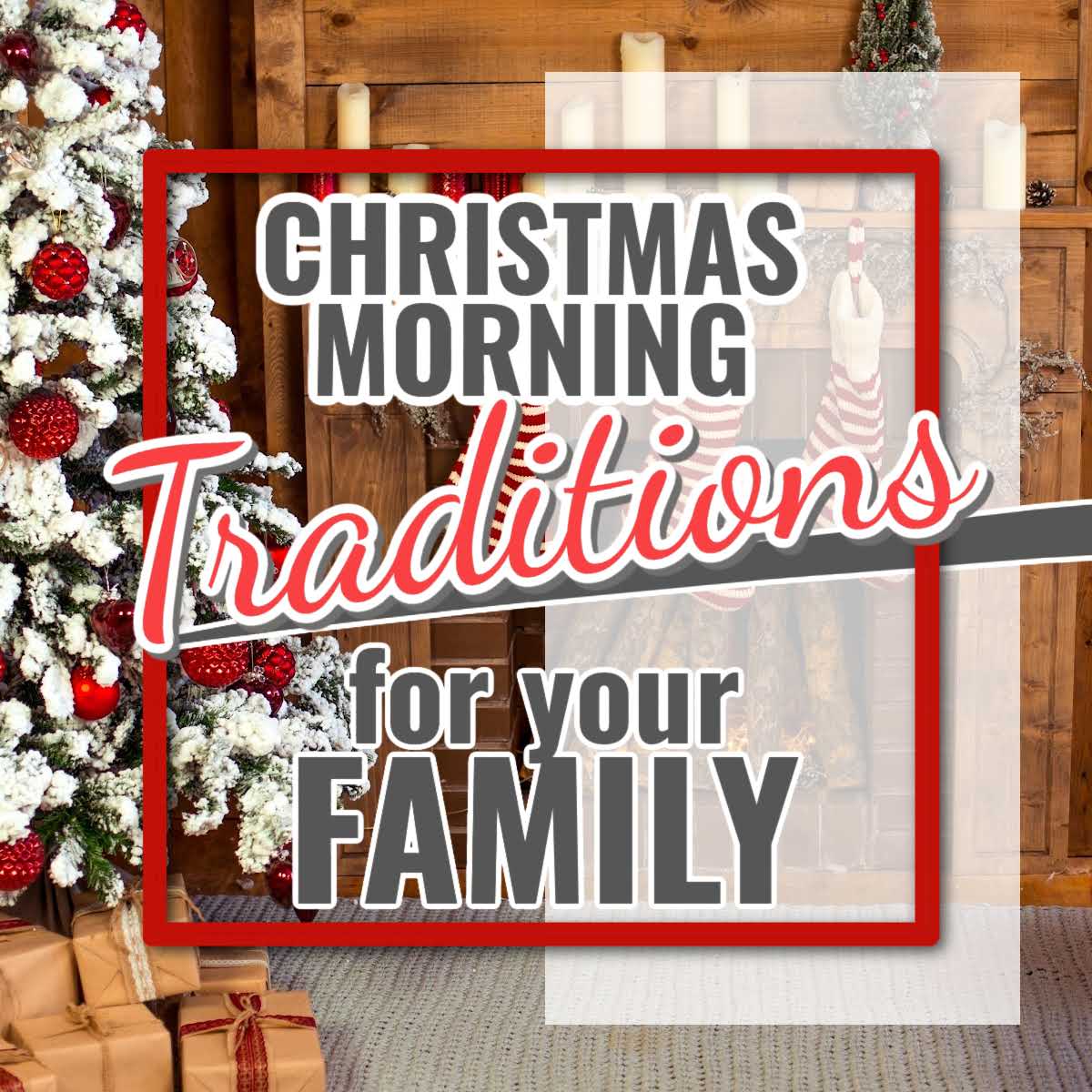 In this blog post, we'll go over 20 fun Christmas morning family traditions that will have the whole family excited to wake up in the morning. But not too early, right?!
If you're browsing for more Christmas celebration ideas to get in the holiday spirit you may want to see these 10 Fun Christmas Party Ideas for Families.
Why Start a Christmas Morning Tradition with your Family?
Starting a family Christmas tradition can help create special memories for the entire family. It's something your children will carry with them their entire lives and may even pass on to their own families.
So, while you may not have a tradition yet or you're wanting to start one, we're sharing our best ideas to help your family connect. And you'll create an experience they'll look forward to during the holidays.
How do you start a family Christmas tradition?
Starting a family tradition can be as simple as building off of something you already do every year. For example, writing letters to Santa with your younger children. You could level up and take them to drop off the letter at a Christmas dropbox and then meet with Santa in person.
For other traditions, you can focus on what your family enjoys the most about the holiday. Build off of that with your own traditions that will bring everyone closer together.
What to do on Christmas morning?
Is the most exciting part of Christmas morning running to the tree and seeing all the presents that Santa left for you? If so, you can extend this joy by eating breakfast by the tree before opening presents.
A meal is always more fun when you enjoy it in a non-traditional space. Set up a serving station in the tree room with your favorite Christmas breakfast casserole, pastries, fruits and Dalgona cocoa.
How to make Christmas morning last longer
Sometimes it seems like the holiday is over in a flash. There are a few ways you can make Christmas morning last a little longer.
Eat breakfast before opening any gifts: this lets you spend your morning meal eating with your loved ones and keeps younger children from tearing into their gifts.
Go through the stockings first: if you hang stockings this is a great way to take the edge off of opening presents.
Open gifts one at a time: start with the youngest or oldest family member and take turns opening presents. This is a great way to extend opening gifts and avoids the morning ending in 5 minutes in a whirlwind of wrapping paper.
Plan something after gift opening: if you enjoy the Christmas decorations, watch a classic Christmas movie after jumping into the gift-giving.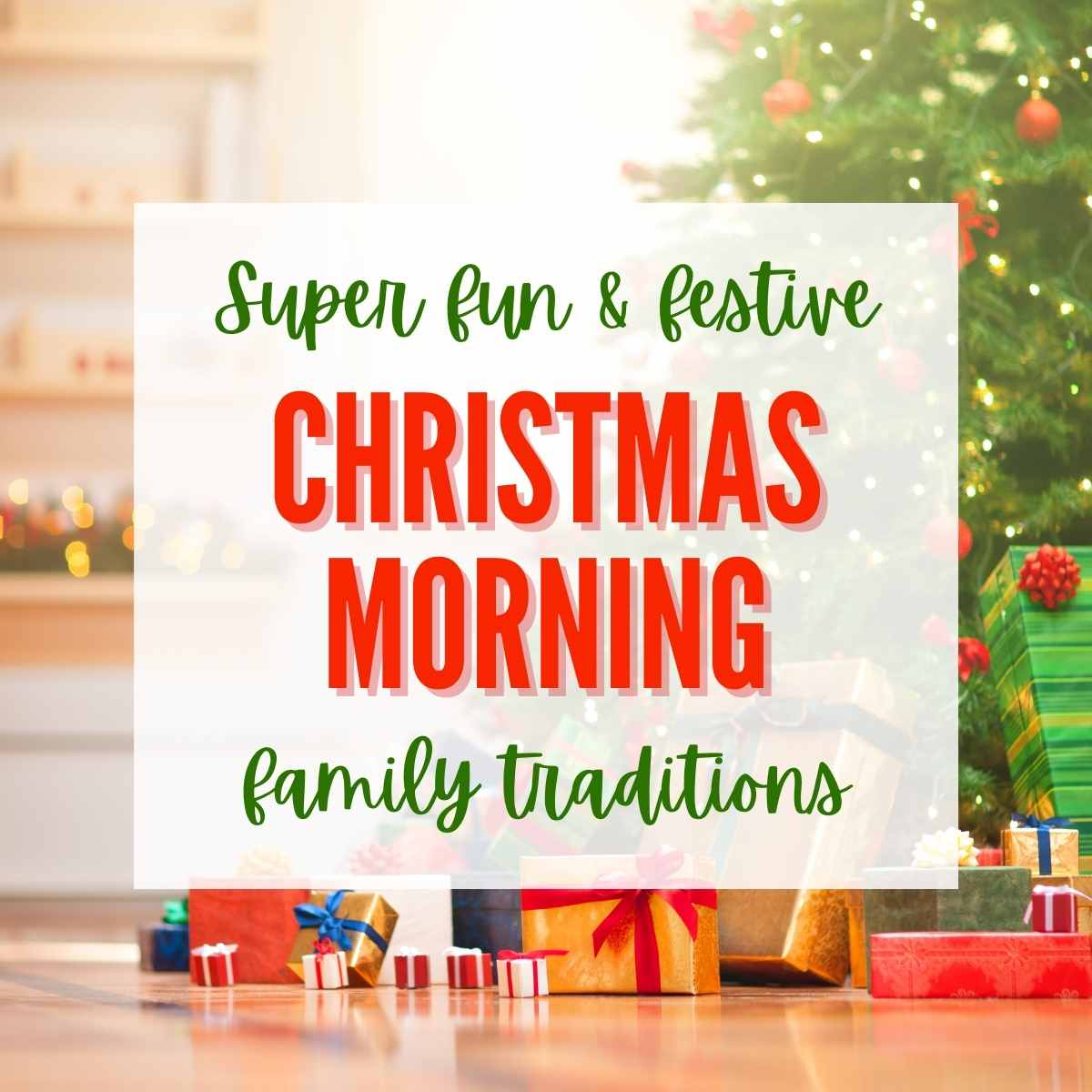 Fun Christmas Morning Traditions For All Ages
Matching pajamas
An easy tradition for all ages is to wear matching pajamas on Christmas morning. This helps to create a sense of fun and unity among the family.
And it makes for great pictures to remember the holiday morning. We recommend shopping early for the best selection of designs and sizes, especially if you have a larger family. And if you have older kids, let them choose the design – it's a great way to get them on board with the idea.
Watch a Christmas movie
In addition to being an excellent way to extend your Christmas morning, watching a Christmas movie the whole family enjoys is a great way to create a morning tradition.
This can help you and your family get into the Christmas spirit by enjoying a film together and relishing in the memories. Your children will remember these times and traditions as they carry them on.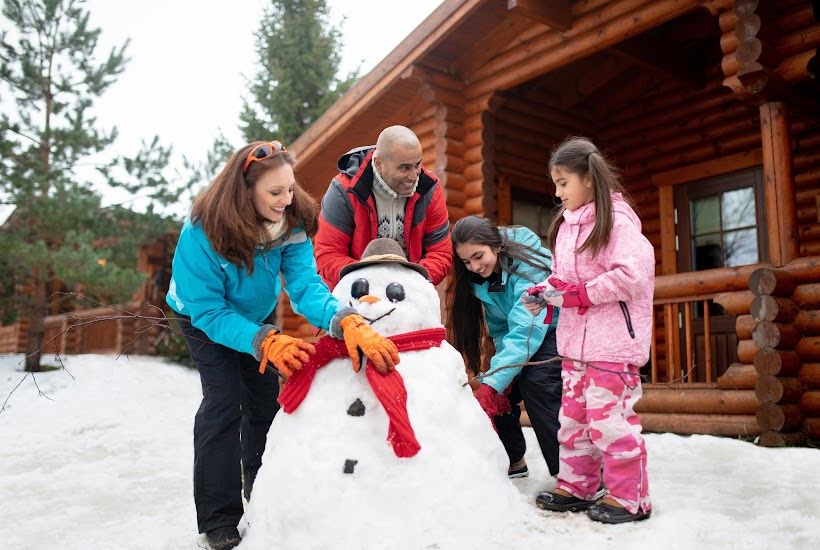 Build a snowman
If your family lives in a place where it is snowy during Christmas time, a fun morning tradition could be to go outside and build a snowman. You could even give him a Santa hat for the day's festivities.
If you don't want to build an entire snowman, it would still be a fun tradition to go outside and enjoy the snow. Make snow angels or a snow fort. Or even pair up for an epic snowball fight. Be sure to have some hot chocolate ready when you come back inside.
Christmas breakfast
A simple morning tradition to start with your family is to have a special Christmas breakfast. Select recipes that everyone enjoys equally. Or you could allow each family member to pick his or her favorite dish (within reason, of course!).
Either way, this tradition is memorable because it gives you and your family a chance to enjoy time with each other over a delicious meal. Take this time to talk about the happiest moments of the year or why you appreciate sharing the holidays with one another.
Christmas Morning Breakfast Traditions
French toast
French toast is a delicious breakfast option that can be made with different flavors and sides. Make a gingerbread French toast or add other holiday flavors to make it more festive.
Garnish or decorate it with whipped cream, fruit, candies, or icing to add to a little holiday flair. French toast is an easy-to-make option that even younger kids can help with.
Breakfast casserole
Sometime casseroles get a bad rap. But we've found breakfast casseroles are the exception. Everyone loves a good breakfast casserole! I've been making my Cousin Betty's Overnight Breakfast Treat Casserole for Christmas breakfast for years.
There are so many options like bacon, sausage, salmon or eggs for savory casseroles. Or try bananas and berries for a sweeter casserole.
Make the same casserole every year or switch the flavor up but keep the casserole theme as the tradition. This is a nice choice because it's a relatively easy dish to make and can usually be prepped the night before.
Cinnamon rolls
These sweet breakfast treats are a crowd favorite and easy to prepare. And you can adjust the flavors to make them fit the holiday season. Try chocolate, pecan, orange, cranberry or peppermint for a fun twist.
Use a family favorite recipe for scratch-made rolls. And getting the entire family involved makes for a fun cooking session.
Not a baker? No problem! You can use store-bought cinnamon or orange rolls and bake them with your children. Add a little orange or peppermint extract to the frosting to jazz them up a little.
Breakfast ring
This unique dish is perfect for Christmas because it's shaped like a wreath. We love these wreaths because you can customize the fillings to your preferences. Fill with eggs, sausage, ham, bacon or veggies.
Or going in a different direction and make a ring with fresh fruits and cream cheese or taco ingredients if you're serving brunch. Assign family members to decorate the wreath for a fun presentation.
Add a glaze to make the wreath glisten. Or create a bow out of the dough for the bottom of the wreath. And adding a little green food coloring to the dough will give it a realistic wreath effect.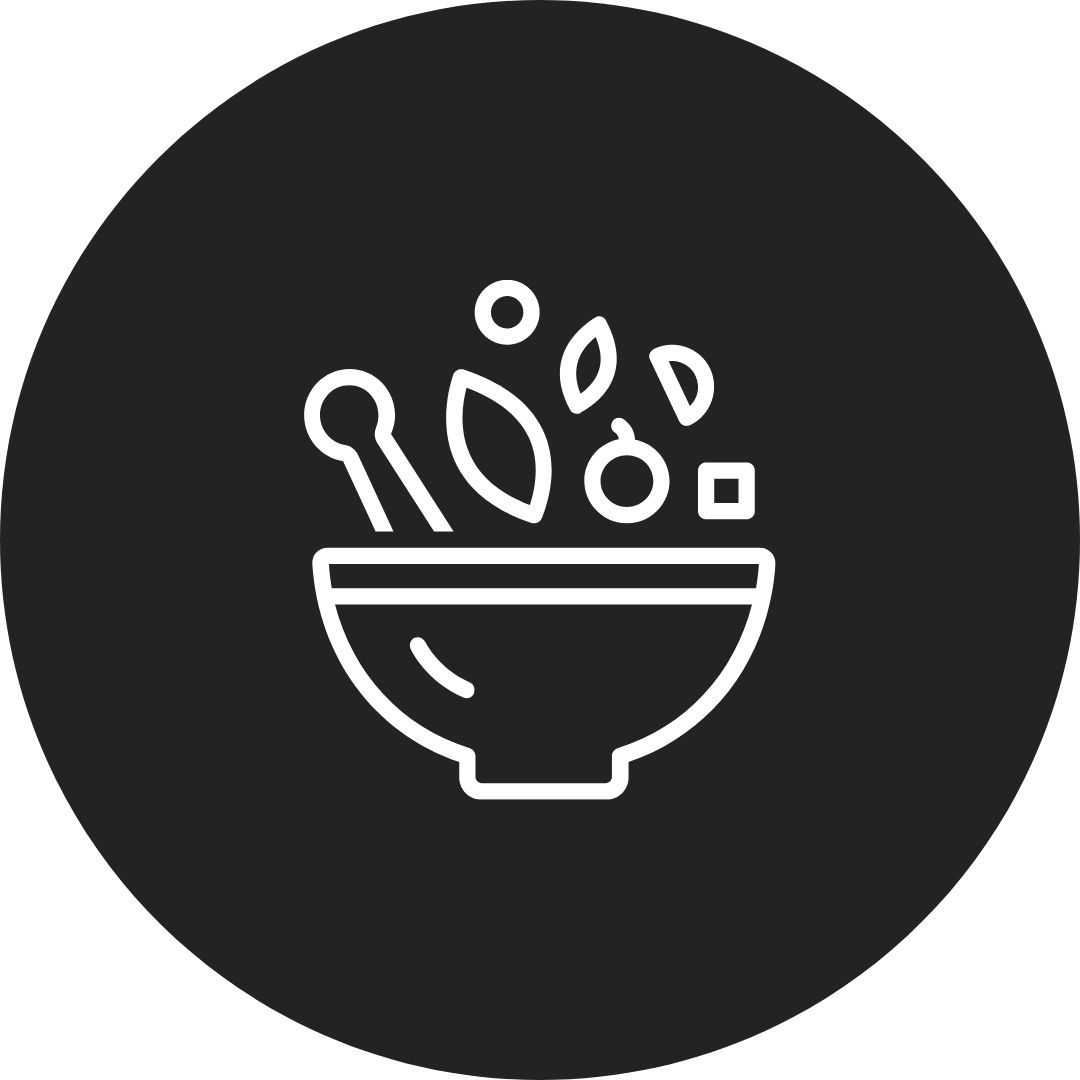 Christmas Present Traditions to Start with Your Family
A present circle
Integrate the whole family by starting the tradition of a present circle for the opening process. Gather the entire family and sit down in a circle. Hand out presents until everyone has one gift
Open the presents one by one, going around the circle. This slow way of opening gifts allows everyone to see the reactions of the gift recipients. Remember to take photos to enjoy the memories. This tradition also helps to draw out Christmas morning, allowing you to spend even more time together.
Give experiences
A good way to eliminate the clutter of unused toys is to buy experiences. This could be something as simple as going to a local amusement park, aquarium or zoo. Or go big with something like a road trip or Disney vacation if the budget allows.
Giving your family something to look forward to after Christmas can be the best gift of all. It's a great way to make memories with your children and teach them that the holiday is about being together, not just the things they receive.
Week of gifts
One way to create a tradition for your children and help teach them self-control is to start the gift-giving the week of Christmas. Start with small gifts and build to a larger gift on Christmas Day.
It's a fun way to give your child hints about a big gift or about an experience you're planning on gifting them on Christmas Day. For example, if you plan to take your children on a cruise, you could give them beach-themed items throughout the week and watch as they try to figure out the final gift.
This is also an excellent way to keep your children from getting overwhelmed by a large number of gifts. And then ultimately not using half of the toys or trinkets that were bought.
White elephant
White Elephant may go by many names, such as dirty Santa, but it can be fun and appropriate for the whole family! If you're wanting to start a tradition with presents that won't break the bank, this is an entertaining choice.
How it works: everyone brings a gift and puts it in a pile. Write numbers on small slips of paper based on the number of players (7 players = 7 slips of paper numbered 1 through 7). Players then draw numbers.
The player with the number one will choose a gift to open. The next player can either steal an opened gift or pick a new gift to unwrap. Continue all the way around until returning to the first player, who can either keep their gift or steal from anyone.
There are a multitude of variations of this games. And you can even make up your own rules to customize this tradition.
More of our favorite Christmas recipes:
Christmas Morning Traditions to Start with your Tweens & Teens
Christmas morning photo
A tradition your teen and tween will appreciate, especially once they are older, is taking a Christmas morning photo. While they may not want to take the photo immediately after waking up, give them a little time to "freshen up" to avoid resistance.
Or wait until after you've had Christmas breakfast. Stage the photo in front of the tree with unopened presents piled around. And it's always fun to get an "after" photo – pile the kids in the middle of the wrapping paper debris for a fun setting.
While your teen may not seem thrilled about matching pajamas, they will still love to be a part of a family tradition they can look back on in photo form.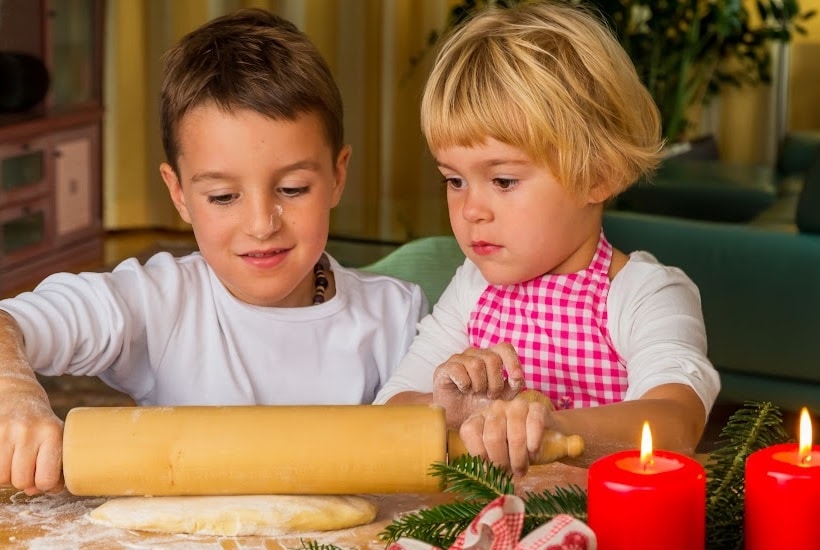 Baking cookies
Even your teenager or tween won't be able to resist making (and eating!) cookies. Make the cookies ahead of time, so they are ready to decorate.
Set up a decoration station so the entire family can decorate the cookies together. Enjoy these sweet treats with hot chocolate. This is a simple morning tradition but will still provide great memories and fun times.
Christmas board games
If watching Christmas movies isn't your thing, start a tradition of playing board games on Christmas morning. This is a great activity that the whole family can participate in and is sure to hold your teen's attention. It's also fun to bring out a little friendly competition amongst everyone.
Donate
A Christmas tradition that will help others and teach your teen or tween about sharing is to have them donate an item they no longer use. This also works well for younger kids.
Have your child select an item they no longer want or use. Do this before or after opening gifts. This is a great way to help them declutter and also shows them the power of giving on the holiday.
4 Christmas Eve Morning Traditions
Adding the Tree topper
While you'll probably decorate your tree weeks before Christmas, a nice tradition is to place the tree topper on Christmas Eve. It gives everyone something to look forward to. After placing the tree topper, your Christmas tree is fully prepped, decorated and ready for the big day of presents.
Opening a single present
Sometimes the kids get a little antsy to open gifts. A nice way to take the edge off is the to allow them to open a single gift of their choice on Christmas Eve.
This allows them to release some of their excitement and get a distraction from the other presents they have waiting under the tree. If you have extended family coming in for the next day, this is also a nice chance to have a smaller private moment with your children before the other guests arrive.
Pajama Presents
To build off of the matching pajamas tradition, you could also make it a tradition to open the pajamas as presents on Christmas Eve. The sleepwear will be fresh and new to wear that night and wake up in on Christmas Day.
Everyone may get used to the fact that they will be opening pajamas, but a fun way to keep everyone on their toes is to select one person pick out the pajamas and keep it a secret from family members.
So while they know it's pajamas, but they'll still be surprised by the design choice of the year. Bonus points if you include festive Christmas socks to keep everyone's toes warm for the next day.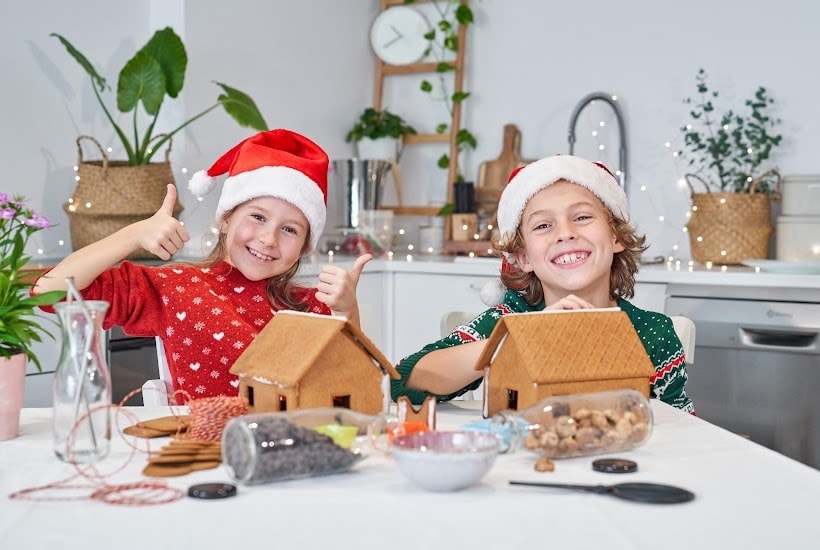 Build a Gingerbread house
While you may have a full itinerary for Christmas morning, Christmas Eve morning may be a little quieter. A fun way to spend time with your family is to build a gingerbread house.
Build one together as a family or create multiple houses. Have a contest and vote on the best design. This is a wonderful way to enjoy time with your family while doing something festive. Don't forget to take pictures so you can document the gingerbread creativity over the years.
Starting A Christmas Morning Tradition With Your Family Is A Great Way To Grow Closer During The Holidays
I hope this list of Christmas traditions has given you some inspiration to create a new tradition with your family. Whether it's making ornaments, watching A Charlie Brown Christmas, baking cookies together or reading a book you can't go wrong. Any activity that brings everyone closer is worth trying out!
So what do you think? Do these ideas resonate with what you want for your holiday season? Let us know in the comments section below.