Graduation Gift Etiquette: What to Spend & How to Choose an Amazing Gift
Disclosure: This post may contain affiliate links. When you click on a link and/or make a purchase, I may be paid a small commission at no additional cost to you. Additionally, as an Amazon Associate I earn from qualifying purchases. Please read my Disclosure page for more information.
Deciding on an appropriate graduation gift can actually be stressful. What is graduation gift etiquette these days anyway?
Graduation season is almost upon us and it's time to start filling the calendar with graduation parties, end of year school events, and more.
Don't fret, I've got you covered with a complete guide to graduation gift-giving for all types of grads. This graduation season, learn when to give gifts, how much to spend on the grad and when you don't need to give a gift.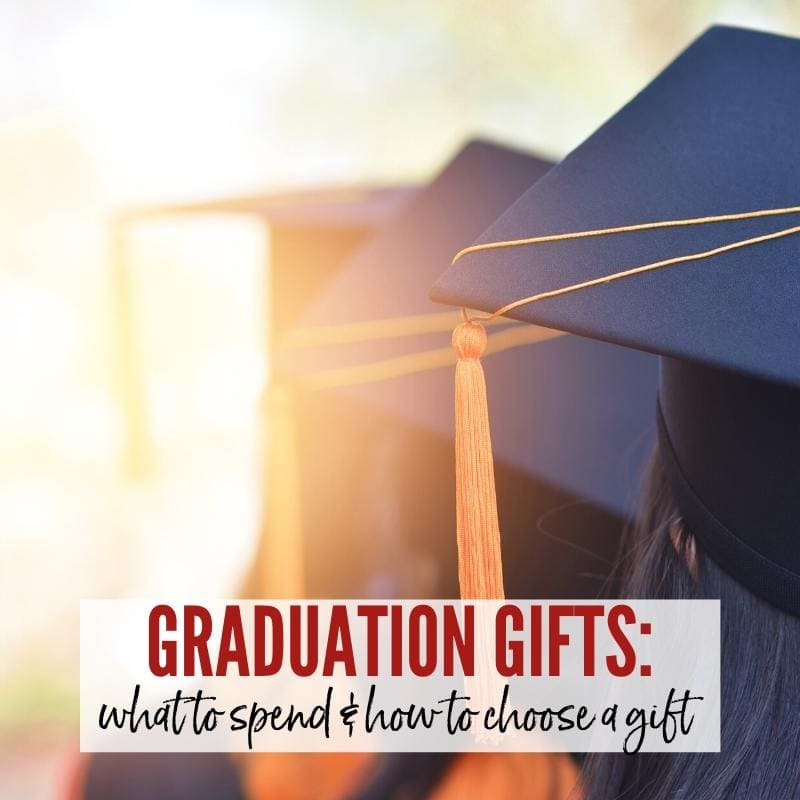 Your Guide to Graduation Gift Etiquette
Graduation gift etiquette has honestly gotten a little muddy over the years. In a day and age where parents celebrate every childhood milestone, grad season can feel utterly overwhelming.
Don't get me wrong, these important milestones are worth celebrating, but when it comes to finding an appropriate graduation gift, it's all about understanding your relationship to the grad, and which milestone they are celebrating.
Do you need a gift for a preschool grad? No, a card or an in-person meeting (if possible) will likely suffice. But for high school and college grads, the celebration is a little different.
Is a Graduation Gift Required?
The first rule about graduation gift etiquette is if you should even purchase a gift in the first place. The short answer? It depends.
First, did you receive an invite to a graduation party or the ceremony? If you did and the grad is headed to high school or beyond, then you'll want to find an appropriate graduation gift.
If you just got a graduation announcement, don't feel obligated to give a gift. At the very least, send a heartfelt card or give the grad a phone call if you're far away.
Some families don't do much to celebrate graduations. So if you simply get an announcement, but you live out of town and you're close with the grad, a small gift is certainly appropriate. Use your judgment based on your relationship with the grad and their family.
In general, gifts for preschoolers, kindergartners, elementary graduates, and even middle school graduates aren't really necessary (but are appreciated). Although these are significant milestones for younger students, it's also important to understand that the grad still has a lot of growing to do and still lives at home.
Consider the milestone being celebrated. Giving gifts to high school seniors and college graduates is appreciated since they are likely starting out in the real world on a limited budget. A thoughtful gift can go a long way to helping him or her on a new life path away from parents.
How Much Do I Spend on a Graduation Gift?
This is yet another subjective question that depends on many factors. First, think about your budget. There's no need to drop hundreds of dollars on a middle schooler's graduation gift.
Graduation gift etiquette doesn't have many hard and fast rules when it comes to budget. Consider an appropriate graduation gift based on your relationship with the grad, what achievement they reached and most importantly, your budget.
For siblings, distant relatives, and friends, spending between $15 to $25 is totally appropriate. If you're celebrating college and higher-education graduates, you may want to spend a little bit more since their achievement is much harder. But again, don't feel obligated to go outside of your budget.
Aunts, uncles, grandparents, and godparents may want to spend between $30 and $50 for their grads. Closer friends, relatives, and mentors may be compelled to spend more, and that's okay too.
Choose a budget you are comfortable with and stick to it.
RELATED: Fantastic Gifts Graduates will Love
Can I Give a Cash Gift?
Cash is always appreciated as a gift for certain grads. High school, college, and higher education graduates will appreciate a cash gift as it allows them to purchase much needed items for a dorm room or first home. Pair it with a personalized card for a heartfelt touch.
I don't recommend cash gifts for middle schoolers or younger graduates. Most children don't have the same need for money the way high schoolers and college graduates do. In this case, it's better to get a small gift or in some cases, graduation gift etiquette doesn't require a gift at all.
How Much to Give for a High School Graduation?
High school grads are embarking on the wonderful journey towards adulthood. Many of them are leaving their homes for college or are staying at home, but now have a lot more financial responsibility.
Graduation money gifts should be in an amount that feels comfortable to you. You can give based on the amounts suggested previously.
Consider getting gift cards instead. Give gift cards to useful stores like Ikea, Target, and others where recent grads can use the money towards dorm room items and school supplies.
What is an Appropriate Graduation Money Gift for a College Grad?
The same rule applies for college grads – simply give what feels appropriate. If your grad is graduating with a master's degree or Ph.D. a larger sum is certainly appropriate if you can afford it.
These high-level degrees take years to achieve and are much more difficult than a bachelor's degree or high school diploma. Therefore, it isn't unheard of to give slightly more for these monumental achievements.
What Are Some Great Graduation Gift Ideas?
Finding the perfect graduation gift can be challenging. The key is to focus on items that will be useful for the recent grad.
For high school graduates who are leaving the house, the ideas are endless. But for other graduates, finding the perfect gift is a bit tougher.
Great Graduation Gifts for 8th Graders
Eighth graders will appreciate the essentials to help them transition into high school. A few gift ideas include:
A cool bag, power bank, or academic planner.
Gift cards to their favorite clothing store so they can feel stylish going into high school.
Something from their favorite sports store if they enjoy sports.
The Perfect Graduation Gift Ideas for High Schoolers
There are plenty of great gift ideas for high school graduates. Focus on fun, yet useful gifts that will help the high schooler transition to living on their own. A few ideas include:
Money or gift cards to budget-friendly home stores, gas cards, restaurants, or if they are moving, local businesses nearby.
Technology to help them relax like headphones, Roku, power banks, and Bluetooth speakers.
Easy-to-use home appliances such as an electric kettle, mini-fridge, or small coffee maker.
Useful items like a travel bag, toolset, or planner.
Awesome Graduation Gifts for College Grads
College and higher education grads certainly need more practical items. If they already have the basics from living on campus, then cash is a great way to go. Otherwise, think about these great gift-giving ideas:
Gift cards to places to print business cards and resumes, local coffee shops, home stores, Amazon and others.
Thoughtful home items such as an Instapot, plates/cups/etc, home entertainment, and others.
If they are moving, choose cozy items for their new home like blankets, throw pillows, candles, and other items.
This year, give graduation gifts with confidence. Simply choose a budget you're comfortable with and pick a gift that best fits the wonderful grad in your life.
There's no need to over-think the appropriate graduation gift – just go with what feels right in your heart!
More Gift Guides You May Enjoy:
Easter Basket Ideas for Teenagers
Affordable Gifts for Foodies