How to Throw the Ultimate Budget Graduation Party
Disclosure: This post may contain affiliate links. When you click on a link and/or make a purchase, I may be paid a small commission at no additional cost to you. Additionally, as an Amazon Associate I earn from qualifying purchases. Please read my Disclosure page for more information.
So you've got a grad in the family and it's time to celebrate. First, toss those caps in the air! Throwing a budget graduation party is the perfect way to honor your graduate without breaking the bank.
We'll dive into how to throw a graduation party that everyone's excited about, including your wallet. With a few money-saving tips, you can host an unforgettable bash without smashing your piggy bank to pieces.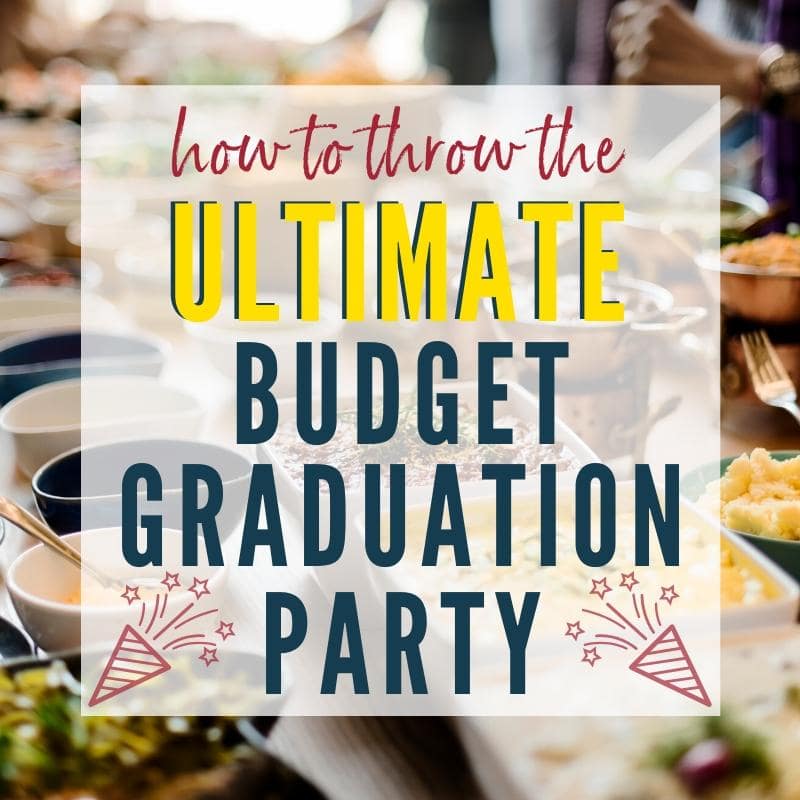 The Step-by-Step Guide to Throwing a Graduation Party on a Budget
Graduation parties on a budget don't have to feel cheap. In fact, it's quite simple to celebrate a hard-earned diploma or degree without spending too much.
RELATED: Graduation Gift Etiquette answers all your questions about when to give a gift & how much to spend.
These quick-and-easy graduation party planning steps ensure that your big party doesn't fall flat. We'll cover:
Planning a graduation party on a budget
Party types and which one is right for you
Selecting a venue
Money-saving invites
Choosing food and drinks
1. How to set a Budget for a Graduation Party
The toughest part of graduation party planning is setting a budget. First, consider how many guests you're inviting. Is everyone invited or just close friends and family? The answer may largely depend on your graduate's social preferences, so don't be afraid to ask them first!
Next, determine what kind of food you'll be serving. Will it be snacks or full-on meals? Meals will cost more, while finger food is more cost-effective.
Then you'll want to consider the venue. Are you going to host it at home or at a place that requires a fee? You don't need to reserve half a hotel to throw a graduation party, but most parks and other community spaces do require a modest fee.
If your graduate has a few close friends, consider co-hosting a party. This can help extend your budget, by sharing the cost with other families. However, you'll want to be clear with expectations upfront. Things like how many guests, location, and food options should be discussed as a group.
If your budget is small, that's perfectly okay. In fact, graduation parties on a budget are some of the best parties, since it will be far more unique.
For those on an extreme budget, consider something like a potluck or invite just a few people for a more intimate celebration.
2. Choose a Type of Party
Next, you'll want to decide which type of graduation party you want to have. Start with timing.
If you plan your party around mealtimes, people will expect more food, which will increase your budget.
For smaller budgets, consider doing a mid-day dessert bar, light appetizers or a breakfast/brunch party. These limited menu type of parties are an easy way to save.
If it has to be around dinner time, potlucks are always a fun way to get together and celebrate. Ask a couple close friends or family members to contribute a dish. A budget graduation party can still involve a meal and a lot of people, you'll just have to be a bit more community-oriented.
3. Select a Budget Graduation Party Venue
Now that you've got a time of day, invite list, and type of party all sorted out, it's time to talk venue. Your home may seem like an easy choice. It's free and the least amount of hassle, but consider your space.
Do you have enough room to host everyone? If you plan on having a backyard bash, is there enough shade? What will you do if it rains?
Don't forget to factor in additional time to get your home "party ready". That small rental fee for an off-site venue may seem like a bargain compared to spending a few hours prepping your house for a party. Not to mention time to clean up after the party.
Park pavilions and community centers often have spaces for rent at a reasonable price. So do social clubs like the VFW and Elks. Often times, community centers and social clubs will come with a kitchen too.
I paid $50 for our local park rental and it included access to a gas grill, food prep area, covered pavilion, and even lawn games. Keep in mind that in populated areas permits for reserving a party venue fill up fast. The more advanced planning the better.
4. Send out the Invites
An easy way to save money on a graduation party is to send out free invites. Use a free electronic invite service, like Evite, to send out invitations. You can also use Facebook Events to get the word out.
Make invitations personal by including a senior picture or collage of photos as the background image or directly on the Evite. If you're co-hosting, a fun group photo of the grads is a nice touch.
Photo invitations with the details printed on the back work well too. Keep in mind you'll have to budget for ink, paper and postage stamps.
If printing invitations at home isn't an option, check out online printing options like Shutterfly. I ended up purchasing photo invitations online with a discount code that made it cheaper than printing at home.
5. Choosing Delicious, Budget-Friendly Eats
When it comes to how to throw a graduation party on a budget, proper meal planning is essential. First, ask your grad what they would like. Try to accommodate their requests within reason.
Save money by setting a smaller menu, such as one or two main dishes with two sides and a few snacks. It's less work and you can provide more food.
For example, make double or triple batches of your grad's favorite pasta salad with veggies. Pair it with a veggie tray and fruit bowl and you're all set.
If you're hosting a large group and have access to a grill, pick up several packages of pre-made hamburger patties and hot dogs at a wholesale store like Costco to help cut down costs. Don't forget to enlist a few volunteers to help man the grill so you aren't stuck cooking for the entire party.
For smaller groups, purchase a less expensive pork butt roast and serve up crockpot pulled pork sandwiches.
One quick tip for a budget graduation party is to utilize pasta. Pasta is cheap and easy to make in multiple batches. Serve up two different kinds of pasta, one red sauce (Cheesy Penne Pasta Bake is my go-to recipe to feed a crowd) and one white sauce (my family loves my Easy Chicken Spaghetti recipe). Add a green salad and bread for a complete meal. The result is a delicious meal without emptying your piggy bank.
Consider setting up a taco bar party or a baked potato bar. These self-serve options are super popular with teenagers and also easy on your wallet. You'll also appreciate that most of the food preparation can be done ahead of time, leaving you more time to enjoy the party.
Purchase pre-made desserts, such as Costco's delicious sheet cake for under $20. Two of these cakes will serve around 80-100 guests. Alternatively, you can provide a few small desserts from your local bakery. Remember, you don't need to serve dessert if you're providing a full-blown meal.
Don't forget to pack up and use leftover party food to avoid food waste. Alternatively, you can always send guests home with a doggy bag!
RELATED: Best Gifts for High School Graduates
6. Providing Drinks and Alcohol
Alcohol can quickly blow your graduation party budget if you're not careful. The other downside is you'll need to be vigilant about only serving guests over 21 years of age.
Decide if you want to provide alcohol for adults or if you want to make the event BYOB or even booze-free. Most adults won't mind bringing their own libation, so don't feel pressured to provide expensive booze.
Make pitchers of lemonade and iced tea instead of expensive soda. Use concentrates or mixes with reusable pitchers to avoid using plastic bottles.
If you've got to have a soda, purchase 2-3 types of two-liter bottles so you don't end up with a bunch of half-opened individual sodas by the end of the party.
7. Quick Tips for Hosting a Graduation Party on a Budget
Graduation party planning doesn't need to be complicated. Hosting a budget graduation party is easier to do than it sounds. Consider these quick tips for hosting a graduation party on a budget:
Co-host to split costs
Keep the party intimate to just close friends and family
Consider hosting a pot-luck
Ask parents to bring things like foldable camping chairs, pop up shade structures, games, and other things so you don't have rent or buy these items.
Don't over-do the decorations, invites, and other frivolous items. It's about getting together and celebrating your graduate.
Buy in bulk to save money on food and serving supplies. Don't forget to check around the house to see what you already have laying around (napkins, cups, utensils, etc).
Planning a graduation party on a budget means getting creative with your party plans, and keeping the food simple. Say congrats to the special grad in your family with a thoughtful graduation party.
Do you have any tips for hosting a graduation party on a budget? Share by leaving a comment below.