Fantastic Gifts High School Graduates Will Love (2022)
Disclosure: This post may contain affiliate links. When you click on a link and/or make a purchase, I may be paid a small commission at no additional cost to you. Additionally, as an Amazon Associate I earn from qualifying purchases. Please read my Disclosure page for more information.
With graduation season fast approaching, it's time to start thinking about the best gifts for high school graduates. Get your senior ready for adulthood with these senior gift ideas that are guaranteed to please.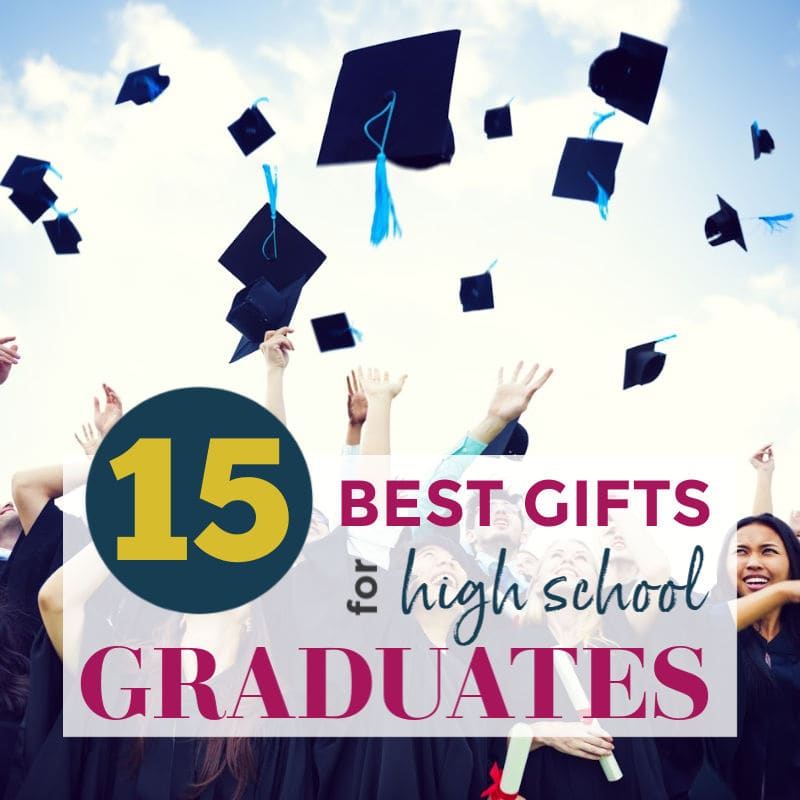 About this Guide to the Best Gifts for High School Graduates
May can be a busy month. And I mean busy with a capital "B". After celebrating our amazing mothers, it's time to buckle up for the "end of the school year express".
From the sports banquets to the graduation parties your calendar will soon be bursting with activity. And with all the graduation celebrations you'll soon be asking "So what do I get my favorite high school graduates?".
We'll dive into some amazing ideas for high school graduation gifts and include a few quick tips for gift-giving etiquette.
How to Find the Perfect Gifts for Graduating Seniors
The best gifts for high school graduates are fun, yet functional. Grads are entering adulthood, and they will need a lot of things as they begin their adult lives. But, they also want a lot of fun things.
The perfect senior gift ideas are the ones that embody fun and function.
Look for gifts that provide entertainment or make for a stylish accessory. Think about the basics of dorm living if your grad is off to college. Space-efficient, functional items like coffee makers and a to-go mug make excellent gifts.
Gifts don't need to break the bank, but they should serve a purpose. This list of the best gifts for high school grads gives a variety of options for functional, yet fun gift ideas.
To Give or Not to Give?
When it comes to giving gifts for high school graduates, it can often be tough to determine where to draw the line. Your grad may be attending a dozen graduation parties, and the gifts add up.
A good rule of thumb for giving gifts for graduating seniors is if you received a formal invite to the ceremony and you're close with the grad, then yes, give a graduation gift.
Consider giving gifts to extremely close friends of your grad, and letting the rest of the parties be more about celebration than gift-giving.
Still have questions about graduation gift-giving? Check out the graduation gift etiquette post for answers to your commonly asked questions.
Best Gifts for High School Graduates
Now that we've covered the basics, let's get on to the gifts!
Gifts for Graduating Seniors (Affiliate Links)
Practical & fun gifts for graduates heading off to college, travelling or starting a career. Gifts for boys & girls, and budgets big & small.
Academic Planner: Give the gift of organization to college bound seniors. Keep track of class schedules, assignments, projects and so much more.
A good backpack is a must-have for college bound graduates, travelers or those entering the workforce. The medium sized Knack brand bag is my go-to carry-on bag. I love that there is a place for everything.
College survival kit: purchase a new laundry basket & fill it with a variety of snacks & convenience foods (instant oatmeal, ramen, soup), an electric kettle and laundry supplies (detergent, softener, dryer sheets, quarters).
Gift cards: Target/Walmart, gas cards, restaurants, Starbucks, Amazon. If the graduate will be attending college, consider selecting gift cards for merchants and restaurants near campus.
Money – cash is king (not really). But it's a great gift for a graduate who needs to make a big-ticket purchase or a few necessities.
Yearly subscription to Netflix, Hulu or Spotify.
How to Present a Cash Gift
The general guidelines for cash gifts are the same as is you are giving a gift. If your bank account is fat and you're feeling generous, feel free to give abundantly. Scale back if funds are tight. Graduation is not an excuse to overspend.
Cash and gift cards are acceptable high school graduation gift ideas. In fact, some graduates may prefer it. Receiving cash allows the graduate to pool the funds to purchase a big ticket item (like a new laptop for college).
Check out these fun ways to package a graduation cash gifts:
Did I miss anything? Drop a comment and let me know your go-to graduation gift ideas.
Our Favorite
Holiday Gift Guides