Help your senior transition to adulthood with the best gifts for high school graduates. We're also reviewing graduation gift etiquette – how much to spend and more.
Gifts for High School Graduates
May can be a busy month. And I mean busy with a capital "B". After celebrating our amazing Mothers, it's time to buckle up for the "end of the school year express".
If you have children involved in activities or sports, you KNOW what I'm talking about. There are sports banquets, award ceremonies, concerts and more. The calendar will fill up before you can say "summer break".
As your child nears the end of his or her high school career you'll also need to factor in graduation festivities. Beyond the graduation ceremony, you will likely be invited to a graduation party (or 10!).
Take the guesswork out of high school graduation gifts. From how much to spend to the best gift ideas for high school graduates, you'll be prepared to properly mark this momentuous occasion. Let's get to it!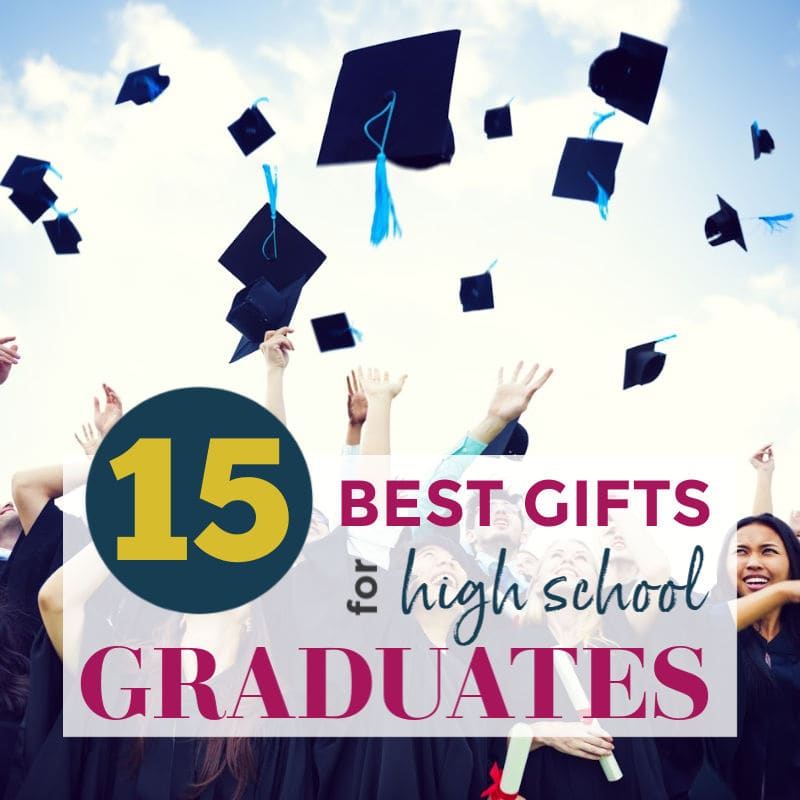 Let's start by discussing graduation gift etiquette. These are common questions:
Is a gift required?
How much should I budget for graduation gifts?
Can I give a cash gift?
Help! I need graduation gift ideas.
Do I have to give a graduation gift?
The short answer? It depends. Did you receive an invitation to the ceremony or a graduation announcement? According to etiquette expert Emily Post, you should bring a graduation gift if you are invited to the ceremony and/or attending the graduation party. Annnouncement recipients shouldn't feel obligated to send a gift.
But let's be frank. If you received an announcement you likely know the student well or are a close family friend. And that means you'll probably want to mark the occasion with a gift. At the very least, send a card with a personalized, heartfelt message to mark this milestone event.
How much should I spend on a gift?
Before we chat about how much you should spend, I'd like to remind you to be realistic about your budget. As much as you may want to purchase a "splurge" gift for this life-changing occasion, don't be tempted to spend more than you can afford.
Determine how much you can comfortably spend and stick to that amount. It IS possible to purchase fun graduation gifts without breaking the bank. Scroll down for my top graduation gift ideas for every budget.
Once you've determined how much you can afford to spend, it's time to determine how much you should spend. There aren't any hard and fast rules here. The amount you spend will vary based on your relationship to the graduate, geographical location and your budget.
Siblings, distant relatives and friends can feel good about spending in the $15-25 range. Aunts, uncles and grandparents typically spend $30-50 on gifts for graduating seniors. It's not unheard of for close family and friends to spend $100 or more on high school graduation gifts.
Whatever amount you spend, remember it is the thought that counts. If you truly can't afford to give a gift, I guarantee the graduate will appreciate a heartfelt message with a card.
Can I give cash instead of a gift?
The general guidelines for cash gifts are the same as is you are giving a gift. If your bank account is fat and you're feeling generous, feel free to give abundantly. Scale back if funds are tight. Graduation is not an excuse to overspend.
Cash and gift cards are acceptable high school graduation gift ideas. In fact, some graduates may prefer it. Receiving cash allows the graduate to pool the funds to purchase a big ticket item (like a new laptop for college).
Check out these fun ways to package a graduation cash gifts: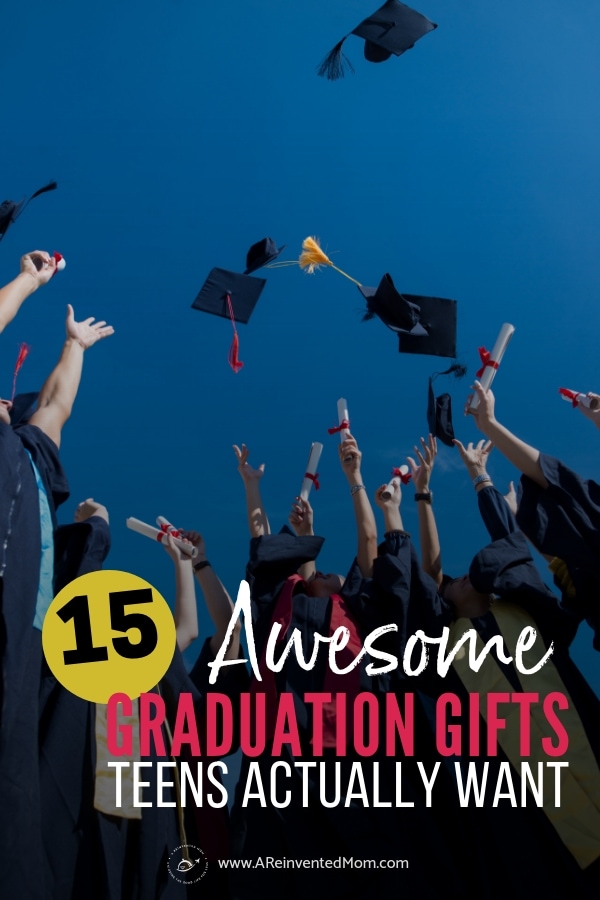 Best Gifts for High School Graduates
Graduation marks the transition from carefree high school days to adulthood. As with most major events, you may want to help the graduate celebrate this new life chapter with a gift.
Some graduates will attend college. Some decide to move out on their own and enter the workforce. And the lucky ones will take time to travel. No matter the after-graduation plans, these graduation gifts are sure to be appreciated.
Gifts for Graduating Seniors
Practical & fun gifts for graduates heading off to college, travelling or starting a career. Gifts for boys & girls, and budgets big & small.
Academic Planner: Give the gift of organization. Keep track of class schedules, assignments & projects and so much more.
College survival kit: purchase a new laundry basket & fill it with a variety of snacks & convenience foods (instant oatmeal, ramen, soup), an electric kettle and laundry supplies (detergent, softener, dryer sheets, quarters).
Gift cards: Target/Walmart, gas cards, restaurants, Starbucks, Amazon. If the graduate will be attending college, consider selecting gift cards for merchants near campus.
Money – cash is king (not really). But it's a great gift for a graduate who needs to make a big-ticket purchase or a few necessities.
Yearly subscription to Netflix, Hulu or Spotify.
How much do you budget for graduation gifts? Drop a comment and let me know your go-to graduation gift ideas.
More Gift Ideas:
Follow A Reinvented Mom on Pinterest, Instagram, Yummly and Twitter.