Disneyland Halloween: Everything You Need to Know!
Disclosure: This post may contain affiliate links. When you click on a link and/or make a purchase, I may be paid a small commission at no additional cost to you. Additionally, as an Amazon Associate I earn from qualifying purchases. Please read my Disclosure page for more information.
Halloween is the perfect time to go to the Disneyland Resort in Anaheim, California. Halloween lovers will enjoy the special events and treats during the spooky Fall season. In this blog post we'll cover everything you need to know about Disneyland Halloween fun!
We've included tips on daytime Disneyland activities, how to dress up for the spooky Halloween festivities, and other important information that will make your Disneyland Halloween experience unforgettable!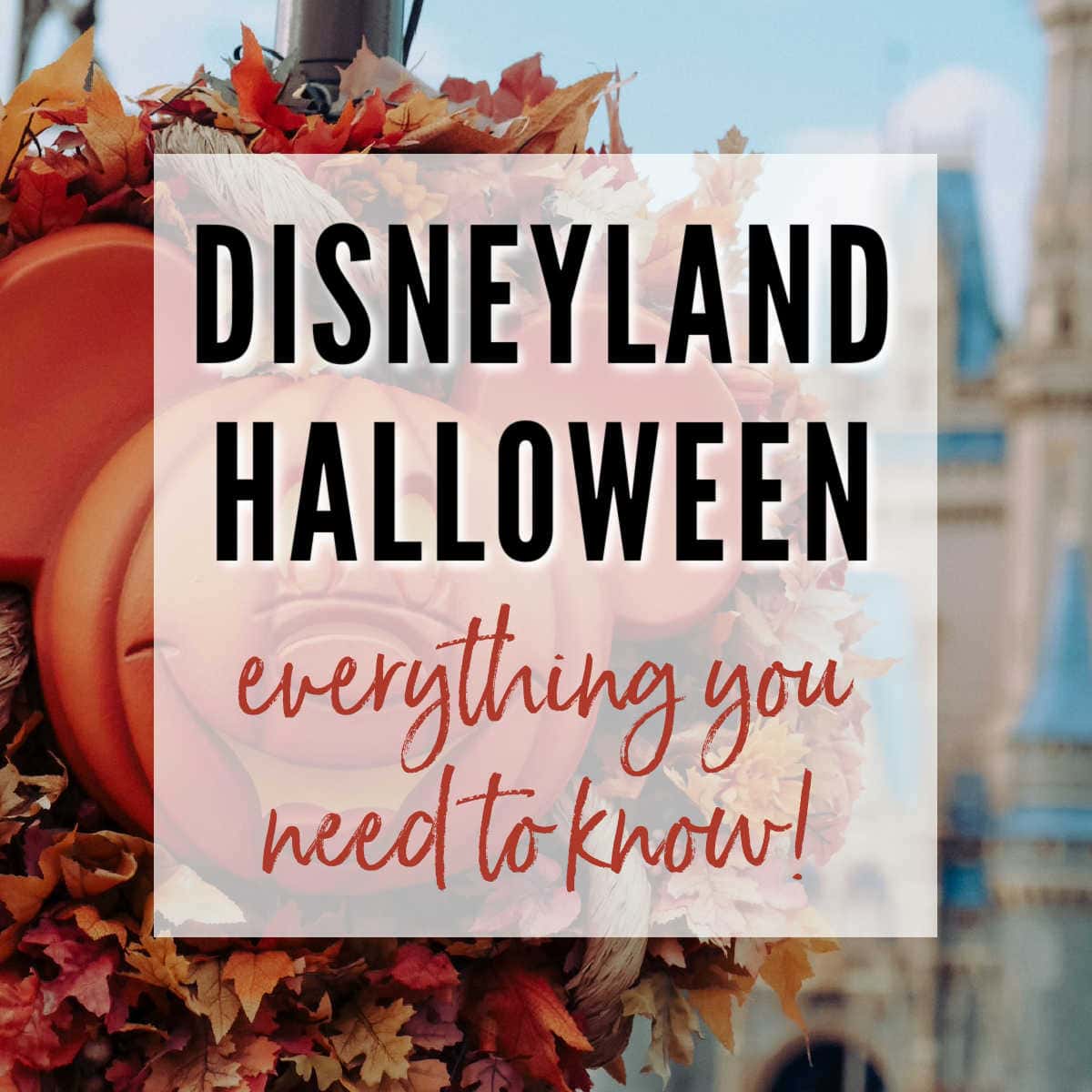 When is Halloween Time at Disneyland?
Disneyland celebrates Halloween from September 3rd through October 31st. There's not a set day that the seasonal decorations go up each year, so if you're planning a visit outside of those dates, it's a smart idea to check the schedule for announcements that the Fall decorations have gone up.
Is Disneyland doing Halloween this year?
Although there have been some questions about whether Disneyland Resort will be celebrating Halloween this year, Disney Parks has announced that guests can enjoy modified tricks and treats in 2021.
Halloween at Disneyland Park
Disneyland Park will celebrate Halloween with spooky decorations, special merchandise and fun events. These include the Haunted Mansion Holiday overlay, Halloween Screams, the Main Street Pumpkin Festival and more!
Main Street Pumpkin Festival
The Main Street Pumpkin Festival is another tradition that has been around since 1967 when it was introduced as part of Walt's original idea to give Disneyland a Fall vibe.
Now this event takes place in September and October with nearly 100 displays decorating Disneyland Park! It includes pumpkin-themed treats, attractions and entertainment all along Main Street USA.
Haunted Mansion Holiday
A special event for Halloween is the Haunted Mansion Holiday. Disneyland's Haunted Mansion attraction in New Orleans Square will be decorated in an awesome Tim Burton's Nightmare Before Christmas style overlay with Jack Skellington's friends Sally, Oogie Boogie and Zero!
This iconic Halloween attraction is a big highlight each year so expect the wait times to be longer, but it's so worth the wait! Make sure your plan includes this nightmare-ish ride.
Plan the ultimate Halloween party with our printable planner – over 20 pages!
Halloween Screams
Enjoy the nightly display of scream-worthy villains with their favorite frightful Halloween songs. This event takes place at the castle and is included in your park admission. Some nights include fireworks, so make sure to check the Disneyland entertainment schedule to plan the best night to attend.
Cadaver Dans
The popular a capella singing group, the Dapper Dans, gets a back-from-the-dead makeover during the Halloween season. Their musical stylings on Main Street USA are not to be missed! Think of them as the walking versions of the singing busts in the Haunted Mansion. So much fun!
Día de los Muertos
Celebrate the Day of the Dead with cultural displays, mariachi music, traditional skeletons, colorful flowers, foods and even ofrendas to honor family with energetic celebrations.
Halloween at Disney California Adventure Park
Disney California Adventure Park also celebrates Halloween with fun decorations, special merchandise and exciting events. These include the Guardians of the Galaxy – Monsters after Dark, Radiator Screams, and the Oogie Boogie Bash.
Oogie Boogie Bash
Another exciting Halloween event on the calendar is Oogie Boogies Bash. This party will take place in Disney's California Adventure with a Frightfully Fun Parade, spooky dining and entertainment.
Oogie Boogies Bash features Disney Villains, performances by the Dapper Dans, and themed food items for purchase. Guests are encouraged to come dressed up as their favorite villain or any spooky character during these special Disneyland nights.
Events during the Bash
During Mickey's Trick or Treat guests can dance the night away and enjoy sweet treats with Mickey & his friends during the Oogie Boogie Bash.
Trick or Treat Trails are a fun way to get lots of sweet treats and explore the world of some of your favorite spooky villains.
Villain's Grove includes scenes that give a behind the screams look into the worlds of popular Disney Villains — including Dr. Facilier, the Queen of Hearts, Scar, Maleficent, the Wicked Queen and other characters you love.
Plaza de la Familia
You make me un poco loco, Coco! Immerse yourself in the Plaza de la Familia and celebrate family traditions at Paradise Gardens with your favorite characters from Coco.
Sing along to performances of A Musical Celebration of Coco, meet Miguel, and write messages to your loved ones and attach them to the Memory Wall.
You also won't want to miss the delicious flavors of Mexico during this special event. Admission to the Plaza de la Familia is included in your park admission.
Visit the Mexican Árbol de la Vida (Tree of Life) for a selfie or family photo in front of the colorful tree.
Radiator Screams
Radiator Springs transforms into a hauntingly fun town filled with costumed characters, Luigi's Honking Halloween, and Mater's Graveyard JamBOOree. Kids of all ages will love a spooky drive through this area.
Disney Halloween Snacks
There are many fun Disneyland Halloween snacks that you can enjoy during your visit. Different popcorn buckets are usually released during the Halloween season like the popular Haunted Mansion Hitchhiking Ghosts popcorn buckets or orange Mickey balloon popcorn buckets.
Limited time churro flavors can be found around Disneyland and Downtown Disney as well. Flavors like pumpkin spice churro with cream cheese frosting, sour apple churro and a Maleficent churro with marshmallow dipping sauce have popped up in years past.
And Halloween candy options are available at Pooh Corner and Candy Palace at Disneyland park, Trolley Treats at Disney California Adventure park, and Marceline's Confectionery at the Downtown Disney District. You'll find tasty treats like:
Decorated apples- Minnie Mouse witch, Jack Skellington, a skull, and the Evil Queen apple
Cake pops- Jack Skellington or a bat cake pop
Halloween-themed crispy treats – Mickey Mouse mummy, Oogie Boogie, or a Maleficent crispy treat
Mummy marshmallow
Pumpkin fudge
In addition to sweets, there are plenty of savory dishes and creative drinks you'll want to try at both Disneyland and California Adventure. A few examples are the Clam and Corn Chowder at Café Orleans, frozen Abuelita Horchata at Rancho del Zocalo, and Mickey Bread with fangs at Mortimer's Market.
To get the most up-to-date details of what treats, drinks, and foods are available this year, check the Disney Parks Blog for their annual Foodie Guide to Halloween at Disneyland.
Disneyland Park Costume Guidelines
Guests are welcome to dress up for Disneyland Halloween festivities as long as their costumes follow certain guidelines. Costumes cannot be obstructive or offensive, must not conceal the guest's identity, may not pose dangers (ie sharp objects) and should not include real weapons.
Costumes that do not meet these criteria will need to be removed before entering Disneyland Resort property.
Dressing up for Halloween at Disneyland
Keep the Halloween spirit alive with a fun costume. Costumes are welcome for all ages at the parks as long as they follow the Disney Parks guidelines.
There are so many options for great costumes on Amazon and online shops. You can also put together a great pirate costume with items from your own closet or from a thrift shop. Of course, you don't have to dress up as a Disney character, so don't be afraid to get creative!
How do I prepare for a visit during Disneyland Halloween?
If you're planning on visiting Disneyland Resort when it's time for the Halloween festivities, then there are some important tips to keep in mind before your trip:
Make sure you're comfortable! Nothing is worse than a costume that doesn't let you board attractions or rubs when you're trying to enjoy the parks.
Stay hydrated. Taking a water bottle is always a good idea when you're touring the Disney Parks, especially if you're enjoying a few adult Halloween themed cocktails.
Be sure to dress up if you want! There's something extra magical about wearing costumes at Disneyland, especially during the Halloween season. You can find all sorts of Disney costumes online.
Dress for the weather. Temperatures in the Fall months can get quite chilly once the sun goes down. Consider bringing a jacket or sweater you can put on if you get chilly.
Use the lockers. Need to store your jacket or annoying pieces of your Halloween costume? Grab a locker for a few bucks so you can keep on enjoying your time at the parks.
How do I get around during Disneyland's Halloween festivities?
Since there are many special events happening throughout Disneyland Park for Disneyland Haunted Mansion Holiday, pedestrian traffic is often heavier than usual in certain areas.
To avoid congestion and potentially longer than normal wait times for attractions, try waiting to enjoy some of the rides until the parade or shows are going (if there's more than one showing). Later hours also tend to be less crowded as the younger crowd heads out for bedtime.
As far as getting around the parks, we recommend using Disneyland Monorail or the Disneyland Railroad to move around the park without having to weave through the congested areas.
Disneyland Resort during the Halloween festivities is the place to be for a frightfully fun time. There are so many ways to enjoy the Halloween season at Disneyland Resort, it's easy to see why it's the perfect time to book a trip.
I hope you enjoyed this post and it helped you figure out what events and snacks are must-dos for your California Disney vacation. No matter when you go this October, it's sure to be spook-tacular!
Looking for a fun Halloween activity for the whole family? Grab our Hocus Pocus Movie Printable Bingo Boards for free!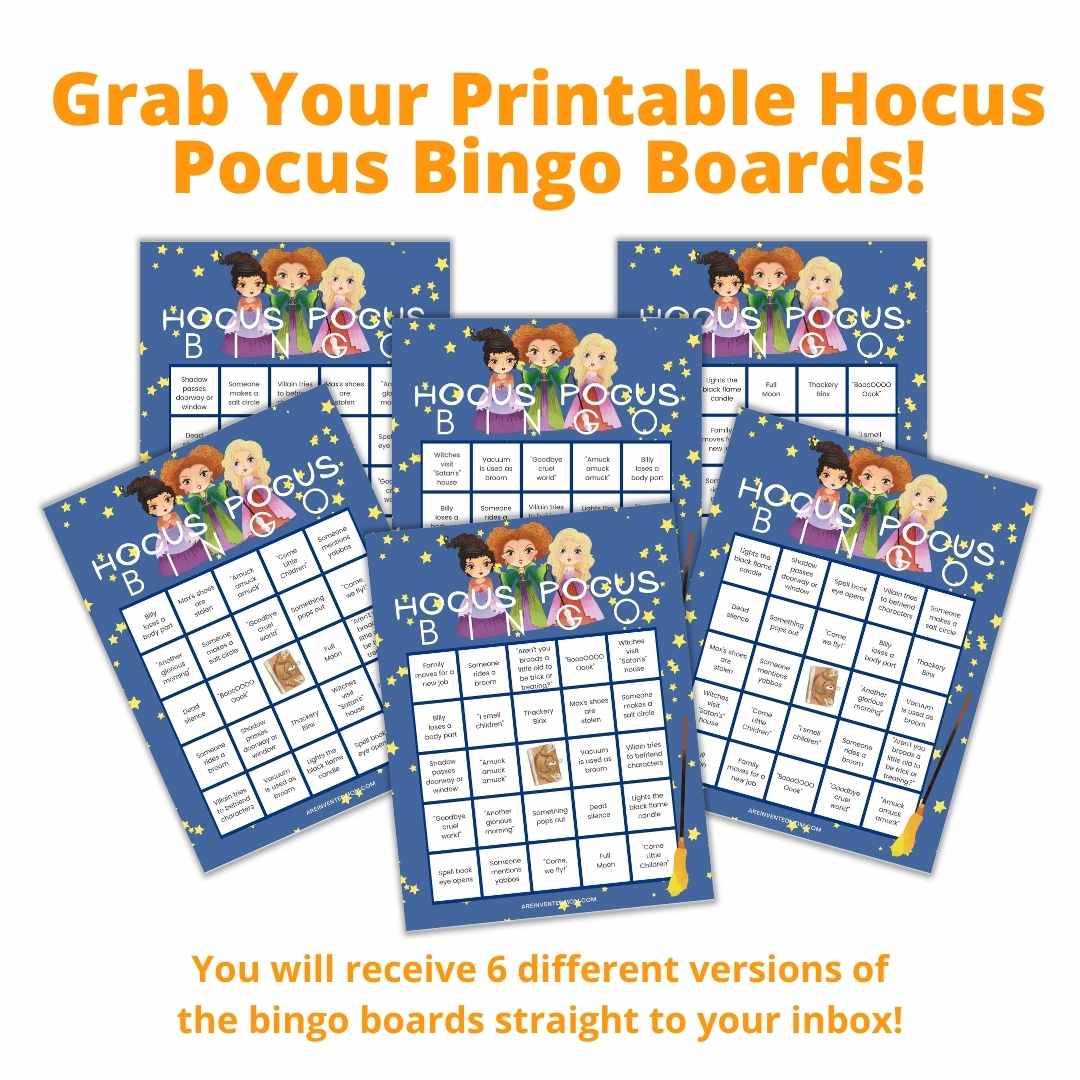 More Halloween Posts:
Plan the ultimate Halloween party with our printable planner – over 20 pages!