Easy Crockpot Chicken and Dumplings with Canned Biscuits
Disclosure: This post may contain affiliate links. When you click on a link and/or make a purchase, I may be paid a small commission at no additional cost to you. Additionally, as an Amazon Associate I earn from qualifying purchases. Please read my Disclosure page for more information.
These Crockpot Chicken and Dumplings are easy to make and you don't need to roll any dough because we are using canned Pillsbury biscuits.
While dumplings are usually a time-consuming from scratch recipe, I've modified this slow cooker recipe to make it easy and painless. And the crockpot is the perfect choice for making comfort food recipes like our Crockpot Olive Garden Italian Chicken.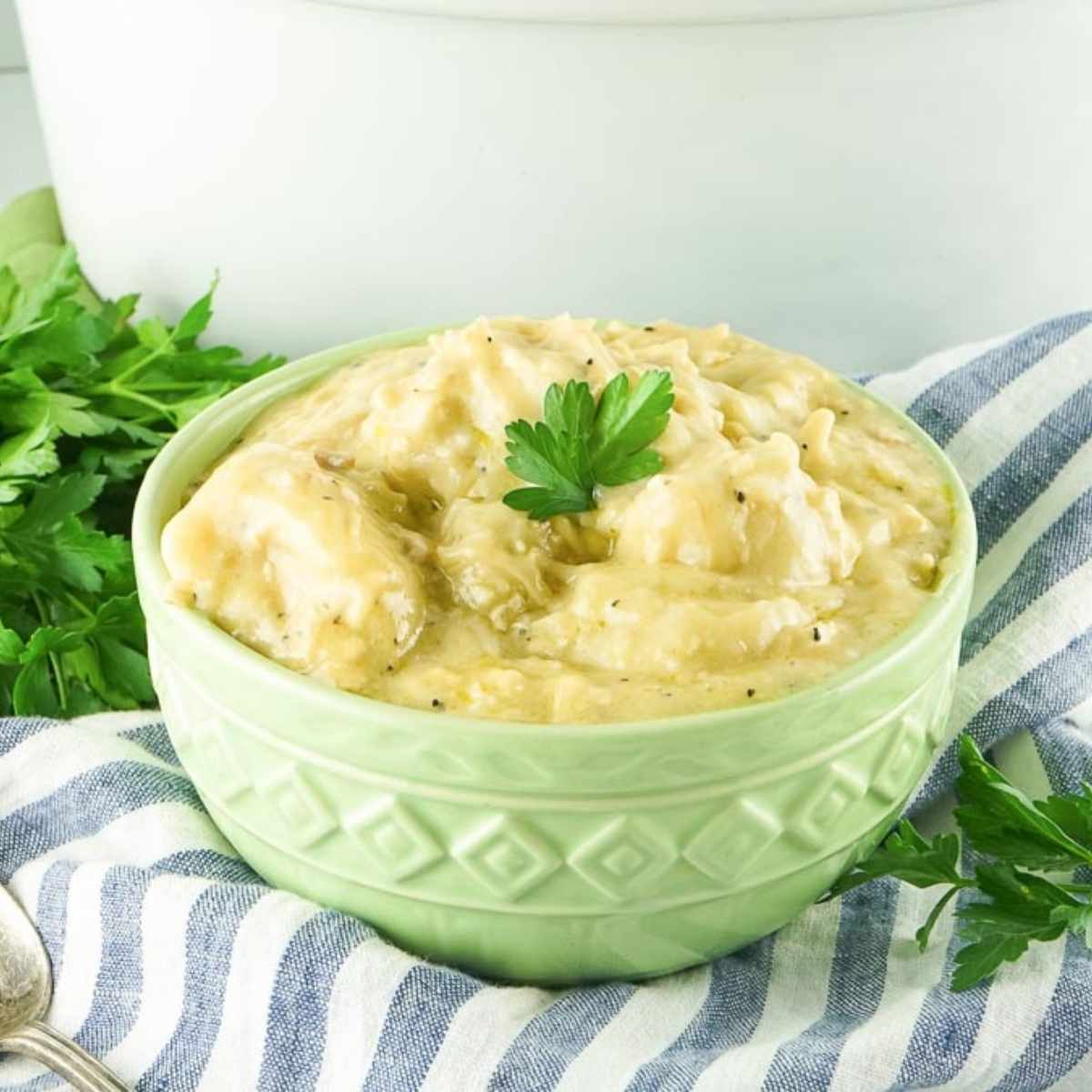 We're sharing tips to help you get the best results with this recipe. If you don't need the tips, scroll to the bottom for the full recipe and a printable recipe card.
With just a few ingredients, canned biscuits, some spices, and pantry staples, you can simply dump them in the crock pot and go! Don't worry, your biscuit dough won't be ruined, because we won't add those in until the chicken has cooked for a while.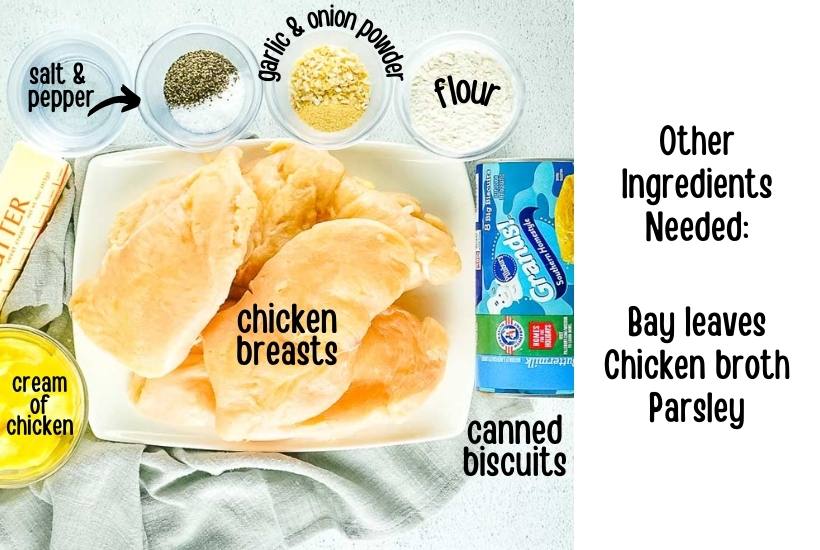 Ingredients Needed for Crockpot Chicken and Canned Biscuit Dumplings
Chicken: I am using boneless skinless chicken breasts, but you could also substitute with skinless thighs if that's what you have on hand.
Soup & Broth: You'll need a couple of cans of Cream of Chicken soup (or use your favorite homemade condensed cream of chicken soup recipe. If needed, swap for Cream of Celery, and don't forget the chicken broth.
Spices: garlic, salt, pepper, bay leaves, parsley (optional)
Butter: use salted or unsalted, it doesn't matter
Onion: swap for dried minced onion if desired
Canned Biscuits: our favorite is the refrigerated Pillsbury Grands
Flour: all-purpose works the best
Get the complete ingredients & directions in the recipe card below.
How to Make Pillsbury Crockpot Chicken and Dumplings
SOUP & SPICES: Lightly grease the crockpot liner with non-stick spray. Add the condensed chicken soup, diced onion, garlic, bay leaves, parsley, salt, and pepper to the crockpot liner and stir.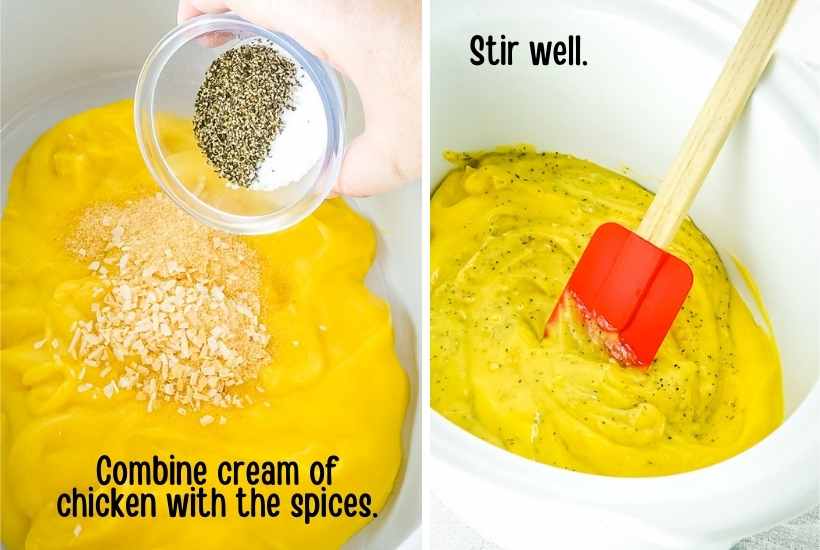 ADD CHICKEN & BROTH: Submerge the chicken breasts into the soup mixture, then place the butter on top. Pour in the chicken broth and place the lid on.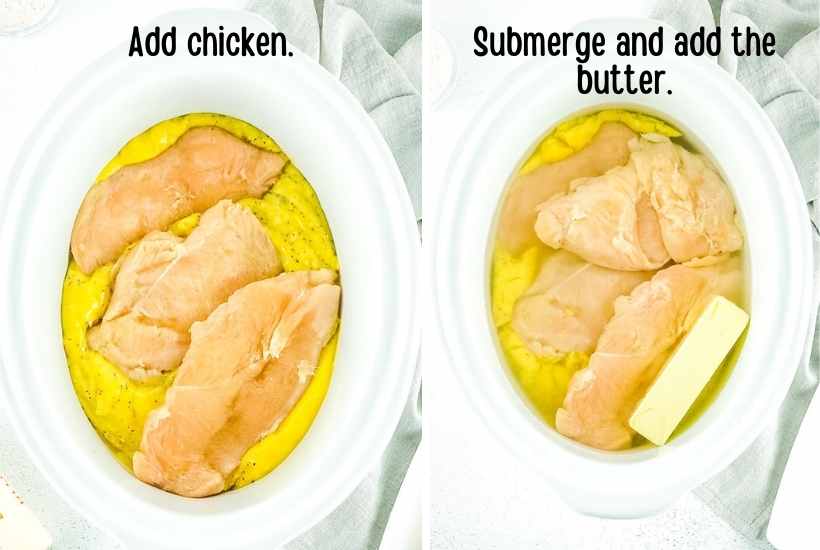 COOKING TIME: Set the timer for 4 hours on High.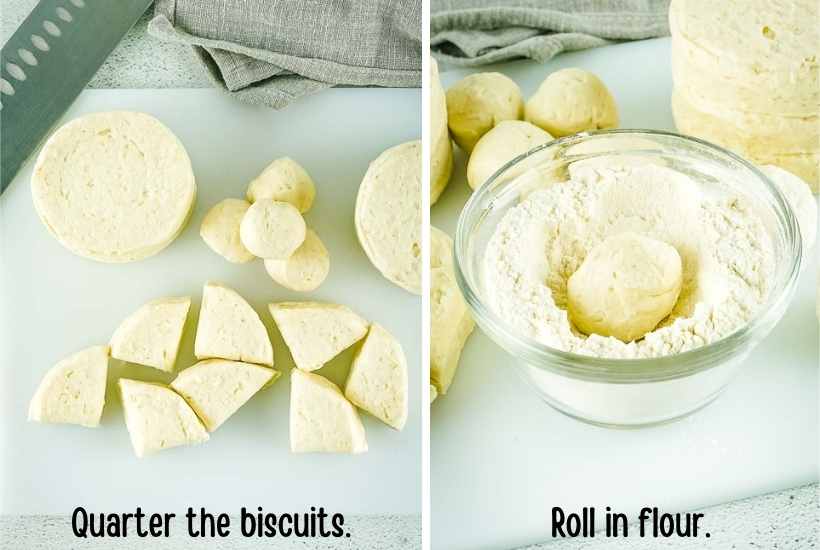 PREPPING THE BISCUITS: When the four-hour mark is approaching, start prepping your Pillsbury biscuits. Cut each biscuit into 4 pieces and roll into a ball shape. Roll them through a little flour until they are lightly covered and gently tapping off any excess. Set aside.
SHRED CHICKEN: Remove the lid from the slow cooker and remove the bay leaves. Take the chicken out and dice into bite-sized pieces or shred with two forks. Return chicken to the pot and stir.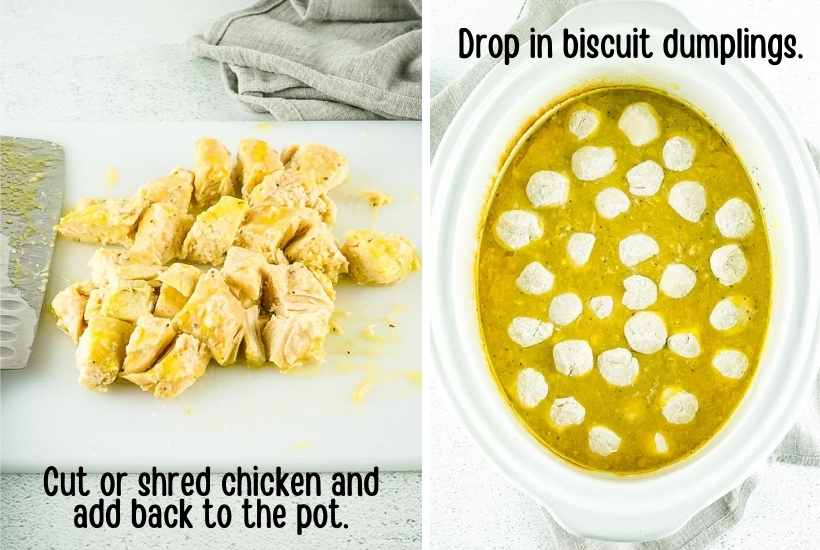 ADD BISCUIT DUMPLINGS: Drop the biscuit dough balls into the crock pot making sure they are covered in the creamy sauce. Cook for another 2 hours or until the biscuits are done.
Tips for Making Biscuit Chicken and Dumplings Like a Pro
As hard as it is, don't peek while the dumplings are cooking. That means leaving the lid on so the cooking process isn't slowed down.
If you need the canned biscuit dough to cook a little quicker, cut them into smaller pieces.
Before the chicken and dumplings are done, when there is about an hour left, I recommend doing a little taste test. Add any additional seasonings or spices if needed.
Need more time? Set the slow cooker on Low and let it go for 8 hours. At that point, start the dumpling process.
We recommend coating the dumplings in flour. Not only does it add a little flavor, it keeps the biscuits from getting too sticky, and it helps to thicken the soup.
When I'm being lazy short on time, I skip coating the dough with flour. Just cut the biscuits in quarters and layer the dough on top of the chicken mixture. If you do this, we recommend placing a clean dish towel between the lid and the crockpot to keep condensation from dripping on the biscuits. The dumpling texture is a little different but they still taste great.
Use a disposable liner instead of non-stick spray to make the clean up process even easier.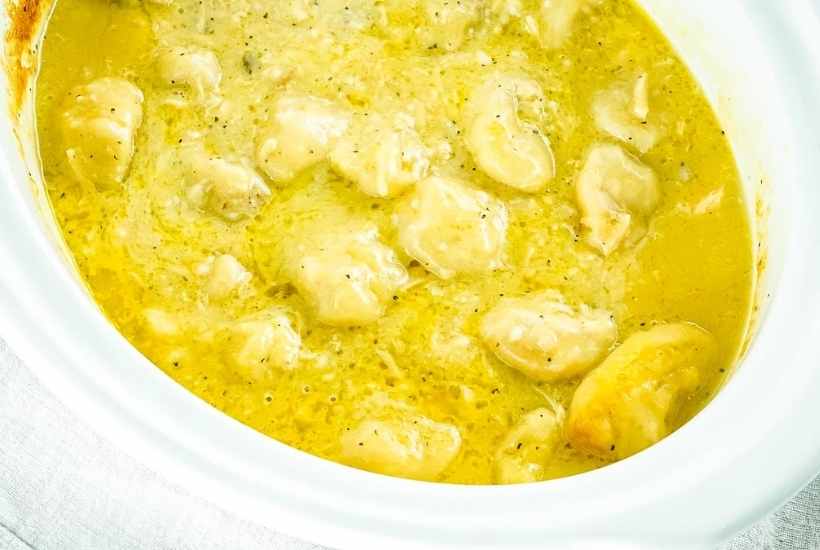 Slow Cooker Dumpling FAQs
Can you overcook dumplings in a slow cooker?
Yes. Once you add the dumpling to the pot, don't let them cook for too long. Overcooking the dumplings will turn them to mush, which is not the texture you want for chicken and dumplings.
How do you thicken chicken and dumplings?
If your mixture is looking a little thin after the dumplings have cooked about 3/4ths of the way, you can add a cornstarch slurry to the mixture to thicken it up a little.
Using a 1:1 ratio, mix a little cornstarch with a couple of tablespoons of cold water and whisk together. Pour the slurry into the pot, gently stir and continue cooking a little longer.
Can I freeze leftover chicken and dumplings?
We rarely have enough leftovers to warrant freezing but yes, you can. After completely cooling, transfer to a freezer-safe container or bag, where they'll stay fresh for 2 to 3 months.
Can I use a rotisserie chicken?
Yes! Since rotisserie chicken is already cooked, you can reduce the cooking time.
What can I use instead of canned biscuits?
Frozen biscuits: Allow them to thaw completely before using. It would be best to thaw them in the fridge overnight.
Refrigerated crescent roll dough works well. This dough tends to cook a little faster because it's not as dense as biscuit dough.
If you have a box of Bisquick, there is a recipe on the back of there for dumplings. Of course, you'll have to do a little rolling.
Last but not least…from scratch dumplings like your grandma makes.
Can you add other vegetables?
Sure can! If you choose to add celery, carrots, corn, or other veggies do so when you add the onion in. You may want to add a little extra broth as well depending on the quantity of vegetables you add.
Use frozen or fresh if possible. Canned vegetables get a little mushy when cooked for this long.
How long do crockpot chicken & dumplings keep?
When properly stored in the refrigerator they will last 2 to 3 days after making. To reheat, pour them in a pan on the stove and heat them on low until heated through. You can also microwave individual servings.
What to Serve with Easy Chicken & Dumplings
More Slow Cooker Recipes You'll Love: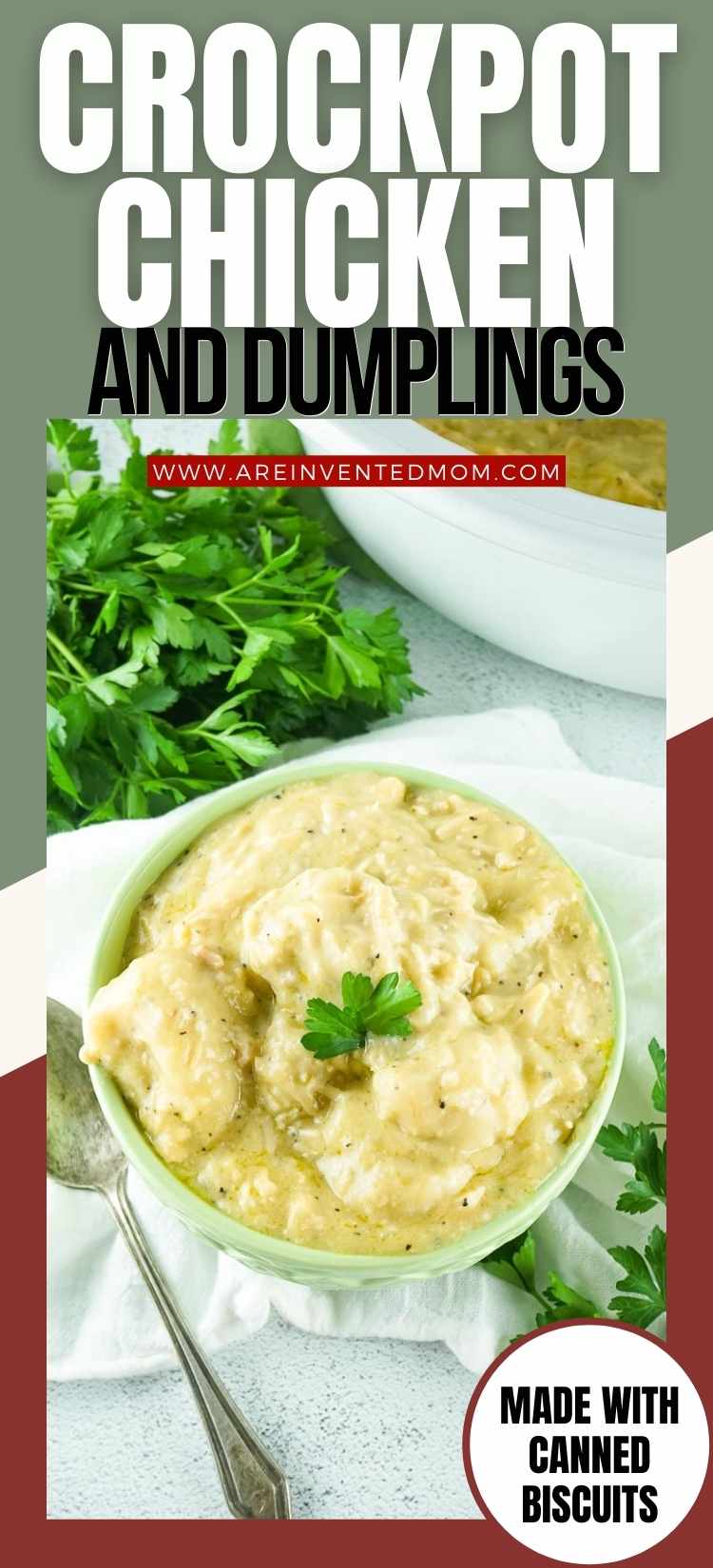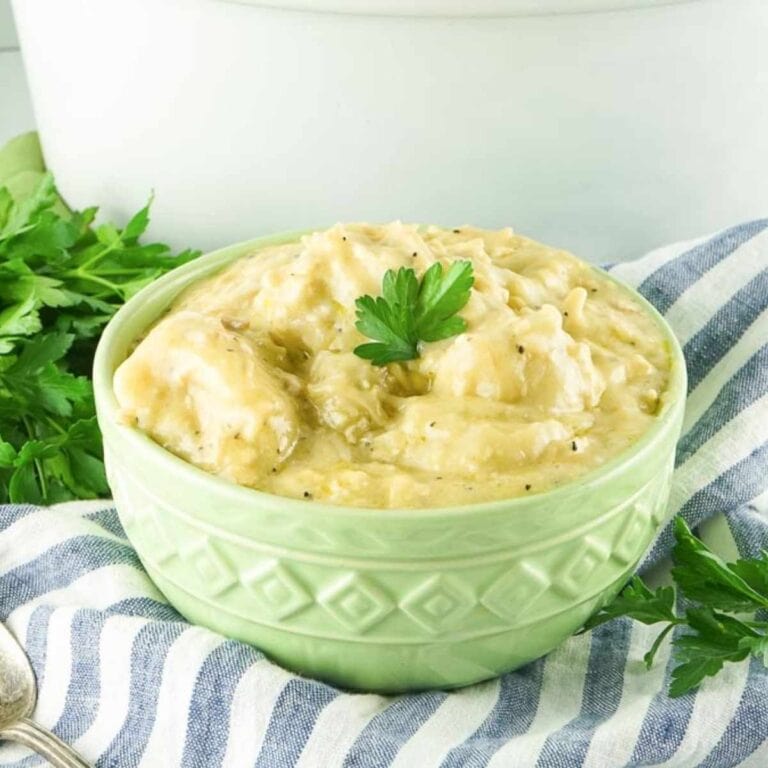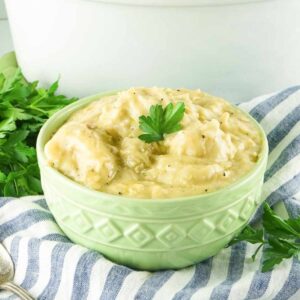 Simple Crockpot Chicken and Dumplings with Canned Biscuits
These Crockpot Chicken and Dumplings are easy to make and you don't need to roll any dough because we are using canned Pillsbury biscuits. 
Print
Pin
Rate
Ingredients
4

large

chicken breasts

,

boneless skinless, about 3 pounds

2

cans

Cream of Chicken soup

,

10.5 ounces each

1/2

medium onion

,

chopped (or 2 Tablespoons dried minced onion)

1 1/2

teaspoons

granulated garlic

2

bay leaves

1 ½

teaspoons

dried parsley

,

optional

1

teaspoon

Kosher salt

1

teaspoon

coarse black pepper

2

cups

chicken broth

5

Tablespoons

butter

1

can

Pillsbury Buttermilk Grands Biscuits

,

16.3 ounces

½

cup

all-purpose flour
Instructions
Spray the crockpot liner with non-stick spray or use a disposable liner.

Combine the cream of chicken soup, onion, granulated garlic, bay leaves, parsley (if using), salt and pepper in the crockpot liner. Stir well.

Add the chicken, pushing the pieces into the soup mixture until covered. Add the stick of butter. Pour the broth in and place the lid on the crockpot.

Cook on High for 4 hours.

As it's coming up on the 4-hour mark, slice each biscuit into 4 equal pieces. Roll the pieces into a ball shape, then roll them in the flour until coated. Set aside.

Remove cooked chicken and bay leaves from crockpot. Discard bay leaves. Slice the chicken into bite-sized chunks or shred with two forks. Return chicken to slow cooker and stir to coat.

Drop the biscuit balls into the crockpot, pushing them into the sauce mixture. Cook for an additional 2 hours, or until the biscuits are cooked through (check at the 1 hour mark & adjust cooking time if needed).
Notes
Taste the sauce about an hour after you add the dumplings. Add additional seasonings if desired.
If the sauce looks a little thin after the dumplings have cooked add a little cornstarch slurry to thicken it up. Use a 1:1 ratio.
Serving size is about 1 cup.
Use a disposable crockpot liner for easy cleanup.
Use a 6-quart or larger slow cooker.
Refrigerate leftovers for up to 3 days. Reheat in a pan on the stovetop.
Nutrition
Calories:
473
kcal
|
Carbohydrates:
40
g
|
Protein:
31
g
|
Fat:
21
g
|
Saturated Fat:
7
g
|
Polyunsaturated Fat:
5
g
|
Monounsaturated Fat:
7
g
|
Trans Fat:
1
g
|
Cholesterol:
96
mg
|
Sodium:
1307
mg
|
Potassium:
833
mg
|
Fiber:
1
g
|
Sugar:
3
g
|
Vitamin A:
579
IU
|
Vitamin C:
2
mg
|
Calcium:
52
mg
|
Iron:
3
mg
Nutritional information is provided as a reference, using an online calculator. We recommend verifying the information independently for accuracy.