Would You Rather Game – Halloween Ideas for Tweens
Disclosure: This post may contain affiliate links. When you click on a link and/or make a purchase, I may be paid a small commission at no additional cost to you. Additionally, as an Amazon Associate I earn from qualifying purchases. Please read my Disclosure page for more information.
If you're a parent of tweens or teens, no doubt the way you celebrate Halloween has changed a lot over the years. First, it was more of a children's holiday with trick or treating and class parties.
Now, many teens don't even bother to dress up in costumes anymore because they're busy with other activities like school clubs and extracurriculars.
In this post, I have some fun ways to make Halloween for Tweens fun! And if you're looking for more ideas, check out Unforgettable Halloween Party Ideas for Tweens and Teens.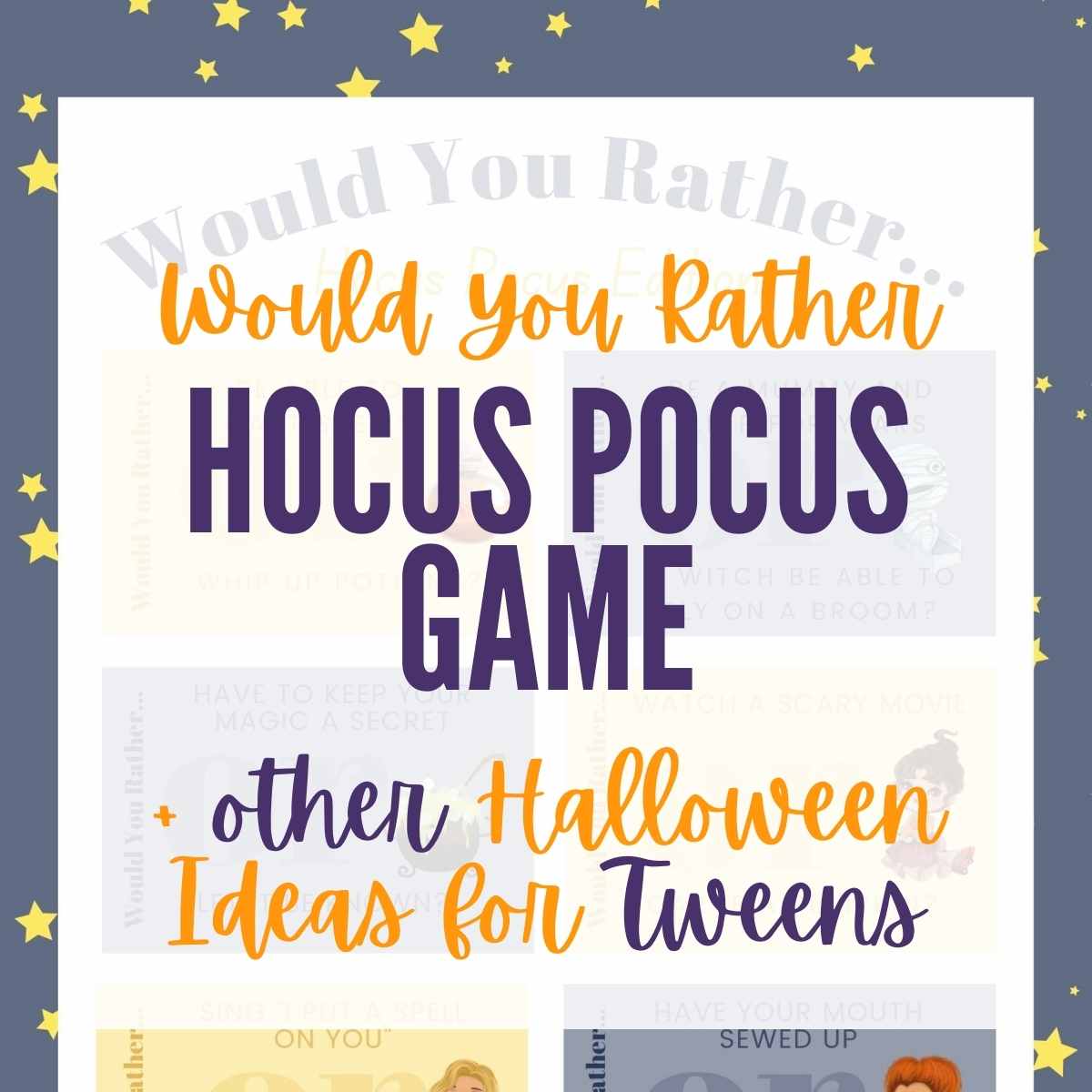 Just because your kids are too old to trick or treat, it doesn't mean that Halloween is no longer fun. In fact, there are plenty of ways to have a good time on All Hallows' Eve without going door-to-door looking for candy or wearing an over-the-top costume.
Don't leave without checking out 70+ Easy Halloween Party Recipes & Decorations that will make Halloween party planning so much easier! And if you're looking for fun this to do on the cheap this Fall, check out Fall Bucket List Ideas for Broke People.
I also have a FREE Printable Hocus Pocus Bingo Game that's fun for the entire family. It's an interactive way to watch this classic Halloween movie.
Teen-approved Halloween Ideas
Visit a local pumpkin patch to pick out your own jack-o'-lantern.
Find fun attractions like corn mazes and free hayrides – it's a great outing for the entire family.
Visit a local apple orchard with cider and donuts, then go pick out your own apples. This is an especially good option if there aren't any pumpkin patches near you.
Take the kids to a haunted house that is appropriate for their age.
Throw a Halloween party with plenty of creepy snacks and themed drinks and prizes for creative costumes – think scariest, best makeup, or even best Halloween theme.
Make and eat lots of delicious treats made with pumpkin, like pies, breads or cheesecake.
Create a Halloween charcuterie board filled with your favorite spooky treats.
For a fun at home activity, make a batch of ghostly chocolate covered strawberries.
Have a Halloween movie marathon where you can watch The Nightmare Before Christmas or Hocus Pocus (grab the FREE Disney Halloween Movie printable). If your kids are old enough you could even watch a real screamer of a movie like Nightmare on Elm Street or Child's Play.
Halloween Snack Ideas and Treats
Below are some of my favorite treats to serve during fall and around Halloween!
Halloween Would You Rather for Tweens
One of my favorite things to do is start a conversation at dinner, using questions that are silly but get the kids talking. And the best part is it's perfect for families with younger to older kids.
This Halloween Would You Rather: Hocus Pocus Edition is the perfect way to ask fun questions and start a healthy debate about the way people answer. It's a great way to get a peek into how your family and friends think too!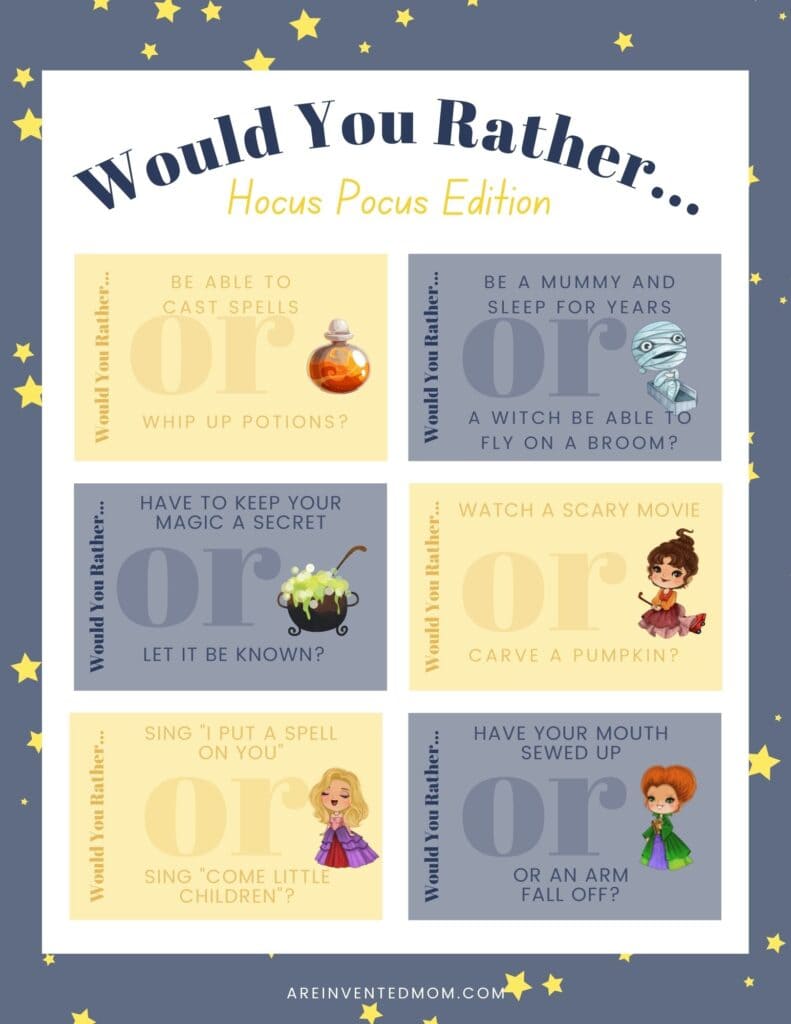 It's easy to use (just download the pdf), print it out on heavy cardstock, and set them on the table for the kids to choose and answer.
Let each person tell their answer to see what each person thinks and even encourage a healthy discussion of why they choose the answers they do.
The questions are fun and really have no right answer, so answering is just good old fun and laughter. Pair the game with a Hocus Pocus-themed meal and watch the movie for a whole night of fun with your teenagers.
The possibilities are endless! There are so many fun things to do on the holiday that don't entail having to wear a costume or going from house to house asking for candy.
No one says you have to do anything you don't really want to, so feel free to celebrate Halloween your own way with your tweens!
How did you celebrate Halloween when you were younger? What are your plans this year?
Let us know in the comments below and happy Halloween!
Looking for another fun Halloween activity for the whole family? Grab our Hocus Pocus Movie Printable Bingo Boards for free!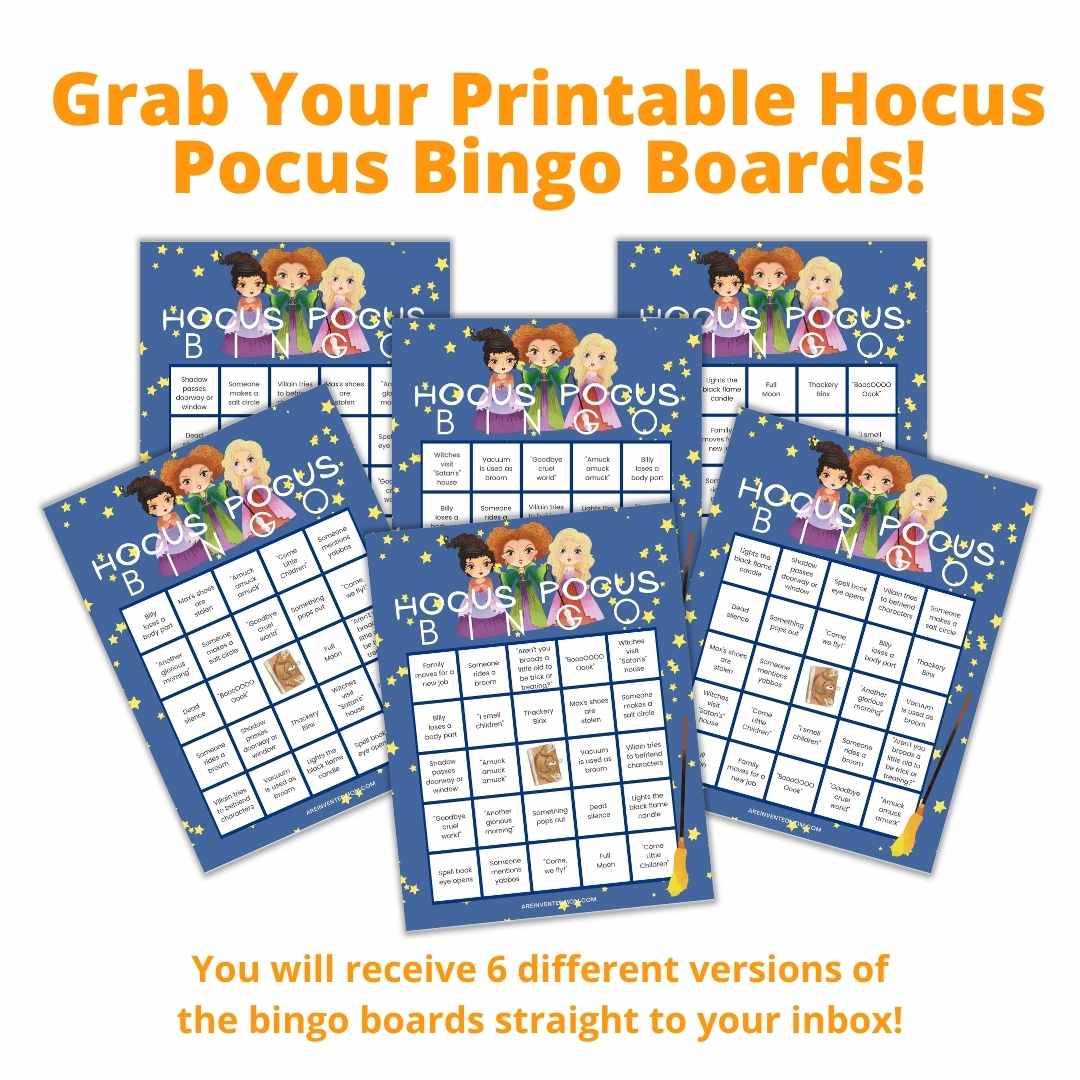 If you're lucky enough to visit Disneyland during the spooky season, check Disneyland Halloween (Everything You Need to Know!) for our best tips.