How to Throw a Killer Taco Bar Party (Easy Party Idea)
Disclosure: This post may contain affiliate links. When you click on a link and/or make a purchase, I may be paid a small commission at no additional cost to you. Additionally, as an Amazon Associate I earn from qualifying purchases. Please read my Disclosure page for more information.
One of the easiest ways to host a celebration is to have a taco bar party. This simple concept is a hit with everyone, thanks to the ability to customize your plate. And, because it's tacos people!
And the best part? It doesn't require a lot of extra work in the kitchen.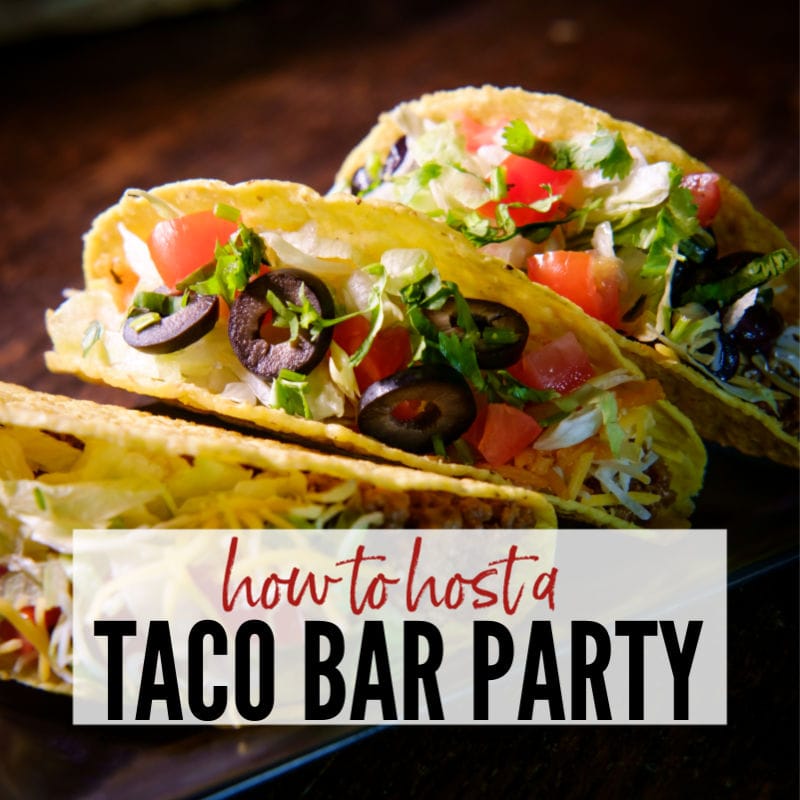 For your next social gathering, take the hassle out of planning with a quick-and-easy taco bar. I'll get you organized with details about how to throw a festive bash, including several taco bar ideas that are budget-friendly and easy to implement.
You'll satisfy even the pickiest of eaters with a delicious menu stuffed with various dishes guaranteed to satisfy any taste buds.
Here's how to host a festive taco party that everyone will love.
Why a Taco Bar Party is a Great Way to Entertain
Who doesn't love tacos? In addition to being easy to make and fun to eat, they are easy on your wallet.
And each person can put together their own delicious plate, creating the perfect bite for your next party.
If you're looking for an impactful menu for your next get together, then you'll love the taco bar party. Hosting a party is stressful enough, and since the prep is simple with tacos, you can make most of the fillings and sides ahead of time.
Tacos also take the headache out of meal planning for the party. When guests have the option to customize their own plate, they'll be fully satisfied.
Taco Bar Party Ideas
Hosting a taco bar for a party allows guests to get fully fed without busting your budget. And taco bars are a suitable option for all kinds of gatherings.
A few of my favorite taco party ideas are:
Birthday parties
Tailgate parties
Team dinners
Wedding rehearsal parties
Potluck parties (you provide the taco bar, guests provide the sides)
Bridal and baby showers
Father's Day
Taco Tuesday dinner
Keep the menu simple for larger groups of adults and kids. If you're just hosting adults or a small group of people, take advantage and create a more adventurous menu.
For a standard dinner menu, plan on around 3 tacos per guest. If you're hosting a group of ravenous teenagers you'll want to up that to 4 or 5 tacos per teen.
Taco bar parties are a super affordable option when you're hosting a party in mid-afternoon. You can plan on less food since you're in between meals.
Can I Make the Taco Fillings Ahead of Time?
Most taco proteins can be prepared days (even weeks) ahead of time. For extended storage, cooked ground beef and shredded chicken, beef or pork all freeze beautifully.
Package the cooked meat in airtight zipper bags to store in the freezer (don't forget to label the bags before freezing). The day before the party remove your proteins and allow to thaw in the refrigerator. All that's left is to heat the fillings before the party.
I recommend prepping the produce toppings the day of the party for maximum freshness and best appearance. You can prep the fresh fixings in the morning and store in the refrigerator until party time.
Come Up with A Mouth-Watering Menu
Step one for planning an amazing party is to come up with a tasty menu. Start with the main filling, then decide on fixings and lastly the side dishes.
Just one or two main fillings will compliment an array of fixings and a few sides just about perfectly.
It's important to consider any dietary restrictions your guests may have (ie provide a veggie filling option if you've got vegetarian friends or a low carb option like my Homemade Taco Salad recipe), but there's no need to go overboard – especially for bigger events.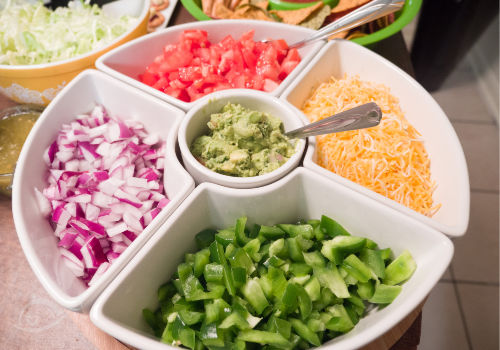 Choose the Right Fillings
Seasoned ground beef is the best budget-friendly taco bar filling. However, there are more filling options you can provide.
A few ideas for taco fillings include:
Use my Homemade Taco Seasoning Mix to season ground beef, chicken and shredded beef fillings.
For larger gatherings, keep it to one or two filling options for the least hassle. Just prepare double and triple batches of 1-2 meats – it's a huge timesaver.
If you're planning a smaller, more adventurous event, you can opt to make smaller amounts of several fillings or use a potluck style theme to serve more variety.
Don't Forget the Fixin's
Provide plenty of topping options to build your own delicious treat at your taco party. These ingredients pair well with tacos:
A variety of tortillas: corn, hard shell, and small flour tortillas
Red or green salsa
Fresh chopped onion
Shredded cheese: Mexican blend, cotija, Monterey Jack, or cheddar
Pickled jalapenos
Chopped lettuce
Tomato
Fresh chopped cilantro
Lime wedges
Guacamole
Sour Cream
Corn with fresh lime
Diced pineapple for pork fillings (canned works great)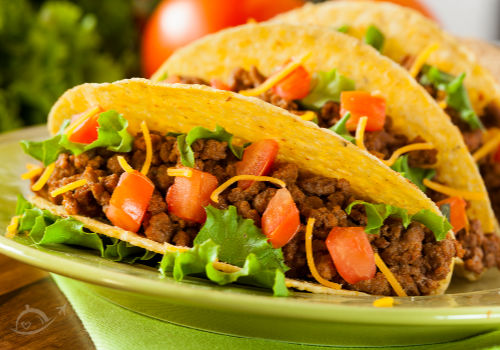 What to Serve with Tacos
Serve up an array of delicious side dishes for tacos. The sides should complement the bright flavors of the tacos.
Classic sides include Mexican rice, refried beans, Fiesta Salad, chips and salsa, as well as guacamole.
For a more adventurous menu go for fried plantains, a bright citrus salad, homemade queso dip, or even homemade churros.
How to Set up Your Taco Bar
Keep tortillas warm by lining a slow cooker with a damp towel and wrapping up the tortillas in foil. Keep the slow cooker on warm.
Alternatively, you can purchase a tortilla warmer (either a cloth warmer or a potholder style will do).
Keep meats warm by either using a crockpot or putting a Sterno can under a disposable foil container.
I like to serve up the toppings in individual bowls for easier service. A divided serving tray works well, too.
For colder items, use a fun inflatable cooler to keep the ingredients at the proper temperature. Alternatively, you can use 2 disposable foil trays – fill 1 with ice & set the 2nd tray on top. Arrange the toppings in the top tray and fill in with more ice.
You'll want to put some thought into how you set items on the serving table for the best traffic flow. This is particularly important for larger parties. I like to set the table in the following order: tortillas, fillings, toppings with salsa and sour cream at the end of the table.
Set the Mood
Now that you've got the perfect menu, it's time to set the mood with a few quick-and-easy preparations. Start with colorful and festive serving dishes to create a lively vibe.
Use fresh flowers, bright napkins, or other colorful decorations to create a festive tone. You don't need to go all out and spend a lot of money, but instead, select a few items to add to the taco table. Some uplifting music can help set the mood, too.
Use Leftovers for Party Favors
If you have more leftovers than you can use, don't let them go to waste. Encourage guests to bring their own plastic containers so they can take tacos to-go. This is a great, useful party favor that doesn't create waste. And boxing up the leftovers also helps with the cleanup.
Throw an excellent taco bar party bash for your family's next celebration. Create a quick-and-easy menu to feed your hungry guests.
This budget-friendly, festive feast brings is a hit with adults and kids alike. With minimal prep work, you can focus your efforts on the other party planning details.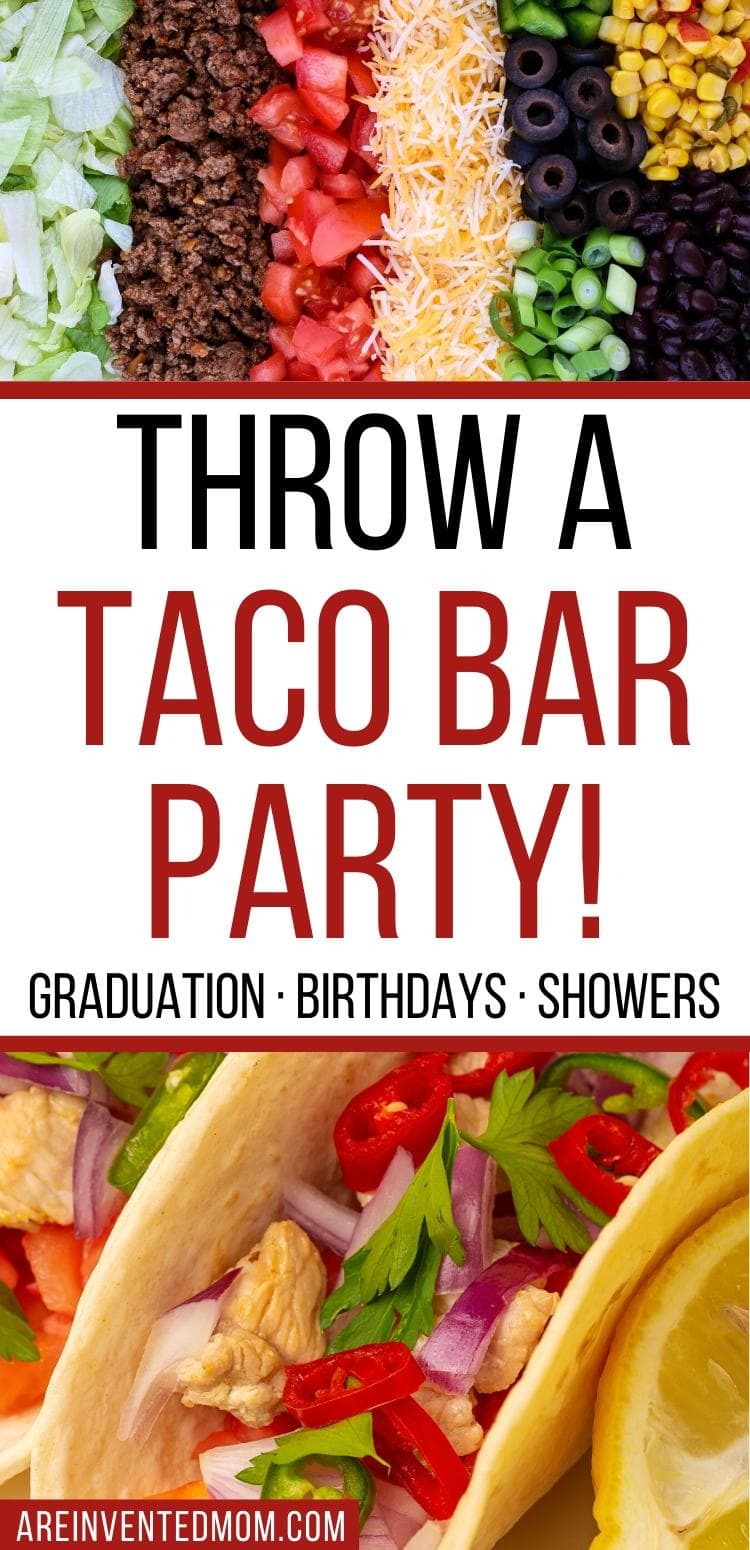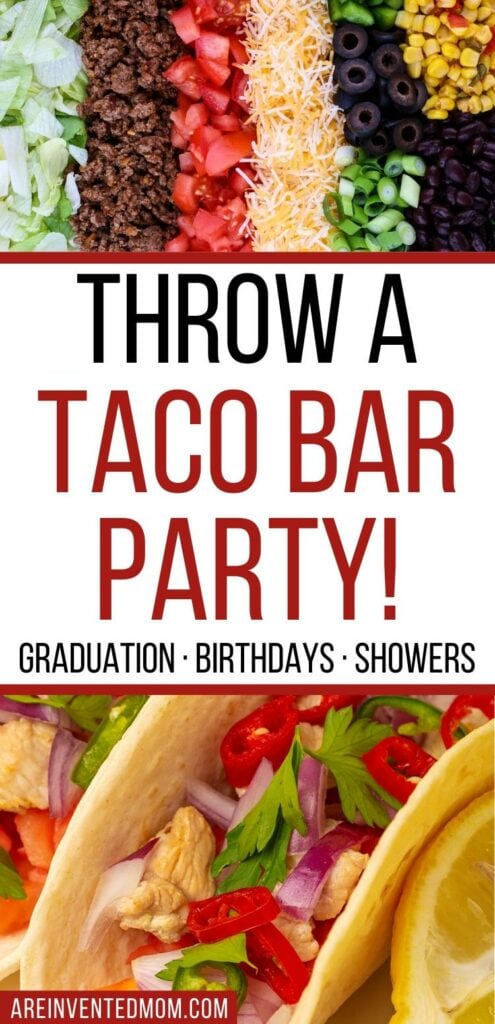 More Mexican Food Ideas