Unforgettable Halloween Party Ideas For Tweens & Teens
Disclosure: This post may contain affiliate links. When you click on a link and/or make a purchase, I may be paid a small commission at no additional cost to you. Additionally, as an Amazon Associate I earn from qualifying purchases. Please read my Disclosure page for more information.
Planning a Halloween party for your tweens and teens this year? These party ideas will ensure an unforgettable experience for your older kids.
Halloween is one of the most popular holidays in the U.S., and for good reason! It's a spooky yet fun time that kids and adults alike enjoy.
When it comes to tweens and Halloween they are in a sort of transitional phase. While they can still go trick or treating, some may feel that it's too childish and prefer a different activity. Like a Halloween party.
Hosting a Halloween party for your tweens and teens is a great alternative to trick or treating. And it's a fun way for them to get to dress up without feeling too much like a little kid.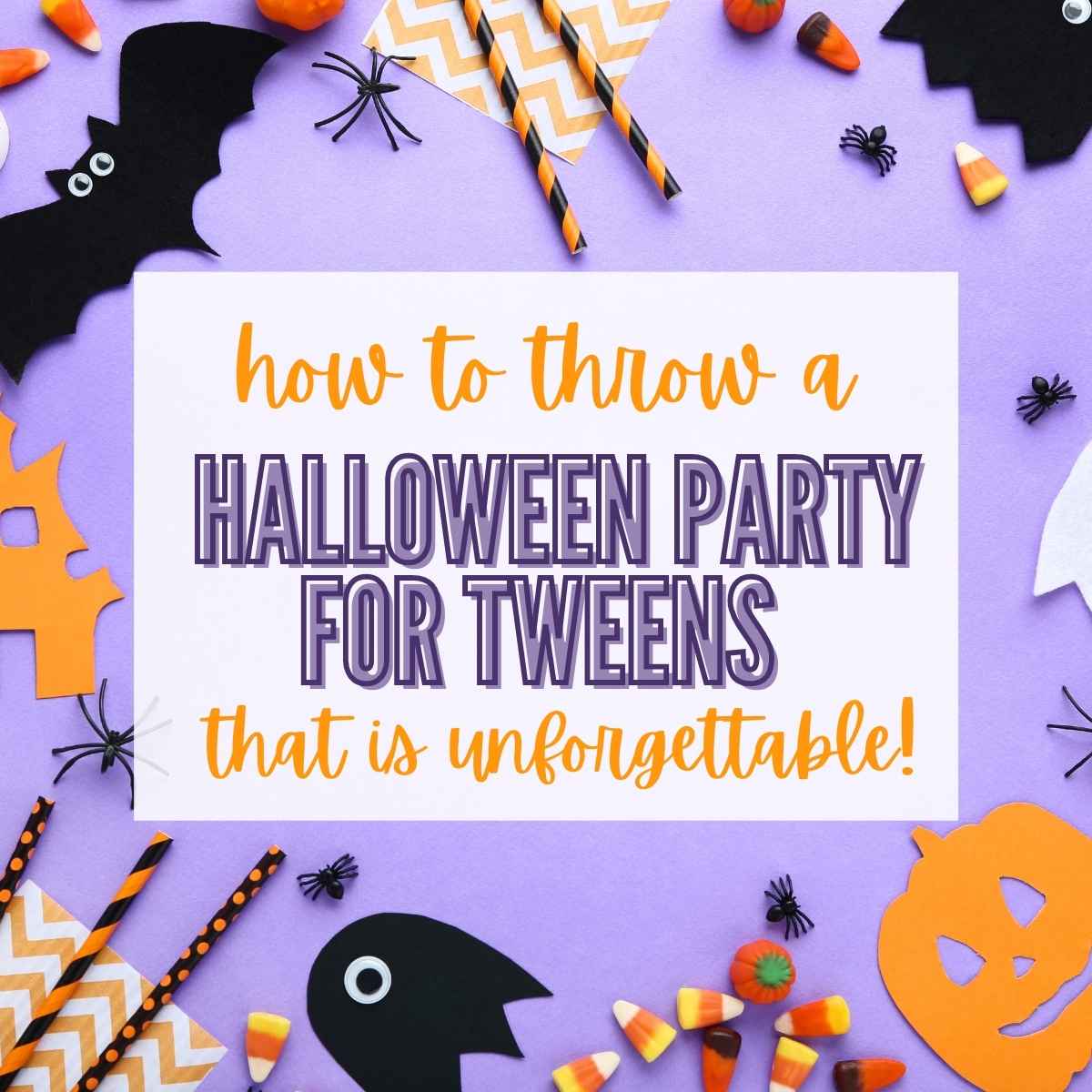 When it comes to actually planning the party, the pressure is on to come up with something that is not lame in the eyes of 11 and 12-year-olds. And we've got you covered!
If you're looking for some creative ideas on how to host a party your tweens and teens will love, then read on. We've got everything you need in this blog post:
Tween & Teen Approved Halloween Party Theme Ideas
Fun Spooky Food & Drink Ideas That Tweens Will Love
Tween Friendly Games & Contests Ideas
Get Your Tween & Teen Involved In The Party Planning
The best way to make sure you throw a party that your older kids approve of is to get them involved. Ask them about themes, games, or other activities they would like to do. Have them help with the planning and prepping.
A middle schooler's worst nightmare is being seen as lame or uncool in front of their friends. So it's important to listen to what they tell you they need or want.
And especially what they don't want.. even if you think it's cool.
Plan the ultimate Halloween party with our printable planner – over 20 pages!
Tween & Teen Approved Halloween Party Theme Ideas
Classic Haunted House
If you and your tween decide on a classic scary approach, the Haunted House theme will be perfect for your party! You can adorn your house with cobwebs, fog machines, and scary lights.
Skeletons, zombies, and ghosts should be the main perpetrators in your spooky indoor and outdoor decorations. Let your tween help you decorate and create the haunted atmosphere. You want to make sure that it is just scary enough so that everyone feels comfortable in this setting.
Alien Invasion Theme
For the tweens, teens and parents who are burnt out on the ghosts and ghouls, this theme allows you to express your creativity in a fun manner. And it's still a great theme for a Halloween party.
You and your tween can dress as marooned astronauts or alien invaders and turn your home into an alien world. Using tin foil, black lights, crashed rockets, and UFO decorations you can make it look as though your guests have crashed into a new planet!
Witches and Magic Party
For tweens who may be averse to the scary side of the holiday, a fun option is a Witch and Wizard-themed party. You can decorate with floating candles, fog, cobwebs, etc. but no need for any unnecessary scares.
With this theme, you can use cauldrons for your party drinks. Or have a potion-making contest with dry ice (adult supervision recommended)!
Scary-tales Party Theme
A unique party theme for your tweens and teens is to reinvent classic fairy tales into a Halloween theme. You can have a scary Red riding Hood and the Big Bad Wolf. Or you can turn your house into the witch's home from Snow White, complete with poison candy apples.
You and your tween can have full creativity on reimagining childhood movies into a scary theme for your party. You could even take a classic favorite of your child's and help to put a spooky spin on it. Check out 30 Disney Halloween Movies with FREE printable for inspirations.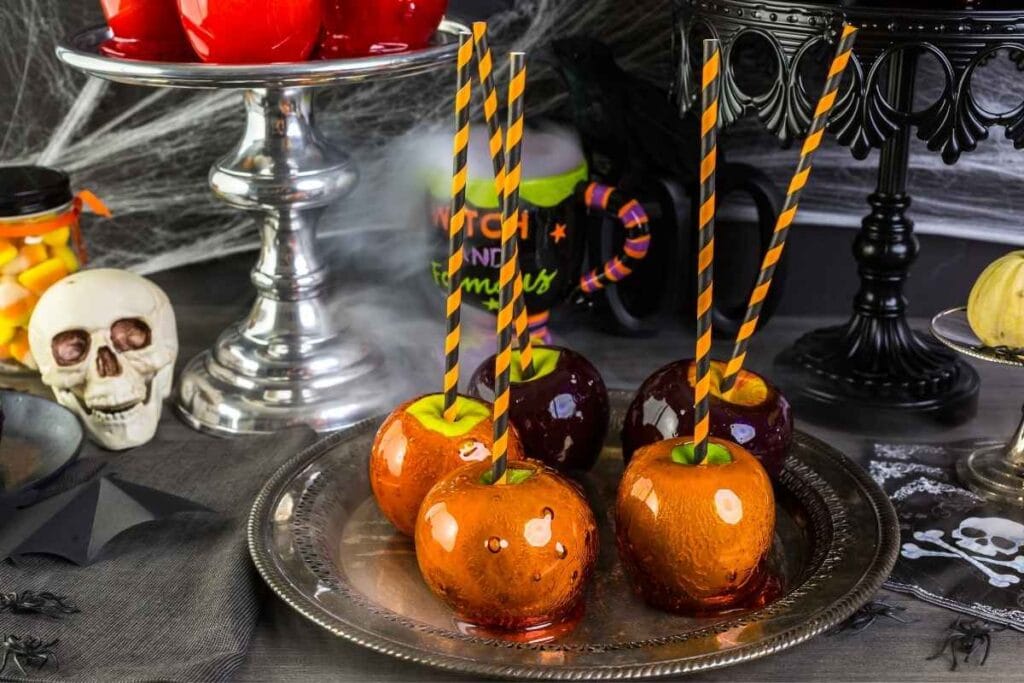 Fun, Spooky Halloween Food & Drink Ideas That Tweens & Teens Will Love
Poison Candy Apples
Just because this idea comes from a children's movie doesn't mean it has to be lame for your tween. Candy apples are a creative addition to any Halloween party, especially a witch theme.
You can make these in a variety of ways. The easiest way is to take a regular candy apple recipe and add black or dark purple food coloring to the coating. This results in a glossy black apple that looks as evil as it is delicious.
Take this one step further and emulate the movie apple by melting white chocolate with green food coloring and creating the classic skull on top of the candy apple.
Halloween Charcuterie Board
Serve a spooky Halloween Charcuterie Board filled with holiday treats. This is easy enough you can let your older kids create the board.
And you can sneak in a little fruit with these Halloween Chocolate Covered Strawberries. To turn this into a fun activity, set up a decorating station so your guests can decorate the berries.
Severed Finger Cookies
This is a fun treat that only requires a basic cookie mix recipe, finger-shaped cookie pan or cookie cutters and cookie decorations. After you bake your cookie fingers, you and your tween can have a blast decorating them to look as weird or scary as you want them.
Coat the cooled cookies in icing to have them appear zombie-like. Or wrap them in white fondant if you want them to look like mummy fingers. You can use red cake gel or strawberry jam as fake blood on the bottoms of the fingers.
Dry Ice Punch
A fun feature at Halloween parties is smoky drinks. You can use a regular punch bowl or buy a themed bowl like a witch's cauldron, a skull or beakers.
The safest way to use dry ice with drinks is with a punch bowl and in a well-ventilated area. Fill the punch bowl with your drink of choice and carefully place the dry ice in the punch bowl.
The dry ice will sink to the bottom of whatever liquid is put in. Remember to scoop the punch off the top of the bowl so you don't serve any of the dry ice. I recommend having an adult on hand to serve if you use this spooky drink idea.
Brain Shaped Cake or Jell-O
A nice centerpiece for a Halloween zombie or monster theme is a brain cake or brain Jell-o. The cake can be made with a brain mold cake pan, and the Jell-O version can be made with a similar mold.
To make it creepier, fill the brain cake with strawberry jam to look like blood and cover the outside in pink icing to make this an extra exciting treat. For a zombie's brain, use green icing and add in some gummy worms and crushed chocolate cookies for a "risen from the dead" effect.
For the Jell-O brain, you could use green, red, or even a blue mix for an alien theme. If you'd like to add to your alien theme, mix tonic water with the blue Jell-O mixture to make it glow under a black light.
Looking for a fun Halloween activity for the whole family? Grab our Hocus Pocus Movie Printable Bingo Boards for free!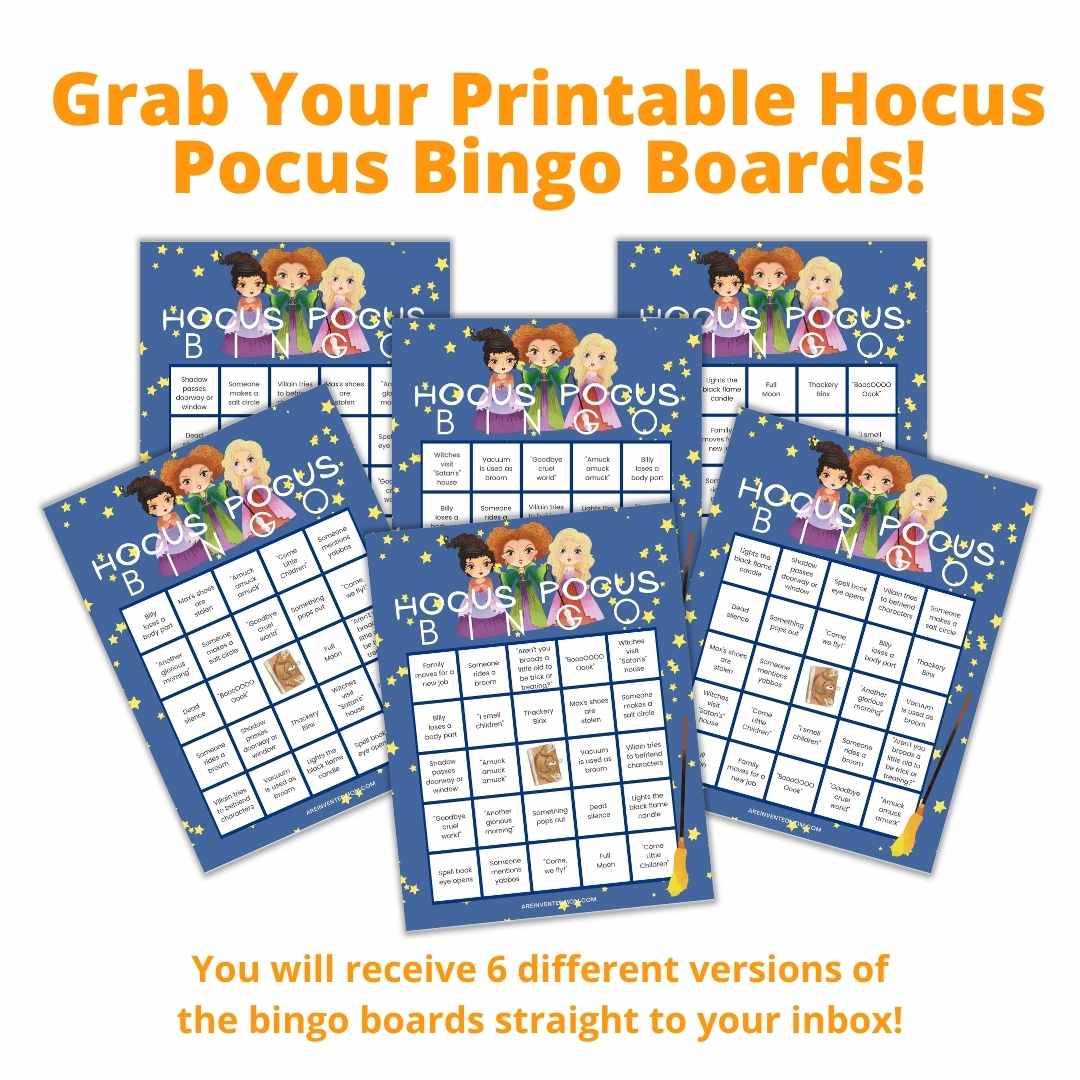 More Halloween Party Treats and Snacks Tweens Will Love:
Tween-Friendly Halloween Games & Contests Ideas
Classic Costume Contest
While the costume contest is an oldie but goodie, it's still a fun way to get your tweens, teens and their guests into the spooky spirit! The best way to set up this contest is to assign different categories to each guest.
Use categories like funny, scary, and cute. Or get creative and come up with categories that specifically relate to the party theme.
Have different prizes or ribbons for winners in each category. You could also have a grand prize for overall best costume.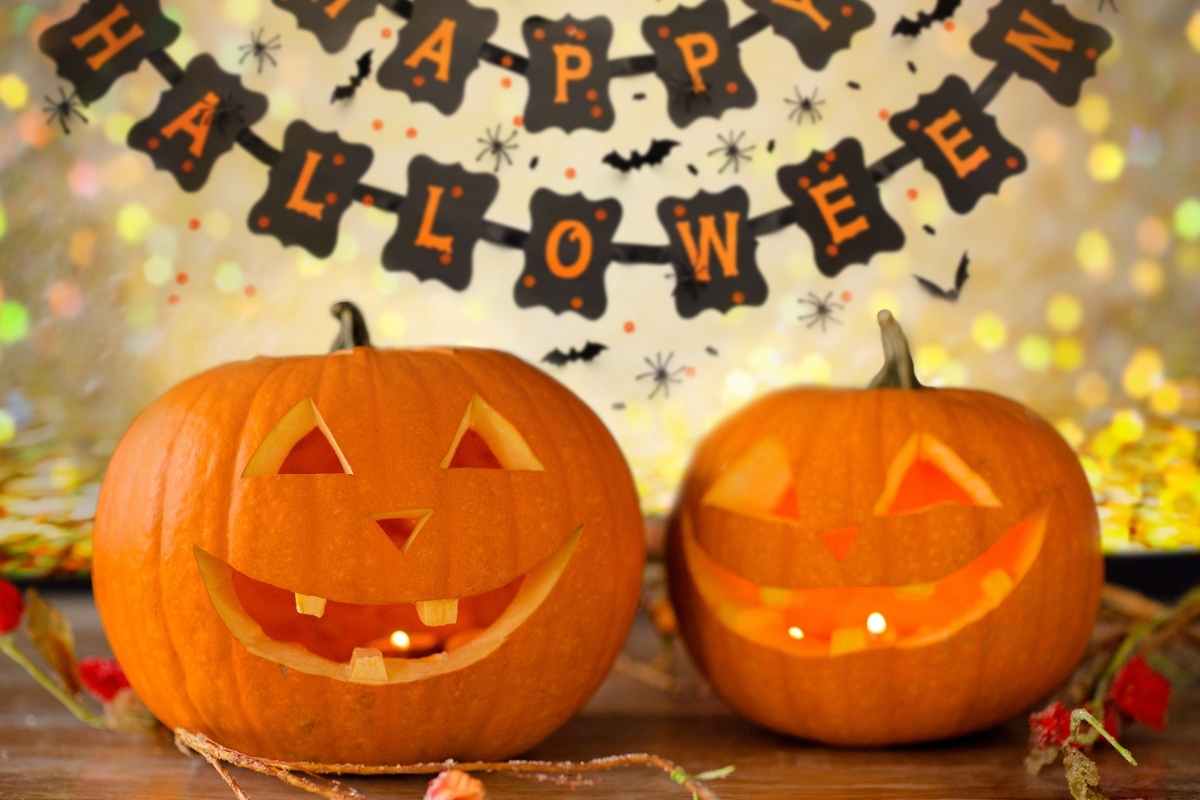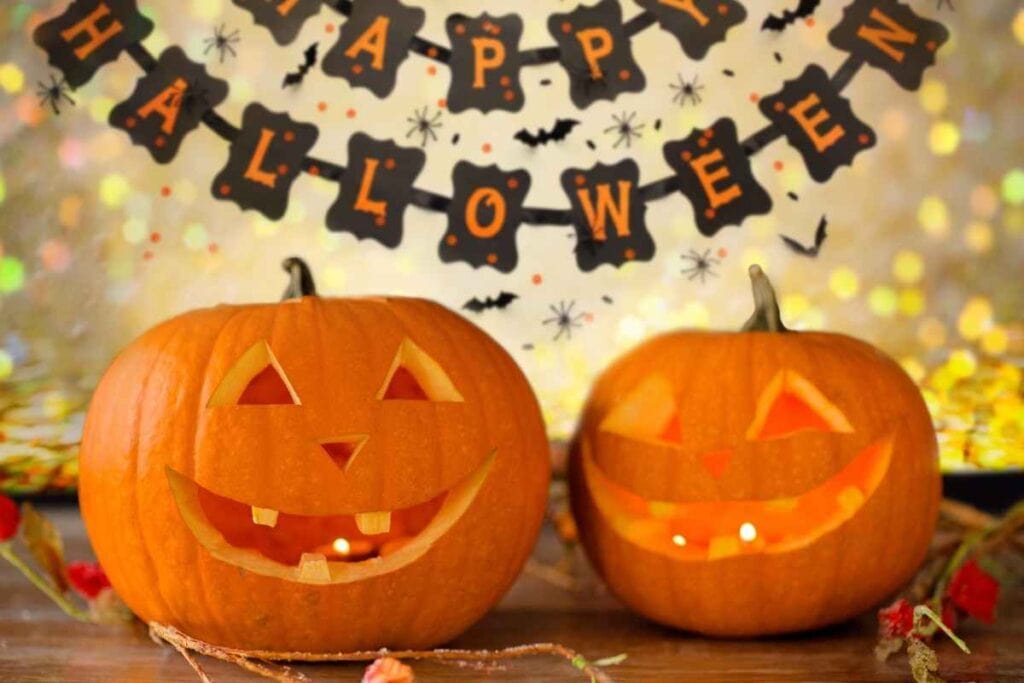 Best Jack-O-Lantern Contest
A way to let your tween and guests express their creativity during the spooky season is to host a pumpkin carving contest. Much like the costume contest, you can create categories such as funny, scary, cute, or classic.
If you don't want to mess with pumpkin carving, give pumpkin painting a try. It's a less messy, and safer activity, than carving. A perfect option for tweens who are slightly younger.
Pinata
What tween doesn't love the idea of a pinata? Whacking something until treats fall out is any tween or teen's dream.
For this game, you'll want to purchase a Halloween-themed pinata such as a skull, bat, Frankenstein head, etc. Fill the pinata with an array of Halloween candies and trinkets for everyone to enjoy.
Halloween Themed Twister
All you need for this is a game of Twister and some printouts of Halloween monsters. Matching a monster to a Twister color makes the game a lot easier. For example, use Frankenstein for the green dots, Jack O Lanterns for the yellow, Dracula for red, and a ghost or mummy for blue.
You can get creative and plan with your tween which monsters to pair with which colors. This allows them to have a chance to be a part of the planning. Game play is the same as classic Twister, except you'll spin to put a body part on a monster instead of a color.
Little Kid Games To AVOID At Your Tween's Halloween Party
Bean bag toss
While this may be a hit with younger children (and even some tweens), it will not hold their attention for long. While you can alter it to fit a theme, your tween is probably looking for something a bit more interactive.
Halloween Pin the Tail
Pin the tail on the donkey has many iterations. And all of them are geared toward younger children. This is another activity that will probably not hold the attention of tween and teen guests.
A better alternative is a pinata, which is more interactive and allows the partygoers to receive a bigger payoff at the end.
Bingo
Bingo is a fun game to sit around and play with kids or grandparents or even at school class parties. It's not a game that most teens and tweens would list when thinking of things they want to play with their friends.
You can make this fit your theme as with many other games, but it doesn't offer the excitement your child is looking for in a party. If you are set on playing bingo, pair it with a movie to make it more interactive. Grab my printable Hocus Pocus Bingo cards and play while watching the Hocus Pocus movie.
Guess the Candy
While guessing the candy in the jar is a nice attraction to have, it will take up the attention of party-goers for maybe 5 minutes. They'll guess, wait for the answer, and then move onto the next activity.
So, while it is not a bad choice, it is not something that should be planned to take up a lot of time at the party. A more fun option would be themed trivia!
Unique Party Ideas That Will Take Your Tweens Halloween Party Over The Top
Color Changing Fire
If you're building a bonfire, add some flair to your party with color-changing packets or pinecones to throw into a bonfire. Gather the guests around the fire for scary stories and have them take turns throwing a packet or pinecone into the fire and watching it change colors.
Graveyard hide and seek
A fun way to let your child and their guests enjoy themselves is to create a makeshift graveyard in your yard. You'll need graveyard decorations, lots of fog, glow sticks, and possibly flashlights.
You can watch them have fun without having to direct the activity. And they'll have a great time running through the fake graveyard hunting for their friends.
Outdoor Scary Movies
One way to up the ante with your child's Halloween party is to set up an outdoor movie watching area. All you'll need are a projector, screen (or white sheet) and a movie.
Let your tween and their friends pick from a selection of spooky movies. Depending on your age group, guests may enjoy scary or just Halloween-themed movies.
Set up the viewing area with blankets so guests can stay warm. Take it a step further by serving spooky snacks and drinks in blood bags. Bonus points if you style the refreshments to the movie theme.
Plan the ultimate Halloween party with our printable planner – over 20 pages!
Planning A Halloween Party For Tweens Can Be Tricky
Party planning for your children as they get older can be a bit challenging. But if you involve your tweens and teens and use these Halloween ideas the party is sure to be a hit!
Before you leave don't forget to check out 70+ Easy Halloween Party Recipes & Decorations, these are great ideas for any Halloween Party.
Also if you have younger kids or are planning a Hocus Pocus Movie Night, don't forget to grab your FREE printable Bingo Game Boards!
More Halloween Ideas