Planning a Halloween party for your goblins or need a spooky meal before heading out to Trick or Treat? I've gathered over 70 EASY Halloween party recipes & ideas for a Spooktacular night.
When my Teens were younger, I made Mummy Dogs and Mac 'n Cheese for dinner on Halloween. Every year. For many, many years.
Preparing a fun, themed dinner was the best way to ensure my kids would have something more substantial than a bunch of candy in their bellies by night's end.
Now that my kids are older (and their taste buds have evolved), we've moved past Mummy Dogs to other fun Halloween eats.
For the record, I prefer to make FUN spooky food for Halloween. I'm not into creepy food.
I mean, who wants to be grossed out by disgusting food? Severed finger hot dogs – yuck!! The Halloween recipes & ideas I've linked to below are spooky, but in a fun way.
So many awesome appetizer, snack, drinks, main dishes and of course, dessert recipes! I've also included several fun party & decorating ideas.
70+ EASY HALLOWEEN PARTY RECIPES & DECORATIONS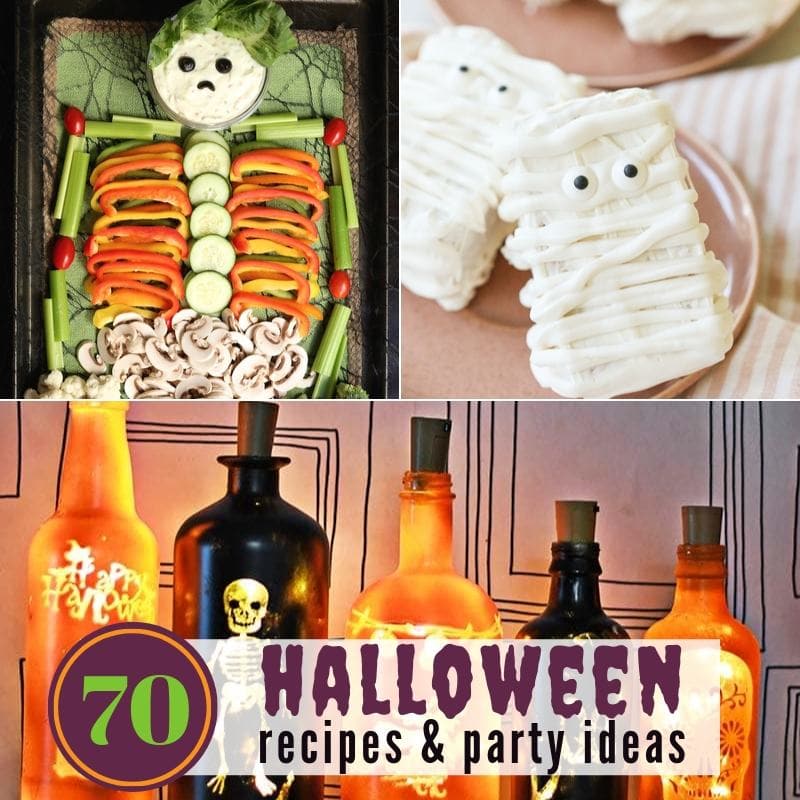 Simple Halloween Party Hosting Tips
Now that you've got the menu figured out, don't forget the finishing touches. It only takes a few minutes to create a spooky atmosphere. And you don't need to spend a fortune doing it.
What are your plans for Halloween? Do you have any Halloween traditions?
HALLOWEEN RECIPES & PARTY IDEAS
The BEST Halloween party food ideas for kids & adults! Easy food recipes & fun decor ideas for your next spooky event.
Whether you're hosting a goblin party, looking for easy treats to take to your child's classroom Halloween party or need to feed your Trick or Treaters a quick meal, we've got you covered.

Follow A Reinvented Mom on Pinterest, Instagram and Yummly.
I've shared this post at the following fabulous parties: Weekend Potluck, Full Plate Thursday, Meal Plan Monday.