25 Disney Christmas Movies You'll Love to Watch + Printable
Disclosure: This post may contain affiliate links. When you click on a link and/or make a purchase, I may be paid a small commission at no additional cost to you. Additionally, as an Amazon Associate I earn from qualifying purchases. Please read my Disclosure page for more information.
Disney and the Christmas season go hand in hand so it's no surprise that there is a plethora of Christmas-themed Disney movies for people to enjoy. If you're like me, nothing is better than watching Disney movies with a cup of Dalgona hot chocolate and homemade cookies during the holiday season.
To give your Christmas a sprinkle of magic, I have a printable of the Disney Christmas movies to watch this December. You can use it to track the movies you've viewed.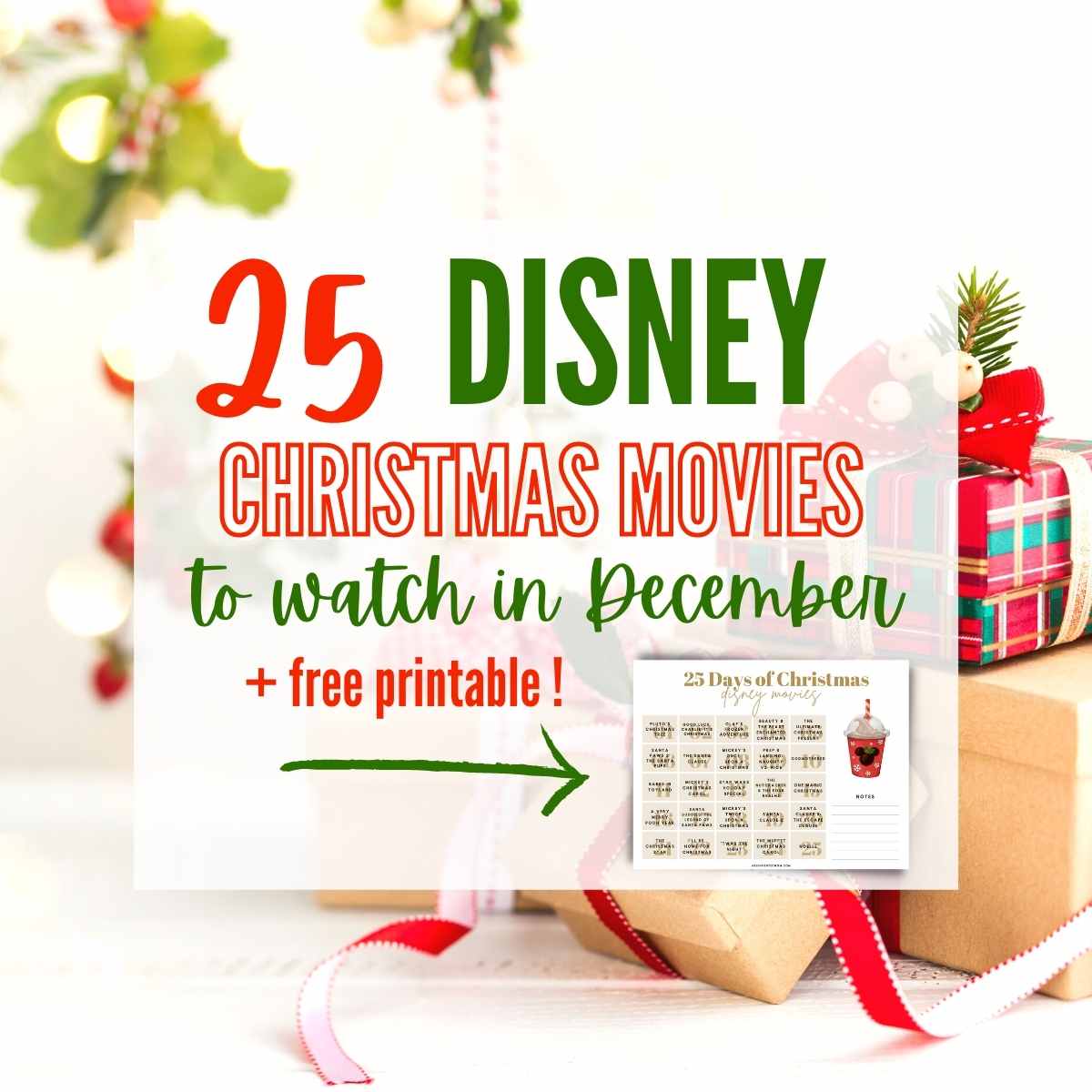 Our Top Five Christmas Disney Movies
The following list contains 5 of the best classic Disney Christmas movies and a few newer titles. All will appeal to fans of all ages.
1. Mickey's Once Upon a Christmas (1999)– This classic movie is a compilation of three Christmas tales starring your favorite Disney characters. Mickey, Minnie, Donald and Goofy come together to share their own personal stories about what the true spirit of Christmas means to them.
2. The Santa Clause Trilogy – Tim Allen, Judge Reinhold and Eric Lloyd star in these classic Christmas movies that bring the story of Santa Claus to life for young and old. The Santa Clause, The Santa Clause 2, and The Santa Clause 3: The Escape Clause are all available on DVD.
3. Prep & Landing (2009) – Special Agent P (Pete), is an elf who works with his brother on Christmas eve making sure everyone is asleep in time for Santa Clause's arrival. After years of doing this it quickly becomes very routine until one year when something goes wrong.
4. Noelle (2019) – This adorable movie starring Anna Kendrick and Bill Hader is a fresh addition to the Disney Christmas movies, sure to become a new holiday classic.
5. Mickey's Christmas Carol (1983) – A fun take on the Charles Dickens' classic about an old grumpy miser who learns that being kind during "the most wonderful time of the year" can have its rewards.
Snacks and Treats for Holiday Movie Nights
Whether you plan to host a Christmas movie night with friends or simply snuggle up with your family you've got to have snacks! These are some of our favorite snacks and holiday treats to serve around Christmas time.
There are so many more movies by Disney Studios that you'll love, but thankfully, you don't have to choose! Print out the free calendar of Disney Christmas movies to watch this December so you can see them all.
There are a few ways you can use the Disney Christmas movies list. If you want to celebrate the holidays with your family by watching your favorite holiday classics, print a calendar for each family member – kids included.
Give each family member a night they can pick which movie the family will watch. You can even make them the VIP that night with some sort of special privileges – like master of the remote control.
If you'd rather your movie session be more interactive, provide something to write with so each person can score the movies how they like.
You can cross out the movies as you watch them. The flicks don't have to be watched in any certain order (except maybe the ones that have sequels), so have fun picking your favorites!
No matter how you use the Disney Christmas Movies printable, these movies will give you a warm, festive feeling.
This is just one of the printables from our Disney printable collection. Be sure to check out all of the amazing freebies.
The FULL Disney Christmas Movie List
Pluto's Christmas Tree Farm
Prep & Landing: Naughty vs. Nice
Godmothered
Star Wars Holiday Special
Noelle
25 Disney Christmas Movies Calendar Printable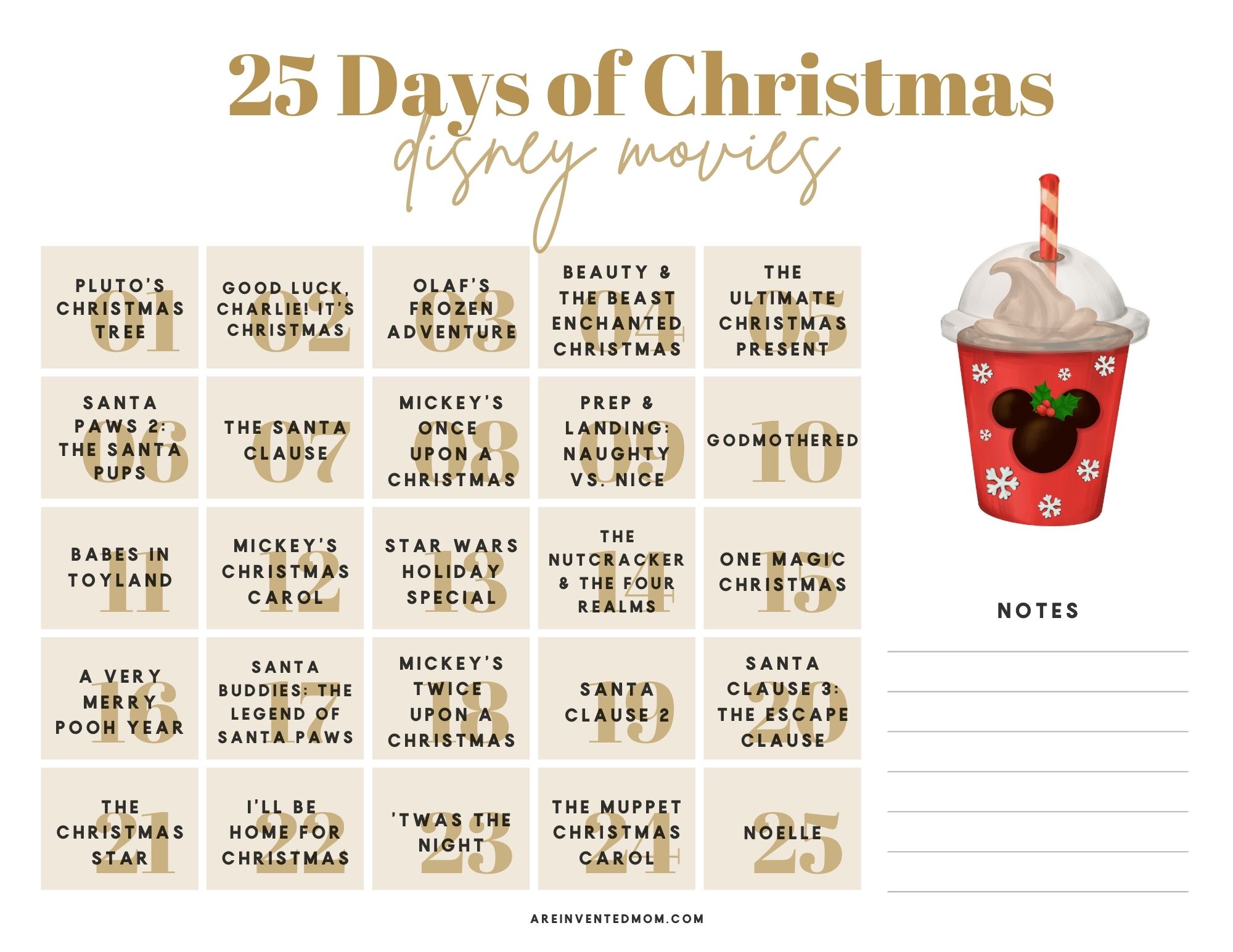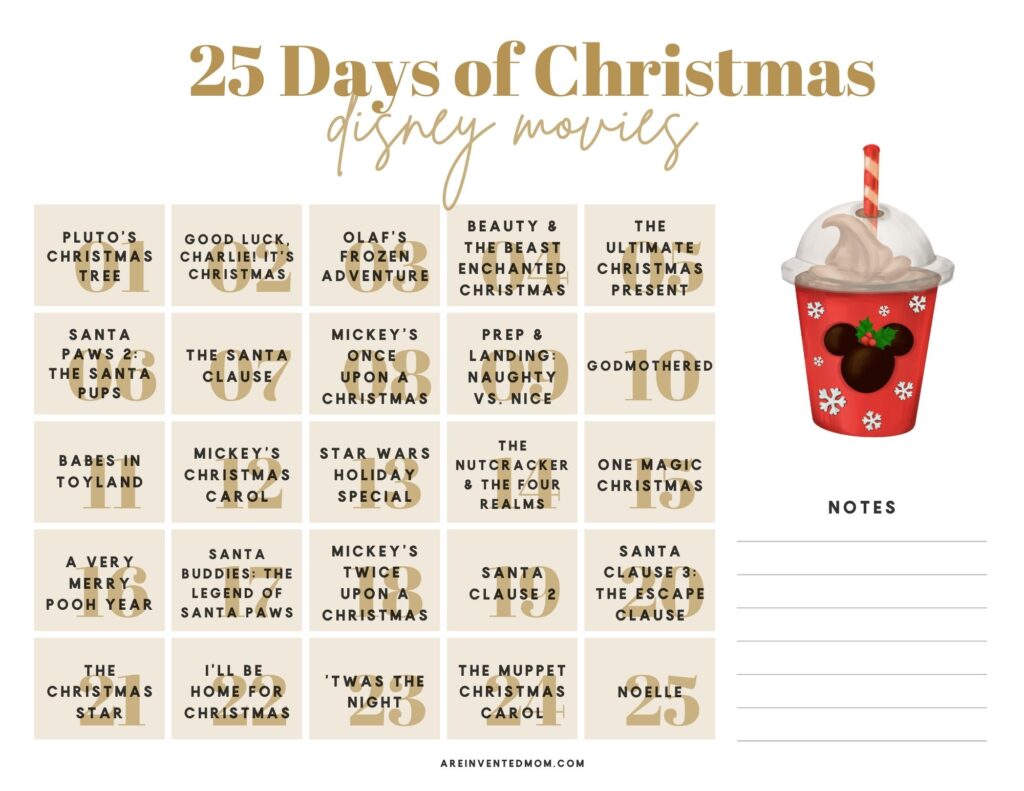 You can download the FREE printable calendar above by clicking here!
Looking for ideas for your next Christmas Party? Check out 10 Fun Christmas Party Ideas for Families!