12 Must-Try Recipes with Boiled Eggs
Disclosure: This post may contain affiliate links. When you click on a link and/or make a purchase, I may be paid a small commission at no additional cost to you. Additionally, as an Amazon Associate I earn from qualifying purchases. Please read my Disclosure page for more information.
Today I'm sharing 12 of my favorite quick-and-easy recipes with boiled eggs. Many of these are "toss together" recipe ideas and are so easy you won't even need an actual recipe.
Boiled eggs offer up an easy, budget-friendly way to add protein to any meal. And these delicious nuggets of nutrients also boost the taste of a few of my favorite meals.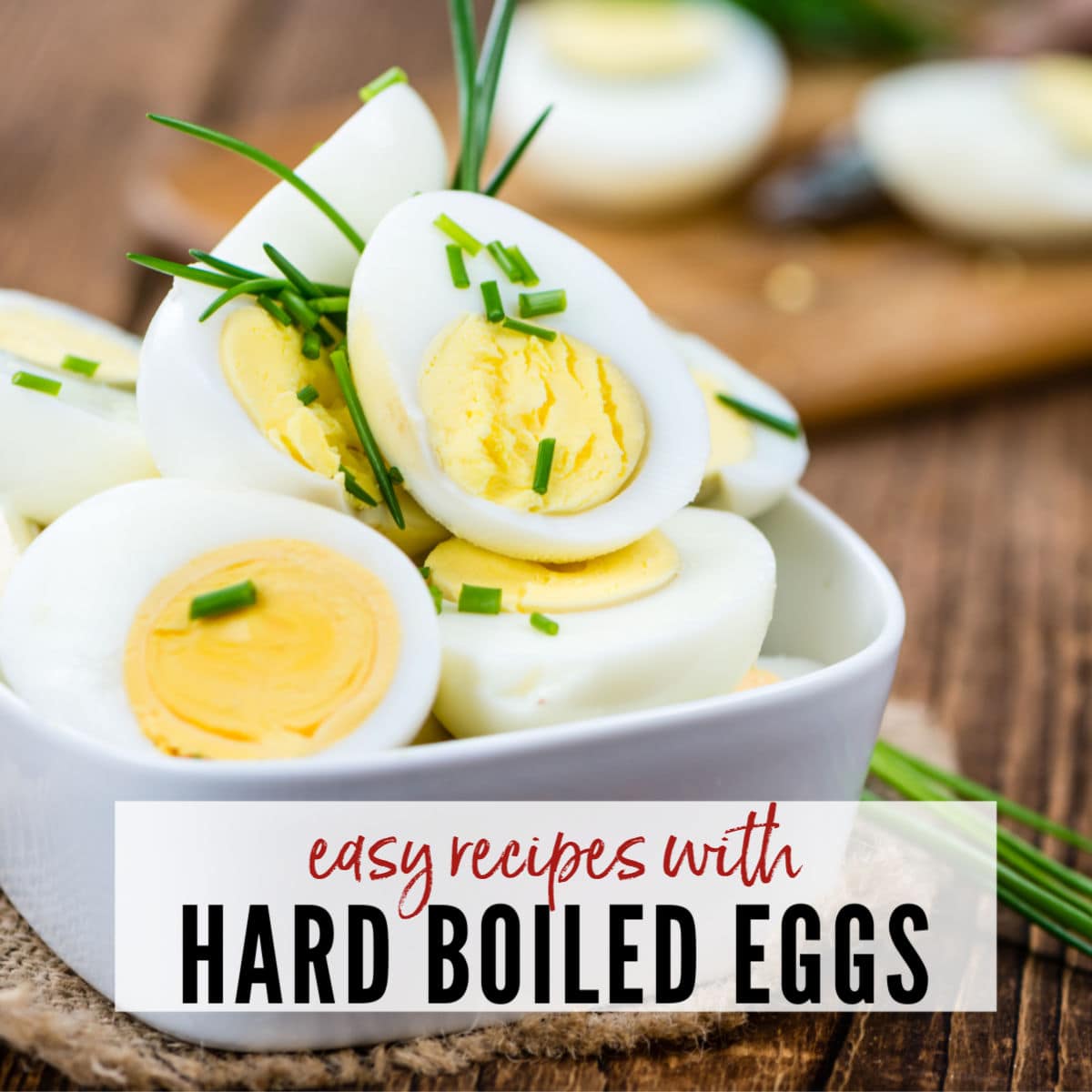 So why recipes with boiled eggs? First, eggs are super affordable. Second, they are easy to prepare.
And eggs are a great source of protein. Most importantly, they taste great.
This makes eggs an excellent (and budget-friendly) protein option. Although like most good things, you'll want to consume eggs in moderation.
🥚 How to Make Hard Boiled Eggs
There are several quick-and-easy ways to make boiled eggs. Traditionally, you simply heat up a pot of boiling water then add raw eggs (shell intact). For runnier yolks (and a shorter shelf-life) boil for 6 to 8 minutes. For a fully-cooked yolk boil for 10-12 minutes.
Time Saving Tip: Prepare a batch of hard boiled eggs on the weekend to have on hand for quick snacks or an easy addition to weeknight meals.
Alternatively, you can cook eggs with an Instapot. In just minutes, you'll have perfectly hard-cooked eggs to use in your favorite recipes!
The Instapot is my preferred cooking method because it produces eggs that peel perfectly every single time and it's a real time-saver.
🥚 What to Do with Leftover Eggs
Every year my house finds itself with an excess of Easter eggs. Between egg dying and crafts, I can end up with a couple dozen hard cooked eggs. Don't let these eggs go to waste!
Peel the cooked eggs and toss them into your favorite recipes. This year, opt to make the most of your leftovers.
🍽 Top Recipes to Make
These salads, snacks, and meals are my favorite dishes to make with hard-boiled eggs. These recipe ideas are very forgiving – feel free to modify the recipes to your tastes. Or eat these tasty dishes as described.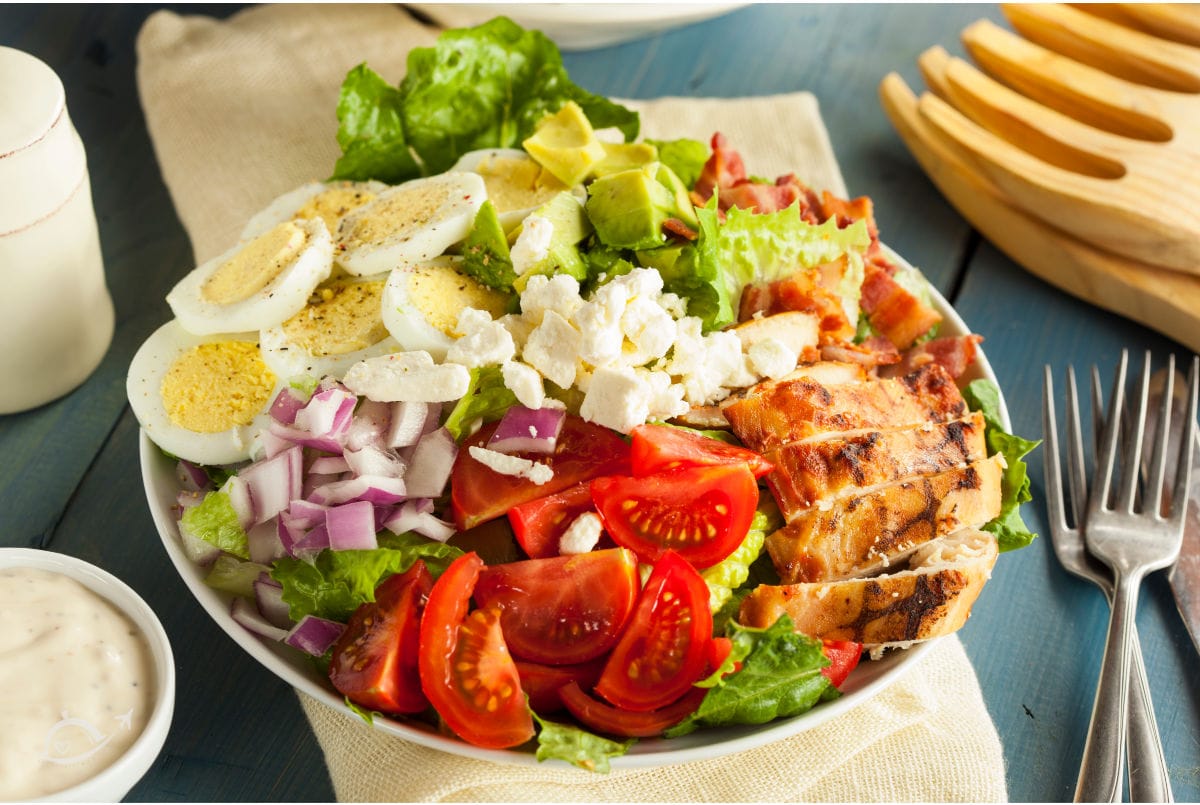 🥗 Lunch and Dinner Recipes
From hearty main dish salads to easy side dishes, eggs spruce up virtually any recipe.
Cobb Salad
You simply can't have a Cobb Salad without a boiled egg. Chop up romaine lettuce. Add slices of avocado, red onion and hard boiled egg. Top with cooked bacon, blue cheese crumbles and the dressing of your choice (Creamy House Dressing is my go-to). You'll want to add this one to your weekly repertoire. Try my Chicken Cobb Salad with Homemade Dressing!
Simple Potato Salad
Of course I'm going to include this backyard BBQ favorite to the list of ways to use boiled eggs. Combine cooked, cubed potatoes with diced onion, celery, sweet pickle and egg. Make a simple dressing of mayonnaise, yellow mustard with a dash of paprika, salt and pepper.
Easy Macaroni Salad
Give your macaroni salad a protein boost with a couple of eggs. Finely chop the cooked eggs, celery, red onion and red pepper. Add to cooked macaroni and combine with a simple dressing of mayo, yellow mustard, splash of vinegar, salt & pepper.
Egg Salad
Okay, so this one may seem a bit obvious, but I love it anyway. Use your leftover boiled eggs to make a quick-and-easy egg salad. Simply combine chopped eggs with mayo, mustard, green onion and seasoning. Serve on sliced bread, or use croissants for a fancy lunch. This recipe is well-suited if you have a lot of leftover Easter eggs.
Tuna Mac Salad
Combine cooked macaroni with chopped tomato, onion, a can of drained tuna, finely chopped boiled eggs and mayo for a simple mac salad. This is one of my go-to recipes for a quick lunch or dinner.
Tuna Salad Sandwich
Don't like macaroni? No problem! Skip the mac and make a tuna salad to fill your sandwich. I like to load my tuna salad with diced celery, onion, boiled egg and a little bit of mayo (just enough to hold it together.
Serve on toasted bread slices or treat yourself with a crusty roll for added texture. Make it gourmet by adding tomato slices, lettuce, and onion aka the BEST Tuna Melt ever!. This sandwich is 100 times better than what you'll get at that sandwich chain store.
Nicoise Salad
Another uber-classic salad that leaves you feeling full and satisfied. Round out this delicious salad recipe of crisp green beans, cherry tomatoes, black olives, tender potato slices and lettuce with a roughly-chopped boiled egg. Don't forget to smother it in a tangy oil, vinegar and mustard dressing.
🥪 Appetizers and Snack Ideas for Boiled Eggs
A simple hard cooked egg seasoned with salt and pepper is the ultimate easy snack. Try these quick-and-easy snack ideas for a nice change from the basic egg snack.
Copycat Starbucks Protein Boxes
Starbucks Protein Boxes contain delicious finger-foods and make the perfect snack. But they are expensive! I love to make these copycat Starbucks Protein Boxes, especially when I have leftover party food.
Add a sliced, seasoned boil egg to a snack box with fruit (a tangerine, apple slices and grapes work well), whole wheat crackers, peanut butter, and cheese slices. Tastes great and you've saved some money.
Classic Deviled Eggs
These tasty nuggets make for a great any-time snack! Scoop out the yolk and add a little mayo, mustard and seasonings. Mash it all up to combine and voila! You've got a family-friendly, healthy snack in no time.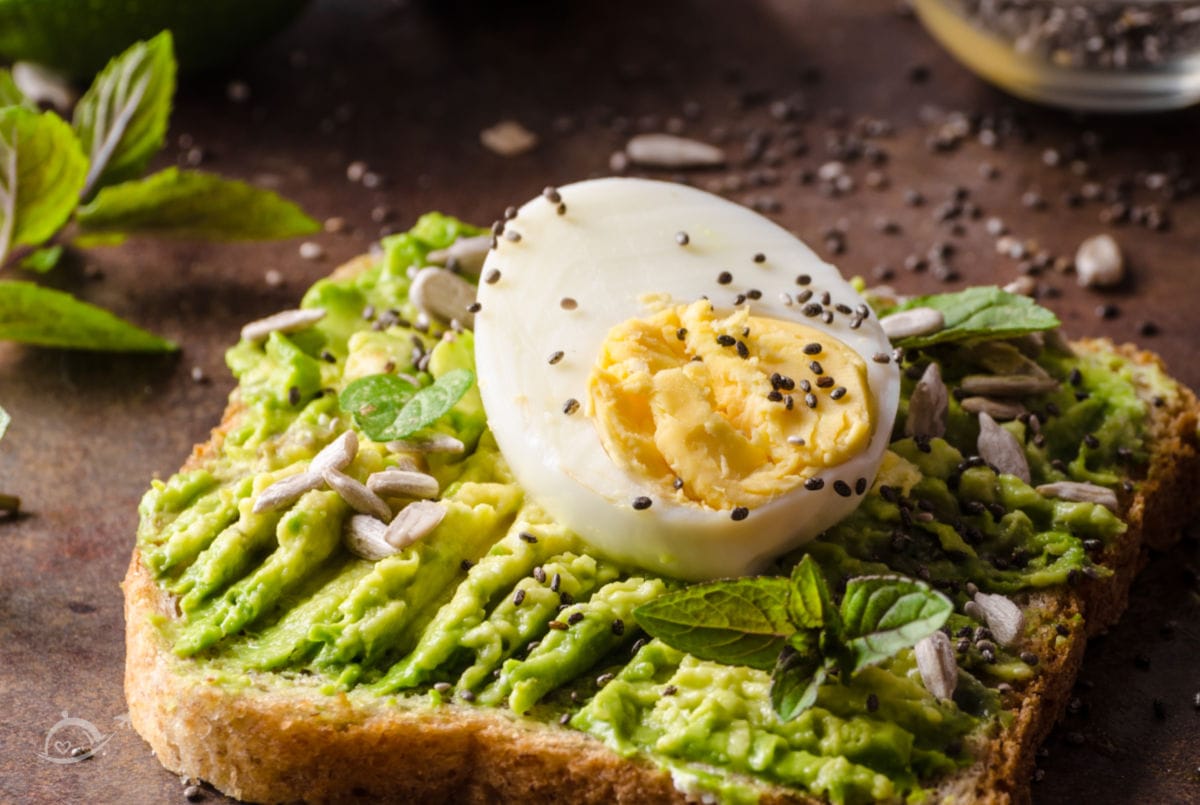 🥑 Breakfast Ideas
Breakfast Quesadilla
These yummy quesadillas just need boiled eggs! Finely chop up a boiled egg (one per quesadilla). Mix in cooked, chopped bacon, your favorite shredded cheese and green onion. Cook until the tortilla is brown & the cheese has melted. Cover with salsa or green chili and serve. Garnish with avocado slices for even more yummy goodness.
Avocado Toast
Top toasted bread with mashed avocado and sliced egg. Add sunflower seeds if you're feeling adventurous. Season with salt and pepper or Everything but the Bagel seasoning.
Sliced Egg Sandwich
Ditch the deli meat for a cold egg sandwich. Simply slice eggs, and add your favorite fixings. I love lettuce, tomato slices, mayo, salt and pepper. Toast the bread to add a flakey, crunchy texture.
There are countless recipes with boiled eggs, but these are my favorite quick-and-easy ideas for what to do with boiled eggs. Easily add healthy protein to your meals with boiled eggs.
What are your favorite ways to use hard cooked eggs?