Stocking Stuffer Ideas for Teenage Girls
Disclosure: This post may contain affiliate links. When you click on a link and/or make a purchase, I may be paid a small commission at no additional cost to you. Additionally, as an Amazon Associate I earn from qualifying purchases. Please read my Disclosure page for more information.
Teen girls can be a bit difficult to shop for. But these stocking stuffer ideas for teenage girls will help you get started.
When choosing stocking stuffers for your teenaged daughter, consider what her likes and interests are. And the hobbies she is interested in.
If you've got boys in the house, be sure to check out Stocking Stuffers for Teen Boys. If you're looking to cut down on holiday sweets select non-candy fillers like I do for Easter baskets.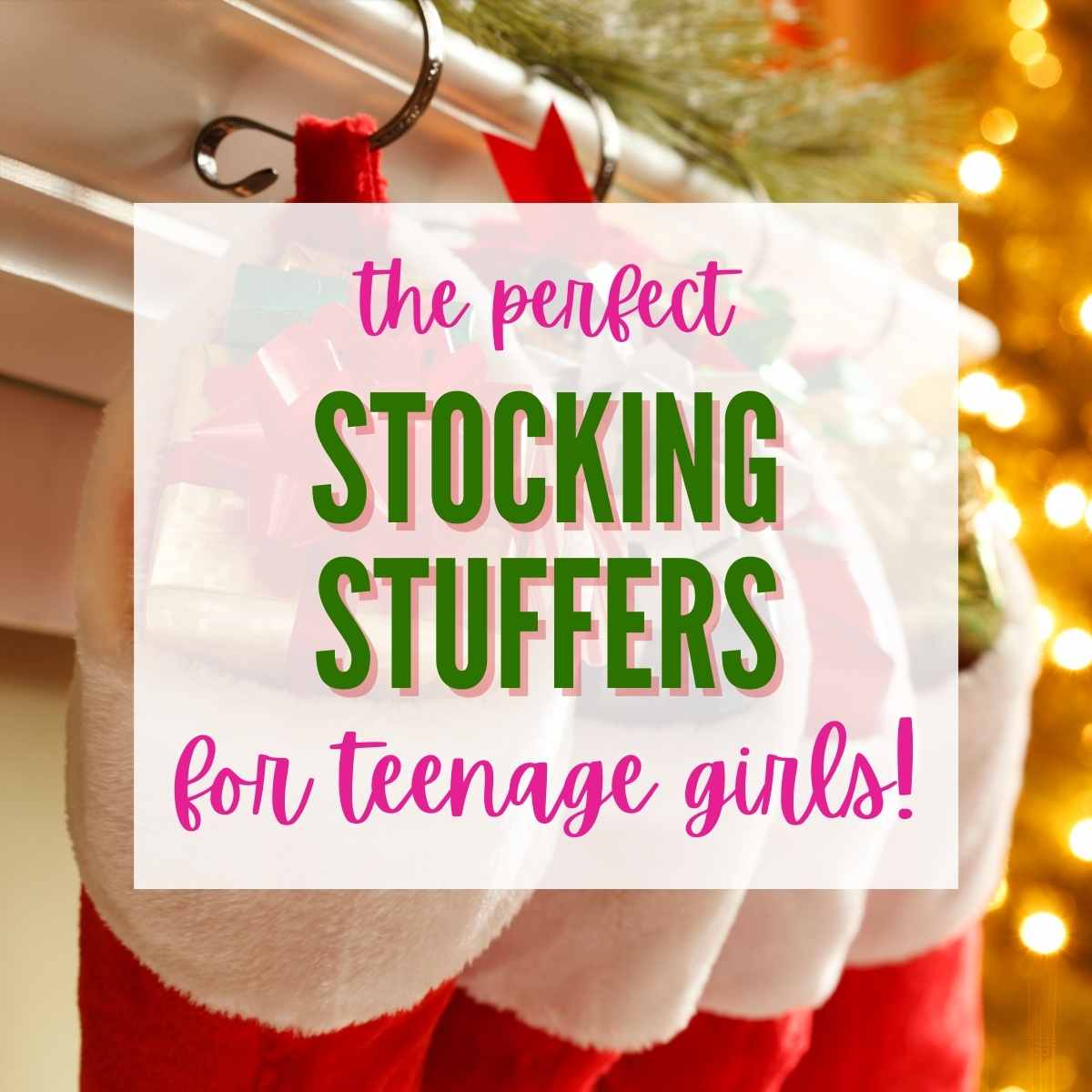 Stocking Stuffers for Girls
Headphones
Headphones are a must for older kids. And slipping this everyday accessory into your teen girl's stocking is sure to be a hit.
Look for a pair of headphones that can be used both wirelessly and with an auxiliary cable. This versatile option comes in handy when the charge is gone or when she's on the go.
Phone and device chargers
Chargers are an essential item because teens love their devices. Help make your teen's day by adding charger cords and even a base for their charger.
While this may not sound like an amazing option for your stocking stuffers, they really do make a great gift. Just think about how often they hunt for chargers or take yours. Just grab a multi-pack to be on the safe side.
Facial masks
Spa face masks are a simple and fun way to pamper yourself. Doing facial masks with your teen or encouraging her to do them on her own shows your daughter it's important to take time for self-care.
Masks also make a fun activity for sleepovers. Grab a variety of fun face masks to encourage her to take some time for herself.
Nail art kits
Nail art is a fun way for your teenage daughter to enjoy self-expression. And it's another form of self-care that your teen can enjoy alone or with friends.
These sets can come with everything from stamps to UV lights depending on how much you want to spend. A fun kit with a variety of pieces can make a great gift while a smaller set is a fun stocking stuffer.
Glass nail file
While you are looking at nail stuff for your teen consider getting her a glass nail file. These nail files are made to last and they work better than a regular nail board.
Glass nail files come with protective cases to keep the file in good shape. It also gives a little dimension when it's sticking out of the top of the stocking.
Temporary tattoo markers
Temporary tattoo markers with stencils are an entertaining option to allow your teen to create skin art. The marker art will last a few days so it's more fun than using a regular pen.
It's a great way to encourage your teen to have some fun and get creative. And the best part is it's temporary!
Fairy lights
Fairy lights make a great stocking stuffer that allows your teen to make their room fun and relaxing. And the battery-operated fairy lights can be placed anywhere she wants.
This is a great option for your teen to personalize her space. Choose a set with mini clothespins to attach photos, art, and other interesting things. It's an easy way to create a display piece in her personal space.
Art supplies
Adding art supplies will allow your teen to express herself and encourage creativity. Choose colored pencils in a tin case, a sketch pad, markers or coloring books for fun stocking stuffers.
If you plan ahead you can get some great deals on art supplies during the back-to-school sales. If you miss the sales you can always find supplies at most major retailers.
Detangler brush
Detangler brushes are great for helping to keep hair tangle-free without pain. This makes a practical stocking stuffer ideas for teenage girls who have a lot of hair.
Personalize it by choosing a brush in her favorite color. This is a simple way to make her feel special by showing you are paying attention to her preferences.
Personalized Christmas ornaments
When selecting a gift to fill your teen's stocking, consider getting her a Christmas ornament. Choose one that will help her look back on a big accomplishment, memory, or passion from this year.
This is a fun tradition you can repeat every Christmas and shows your teen you value her memories and the things that matter most to her. It also builds a memorable collection of ornaments she can reminisce on when celebrating Christmas as an adult.
Gift cards
Similar to shopping for graduation gifts for your teen, you can't go wrong with gift cards. Make sure you select places your teen loves to frequent or shop at.
From food to clothing there are countless stores offering gift cards. Purchase cards at a discount when your local grocery store offers sales. And many restaurants offer additional incentives for gift cards purchased during the holidays.
More Christmas Content
**Pin the Stocking Stuffer Ideas for Teenage Girls**